Grammarly vs Ginger vs JetPack vs Hemingway
Do correct spelling and grammar matter? It's a subjective topic, isn't it?
I've read many articles that say you can forget all the formal writing rules you learned at school when you start blogging. And to a degree, it's true.
But who wants to see mistake after mistake on a page? It looks shoddy and unprofessional.
So, if you want to get ten out of ten for your spelling and grammar, then you better check out this post. We've put together a collection of the best grammar tools to give your content a professional edge.
Grammarly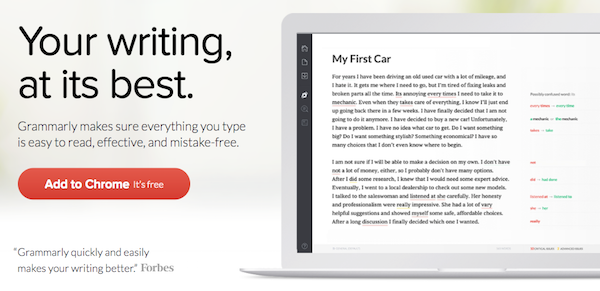 Grammarly is the most popular grammar tool on the market. Millions of writers worldwide use it.
Grammarly is an online grammar and spelling checker that improves your writing. The tool finds writing mistakes and makes suggestions on how to correct them.
There are three ways to access Grammarly:
You can use the online editor.
You can install the browser extension available for Chrome, Firefox or Safari.
You can install the native desktop app for Windows or Mac OS X.
Each option works in the same way. But first, you'll need to create an account so that Grammarly can save your work.
Grammarly identifies your mistakes by underlining them:
critical mistakes are red
possible errors are yellow

There is a drop-down card for each mistake on the right-hand side of the screen. You decide whether to accept it or ignore it.

Inside WordPress
There isn't a WordPress plugin for Grammarly. But there's no need to panic.
The Grammarly browser extension works in your WordPress Post Editor session. It underlines mistakes in red, as in the example above: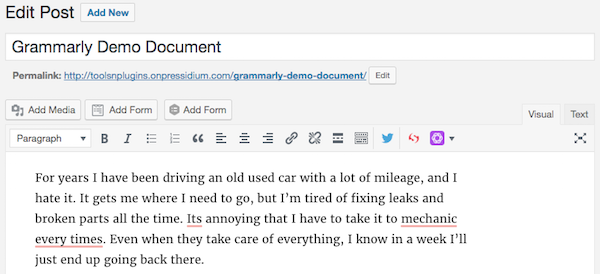 To open the Grammarly editor window, you can:
click on an individual underlined mistake
click on the total errors button at the end of your post

Then accept or reject the suggested corrections in the popup window:

Pro Tip: Switch off your Grammarly browser extension if you use Thrive Content Builder. They are incompatible, and Grammarly corrupts your content with random Grammarly logos.
Google Docs
Grammarly doesn't work in Google Docs for some reason. You'll have to copy and paste your document into the Grammarly editor to get it thoroughly checked.
MS Word
If you're running MS Office on Windows and you're on the Grammarly Premium plan, you can install the Grammarly extension. Grammarly finds and corrects loads more grammar mistakes than MS Word. The alternative method is to copy and paste your document into the Grammarly editor.
Features
Standard Features:
150 critical grammar and spelling checks,
See definitions and synonyms via double clicks
Catch contextual spelling and grammar mistakes
Access your documents on multiple devices
Add words to your personal dictionary
See explanations of grammar rules
Get performance stats via email
Advanced Features:
100+ additional advanced grammar and spelling checks
Vocabulary enhancement suggestions
Genre-specific writing style checks
Plagiarism detector that checks more than 8 billion web pages
Integrate with Microsoft Office (Windows only)
Pricing
Grammarly has a free plan that includes the standard features.
If you want the advanced features, then you'll need to upgrade to the premium plan.
You have a choice of payment frequency:
Monthly: $29.95/month
Quarterly: $59.95/quarter ($19.98/month)
Annual: $139.95/year ($11.66/month)
Ginger

Ginger Software helps you write faster and better. The software detects and corrects misused words and grammar mistakes.
There are three ways to use Ginger:
You can install the browser extension for Chrome or Safari.
You can install the native desktop app for Windows.
You can install the native mobile app for Android or iOS.
The free browser extension works on popular websites such as Gmail, Facebook, and Twitter. It highlights any typos or grammar errors that you've made in the application text box: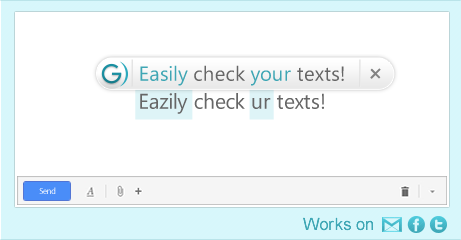 Running Ginger in the Chrome browser extension on other websites is a disappointment. It opens a small mobile phone sized window (approx 300 x 450 px) where you can start typing: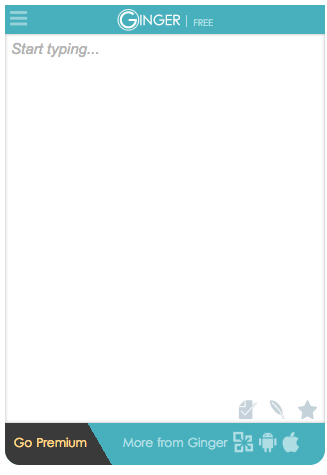 It looks like Ginger has used their mobile app technology in the browser extension version.
WordPress
Like Grammarly, there isn't a WordPress plugin for Ginger. But if you've installed the Ginger browser extension, it will work in your WordPress session. It highlights mistakes in blue, as we saw in the Gmail example above.
However, in my test, Ginger didn't find as many errors as Grammarly. Compare this third paragraph from the test document.
Ginger highlights four possible mistakes: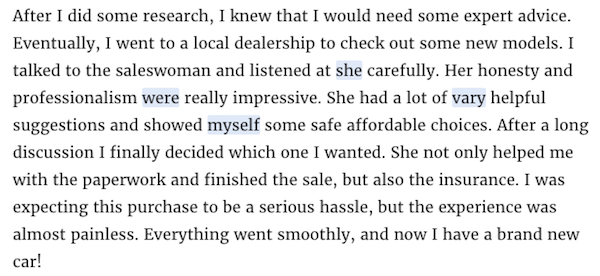 Grammarly highlights five potential errors: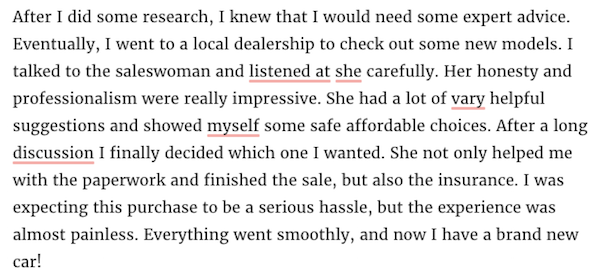 Even scarier is the fact that Ginger does not understand the context of the sentences. If I accept the changes proposed by Ginger here is what the paragraph looks like: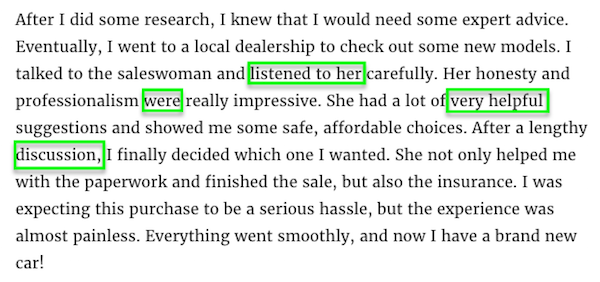 When I accept the Grammarly changes the paragraph reads correctly: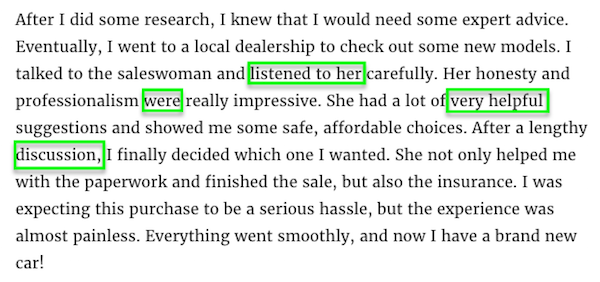 Overall, I was disappointed with Ginger compared to Grammarly. Perhaps the desktop version is better. But the free browser extension is not as good at finding and fixing grammar and spelling errors.
Features
Standard Features:
Free Browser Extension for Chrome and Safari.
Explore different ways to phrase your text.
Learn the real definition of the words that you use.
Translate into 40 Languages.
Advanced Features:
Proofread your text as you type and correct a vast range of writing errors.
Rephrase sentences to improve clarity and style with context optimized alternatives.
Translate your text into over 60 languages.
Includes versions of Ginger for Desktop, Microsoft Office, Android and iOS.
Personalized practice sessions based on your own writing.
Pricing
Ginger has a free plan that includes the standard features. If you want the advanced features, then you'll need to upgrade to the premium plan. You have a choice of payment frequency:
Monthly: $29.96/month
Quarterly: $59.94/quarter ($19.98/month)
Annual: $149.76/year ($12.48/month)
JetPack Spelling and Grammar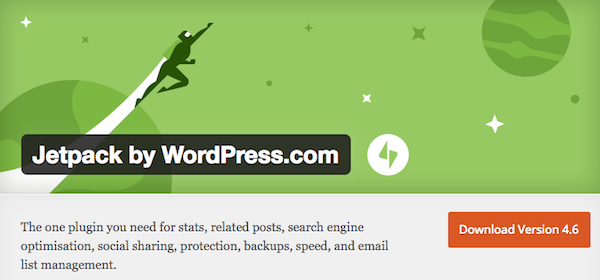 Are you using JetPack? Did you know it included a Spelling and Grammar tool?
Jetpack refers to this software as the After The Deadline Proofreader.
You'll find it in the Writing section of JetPack. Once you switch it on you'll see there are some optional settings. You can switch these on/off to suit your preferences: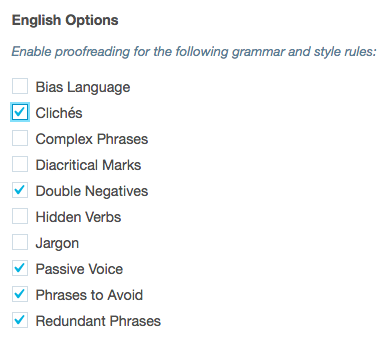 Inside the WordPress Post Editor you now have a new "ABC" toolbar icon: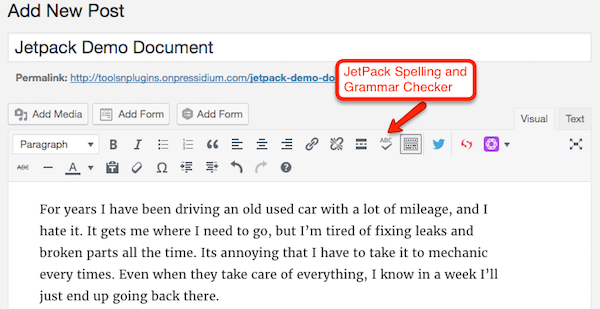 The tool checks spelling, misused words, grammar, and style. You can tell the type of error by its color.
Misused words and spelling errors are red
Grammar mistakes are green
Style suggestions are blue
When you've finished writing your text, click the icon and it checks your post.
Or does it?
I used the same text as the Grammarly test. But when I clicked the new icon, it didn't find the same errors. (Even with all the options switched on in the settings panel.)
Here's the first paragraph with one phrase underlined in blue:

Clicking on the blue underlined phrase opens a popup window where you can choose to accept or ignore the alternative phrase have driven: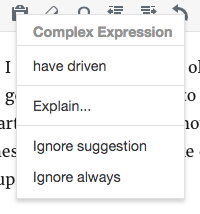 You can click the 'Explain' option to see more: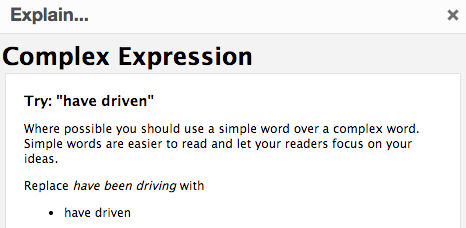 It's a valid alternative to suggest for the phrase, but overall the tool is limited. I can't even say that it's better than nothing because you could still end up with a post riddled with spelling and grammar mistakes.
Here's what JetPack have to say about their tool:
"The proofreading feature is not a replacement for carefully reading what you write. It is a safety net meant to capture common mistakes and bring them to your attention. Finding every error is not yet possible with today's technology."
Features
Integrates with WordPress
Error color-coding for your spelling, misused words, grammar, and style.
Click the "ABC" icon in the WordPress editor to check your writing.
Run the proofreader automatically before publishing or updating a post.
Choose to ignore certain errors once or always.
Available in English, French, German, Portuguese, and Spanish.
Extra options for bias language, clichés, complex phrases, double negatives, passive voice, and more.
Pricing
Free – this is a free module in the JetPack plugin.
Hemingway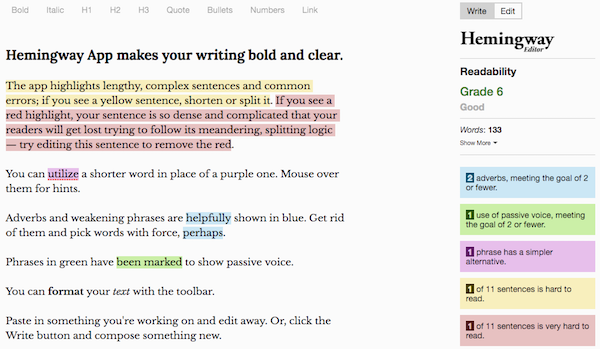 The Hemingway App is a different type of tool compared to Grammarly and Ginger. Its mission is to make your writing bold and clear.
What does that mean?
It means that the Hemingway App won't identify all your spelling and grammar mistakes. Instead, it highlights wordy sentences, adverbs, complex words, and the passive voice.
There are two ways to access the Hemingway App:
You can use the free online editor.
You can buy the desktop editor for Windows or Mac.
Let's take a look at the third paragraph from our demo document.
There are no spelling and grammar mistakes as we saw in Grammarly. Instead, we have four words highlighted in blue and one in purple: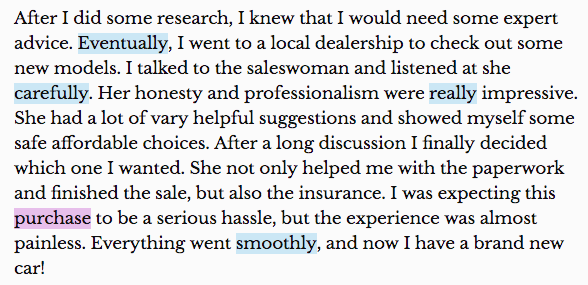 The blue highlighted words are adverbs. Hemingway challenges you to remove adverbs from your writing because they are weak. Try and use more powerful words instead.
For instance, instead of saying that someone is "walking slowly" you can say they "tip-toed" or they "crept."
In our example, you could omit the adverbs, and the paragraph would be stronger:

The purple highlighted words refer to complicated words. You can write simpler and use a synonym that is much easier to understand.
For instance, instead of saying that the car is "economical" you might write that the car is  "cheap."
These are suggestions. You don't have to accept them. They are there to make you think about the readability of your writing.
WordPress
The desktop version lets you publish straight to WordPress and Medium: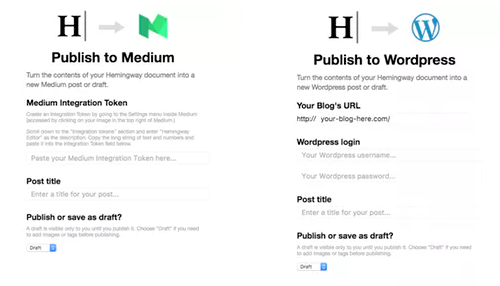 Note: If you're using the free online version you'll have to copy and paste your edited document as plain text into the WordPress editor.
Features
Online Version
The free online version is ideal for making quick checks and edits. But there is no save option. So you have to copy and paste your selected text to another location; e.g. Google Docs, MS Word, WordPress.
Desktop Version
The desktop version offers extra features over the free online editor.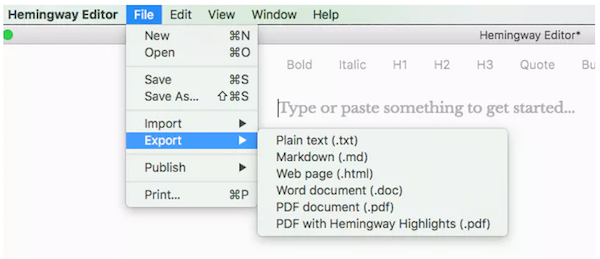 You can:
Save your documents
Export in various formats; e.g. Markdown or Word document
Publish to WordPress and Medium
Send your colleagues highlighted PDFs
Work in distraction-free writing and editing mode
Pricing
Free – for the online version
$19.99 – one-off payment for the desktop version
Conclusion
If you're looking for a tool to check your spelling and grammar, then go with Grammarly. It is far better than Ginger and miles ahead of the Jetpack offering. The browser extension works in WordPress so you can capture and correct all your mistakes in one place.
The Hemingway App is different. You can't compare it with the other tools here. Consider it an extra tool to improve your writing further. Use it conjunction with Grammarly to create the perfect solution and put you at the top of the class.