25 Free Tattoo Fonts with Style
There's something special about a typeface with a hand-drawn element to it. These type styles tend to have a script or more playful feel. Due to a more lightweight nature, these hand-drawn styles can't carry a design or work in display situations.
That's where a new type trend comes in – tattoo fonts. What's nice about tattoo-style typefaces is that they have that same hand-drawn allure, but are often bolder with thicker strokes, making them a strong choice for display lettering or word art.
When it comes to tattoo styles, you'll find a range of character sets and glyphs that can add plenty of visual interest to a project. Here, you'll find a collection of 25 free tattoo fonts, just note that these typefaces come from a variety of sources and make sure to check the license before use (most are free for personal projects, but need licensing for commercial purposes). Some of the featured fonts have limited character sets, with more robust paid options as well.
Angel Tears has a tattoo-style that looks like ink. Letterforms have alternating thick and thin strokes that are colored-in to look like they've almost been sketched out. The font is classy and rugged at the same time.

Angilla Tattoo is a heavy script with nice swashes to add that special something to lettering. The typeface is elaborate without being too feminine and is highly readable. The font includes upper- and lowercase letters as well as punctuation and some special characters.
03.

Beech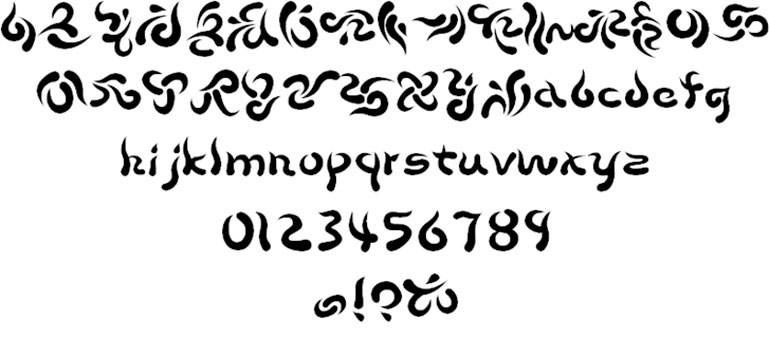 Beech is a fluid set of thick characters with rounded edges for simple lettering. The font includes upper- and lowercase letters and a number set, and while it has a cool look for short words, it can be trickier to use for longer text blocks.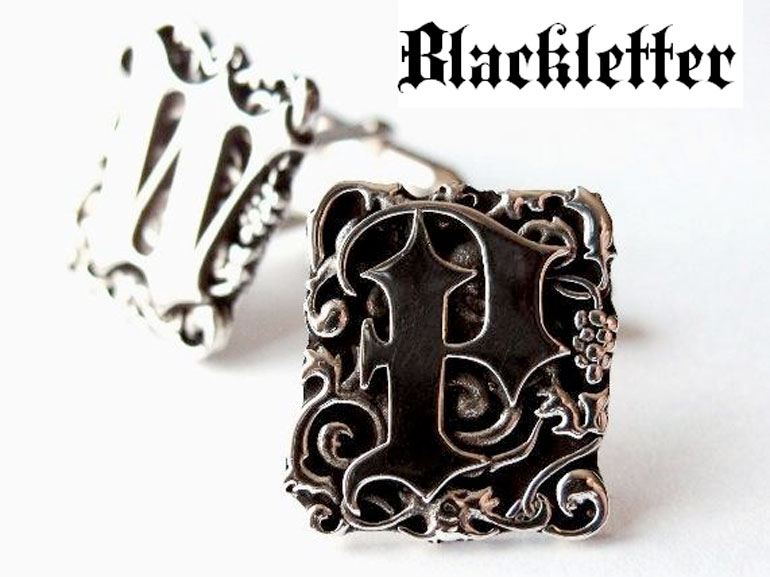 Blackletter is a tattoo-based font in the type style of the same name. The letters feature sharp serifs, thick strokes and an old-school vibe with a bit of a traditional twist. It comes in regular and shadow styles.

This movie poster inspired typeface includes interesting letterforms in a block style. The all-caps typeface includes an alternate character of each letter with a shorter, decenderless overall height.

Crux includes a collection of tattoo-inspired symbols. The set includes crosses, hearts, keys and more. The font would make a nice choice for an icon set or simple characters throughout a design.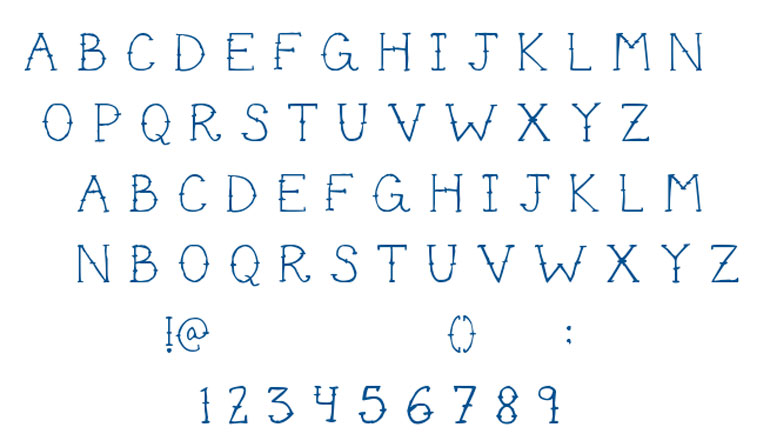 It's likely that you've never used the words "cute" and "tattoo" in the same breath, but this font will change that. Cute Tattoo is a simple uniform stroke, thin line tattoo font. Its simple charm makes it a fun and modern choice.

Death in the Shadow has a creepy feel that can spice up darker projects. The set includes upper- and lowercase letters with numerals and a few extra characters.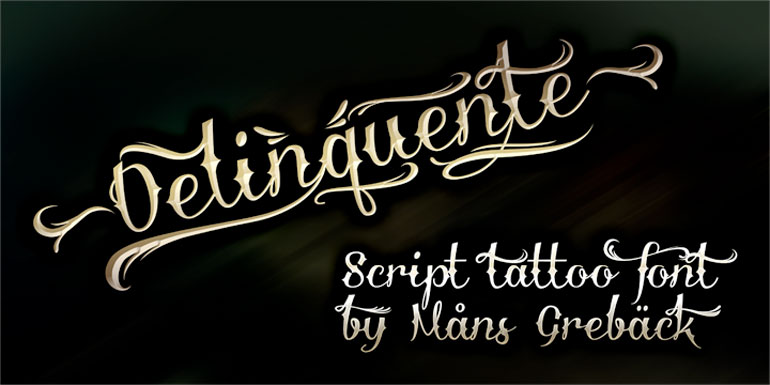 Deliquente has an almost Western-inspired look but with a more rugged style. With plenty of long swashes and tails, the letterforms combine to create interesting visual word styles. While the characters are elaborate, they remain readable, and excellent combination.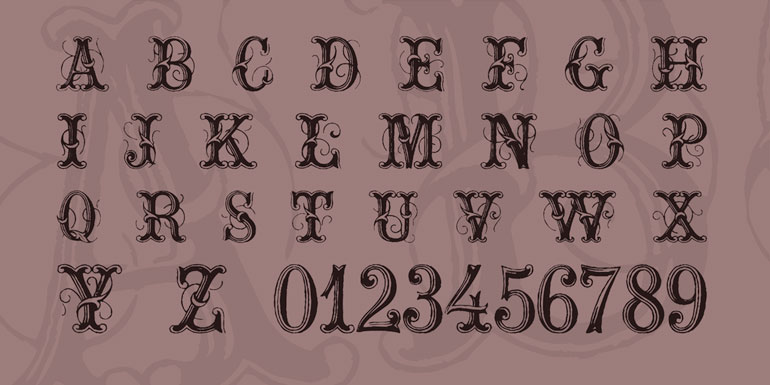 Extra Ornamental No2 is a curved block letter font with plenty of thin lines around each letter. The elaborate font would be great for initials or big cap in a tattoo; use this idea when featuring it in projects.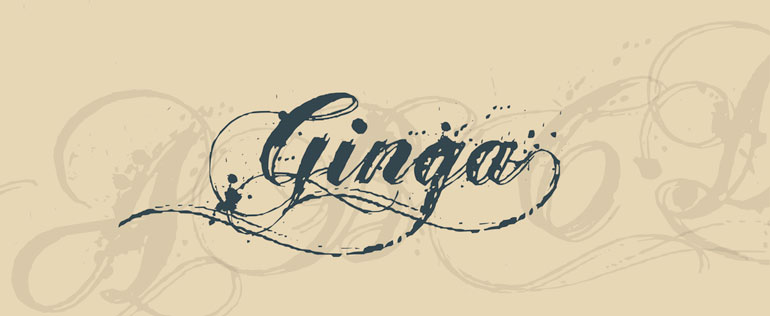 Ginga is an ink-blot style font with long tails and interesting swashes. The tattoo font is fancy, but not too elaborate for everyday use for almost any type of project in need of display lettering with pizzazz.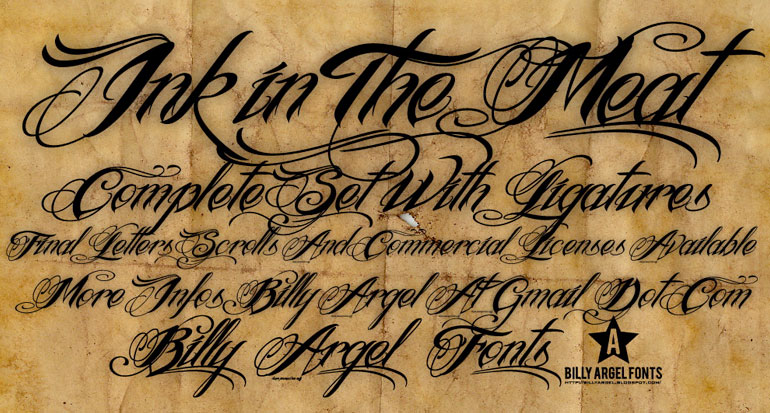 When you think tattoo font, Ink in The Meat is likely the style that comes to mind. It brings back memories of some of the older-style tattoos that were popular in the early days of body art. The type is elaborate and script-based but tough at the same time.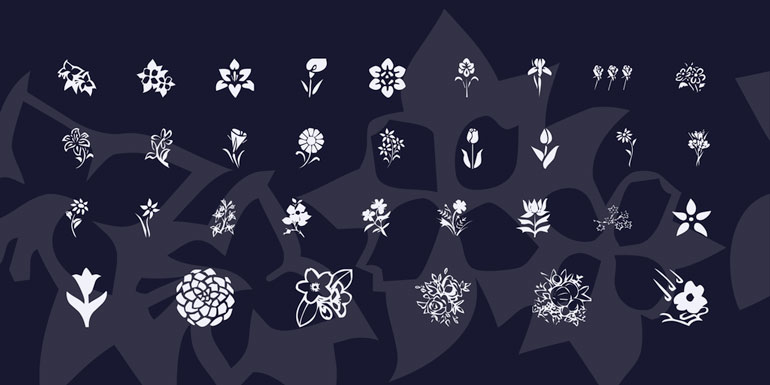 KR Blossoms 1 is a collection of simple floral shapes in varying forms. Use the glyph set for a tattoo-inspired iconography or to accent another typeface. The styles within this font have enough variance that one set can be used in a lot of different ways.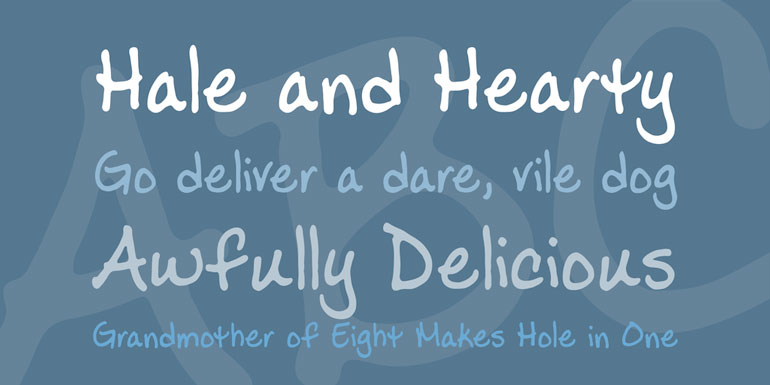 A comic style typeface might not come to mind immediately when thinking about tattoo options, but it is nice to have some lighter concepts to choose from. Ladylike BB Font is a girlish handwritten style that's very easy to read. (Make sure to look at the interesting ligature characters!)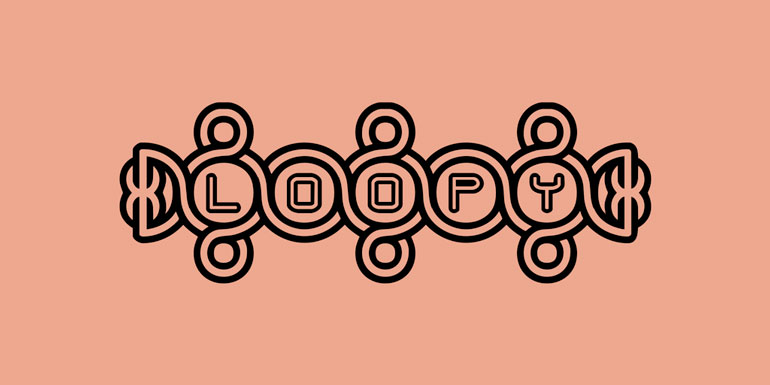 Loopy BRK is a fun display font that mixes block lettering and tribal art-inspired loops. Characters can appear alone, in loops and with the cool end caps.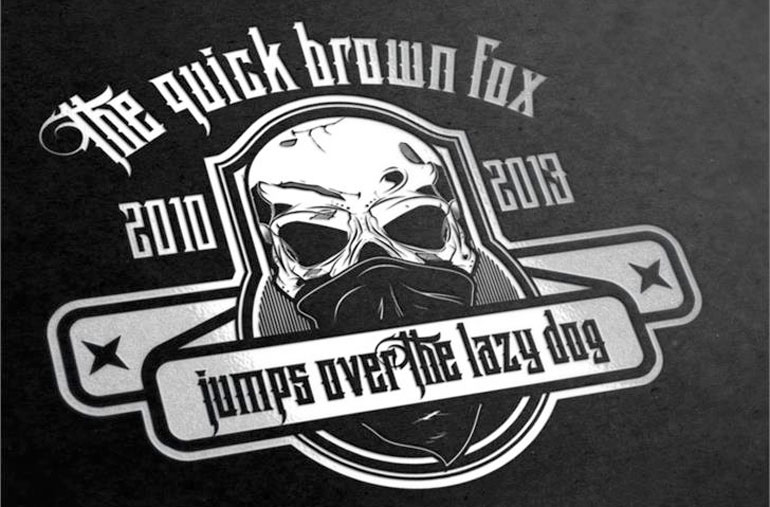 Los Angeles has a biker-style tattoo design that sets a scene where you can almost hear the roar of a two-wheeled machine. Letters have sharp edges mixed with curves for uppercase letterforms.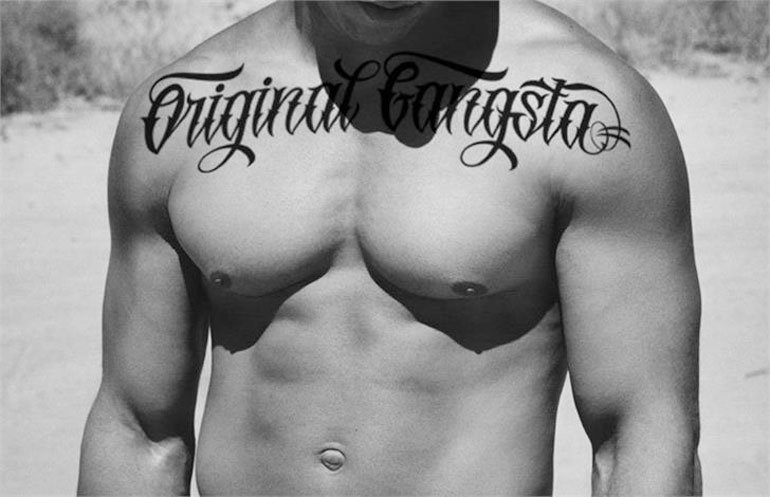 Original Gangsta evokes memories of 1990s hip hop album covers with a swash-based style that seems tough and soft at the same time. The style was called "badass" by one commenter and that might be the best way to describe this typeface with elaborate lines and tails.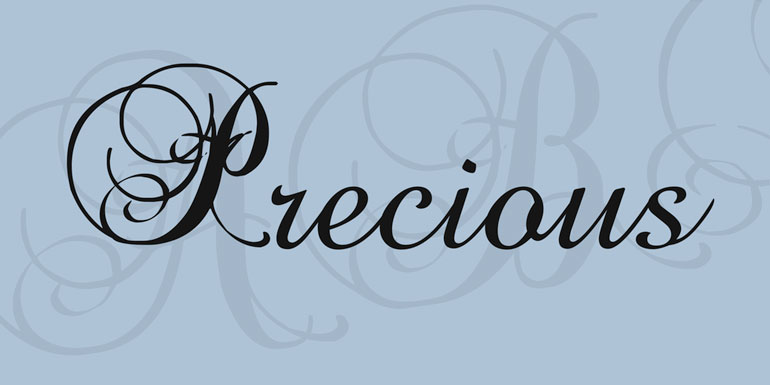 Precious is an elaborate tattoo script with plenty of swirls and swashes in the capital letter set. The elegant letterforms have a number of applications and can work beautifully for short display type. The font comes with upper- and lowercase letters as well as numerals.

Serval is a script-style tattoo font with nice swashes and an almost cat-like feel. It includes serifs in the strokes and ragged edges. The lowercase letters have a traditional cursive look in the same style.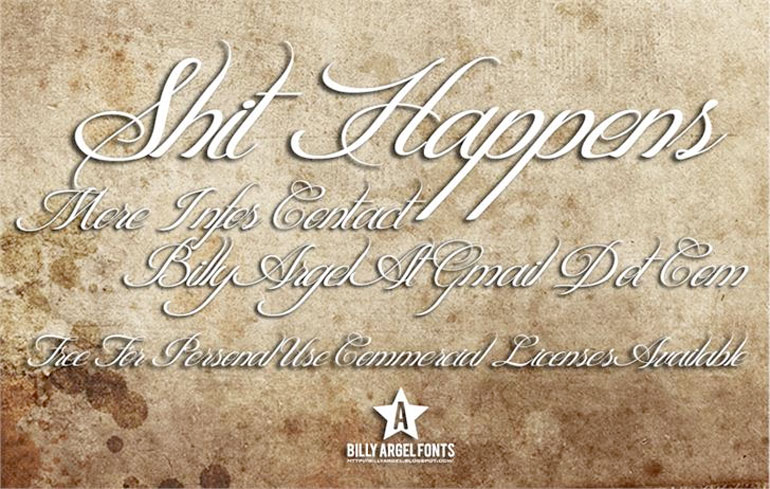 Shit Happens is a fun script that has a lot of flair. Almost every letter seems to have a swash or extended line of some sort that makes using this font quite interesting.

Love the look of the traditional "MOM" tattoo? Tattoo Ink helps you replicate that style. Bold block letters are partially filled from the bottom up. The all uppercase font includes two variances with different types of fill in the letterforms – tiny lines and triangles.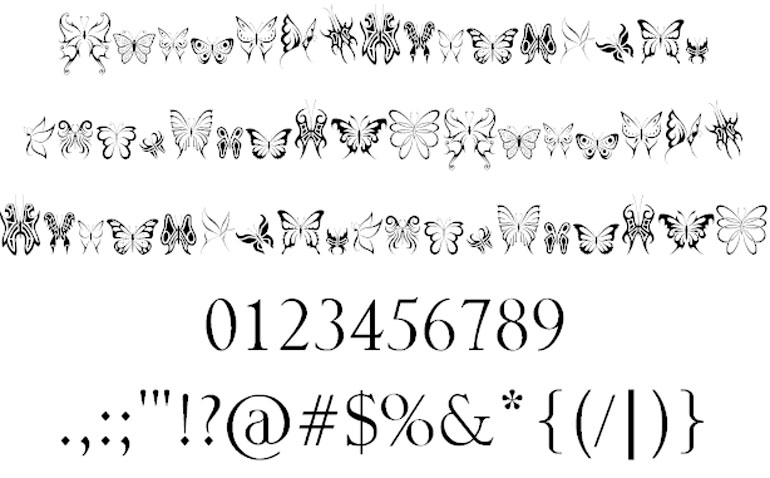 Tribal Butterflies is a glyph and numerical character set that includes a variety of insects. Butterflies vary from light and feminine to elements with thicker lines and a more tribal art feel.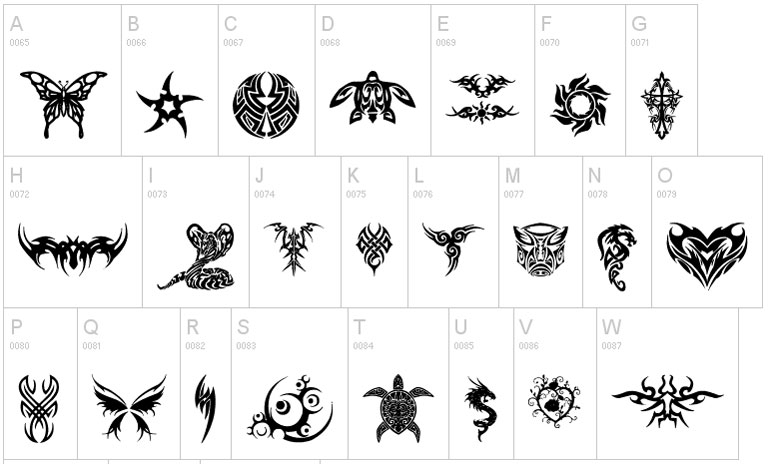 Tribal Tattoo is another glyph-only font with plenty of bits of tribal-inspired art. The set includes circles, swashes, stars, animal shapes, plants, dragons and more. The set has a distinct feel and with thick strokes for most of the characters, this tattoo font has all the glyphs you need to create something cool.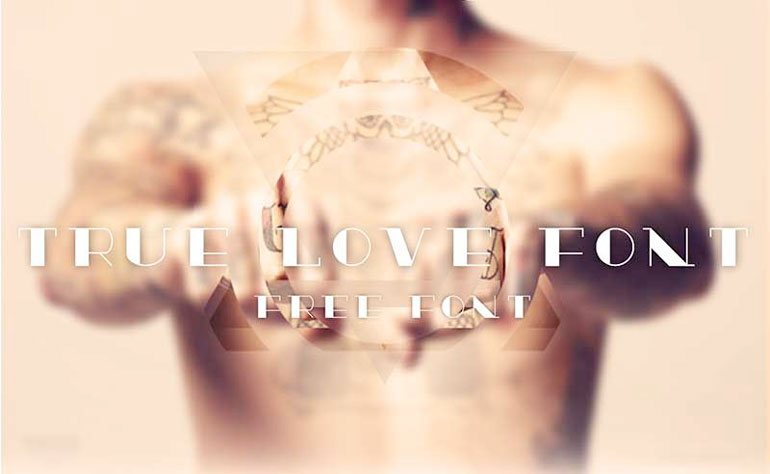 True Love Font is similar to Tattoo Ink with that "MOM" style, but with a few modern touches. It includes thick and thin strokes and a solid fill. The block style uses hard edges for a rougher, tougher, feel.

Unzialish is an old-world style typeface with alternating thick and thin strokes, a wide stance, long lines and heavy serifs. It has a Celtic style that's popular. The rather robust character set includes upper- and lowercase styles, but it's important to note that the font is in a small caps case.