7 Best WordPress Translation Plugins to Create a Multilingual Site
Looking for the best WordPress translation plugins to create a multilingual site?
The Internet is a multilingual space, so if you want to reach as many of the ~4.3 billion Internet users as possible, you need to offer your site in different languages.
To help you do just that, we've collected the best WordPress translation plugins. We'll feature plugins that help you create a user-friendly, indexable multilingual site, as well as a couple of simpler options that just let you dynamically translate your site on-the-fly.
Ready to go multilingual? Let's dig in…
How to Choose a WordPress Translation Plugin
Creating a multilingual WordPress site can be a big undertaking, so it's important to deeply consider which translation plugin is best for your needs.
To help you do that, let's go over three questions you should ask when choosing a WordPress translation plugin.
1. Are Static, Indexable Translations Important?
If you want the absolute simplest way to add translation to your site, you can use a plugin that dynamically translates your content into any language using something like Google Translate.
These plugins are nice because they're dead simple, require no time investment, and let your visitors choose any language.
However, there are some major drawbacks:
Because they dynamically translate your content, Google can't index the translations and people won't be able to share the translated version of your content.
You can't manually edit the translations, so you're at the mercy of whatever automatic translation service you choose.
This approach can be totally fine for blogs or other sites.
But if you're investing in a multilingual WordPress site to grow your brand, you'll probably want to choose a plugin that does create static, indexable versions of each page.
We'll share both types of plugins and clearly mark which is which.
2. Do You Want to Use Manual or Machine Translation
Even if you choose a plugin that creates static, indexable versions of your content, you still have two options for how to translate your content:
Automatic translation – you can use a service like DeepL or Google Translate to translate your content automatically.
Manual translation – you manually translate your content (or hire a freelancer or service to do that for you).
In 2020, I think the best approach is a hybrid approach, which most of the WordPress translation plugins on this list now offer.
That is, you can use machine translation to create the baseline translations for your site. But you can then go back and manually edit those translations as needed, especially on high-value pages.
3. What Do You Need to Translate?
When it comes to translating your WordPress site, there are a lot of different things that you need to translate.
All of the plugins on this list make it easy to translate content in the WordPress editor, but that's only a fraction of the content you'll need to translate. And once you get outside the editor, you can start to see some differences in the plugins.
I'm talking about translating elements like:
Navigation menus
Sidebar widgets
URL slugs
SEO and social metadata (like your SEO title)
Content from other plugins, like the events from an event calendar plugin
WooCommerce products
Some plugins are better than others when it comes to translation completeness.
Also, some plugins make it a lot easier than others to fully translate your content.
Five Best WordPress Multilingual Plugins to Create Static, Indexable Translations
In this first section, we'll be looking at WordPress translation plugins that let you create static, indexable versions of each language on your site.
Again, these types of plugins require a bit more of a time investment to set up, but that time will pay dividends because:
You can rank your translated content in Google and other search engines.
Your users can bookmark and share your translated content.
These are not in a specific order – we'll share our picks at the end.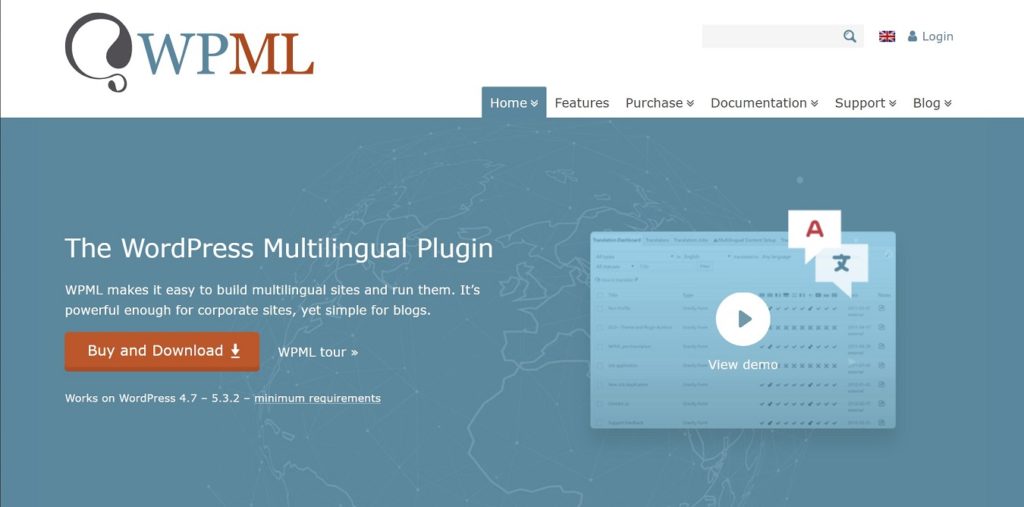 WPML is one of the most established WordPress translation plugins and it often seems like the de facto choice. For example, if you've ever gone shopping for other WordPress themes or plugins, you've probably come across the phrase "WPML compatible" quite a bit.
For a long time, WPML only supported manual translation, either by:
Yourself
A freelancer via dedicated translator accounts
An external translation service, which WPML can help you manage
Recently, though, WPML launched its new Advanced Translation Editor, which now supports machine translation via Microsoft (and more convenient side-by-side translations in general).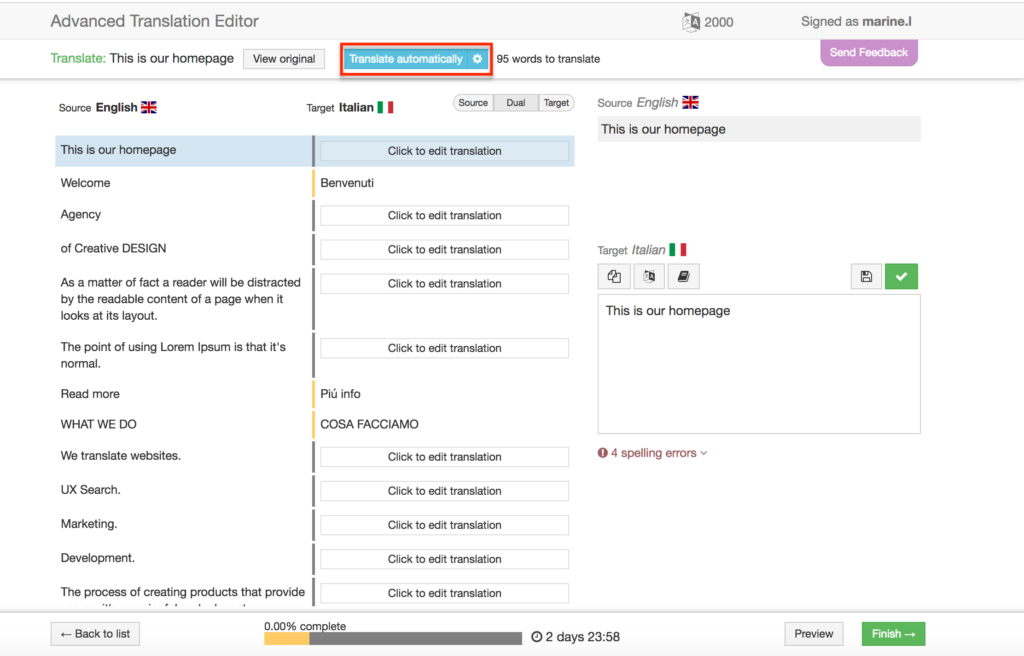 However, there is one big difference in how WPML approaches machine translation vs other translation plugins:
WPML only lets you use machine translation on a piece-by-piece basis. So you can apply machine translation to all the content in a blog post, but you can't click a button and use machine translation sitewide (at least not yet).
WPML generally offers comprehensive translations, but I don't find it to offer the most convenient way to offer comprehensive translations because translations for different parts of your site are spread across different areas of the WPML interface.
WPML only comes in a premium version. While its paid plans start at $29, I'd recommend that most people go with the $79 Multilingual CMS plan as it offers much more comprehensive translation support.
Pros:
Lengthy feature list.
Offers lots of tools to help you work with manual translations.
Lets you use automatic translation for individual posts.
Cons: 
Doesn't let you use sitewide automatic translation.
Doesn't work with 100% of plugins/themes.
Splits translations into separate interfaces.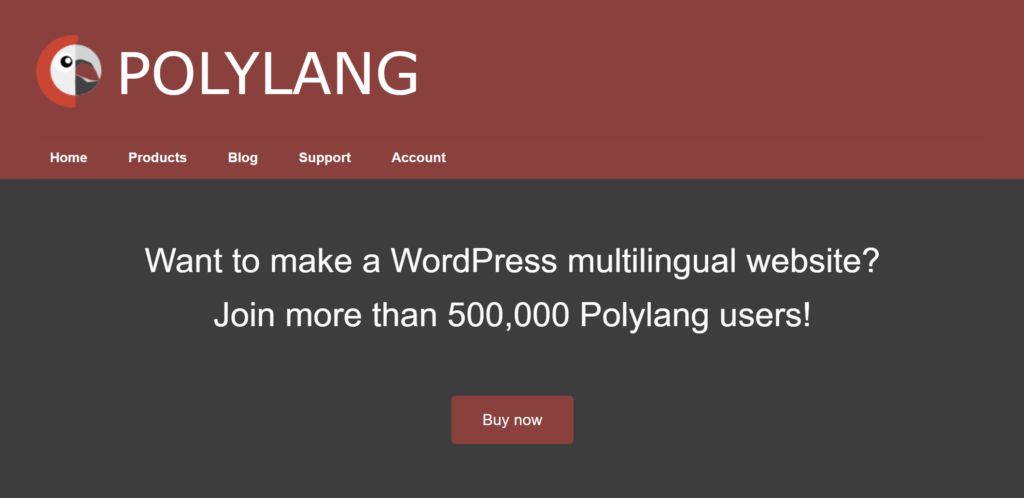 Active on over 500,000 sites, Polylang is the most popular free multilingual plugin at WordPress.org.
Polylang works by essentially "duplicating" the editor for different languages. So when you go to create the Spanish-language version of your post, you'll be working in an entirely separate editor.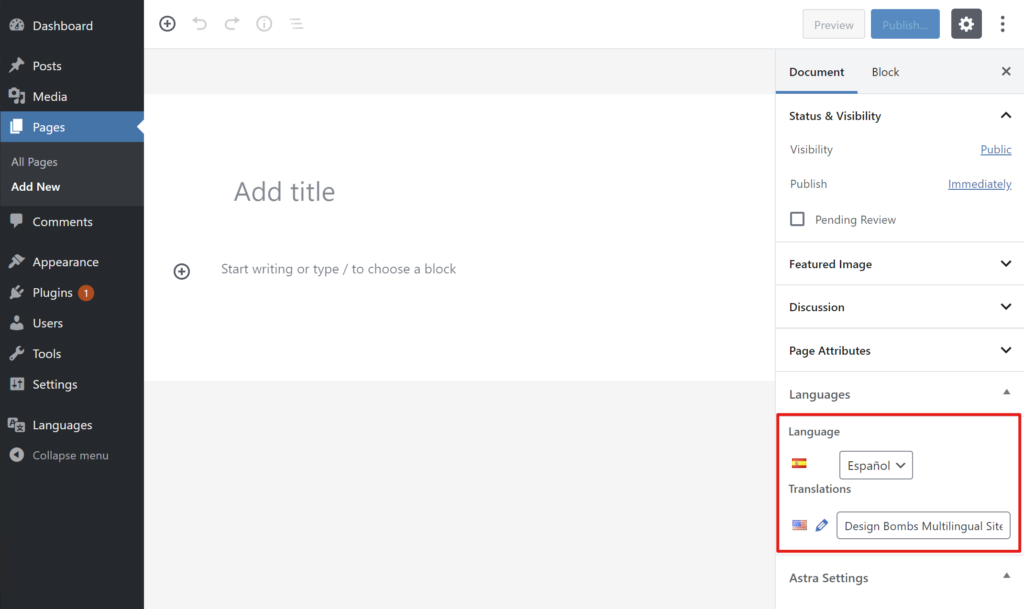 I personally don't find this approach to be as convenient as some of the other plugins, but it does give you more flexibility for creating the translated versions of your page. That is, you don't have to reproduce an exact 1:1 translation like you might with a side-by-side editor.
The core Polylang plugin only supports manual translation, but you can integrate it with the Lingotek Translation plugin from the same developer to connect to other translation services (including an option to use automatic translation).
You can try the core version for free at WordPress.org, but you'll need to go Pro for comprehensive translations, especially if you're running a WooCommerce store. Polylang Pro and Polylang for WooCommerce cost €99 each, or you can get a bundle of both for €139.
Pros:
Free version.
Supports manual and automatic translation (with Lingotek plugin).
Doesn't force you to use 1:1 translations.
Cons:
Requires premium version for comprehensive translations.
Splits translations into separate interfaces.
Doesn't always work with 100% of plugins/themes.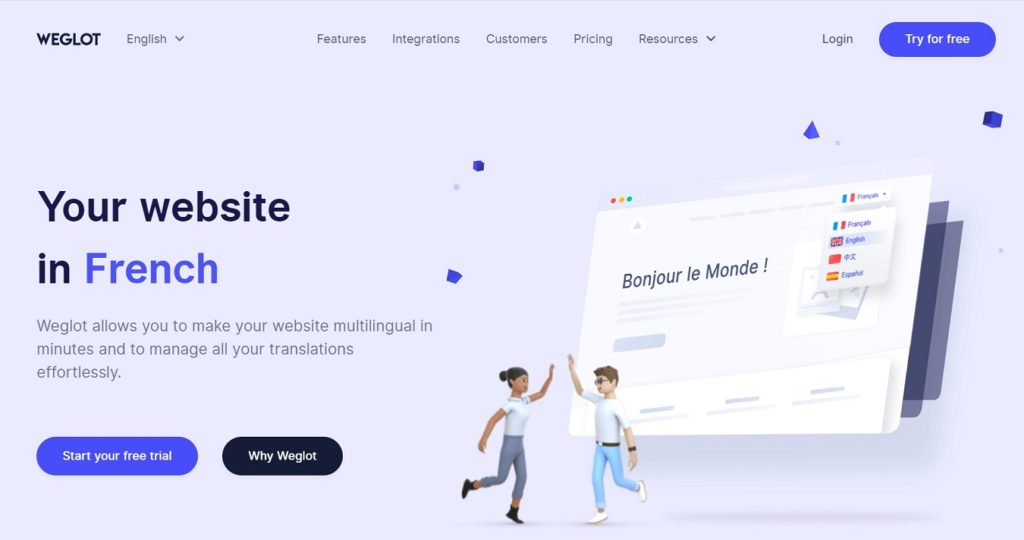 Weglot is one of the highest rated WordPress translation plugin that makes translating your WordPress site dead simple. It's more of a hosted SaaS solution that you can easily integrate into WordPress thanks to a dedicated plugin.
Weglot passed €330,000 in monthly recurring revenue in May 2020, so a lot of people clearly like Weglot.
In terms of simplicity and how quickly you can get up and running with a working multilingual site, Weglot is going to be your best option.
As soon as you activate the plugin, it uses machine translation to translate your entire site into your chosen language(s). So within the first couple of minutes, you already have a working multilingual site.
Then, you can go back and manually refine your translations using two interface options:
A side-by-side list editor that looks a lot like a PO file.
A visual preview of your site, where you can just click on any text on your site to translate it.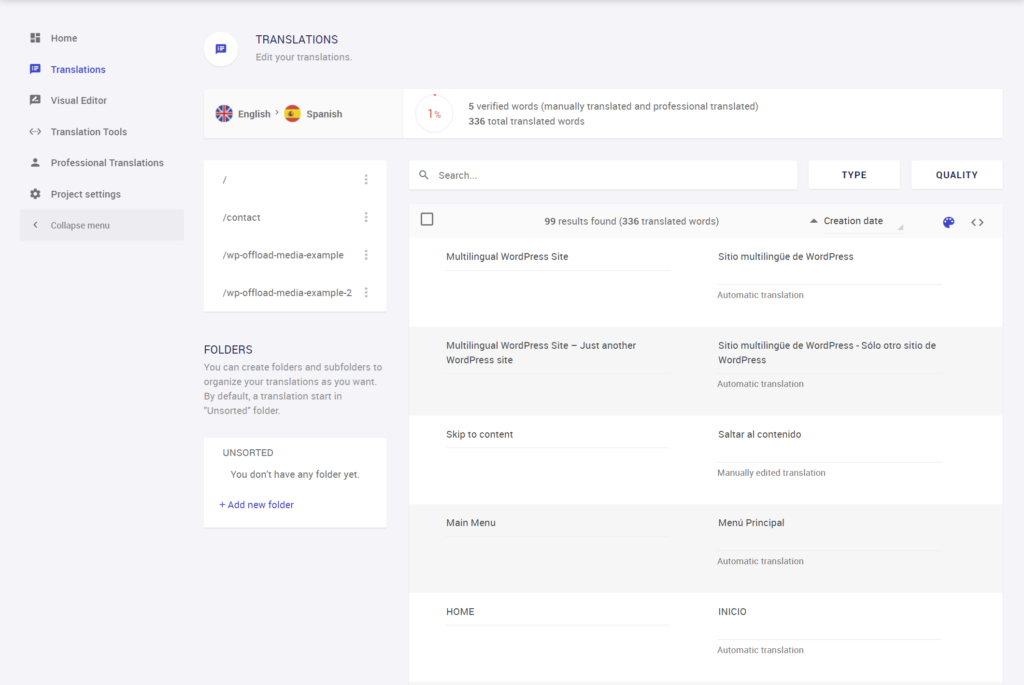 Another big benefit is that Weglot works with everything out of the box. You can use it to translate pretty much any theme or plugin without looking for special compatibility, including SEO metadata.
There are two trade-offs for that simplicity and ease of use, though:
Your translations are hosted on Weglot's servers.
Because it uses a SaaS approach with ongoing subscription billing, Weglot can be pricier than other tools.
Weglot offers a limited free tier that lets you translate up to 2,000 words into one language, which can work for small sites. After that, paid plans start at €99/year or €9.90/month to translate up to 10,000 words into one language.
Pros:
Has a basic free plan for small sites.
Super simple to set up.
Lets you translate your entire site with machine translation.
Can manage translations via side-by-side or visual editor.
Cons:
Can be pricier than other tools, especially for sites with lots of content.
Your translations are stored on someone else's server.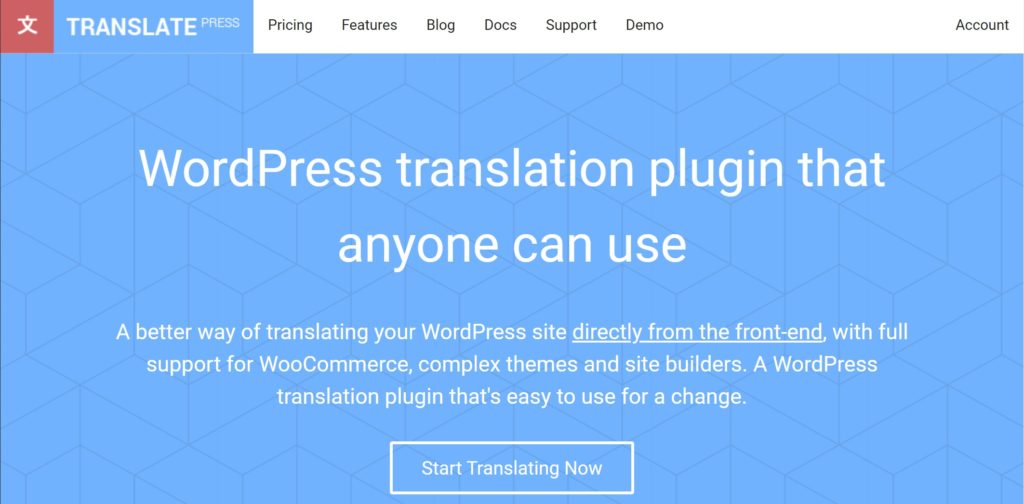 TranslatePress is another new'ish WordPress translation plugin that's quickly growing and offers a unique approach to WordPress translation.
Rather than requiring you to work with translations in a backend interface, TranslatePress lets you manage your translations from a live visual preview that looks a lot like the WordPress Customizer: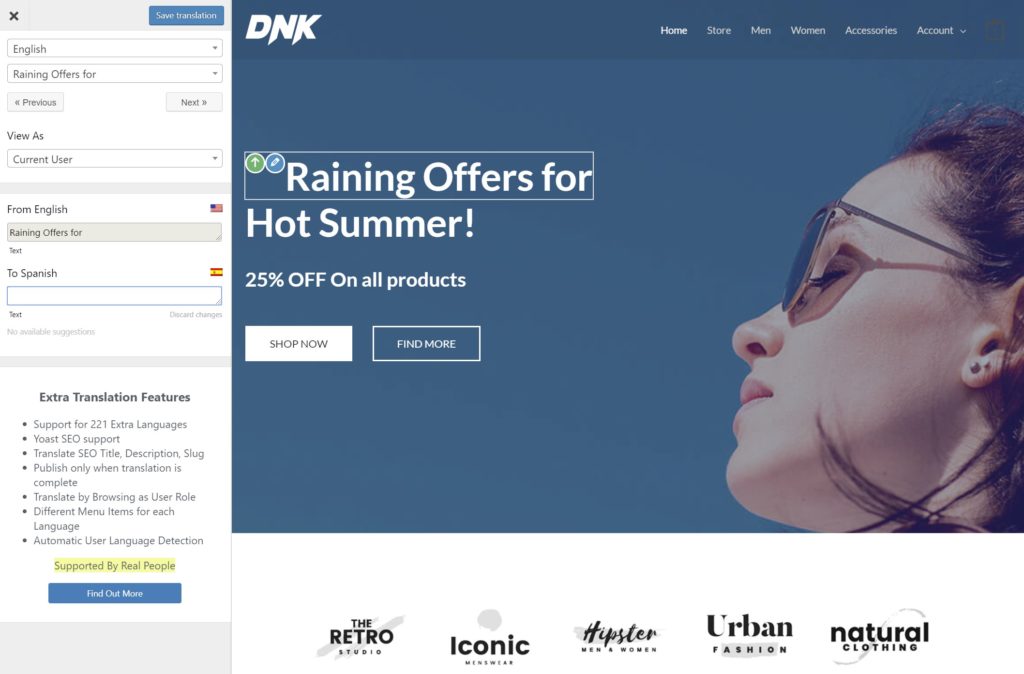 Like Weglot, TranslatePress works with pretty much every theme and plugin out of the box. For example, you can open the content from a plugin in the visual translation editor and click on it to translate everything. You can even translate SEO and social media metadata (with the paid version).
You can either manually translate your site from scratch. Or, you can integrate with Google Translate API or DeepL to automatically translate your entire site using a single click. TranslatePress then stores those machine translations locally on your server and you can go back and edit them as needed.
TranslatePress has a limited free version at WordPress.org that you can try to test out the interface. But if you're serious about growing your multilingual site, I'd recommend purchasing at least the €79 Personal license as that gets you access to important multilingual SEO features.
Pros:
Has a free version.
Works with almost all themes/plugins out of the box.
Uses a visual translation editor.
Supports sitewide automatic translation via Google Translate or DeepL.
Cons:
No side-by-side editor (if you prefer that approach).

MultilingualPress has a unique approach to WordPress translation that makes it deserving of a spot on this list. All the other WordPress translation plugins add multilingual functionality to the core WordPress software.
MultilingualPress goes in a slightly different direction and adapts a core feature to creating a multilingual site.
That core feature? WordPress multisite!
This can offer benefits to both performance and compatibility because MultilingualPress is only ever loading one language per site (because each language is a separate network site).
MultilingualPress is focused on manual translation, though – there's no built-in automatic translation option like the others (or easily integrated, in the case of Polylang). The developer does offer a TranslationMANAGER plugin that lets you outsource your translations to the Eurotext professional translation service, though.
While you can find the older version of MultingualPress at WordPress.org (v. 2), the newest version (v. 3) is only available in a premium version. Prices start at $199.00.
Pros:
Uses WordPress multisite.
Only loads one language per site for improved performance.
You can change things between sites for improved localization.
Cons:
No automatic translation.
It's pricey.
Two Best Dynamic WordPress Translations for Plug and Play Translations
These last two plugins let your visitors dynamically translate your site into any language. Again, these are not a good option if you want to be able to rank your translations in Google or control your translation content.
But if you just want to give your visitors an option to easily translate your content into their chosen languages, these plugins offer a simple way to achieve that. Just be aware of the drawbacks…

GTranslate is a popular translation plugin that offers different experiences in the free vs paid version.
With the free version, you can easily offer dynamic translations in any language, while the paid version offers indexable, editable versions of your translations, much like Weglot.
I'm going to focus on the free version, which is why I put it in this section rather than the previous section.
All you do is install the plugin, choose the languages and location for your switcher, and you're set to jet.

Google Website Translator is another popular free plugin that supports dynamic translation into 100+ languages via Google Translate. Again, all you do is choose which languages to offer and configure the translation drop-down. Then, your visitors can start dynamically translating.
Which is the Best WordPress Translation Plugin?
So now for the important question – which is the best translation plugin for your site?
If I had to recommend the best overall plugins for most sites, I would go with two of the younger options:
I think translation has come a long way and these two plugins just offer a much more streamlined approach to creating a multilingual WordPress site.
They both:
Let you manage your translations from a visual interface.
Offer near-100% compatibility with all themes and plugins right out of the box.
Let you use machine translation to translate 100% of your site with a single click and then refine those automatic translations as needed.
They do have a difference in philosophy, though, and you'll want to choose the one that's right for you:
Weglot – uses the SaaS approach which offers the absolute best simplicity. But you'll need to be ok with subscription billing and having your translations "live" on Weglot's servers.
TranslatePress – uses a traditional plugin approach. You pay a one-time fee (plus a renewal if you want to keep receiving support and updates) and everything stays on your WordPress site's server.
That's not to say the other plugins aren't viable options, but I think the two above are the best choices for most WordPress users, especially if you desire a user-friendly solution.
On the other hand, if you just want a simple dynamic translator widget, check out the free version of GTranslate.
And no matter what, using a WordPress multilingual plugin is going to take extra resources, so make sure you're set up with the best WordPress hosting possible.
Any questions about choosing the best WordPress translation plugin? Ask away in the comments!