15 of the Very Best WordPress Themes for Writers (2021)
Looking for the best WordPress themes for writers? While many contemporary themes are designed for businesses, there are lots of impressive niche themes built especially for writers.
Themes for writers often feature clean, minimal designs, which you'll see in the round-up below. Complexity in design isn't everyone's cup of tea and can be distracting when all you want is for readers to focus on your words.
One of the great things about WordPress is that it lets anyone build a website, so you can focus on sharing your story freely. All you need is the right theme!
Top 3 Best WordPress Themes for Writers
Before we dig into the collection of best WordPress themes for writers below, let's take a look at the top three for 2021:
Theme

Price

Features

1. The Essence

$59

– A huge variety of blog layouts.
– Integrated social media functionality.
– Endless customization options.

2. Hoffman

Free

– Beautiful fullwidth design for easy reading.
– Gallery option for feature images.
– Custom widget for recent post.
01.

The Essence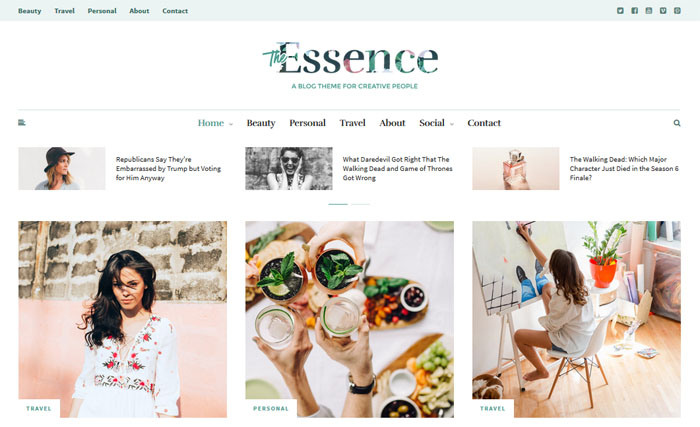 The Essence is an elegant, feature-rich theme, perfect for creative types looking to build a home online. Designed by Meridian Themes, it contains everything you need to create an attractive site for your blog or magazine.
This multipurpose theme comes with multiple layouts out of the box that you can use as-is or as a jumping off point for your own content. Writers will love The Essence's layout options, including a single column option that puts your blog post content in the spotlight.
Key Features:
17 different blog layouts.
Flexible layout options — and tons of them! You can choose to have a single column (recommended) or keep the sidebar.
Custom sidebar widgets.
Endless customization options for layout, colors, typography, spacing, and more.
Responsive design looks great on any device.
Integrated social media functionality.
Price: Starts at $59.
02.

Elegant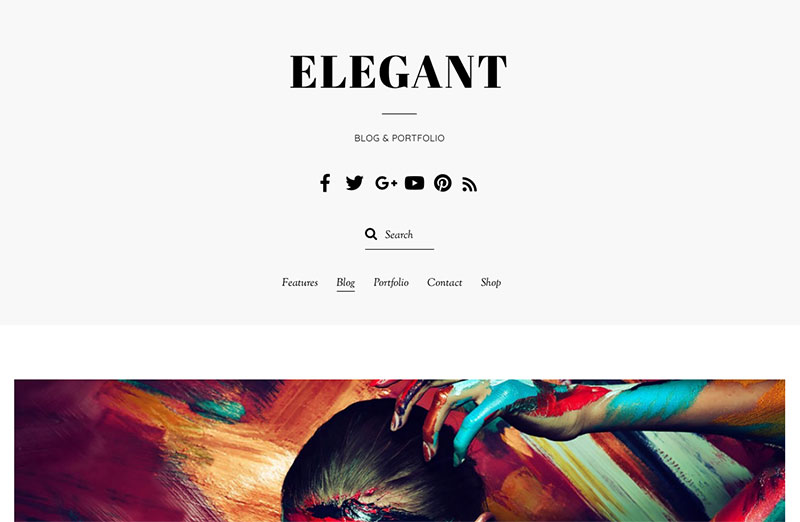 The Elegant theme is a simple yet elegant, multipurpose theme that removes all the fancy animations and graphic effects, and instead focuses more on your content. Elegant is an ideal theme for writers, artists, designers, agencies, editorial sites, and individual portfolios.
This multipurpose theme comes with plenty of customization options so you can use it for your blog or professional writing portfolio.
Key Features
Writers will appreciate the theme's fullwidth version of its blog.
Comes with social icons that match the black-and-white design.
Themify also has its own drag-and-drop builder.
Choose from left and center layout alignments, which can be pre-set for the entire site or adjusted per post/page.
Auto-apply grayscale, blur, and sepia filters to your images without editing the original image source (no Photoshop needed!).
Choose from grid and masonry layouts for your blog and portfolio pages.
Price: Starting at $89.
03.

Hoffman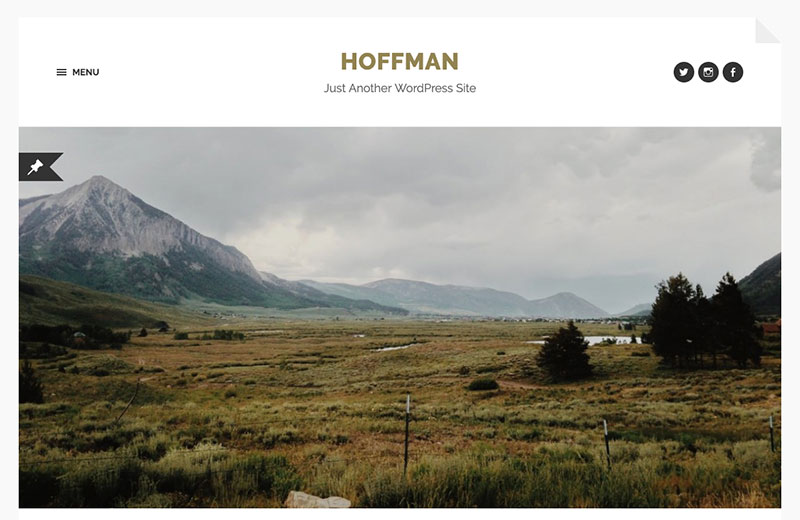 Hoffman is a stylish and beautifully minimal WordPress theme for bloggers. It features a simple fullwidth, single column design. But as far as blogging themes go, the devil is in the details.
The featured images are fullwidth, which look great. But keep in mind that on desktop, feature images extend out to 1200px, so you're going to need some high quality images.
Key Features
Posts on the homepage display as excerpts, allowing your readers to "Read More" to see the full post.
Carefully crafted responsive design. Icon fonts makes sure it look great on any device.
Built-in support for Jetpack's infinite scroll functionality and tiled gallery.
Custom widgets for recent posts with thumbnails, recent comments with avatars, and a Flickr widget.
Gallery post format lets you display images in a big slideshow at the top of your posts.
Price: Free.
04.

The Traveler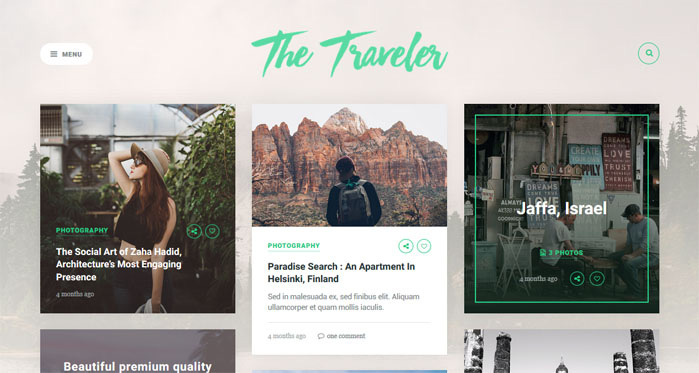 The Traveler is a light and contemporary theme that's an excellent choice for travel writers and bloggers. Designed by Meridian Themes, featured images display in an elegant, grid-based display, which you can overlay with your all-important text.
Whether your visitors are using a desktop, mobile, or anything in between, The Traveler ensures that your content looks perfect every time with its responsive design. This is especially important for travel blog since your visitors are likely to be travelers reading your site on smaller devices!
Key Features
Grid-based layout puts the focus where it belongs — on your travel images.
Built-in Instagram feed display lets you share your latest Instagram posts — perfect for when you're on the road.
Customize colors, widgets and more with the WordPress Customizer. Preview updates in real-time.
Several custom widgets, including About Me, Instagram, and Social Media Profile widgets.
Price: Starts at $49.
05.

Good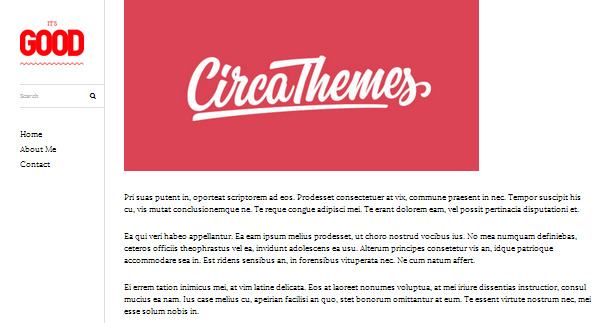 With a focus on user experience, Good is a good (great, even!) minimalist theme by FancyThemes and provides a solid platform for creatives and writers. Promote your writing, art, photography, sketches, and more using this elegant yet effective portfolio-style theme.
The homepage features a variation of a split-screen design with a small area for the search bar and navigation menu fixed on the left side, with your latest posts featured on the right side.
Key Features
Featured post displays with a very large image, title and excerpt at the top of the homepage.
Minimal left-hand sidebar puts all of the focus on your words.
Customize colors, colors, widgets and more with the WordPress Customizer.
Well-designed meta data area at the top of each post and an elegant author box at the end.
Plenty of typography options. Pair your style with one of many fonts that are both legible and beautiful.
SEO optimized.
Price: Free
06.

Tulip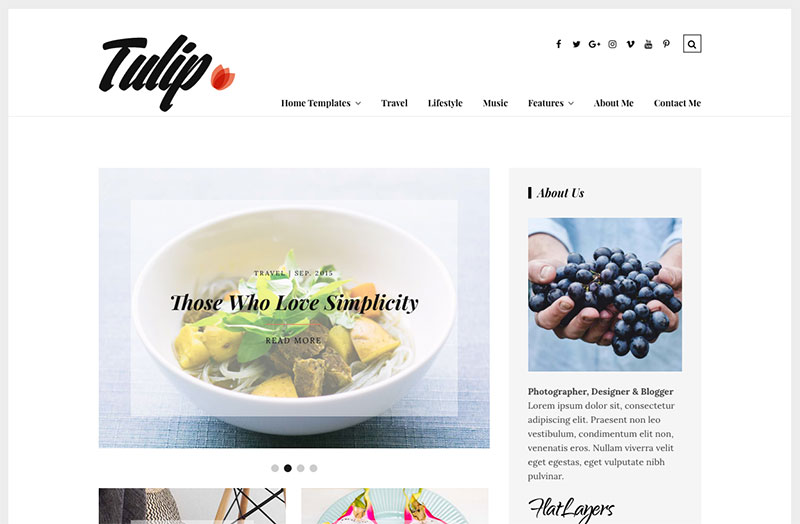 Tulip is another minimalist theme, this time designed by FlatLayers. It features a plain, black-and-white design, creating an elegant user experience that will keep your readers focused on your writing. The preview above is just a taste of what styles this theme has to offer.
The blog post page is fairly standard, TBH, featuring posts on the left-hand side and a sidebar on the right-hand side, though you can choose to have a fullwidth blog (recommended) or place the sidebar on the left-hand side instead.
Key Features
Three different homepage layouts and nine different blog layouts.
Fullwidth blog helps to ensure your readers stay focused on your content.
This theme takes advantage of Google Fonts for typography.
Social media icons are included.
Price: Starting at $39.
07.

Wild Book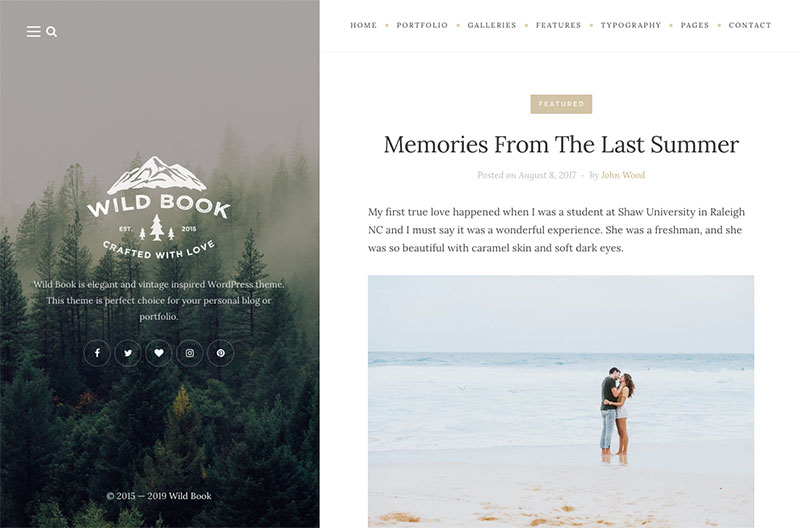 Wild Book is another split-screen WordPress theme with some interesting twists. Designed by NordStudio, the end result is a minimalist, distraction-free design that lets your readers enjoy your content.
The left side of the screen features your blog's branding and social icons. The background changes depending on what page you're on, but the logo and text remain the same. The right side is where your pages and blog posts display, together with fixed navigation at the top.
Key Features
Really easy to set up.
Customize colors, fonts and more using the WordPress Customizer.
Tell your stories through images and excerpts.
Add images to your posts and feature certain paragraphs, quotes and sentences in boxed-out areas.
Price: Starting at $39.
08.

Literatum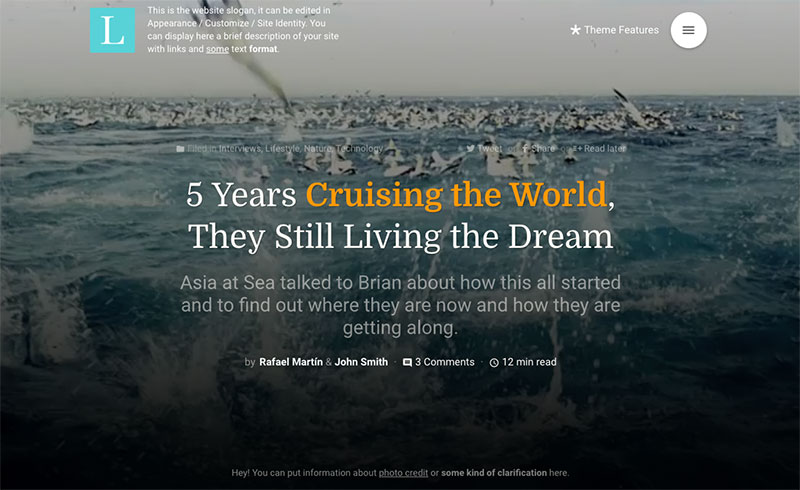 Literatum is an ideal theme for writers and online journals/magazines that are looking to display articles in a clean and modern way, with an easy navigation and a design that focused the reader's attention on the content.
The blog pages themselves are what truly stand out with this theme. The top of the page displays a large version of your featured image/video. The rest of the page is fullwidth, and the font size is large, all of which come together to form an elegant way for you to create blog posts.
Key Features
Homepage header features latest post, which you can display with a feature image or video.
Use the WordPress Customizer to change colors, fonts, and more.
AJAX powered dynamic navigation, which can be activated in one click.
Custom author avatars to display on profile pages.
Word count tool that automatically gives reader an idea of the length of your posts and the time it will take to read them.
Price: Starts at $39.
09.

Blogify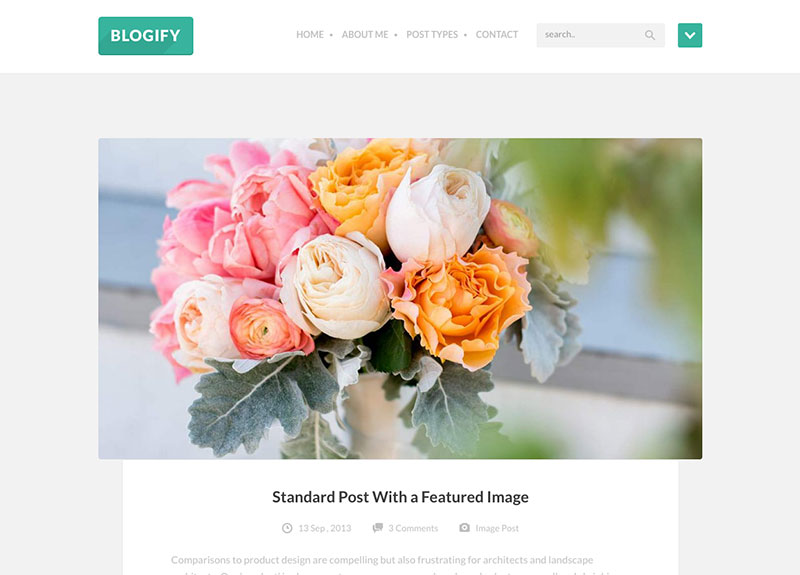 Is simple your thing? Then you can't go wrong with Blogify, a minimalist WordPress theme designed by Axathemes. This theme offer a clean aesthetic and straightforward functionality.
Blogify features a classic fullwidth, single column layout for your post excerpts. Readers can choose to "Read More" to read your full posts.
Key Features
Responsive design looks great on any device.
Multiple post type options: standard posts, video and audio posts (think: YouTube and SoundCloud), galleries, featured images, and links.
Options for infinite scroll, sticky menus, sticky sidebar, and maintenance mode.
Custom widgets: Flickr, Twitter, Dribbble, popular posts, and recent comments.
Price: Starting at $24.
10.

Narcos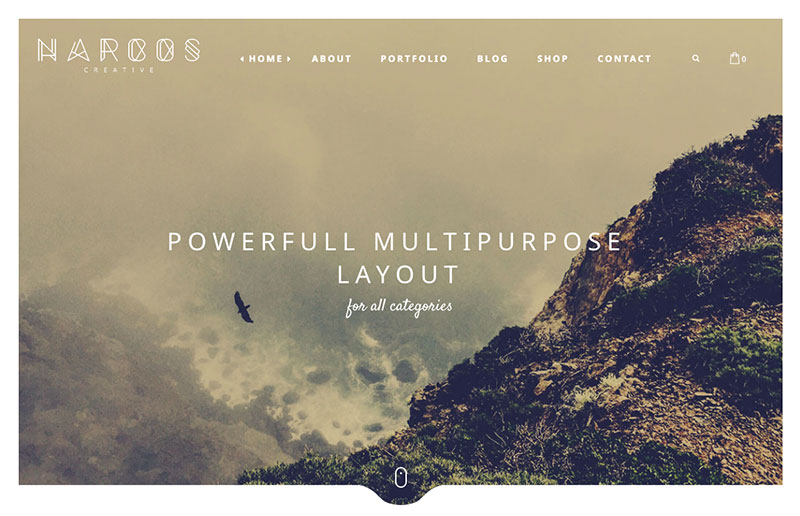 Impress your readers with Narcos, a perfect combination of a beautiful and modern design with tons of powerful customization options and a processionally written code base.
It's a multipurpose theme, but also fully capable of being used as a dedicated blog.
Key Features
Multiple homepage layouts to choose from.
The fullwidth design keeps your reader focused on your content.
Block quote designs and additional elements complement typography.
Comes with Slider Revolution plugin, Google Fonts integration, and four different, creative header styles.
Price: Starts at $58.
11.

Infinite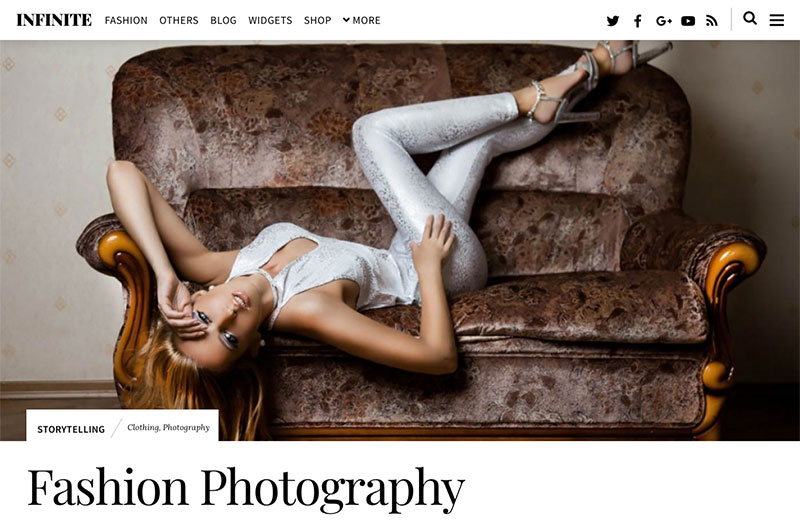 You can probably guess why this theme is called Infinite — it features infinite scrolling. Another theme by Themify, it comes with a variety of customizable features, from sticky headers to optional sidebars, allowing you to create a design that best reflects you, together with a distraction-free experience for your readers.
Optional infinite scroll for both archive and single post view. For your reader's convenience, there's a "back to top" button when infinite scroll is active.
Key Features
Lets you insert banner ads in between each single post or after a certain number of posts within the archive view.
Display blog posts using a grid layout or the fullwidth layout option.
Themify also has its own drag-and-drop builder.
Give readers an unobstructed view and highlight your content with the sticky header option. It's hidden when scrolling down and pops out when scrolling up.
Optional mega menu to display your recent posts, multi-column menus, and drop any widget in the menu (eg. Twitter, recent posts, WooCommerce products, tags, etc.).
Price: Starts at $60.
12.

Evoke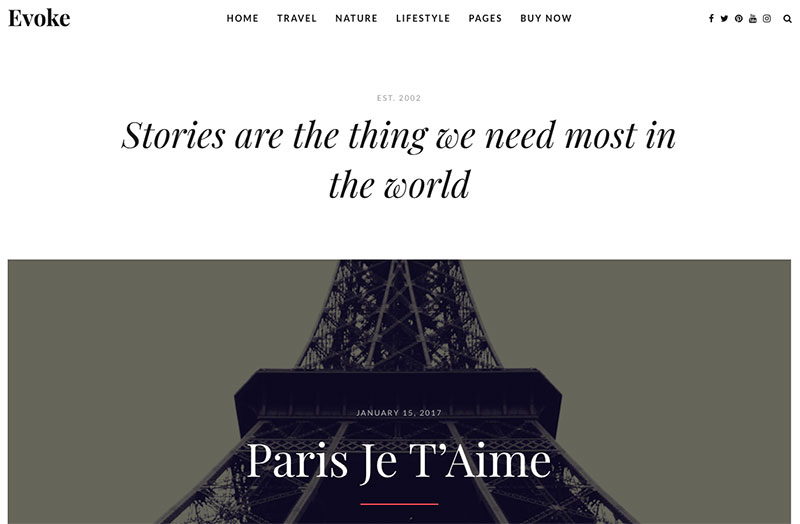 Evoke is a minimalist storytelling theme by MatchThemes. The homepage features a grid of your latest posts, using your title, meta data and featured image to promote each post. The post page, however, is where this theme shines for writers.
The fullwidth post page features black text against a white background, and some of the images can be displayed fullwidth.
Key Features
10+ different blog layouts for displaying your posts.
Distraction-free experience for your readers.
Use the WordPress Theme Customizer to change your site title, colors, logo, typography and more.
Price: Starts at $44.
13.

GraceUnderPressure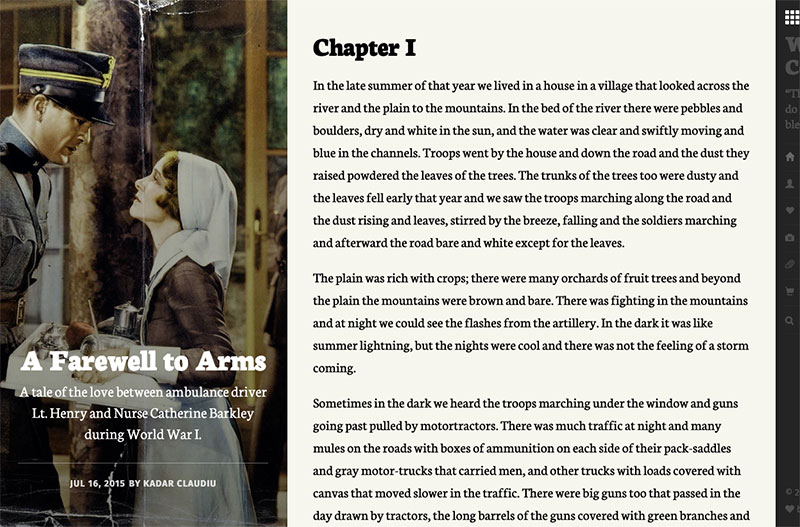 GraceUnderPressure is another split-screen WordPress theme. Designed by the folks at Stylish Themes, the left side is where the featured image display, with your site content and blog posts on the right.
Just like other split-screen themes, the left side remains fixed while the right side scrolls freely. This creates a distraction-free reading zone where your users can remain focused on your content without having their eyes drift elsewhere.
Key Features
Menu peaks out from a hidden sidebar on the right. Helps save space so readers can focus on your content.
Custom styles and custom typography.
Mobile-first layout — minimalist and distraction free experience on mobile, expands to a more detail-rich design on desktop.
Cover photos expand full screen on mobile, overlaying the article's title and description in a way that's reminiscent of vintage books.
UI, typography and contrast have been carefully designed to offer a pleasant reading experience on tablet devices.
Price: Starts at $49.
Final Thoughts
I hope this collection of WordPress themes for writers has helped you find the perfect theme to support your writing. When choosing a theme that provides an optimal experience for your readers, you'll want to look out for:
Beautiful typography, and options to change fonts.
A content-driven design.
A clean and minimal design. Too much clutter will distract readers from your words.
Widgets/options to display related and popular posts.
Easy to set up.
Just on that last point — there are plenty of themes for writers that I left off this list because they were gimmicky and/or tricky to set up. As a writer myself, who's got time for that? We're too busy writing!
Most importantly, make sure you purchase a theme from a reputable developer or theme shop. Make sure the developer updates the theme regularly. Have a look through their reviews from past customers to make sure they offer nothing but quality.
If you liked this article, you might want to check out 21+ Best Free Responsive WordPress Themes for 2019 and 20+ Best Personal WordPress Blog Themes For Corporate, Fashion, Travel, And Personal Blogs.