7 Best WordPress Forum Plugins Compared in Detail (2023)
Searching for the best WordPress forum plugin to create a discussion board on your site?
You can find a good number of free or paid plugins to help you create simple or advanced forums on your WordPress site.
In this post, we've curated a list of the seven top options – six of which have functional free versions (and the seventh is pretty cheap!).
For each plugin, we'll share the following information:
Key features
How it works
Pricing
Pros and cons of using that plugin
The end goal is that you can choose the right option for your site.
Let's dig in!
Summary: Best WordPress Forum Plugins
If you're in a rush, here's a quick summary of our picks. Keep reading for a detailed look at each plugin, along with our recommendations…
Top Forum WordPress Plugins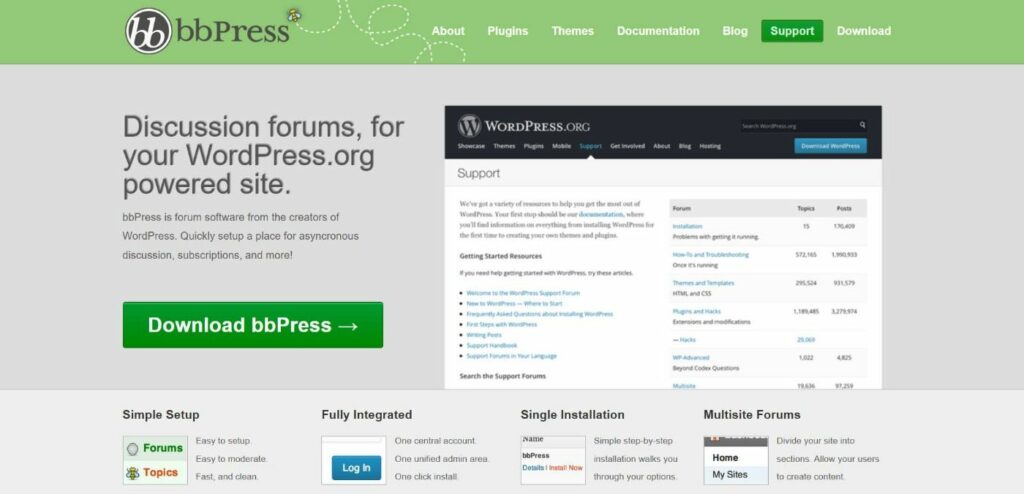 Maintained by Automattic (the company behind WordPress.com and WooCommerce), bbPress is the most popular and well-known WordPress forum plugin, which is a big part of why it's #1 on our list.
It's 100% free and gives you a very simple way to create a forum with WordPress. The core functionality is limited by design, with just a very basic settings area.
However, the advantage of bbPress is that there's also a massive library of third-party add-ons that you can use to extend the core plugin (though this has some drawbacks as well).
It also pairs well with the BuddyPress plugin if you want to add more of a social community to your forum.
Key Features
Maintained by Automattic.
Simple setup.
Manage forums, topics, and replies just like you do blog posts.
Let users participate without an account (optional).
Users can subscribe and favorite topics.
Extend bbPress using hundreds of third-party extensions.
Control your forum's design using bbPress themes (these are actual WordPress themes).
How It Works
As soon as you install and activate bbPress, you'll have a working community. The settings area is very basic – it's literally one page that covers basic functionality: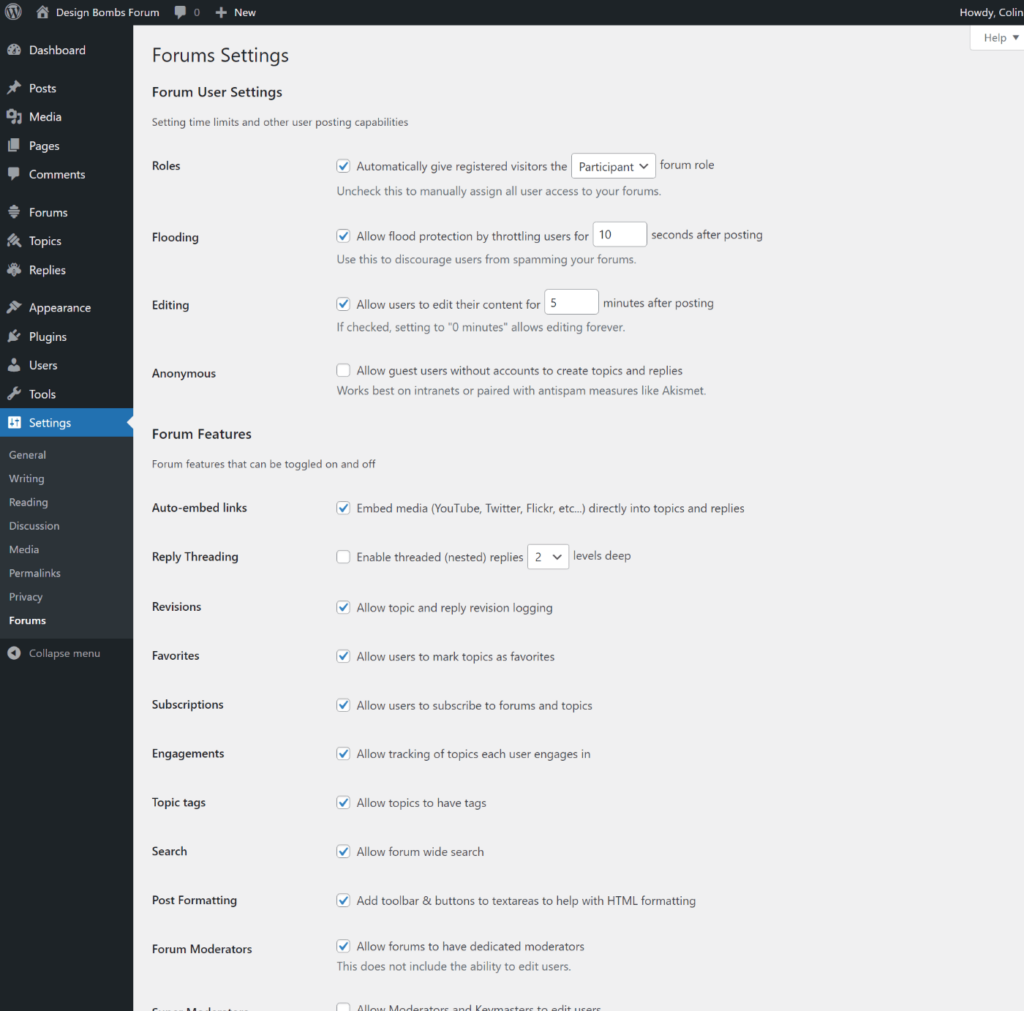 To add more features, you can install third-party extensions.
To learn more, check out our full bbPress tutorial.
Pricing
The bbPress plugin is 100% free. However, you might need to pay for some of the third-party bbPress extensions, depending on the features that you need.
Pros and Cons
👍 Pros:
The core plugin is 100% free.
bbPress is super simple and easy to use.
There are hundreds of third-party extensions, which gives you a lot of flexibility.
Because of its popularity, a lot of other plugins have bbPress integrations. For example, many membership plugins offer built-in bbPress integrations.
bbPress is well-maintained because it has the support of Automattic.
👎 Cons:
The core bbPress plugin doesn't have as many features as many other WordPress forum plugins.
Relying on third-party extensions adds some extra complexity and potential for compatibility issues, as compared to using a forum plugin where all of the features come directly from the developer.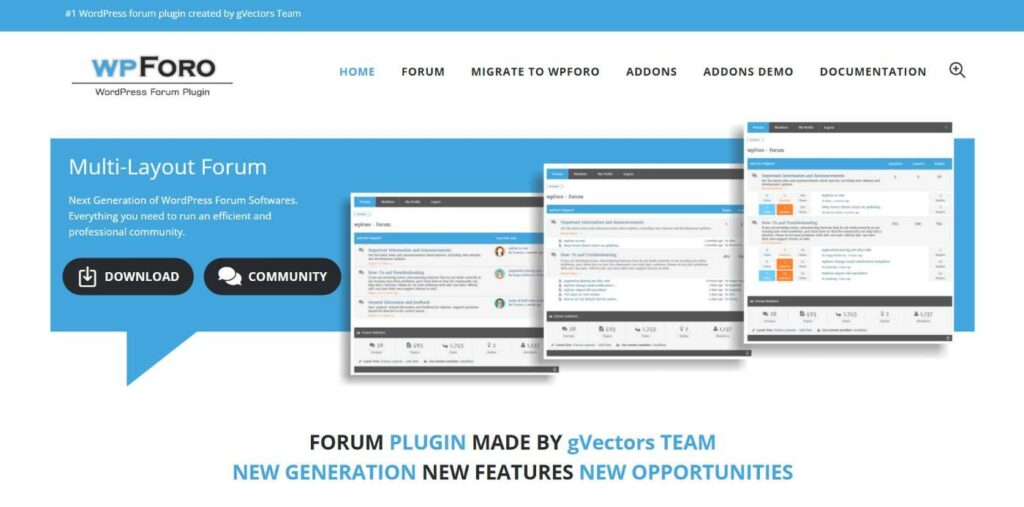 After bbPress, wpForo is the second-most popular free WordPress forum plugin at WordPress.org.
The free core plugin is very functional by itself and then you can purchase add-ons to add features such as private messaging, an ad management tool, and lots more.
It comes from the same developer as the popular wpDiscuz comments plugin.
Key Features
Four different forum layouts – including "traditional" forum layouts and a Stack Overflow-style Q&A format.
Six built-in color styles.
Member profiles, including ratings and badges.
Users can subscribe and watch topics.
Create user groups to control access to forums.
Polls.
Private messaging.
Anti-spam tools.
Ads manager to monetize your forum by inserting ads at various spots.
Integrates with BuddyPress or Ultimate Member to add social community features.
How It Works
When you activate the plugin, it starts working right away. You'll get separate areas to manage forums, moderation, users, user groups, and more.
You'll also get a detailed settings area to control various aspects of your forum: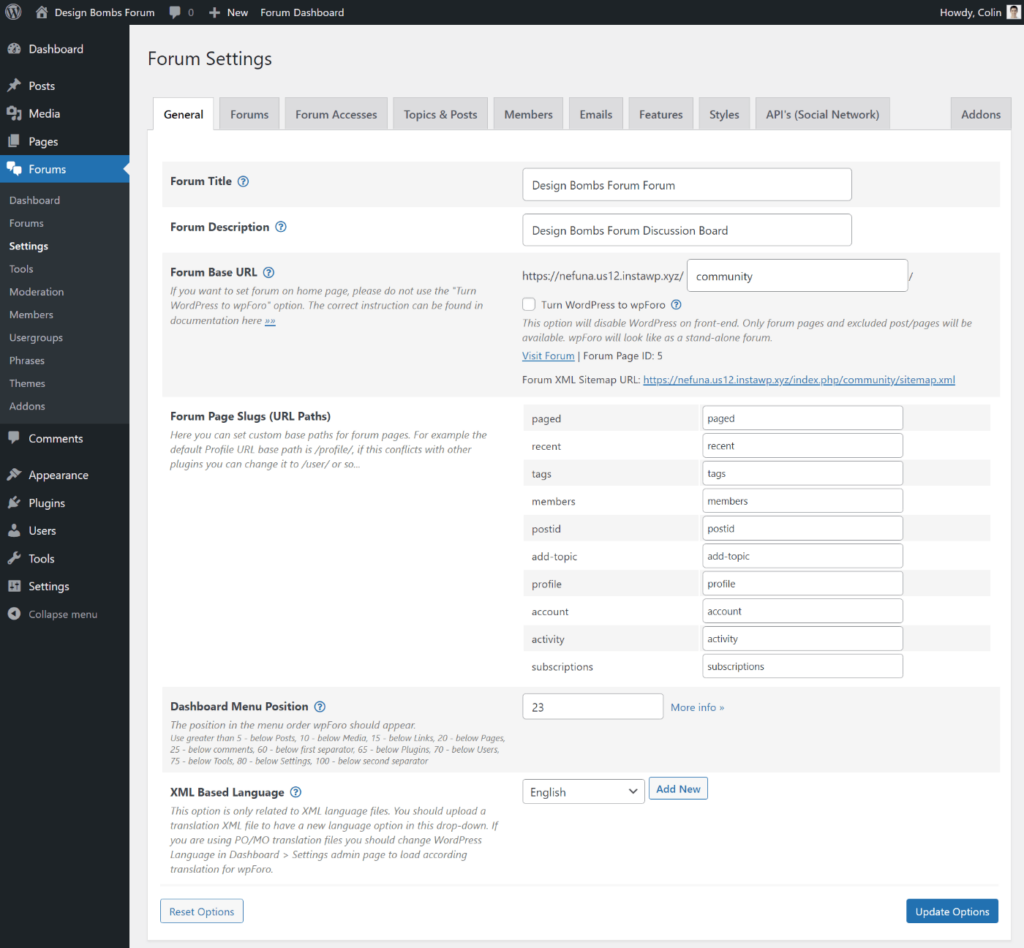 Pricing
The core wpForo plugin is available for free at WordPress.org. By itself, the free version is already pretty functional.
To add more features, you can purchase individual add-ons that range in price from $11 to $49, depending on the feature. While there's no official bundle, you will get discount if you purchase multiple add-ons at the same time:
3-4 add-ons – 20% discount
5-6 add-ons – 30% discount
7-9 add-ons – 40% discount
10+ add-ons – 50% discount
Pros and Cons
👍 Pros:
The free version is very functional.
You can choose from multiple forum layouts, including Q&A style.
The built-in user groups feature is helpful if you want to restrict access to some forums.
The ads manager helps you monetize your community.
👎 Cons:
It can get expensive if you need a lot of premium add-ons.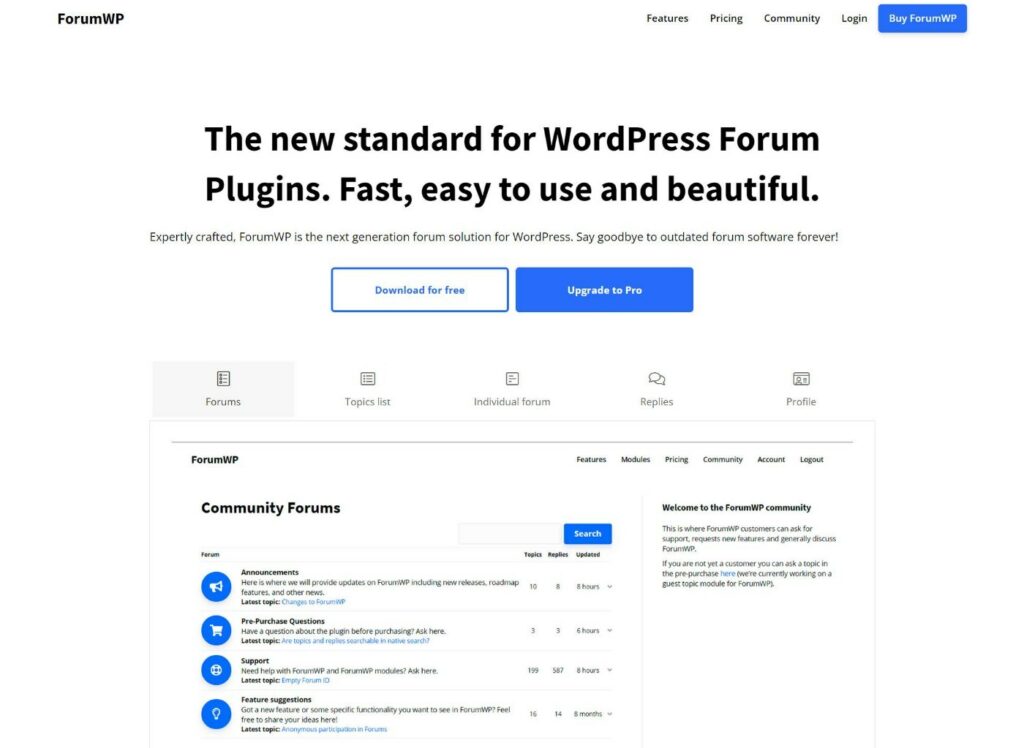 ForumWP is a freemium WordPress forum plugin from the same developer as the popular Ultimate Member social community/membership plugin.
You can use ForumWP individually or it also works great when paired with Ultimate Member, sort of like how bbPress and BuddyPress play nice together.
Key Features
Fast JavaScript interface for a slick frontend experience.
Frontend and backend moderation.
Add upvotes and "solved" status to create more of a Q&A format.
Basic user profile functionality built into the plugin.
Users can subscribe to topics or bookmark them.
Private replies.
Integrate with Ultimate Member (from the same developer) for more advanced user profiles and social community features.
How It Works
When you activate ForumWP, it will automatically create the needed pages for your forum to function.
Then, you get a very basic settings area to control key aspects of how your forum functions: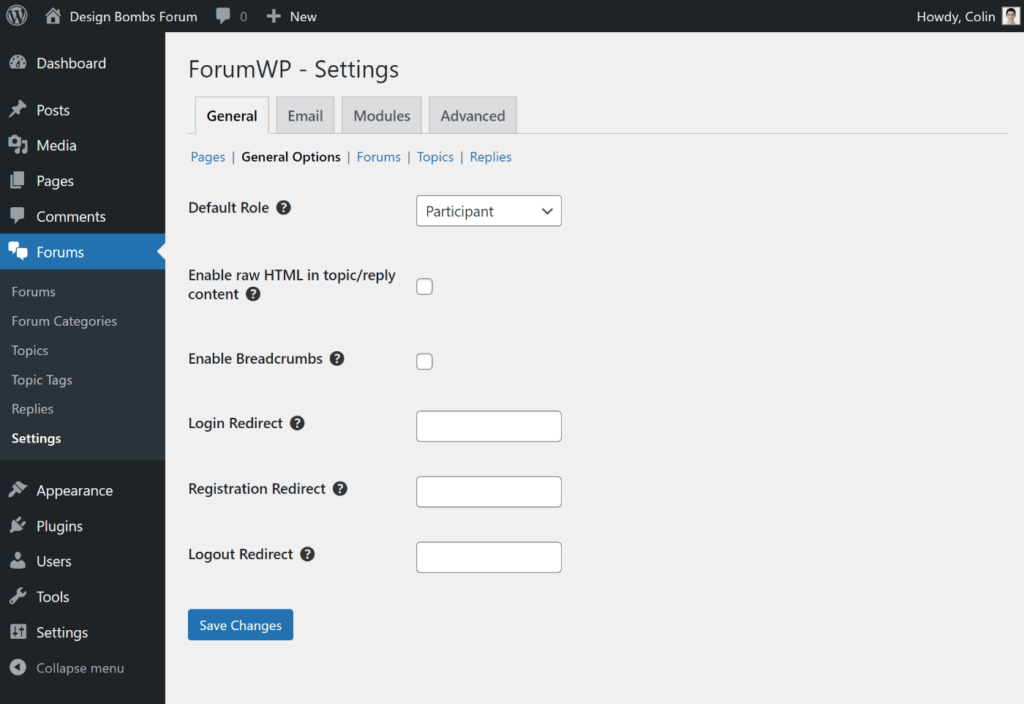 Pricing
ForumWP has a free version at WordPress.org that includes core features and lets you create a functioning forum.
The Pro version adds support for features such as moderation, private replies, upvotes, likes, and more. It starts at $120 for use on a single site.
Pros and Cons
👍 Pros:
The frontend interface is really nice and fast-loading.
Users can also leave replies without reloading the page thanks to Ajax.
You can use it as a traditional forum or more of a Stack Overflow-style Q&A forum.
👎 Cons:
The premium version is kind of expensive when compared to other forum plugins.
The settings area is quite limited, at least with the free version. It's on par with something like bbPress.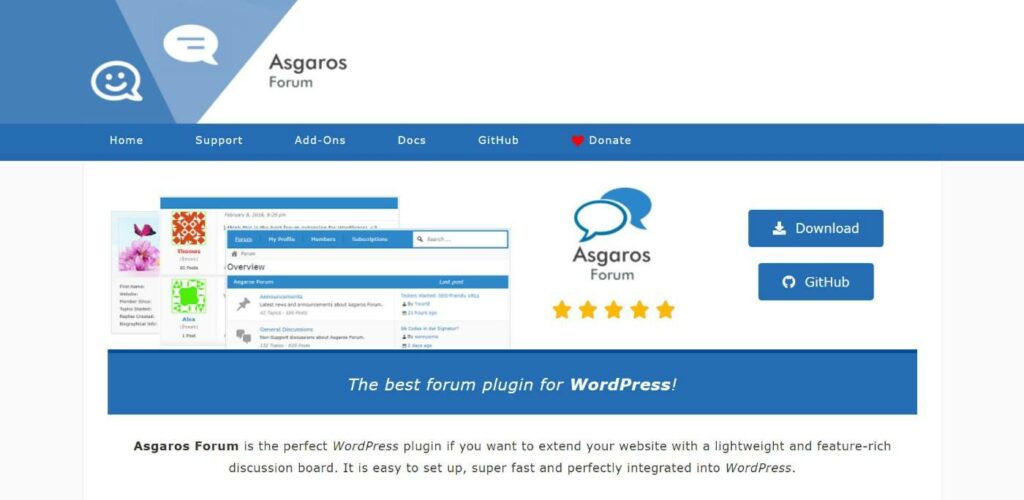 Asgaros Forum is a 100% free WordPress forum plugin that offers a solid feature list and a nice user experience.
There aren't really any standout features – it's just a really solid all-around forum plugin that's totally free. Tough to argue with, right?
Overall, for a straightforward forum, Asgaros Forum works great and offers excellent value.
Key Features
Detailed settings area.
Style editor to customize fonts and colors.
Option to allow guest posting.
User @ mentions and notifications.
Frontend user profiles and member lists.
User signatures.
Polls.
Users can subscribe to topics.
User reports (helpful for moderation).
User groups.
How It Works
To control your forum, you get a few different areas:
An interface to control the layout of your different forums/topics (and sub-forums).
An appearance interface to customize all of the fonts and colors.
A detailed settings area that gives you tons of control over everything.
Here's a look at all of the detail that you get in the settings area: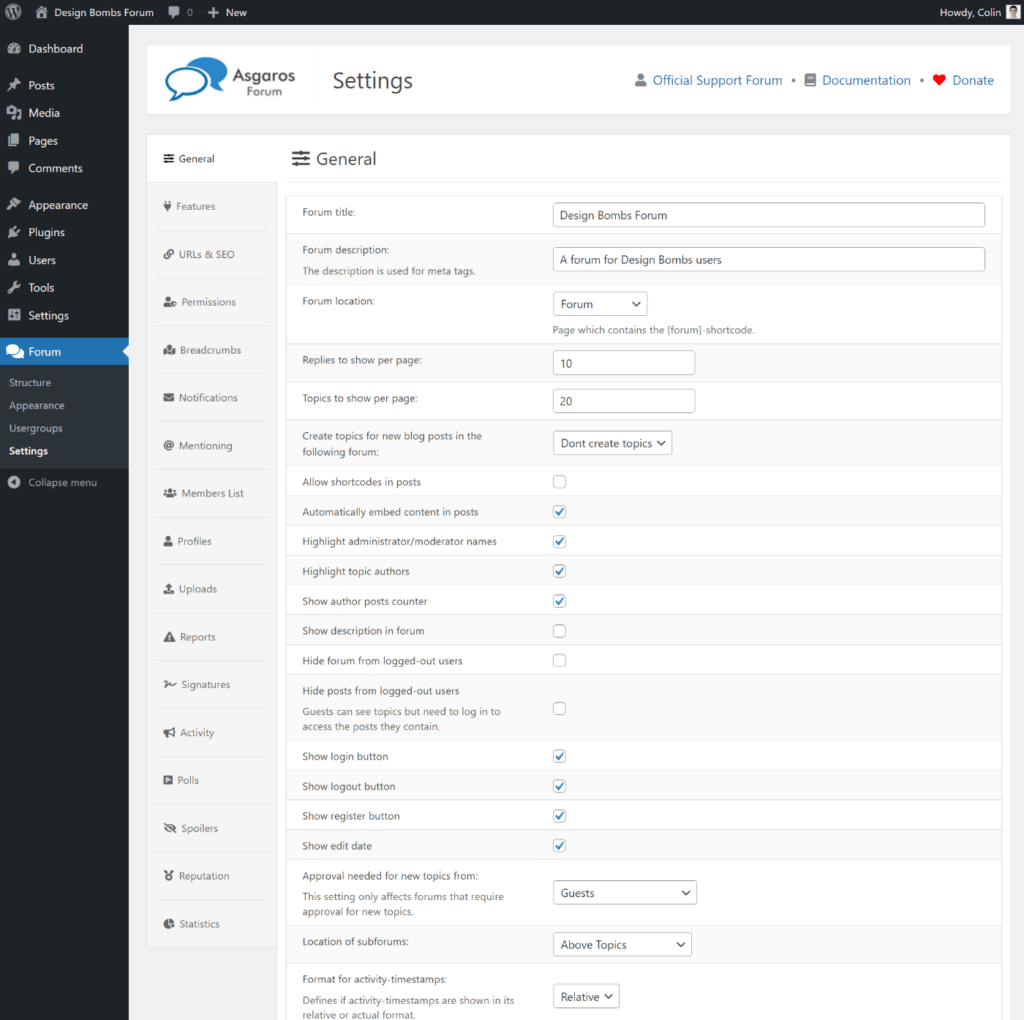 You can also add the official Toolbox for Asgaros Forum plugin (also free) to add more functionality.
Pricing
Asgaros Forum is 100% free for the core plugin and all add-ons.
If you want to support the project, the developer does accept donations, though.
Pros and Cons
👍 Pros:
It's 100% free.
The settings areas are well-designed and very detailed. In terms of customizing core functionality, you have a lot of options.
Even though it's a totally free project, the developer is still pretty responsive when it comes to support and maintaining the plugin.
👎 Cons:
Lacks some of the advanced moderation tools that other plugins offer.
Lacks some advanced features like upvotes on topics.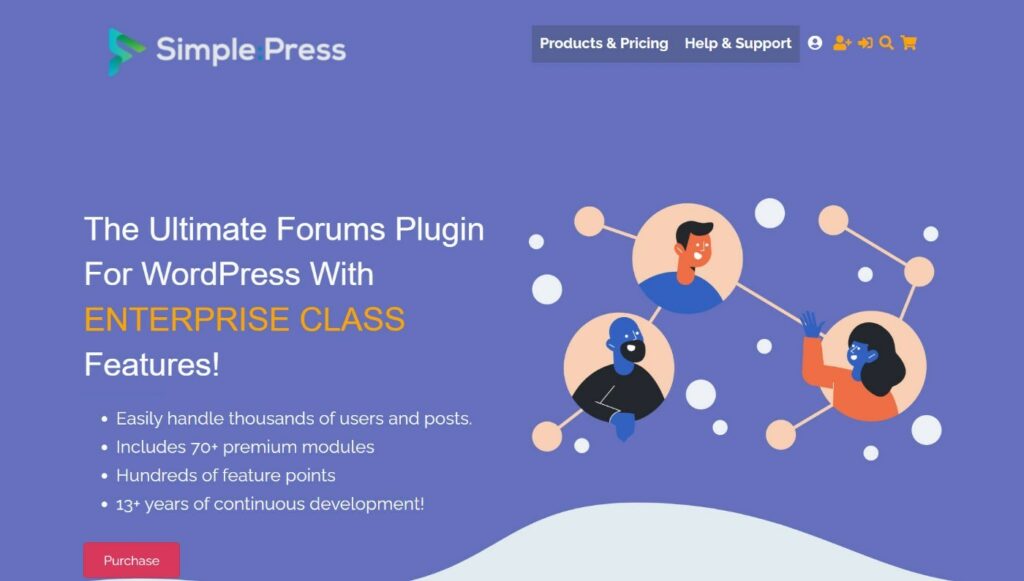 Simple:Press is one of the oldest WordPress forum plugins in existence, as it was originally launched all the way back in 2006 (back then, it was known as Simple Forum). That makes it only three years younger than the core WordPress software itself, which is pretty wild.
This age has let it build up an absolutely immense feature list – it's the most powerful WordPress forum plugin that you'll find.
It used to look very dated on the frontend and backend. However, the plugin was acquired in 2018 and the new developer has done a good job of modernizing the interfaces to create a nicer user experience.
Key Features
Custom forum themes – prebuilt options or build your own.
User groups and permission management.
Frontend member profiles and listing.
Use action/filter hooks to customize your forum with code.
Advanced post moderation.
Ad management tool.
User ranks/reputations.
@ mentions for users.
Option to allow guest posting.
Private messaging and private posts.
Automatically link certain words in topics.
Turn blog posts into forum topics and comments into replies.
Uses custom database tables to improve performance.
Tons of smaller features – I encourage you to browse the full feature list if you're interested.
How It Works
👉 Live Simple:Press forum example
When you activate the plugin, it launches a tool to create the necessary database tables and install some demo data if desired.
Then, you get an incredibly detailed settings area to control everything: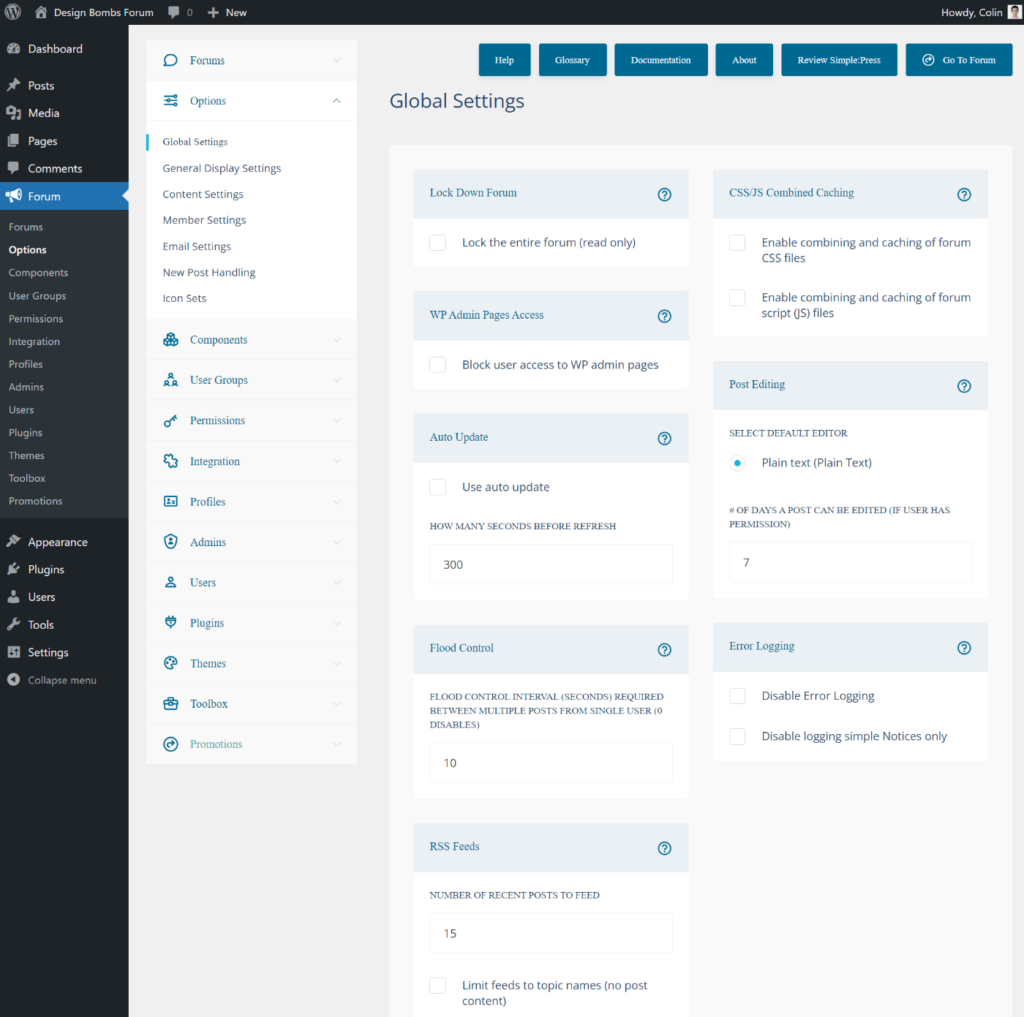 Pricing
Simple:Press now has a free version at WordPress.org that you can use to try it out, but I wouldn't recommend that over the other free versions (as the most unique part of Simple:Press is its premium features).
The premium version starts at $199 per year for use on a single site and access to all 70+ add-on plugins and themes.
That makes it the most expensive forum plugin. But it also has the most features, so its value really depends on what your needs are.
Pros and Cons
👍 Pros:
It has an incredible number of features and customization options. It's definitely the most powerful and customizable forum plugin that I've used.
There's a built-in API if you want to customize it beyond that (using your own code).
You get lots of moderation tools, such as the option to warn or suspend users instead of outright banning them.
👎 Cons:
If you just want to create a simple forum, having so many options might feel overwhelming. This plugin is really best for people who need heavy-duty features and customization abilities.
The premium version is more expensive than other forum plugins (though you get more features).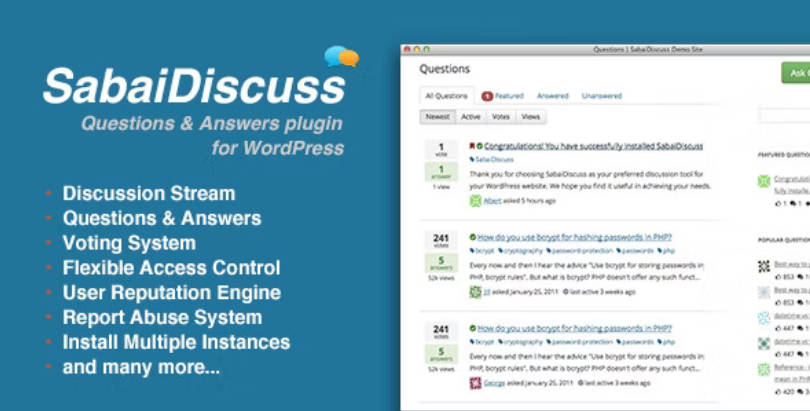 Sabai Discuss helps you create a Q&A-style forum, similar to Stack Overflow. This is a bit of a tweak on the traditional forum format, which might be a pro or con depending on the type of community that you want to create.
While it doesn't have a free version, the premium version is quite affordable and offers lifetime updates via Envato's CodeCanyon marketplace.
Key Features
Q&A-style forum (like Stackoverflow).
Users can vote topics up and down.
User reports for abuse. You can moderate all flagged posts from a single page.
Frontend user profiles with reputation system.
Users can bookmark posts.
Users can see views/answers from the question list.
Built-in social sharing options.
Require admin approval for anonymous questions.
How It Works
Once you install the plugin, you can use its shortcode system to set up various pages. For example, you could create separate pages for different topics/categories if desired.
You'll also get a settings area to control various features, including the filters that people can use to browse questions: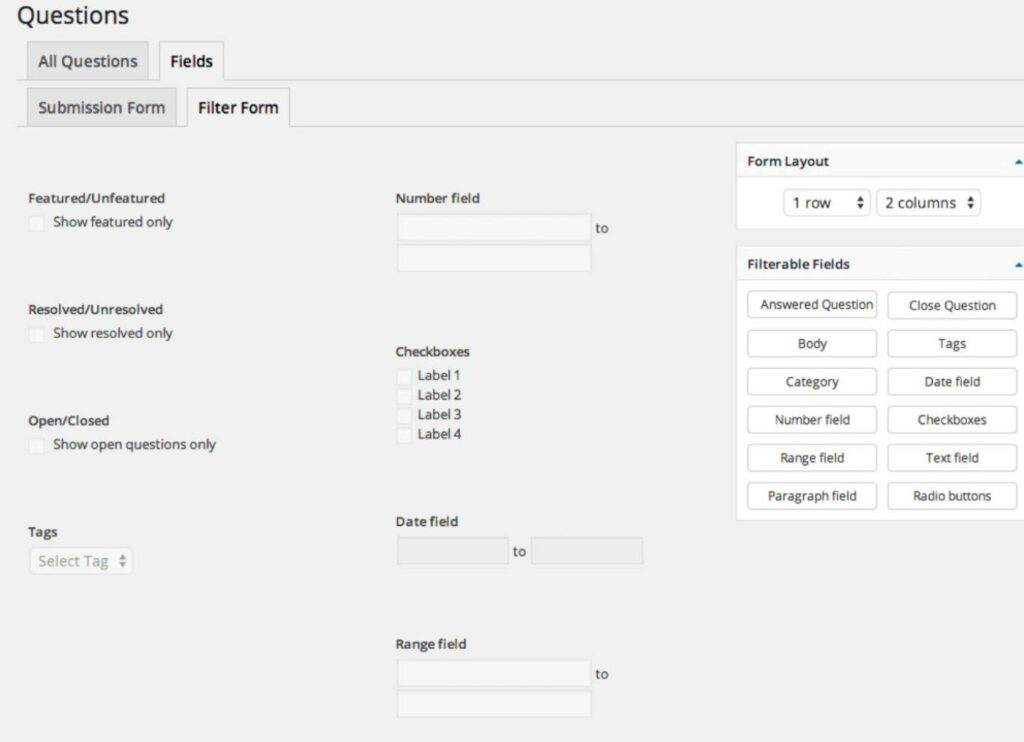 Pricing
Sabai Discuss only comes in a premium version at Envato's CodeCanyon marketplace, but it's quite affordable. You'll pay $24 for lifetime updates and use on a single site.
Pros and Cons
👍 Pros:
It lets you create your own Stack Overflow clone using WordPress.
You get lifetime updates with your purchase, which makes it very affordable over the long term.
You can create custom filters for questions, which most other forum plugins don't allow.
👎 Cons:
If you don't like the Stack Overflow-style Q&A format, this one probably isn't good for you.
The default styling looks a little dated, so you might want to add some custom CSS.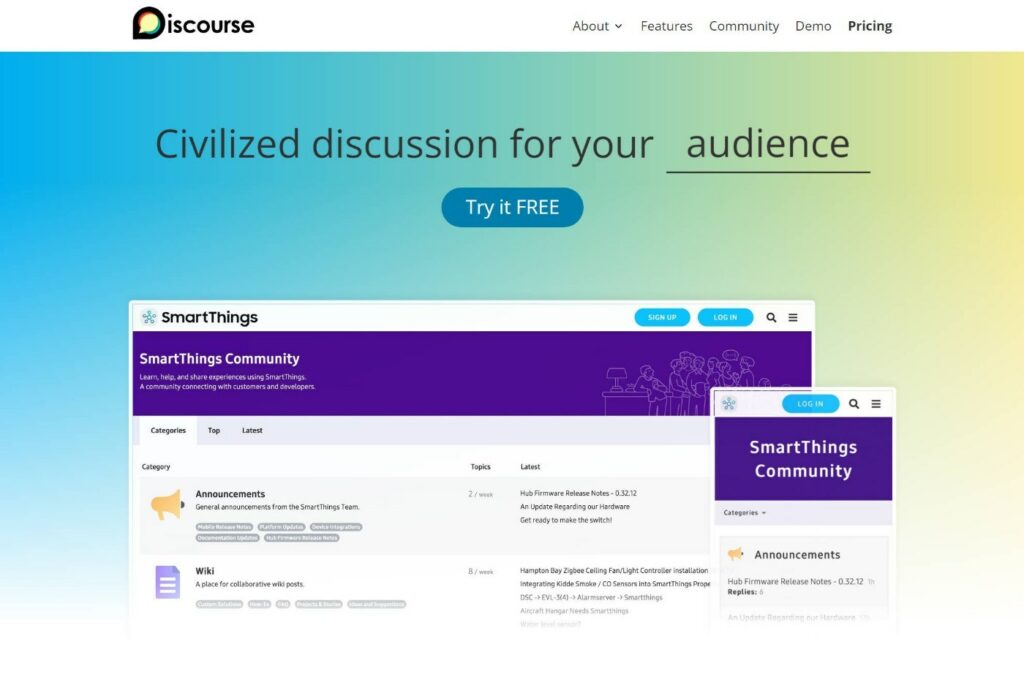 Discourse is not a native WordPress forum plugin. Instead, it's open-source forum software that you can use to create a forum, either by self-hosting it (free) or paying Discourse to host it for you.
However, with the official WP Discourse plugin, you can connect your WordPress site to your Discourse forum, including automatically syncing WordPress accounts with Discourse (or vice versa).
Discourse is a really slick forum solution, so this can be a solid option for some use cases. However, it won't be a good option if you want to keep everything 100% WordPress native.
Key Features
Standalone forum software – either self-hosted or hosted by Discourse.
Infinite scroll for long topics – no page reloads needed.
Built-in user notification system so that users know when someone replies or mentions them.
Threaded forum replies.
Advanced moderation tools, including user reports and moderation dashboards.
Reply via email.
User reputation badges.
Option to allow anonymous posting.
Private forums.
Automatically expand links.
Sync WordPress users with Discourse.
Automatically create a new forum topic when you publish a WordPress blog post.
Embed forum replies in your WordPress blog posts.
How It Works
👉 Live Discourse forum example
First, you would need to create your standalone community using Discourse. You could install it on a subdomain of your WordPress site (e.g. forum.yoursite.com) or in a subfolder (e.g. yoursite.com/forum).
Once you've set up Discourse, you can install the WP Discourse plugin on your WordPress site to connect the two. Setting up the connection just involves entering your Discourse community's API key and URL in the plugin's settings.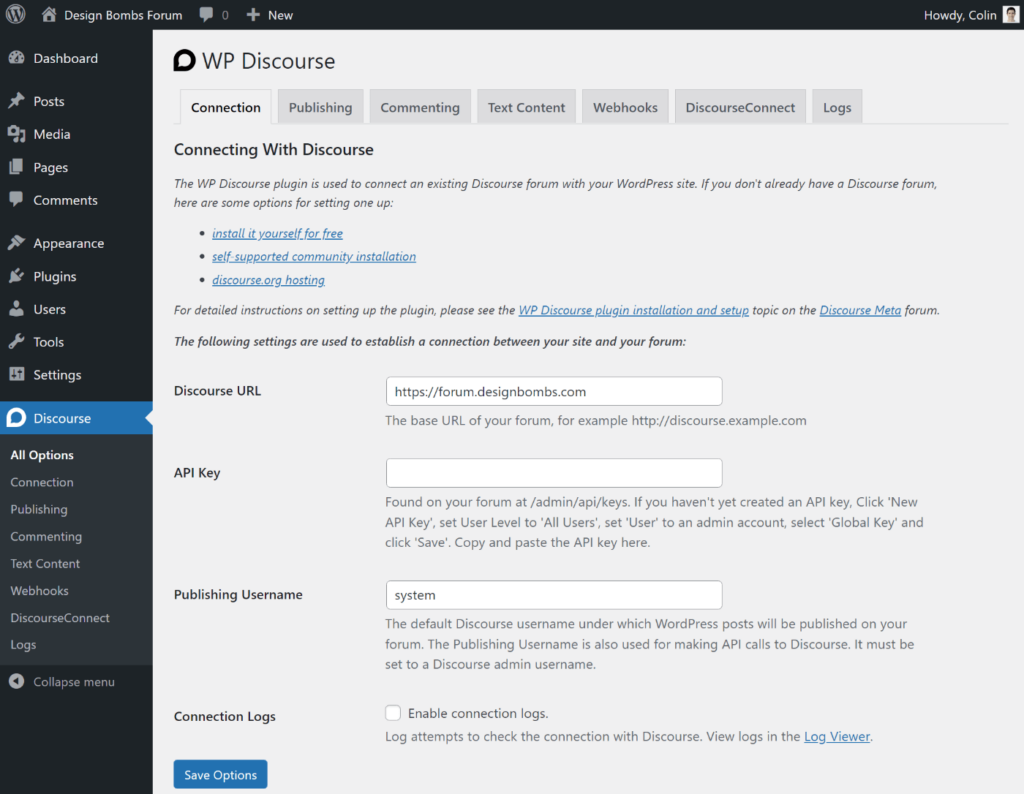 Pricing
Like WordPress, Discourse is free and open-source software. You can download it from the Discourse website and install it on your own hosting 100% for free.
If you don't want to deal with self-hosting it, you can also pay Discourse to host it for you. Those plans start at $100 per month, though you can test it out with a 14-day free trial.
Pros and Cons
👍 Pros:
Discourse is a very powerful and polished forum system. Because it's 100% focused on forums, it's hard for WordPress plugins to match its functionality, especially when it comes to smaller features.
Like WordPress, the Discourse software is open-source and it's free to use if you self-host it.
The frontend Discourse UI is really nice for your users.
👎 Cons:
It's not a native WordPress plugin (though it integrates with WordPress).
While you can sync user accounts, you aren't able to use WordPress plugins on the Discourse part of your site. For example, you couldn't use an email opt-in plugin to display a popup on your forum. Similarly, you can't use your WordPress theme to control the design of your Discourse forum.
Which Is the Best WordPress Forum Plugin?
Choosing the best WordPress forum plugin for your site will depend on the specific type of forum that you want to create, the features that you need, and your budget.
If you're looking for a simple free forum plugin for a basic community, I think that wpForo and Asgaros Forum are good places to start as both offer all-in-one approaches in a free package.
ForumWP is also a solid free option if you like its interface, though it doesn't have as much functionality in the free version. You also won't go wrong with bbPress, though you might need to add free third-party extensions to get the features that you need.
In terms of advanced forums, I think the Simple:Press plugin has the most powerful feature list, though it's also the most expensive. Other good options are wpForo and ForumWP. Sabai Discuss could also work if you like the Q&A approach and bbPress can do a lot with the right extensions.
Finally, if you're willing to step outside exclusively native WordPress forum plugins, you can consider using Discourse and then connecting it to WordPress using the WP Discourse plugin.
Do you still have any questions about picking the best WordPress forum plugin for your site? Let us know in the comments!