10 of the Best Sites to Find PSD Designs and Elements (2023)
Every designer has their own favorite marketplace for downloading graphics and templates. But the thing is we designers can't really get enough of beautiful graphics and freebies.
To pour more fuel to that burning hunger for more graphics and elements, we gathered a list of some of the best marketplaces and websites you can use to download high-quality PSD designs and elements.
Whether you're looking for PSD website templates, icon packs, Photoshop actions, or even device mockups, you'll find plenty of options to choose from on these marketplaces.
In this list, you'll find sites that offer premium-quality graphic elements as well as free downloads. Have a look and be sure to keep these sites bookmarked for later.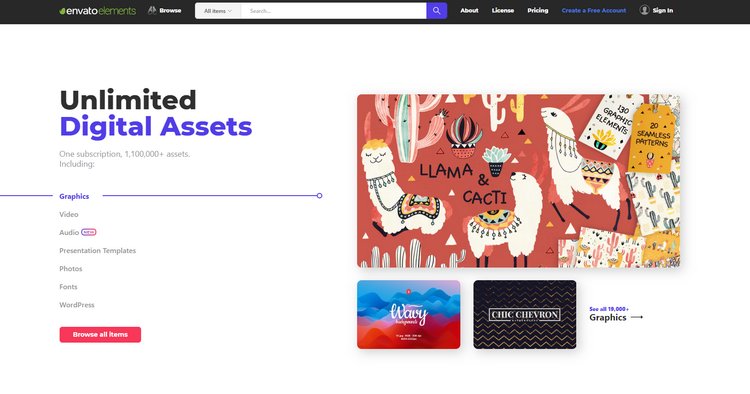 Pricing: Unlimited access for $16.50 per month
Licensing: Personal and Commercial use
Envato Elements is a popular design marketplace with one of the biggest collections of graphics and design elements. The site offers a massive collection of over 1 million design elements (and growing).
Unlike most other marketplaces, Envato Elements features only high-quality designs and graphics with quality assurance. You'll find many types of PSD elements on the site, including website designs, mockups, stationery templates, logo templates, and much more.
Of course, the best part about the platform is its pricing model. For just $16.50 per month, you get unlimited access to the site. Which means, you can download all of the 1 million+ graphics for just a single price.
You can read our full Envato Elements review here.
Pricing: Free and $39
Licensing: Personal and Commercial use
Wrappixel is a site made specifically for the fans of Bootstrap framework. This site offers a set of free and premium admin templates that are built on Bootstrap. If you're planning on building a backend dashboard or a membership area to a website, the professionally designed templates in this site will help you save hours of your valuable time.
In addition to the high-quality free templates, Wrappixel has a collection of premium templates with extended features that you can get for less than $25.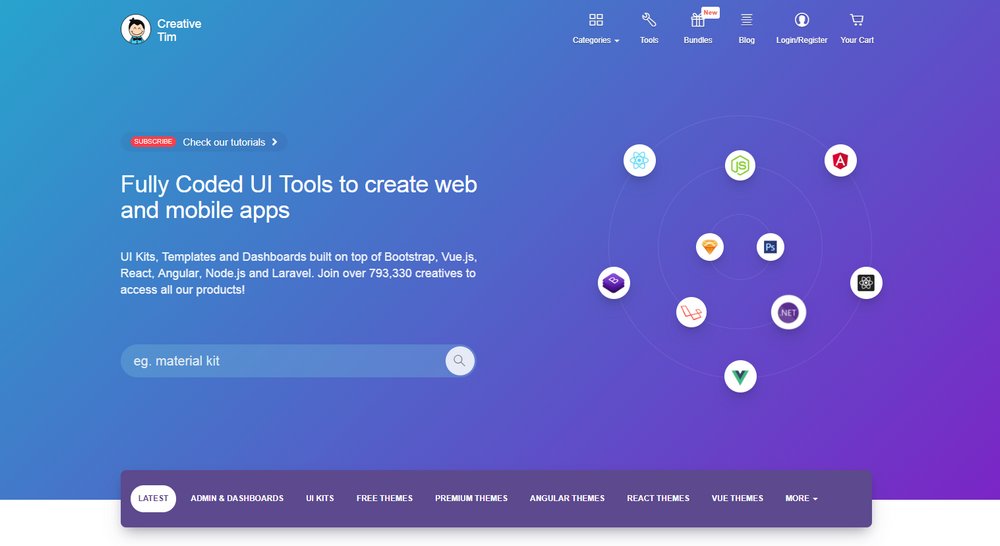 Pricing: Free and Premium
Licensing: Personal and Commercial use
Creative Tim is a marketplace full of app templates, dashboard themes, bundles, and lots of other UI elements. The site offers a wide selection of design elements ranging from Bootstrap themes to React Native templates and more.
You'll find both free and premium items in this shop at prices starting at $49. However, the most popular aspect of the site is its bundles which offer collections of design elements at up to 70% discounts.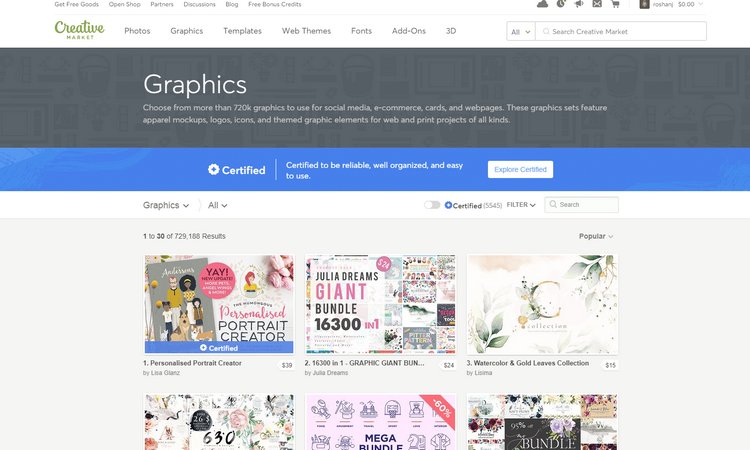 Pricing: Item pricing starting at $2
Licensing: Personal and Commercial use
Creative Market is one of the oldest veterans among the design marketplaces available today. This site features more than 3 million graphics and web design elements in many categories.
You'll find all kinds of templates, mockups, and vector graphics on Creative Market with prices starting at just $2. There are also affordable bundles available on the platform that offers collections of design resources at discounted prices.
Creative Market also gives out free files every week so it's worth signing up with a free account as well.
Pricing: $10 per month
Licensing: Personal and Commercial use
Apply pixels has downloadable and evolving templates and UI kits with tutorial videos and articles. Every month there's new resources added to the library while existing templates are kept up to date.
Created Danish designer Michael Flarup, Apply Pixels is perfect place to find templates and UI Kits, for Photoshop & Sketch.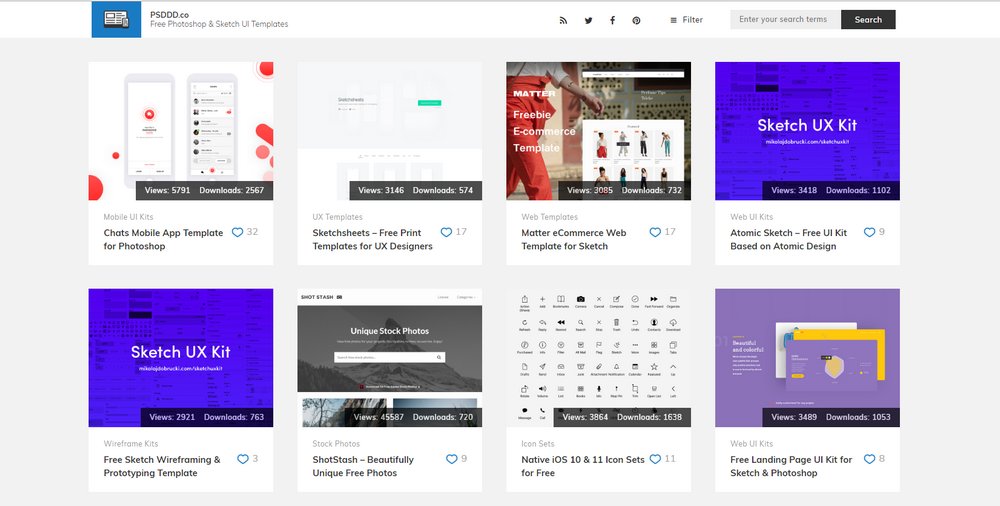 Pricing: Free
Licensing: Personal and Commercial use
Photoshop Sketch Design Develop Discover or PSDDD is a site that's been around since 2012 and it features a massive collection of free Photoshop PSD and Sketch templates.
PSDDD curates design items from all over the web, including portfolio sites like Behance and Dribbble. Even though the items are free, you'll need to check the licensing for each item to see whether they can be used with commercial projects.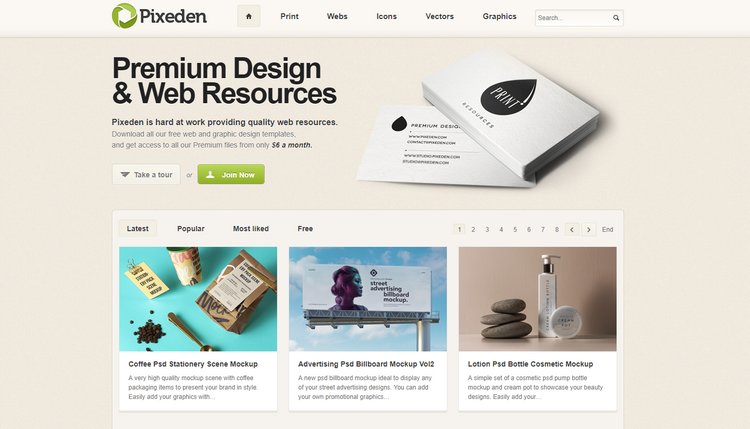 Pricing: Free / $10 per month
Licensing: Personal and Commercial use
Pixelden is another popular site among graphic designers. Mostly because it's one of the few websites that offer free design elements you can use with both personal and commercial projects with royalty-free licenses.
The site offers a large collection of free downloads, including vector graphics, illustrations, mockups, icon packs, logo templates, and more.
Pixelden also has a premium plan that gives you access to its premium design elements with unlimited downloads. The site adds at least 3 to 5 free resources to the platform every month as well.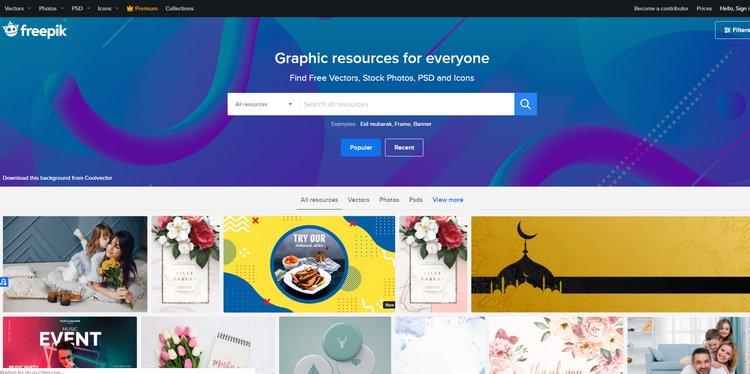 Pricing: Free / $9.99 per month
Licensing: Commercial use with author attribution
Freepik is one of the best places for finding creative vector illustrations, graphics, web designs, infographics, logo templates, and textures. Just as the name suggests, most of the items on the platform are free to download.
When you signup for a free account, you can download up to 10 items per day for free. You can also use most of the free items with your commercial projects but with author attribution. With the premium plan, you get unlimited downloads and ability to use graphics without attribution for $9.99 per month.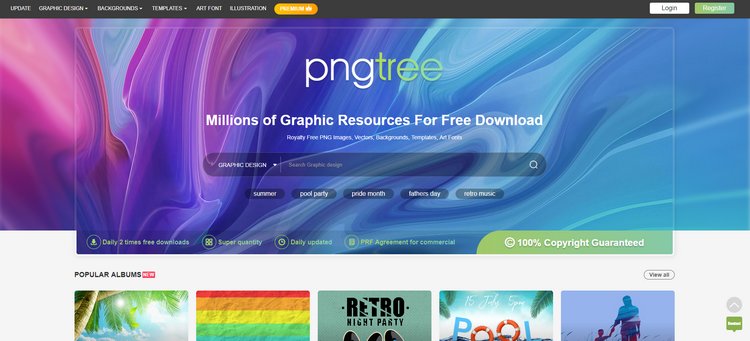 Pricing: Free / $99 per year
Licensing: Requires Premium plan for commercial use
Even though its name mentions PNG, this site has a large collection of PSD elements as well. PNGtree offers a unique collection of PSD elements such as abstract patterns, creative effects, textures, and frames. There are other graphics templates available on the platform as well.
The only downside of using the site is that the free plan only allows 2 downloads per day and requires attribution when using the files. The premium plan costs $99 per year and gives you unlimited downloads with commercial use.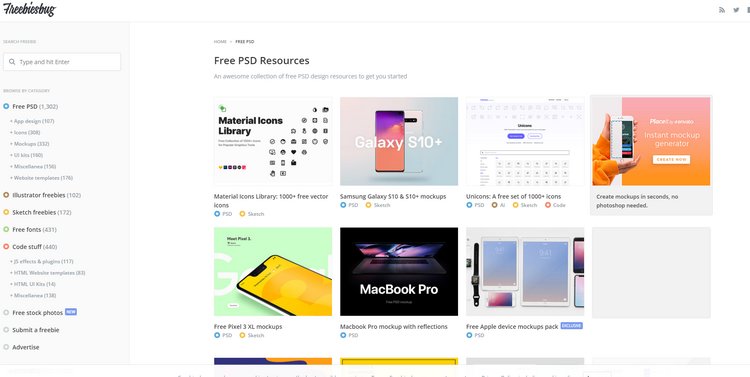 Pricing: Free
Licensing: Commercial use with author attribution
Freebies Bug is a popular freebie website that's filled with free PSD graphics, vectors, templates, mockups, and more that are made for graphic designers. The site also includes a collection of high-quality free stock photos as well.
You'll be able to download from a wide range of graphic design and PSD elements from Freebies Bug, including icon packs, website templates, device mockups, UI kits, and app designs.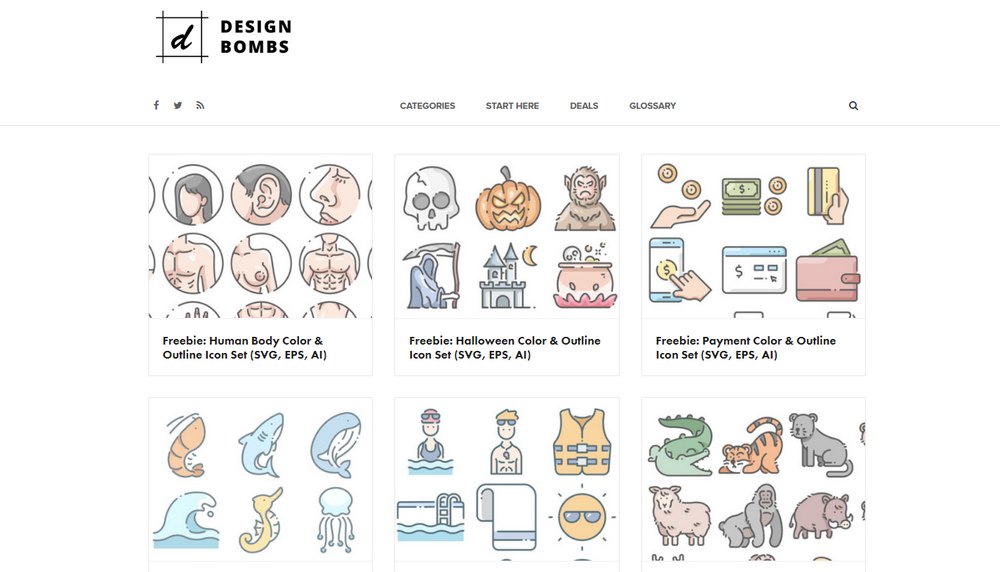 Pricing: Free
Licensing: Personal and Commercial use
Of course, the list wouldn't be complete without our own freebies section. Here at Design Bombs, our main goal is to provide as much value for designers as we can. So we recently launched a freebies section for unique icons, PSD graphics, and vectors to help you find quality design elements more easily.
Everything is free to download and you can use them with commercial projects as well.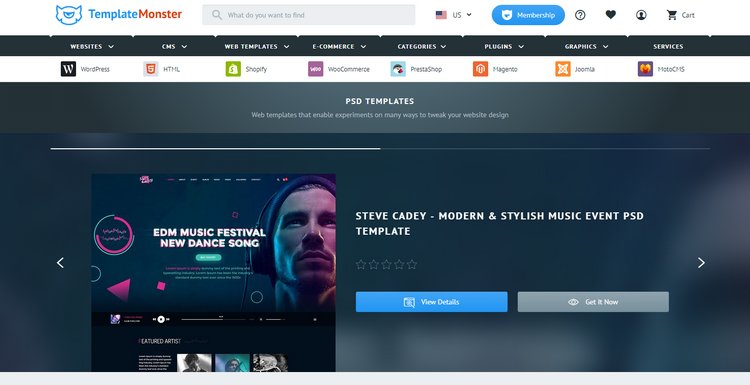 Pricing: Item pricing starting at $10
Licensing: Commercial use
If you're looking for PSD website templates and designs, Template Monster is one of the best places you can use to easily find PSD templates for websites in a wide range of categories.
The marketplace includes PSD templates with prices starting at $10 and they feature fully-layered editable designs you can easily customize with Photoshop. The site also offers other vector graphics and templates as well.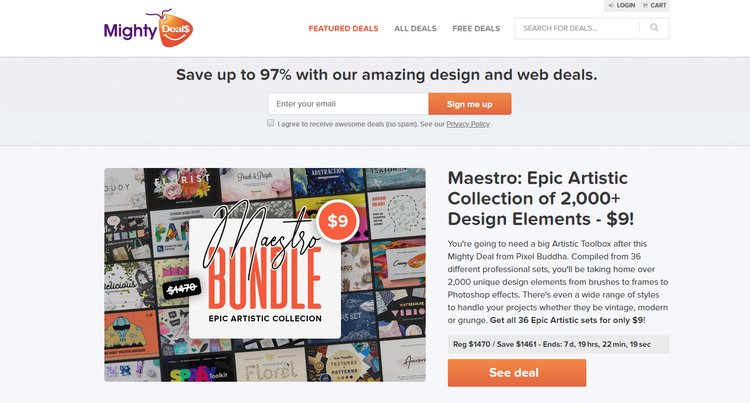 Pricing: Bundles starting at $9
Licensing: Personal and Commercial use
Mighty Deals is a deals site made for designers who are looking for bargains. This site only includes design elements in bundles and every bundle includes a mix of over a thousand graphic elements at a very low price.
The site features bundles for fonts, logo templates, illustrations, textures, and many other design elements starting at only $9. Most bundles include over 2000 items and sometimes over 8000 items as well. These bundles, however, are only available for a limited time. So you'll have to visit the site regularly to check for new bundles.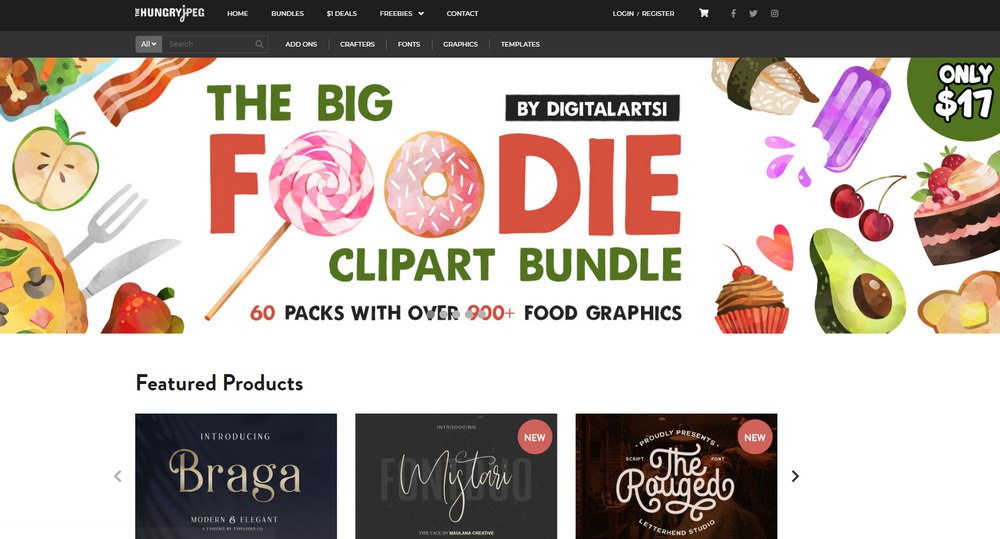 Pricing: Free and premium starting at $6
Licensing: Personal and Commercial use
The Hungry JPEG is a premium marketplace full of design elements, including great fonts, PSD mockups, graphics, illustrations, and more.
The site also has a freebies section where you can download lots of free PSDs and fonts. Also, don't forget to check into the website every week for the exclusive weekly free download.
In Conclusion
We hope you'll be able to add more amazing templates to your design resources collection using these sites. Also, remember to sign up for those premium sites with a free account. These sites offer freebies weekly and monthly. Remember to grab those free stuff.
You can check out our best fonts for designers and best Photoshop brushes collections to find more cool design elements to download.