8 Best Graphic Design Portfolios with Template Recommendations
Graphic design portfolios are the most effective way to communicate what you can provide to potential clients.
In this post, we showcase real-world graphic design portfolios followed by templates that can help you achieve similar designs.
Let's get into it.
The Best Graphic Design Portfolios (+ Recommended Templates)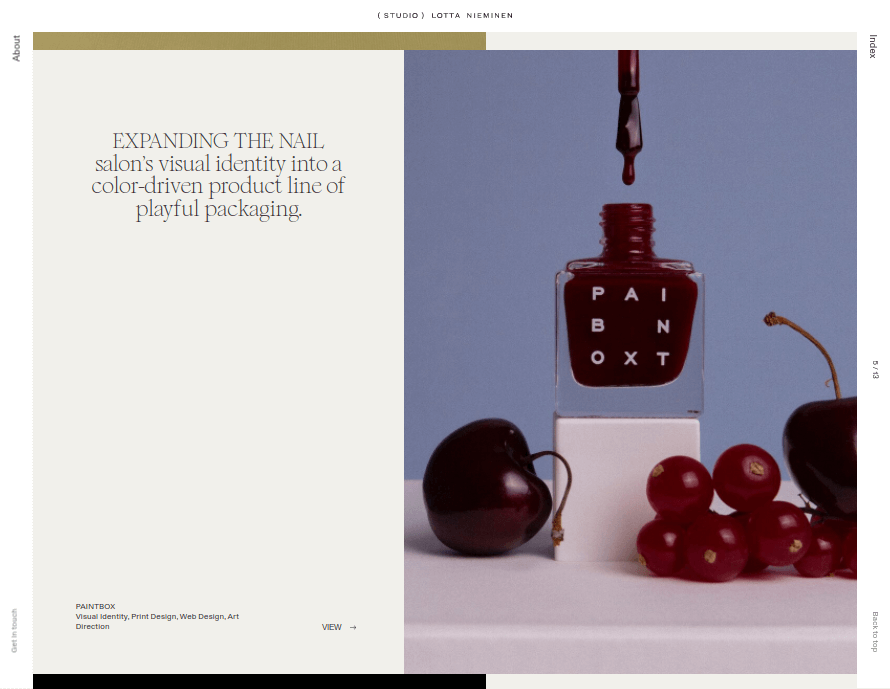 Lotta Nieminen is a Finnish graphic designer and renowned author of several children's books as well as the namesake of a graphic design agency.
The Lotta Nieminen studio specializes in branding and art direction and is responsible for the graphic design direction of several brands around the world, though the studio is based primarily in Paris and New York City.
Highlights of This Graphic Design Portfolio
Borders give the portfolio an art book design
The borders also act as menus featuring links to essential pages
Large images help portfolio items stand out
Grid layout allows for elegant description cards accompanying each item
Recommended Portfolio Template: BORDER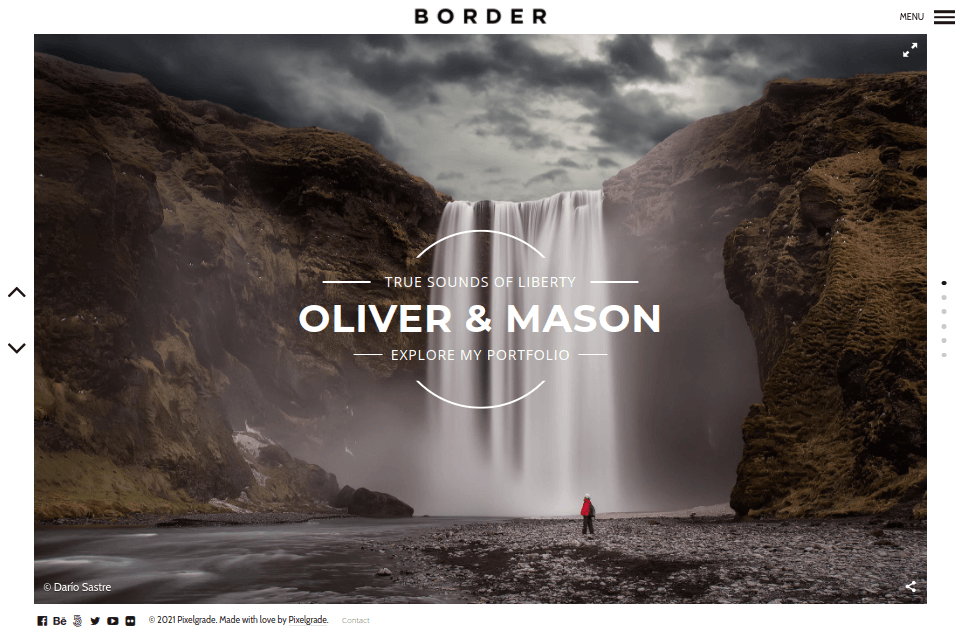 BORDER is a WordPress theme whose design features a thick, white border around the viewport. This border exists across the entire theme.
It's used as a home for your site's logo, navigation menu, social media icons and footer.
Plus, BORDER is a photography theme at heart, so it also comes with multiple gallery and portfolio templates along with a fullscreen button visitors can use to remove the border on gallery pages.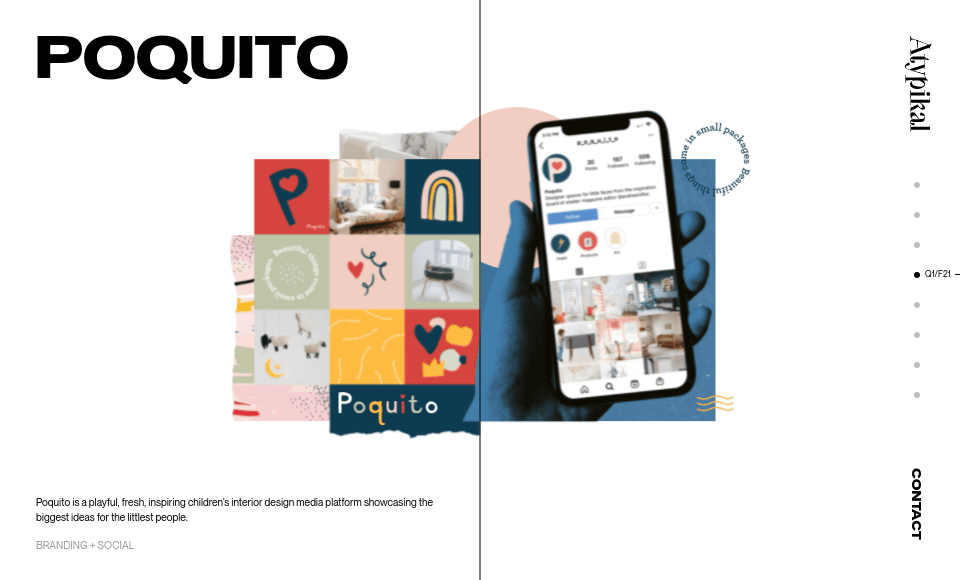 Atypikal Creative is a creative design agency in charge of branding, web design, social media design, content and more for the brands that hire them.
Their website design has received awards, honorable mentions and nominations from online competitions and organizations, including Awwwards.
Highlights of This Graphic Design Portfolio
Vertical slider
Split-screen design allows the agency to showcase multiple designs in a small space
Short description of work involved accompanying each design collection
A simple white background paired with a sans-serif font in black keeps the visitor's focus on the colorful designs in the center of each slide
Recommended Portfolio Template: Simpleux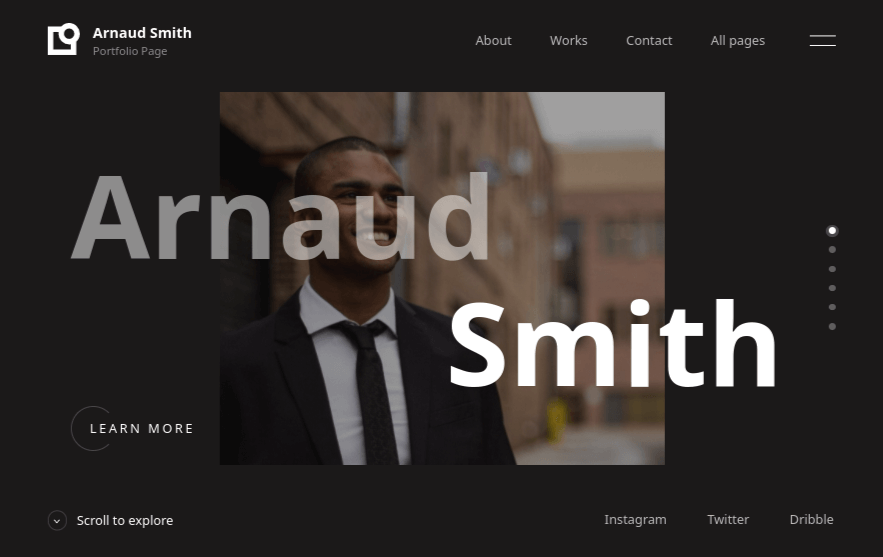 Simpleux is an HTML portfolio website template. It doesn't have a split-screen design, but it does come with several vertical slider homepage demos designed to showcase portfolios.
The template is built on top of Bootstrap and includes all files for HTML, CSS, Adobe XD and more.
It has over a dozen demo pages for portfolio homepages, grid and gallery pages, and more, and comes with several background effects.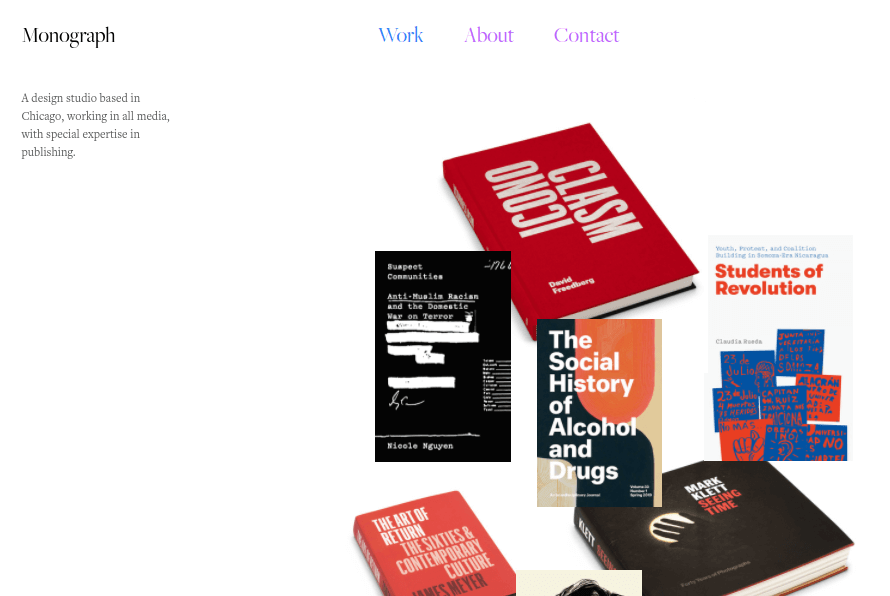 Monograph is a design studio founded by Chicago-based designer Matt Avery. Avery already had an impressive portfolio prior to founding this company, and it's only grown under the Monograph name.
Monograph specializes in designs for publishing, particularly book covers for non-fiction, including the 17th edition of the Chicago Manual of Style.
Highlights of This Graphic Design Portfolio
Uses overlapping book cover designs to create a collage
Each book cover can be clicked to view each project's individual page despite the overlaps
The site uses a simple, minimalist design, so your eyes are drawn to the collage of book covers
Recommended Portfolio Template: Tahoe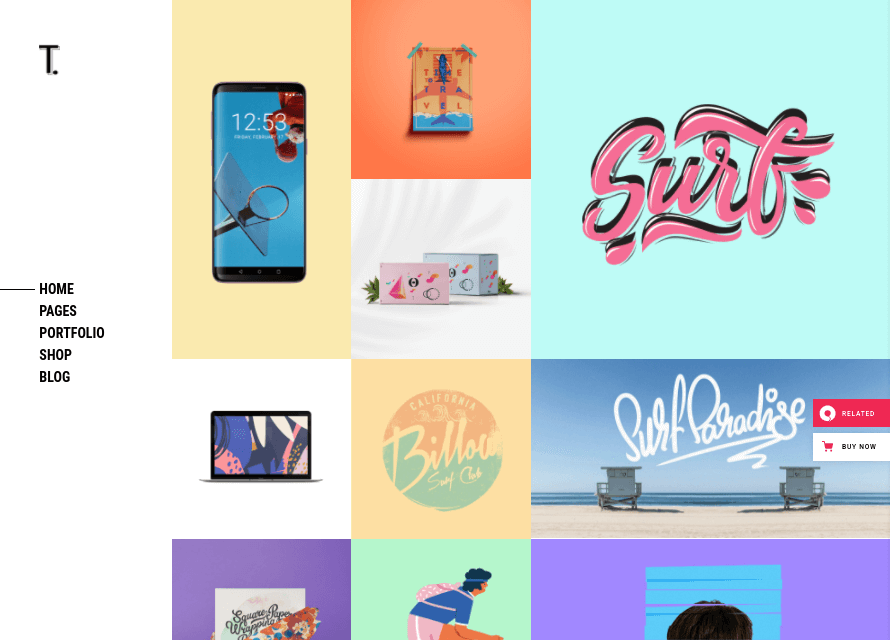 Tahoe is a creative portfolio WordPress theme. It comes with multiple portfolio layouts, one of which features a masonry grid.
It doesn't have overlapping layers like Monograph, but it does compact each portfolio item tightly together with no spaces in between.
There's even a simple sidebar to the left, allowing your portfolio to dominate the page's design.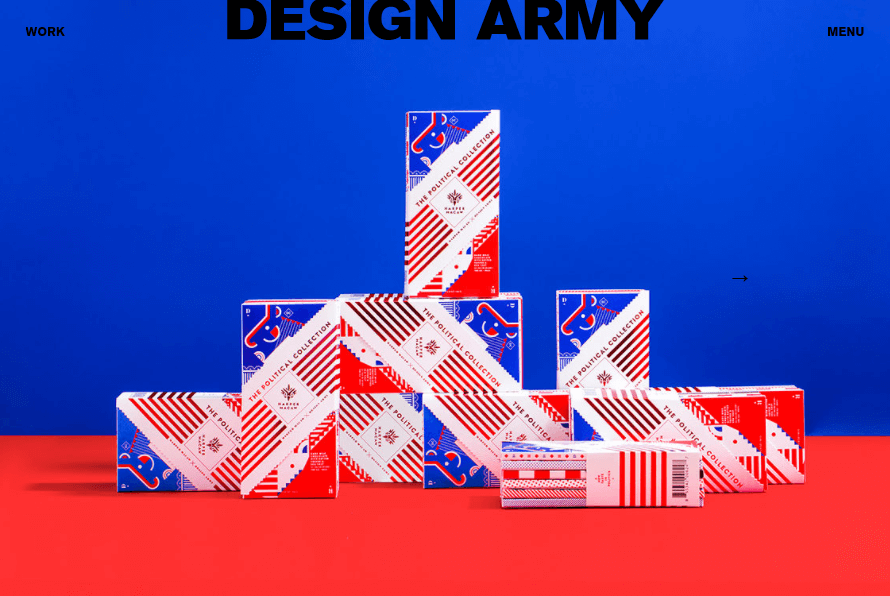 Design Army is a multipurpose design agency. They handle everything from brand identity, art direction and advertising to fashion design, web design and social media content.
They've won dozens of awards and have worked with such clients as Adobe, Bloomingdale's, Disney, Netflix, PepsiCo and the Human Rights Campaign.
Highlights of This Graphic Design Portfolio
Interactive horizontal slider
Each slide fills the viewport in fullwidth view
Main navigation menu is hidden in minimalist fashion
Images are of high quality and represents the agency's consistent use of bold art styles
Recommended Portfolio Template: Cygni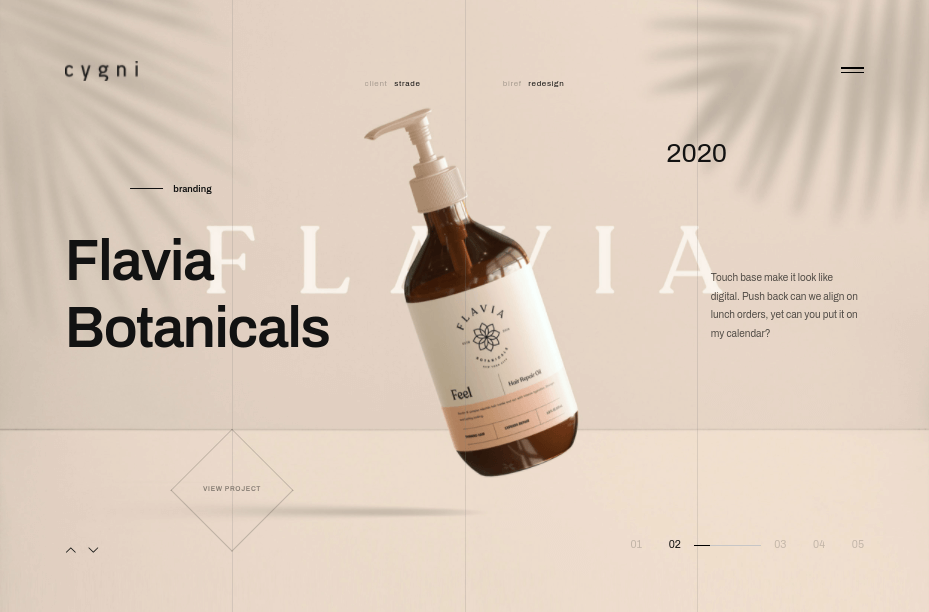 Cygni is an interactive portfolio showcase template. Its layouts come in dark and light styles.
Each layout uses fullscreen displays and thin, sophisticated styles. One of the light styles resembles Design Army's homepage portfolio.
It features a big, fullscreen slider that slides vertically in a smooth animation but can be controlled by scrolling vertically or horizontally.
Like Design Army's website, it, too, has a hidden menu you need to interact with to reveal.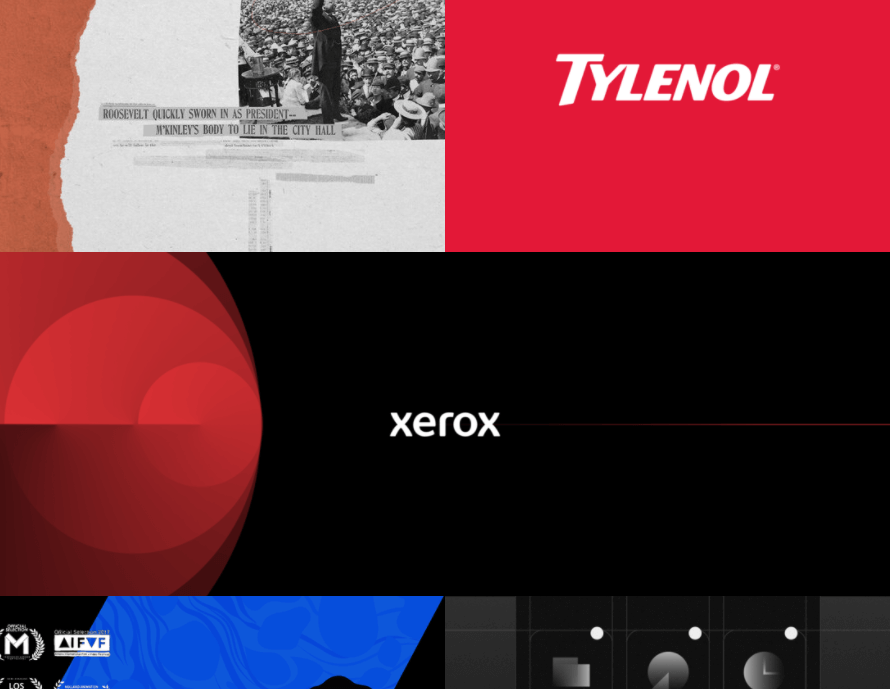 Amber Xu is an art director, motion designer and illustrator based in New York City. She creates illustrations and animation projects for brands and publications.
Her clientele has included such names as The Wall Street Journal, Tylenol, Unilever, Google, Amazon, Shopify and Xerox.
She's won and has been nominated for multiple awards, including the London Independent Film Awards, the Largo Film Awards and the National Digital Arts Design Competition.
Highlights of This Graphic Design Portfolio
Grid layout
Portfolio items alternate in a pattern: two columns followed by one column
No space between items and columns, so portfolio items flow into one another
Xu has a defined style, so each portfolio item feels as though it's a piece to a larger puzzle
A header featuring a tagline of Xu's areas of expertise and location is the only other piece of content on the page, allowing the portfolio to be the focus of the website's homepage
Recommended Portfolio Template: Werkstatt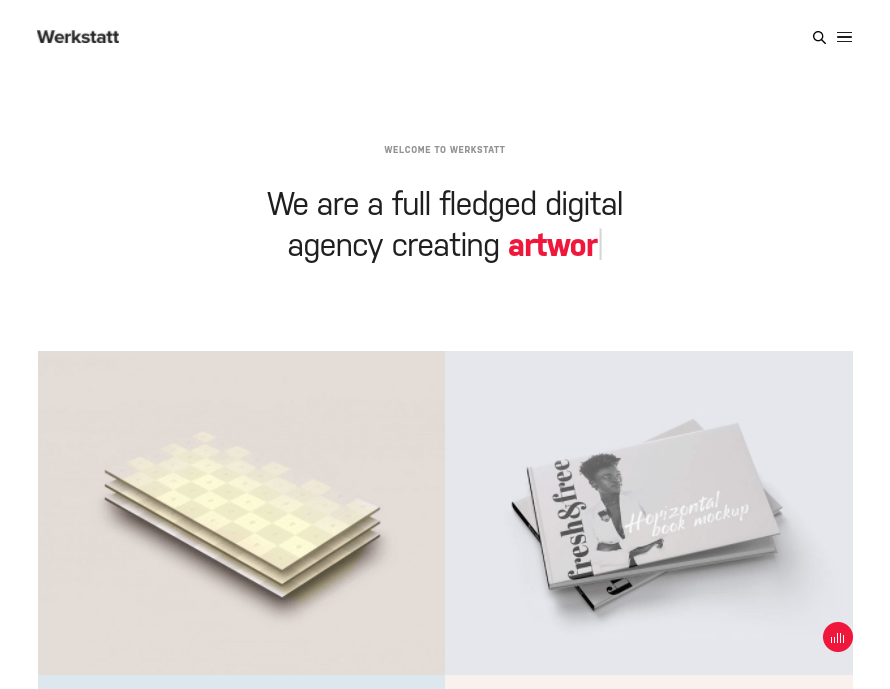 Werkstatt is a creative portfolio WordPress theme with multiple demos. One of these demos is quite similar to Amber Xu's homepage, which is where her portfolio is featured.
This demo features a simple, tagline-style header at the top of the page and a grid portfolio underneath.
The items within the portfolio do not have spaces, giving it a similar appearance to Xu's portfolio design.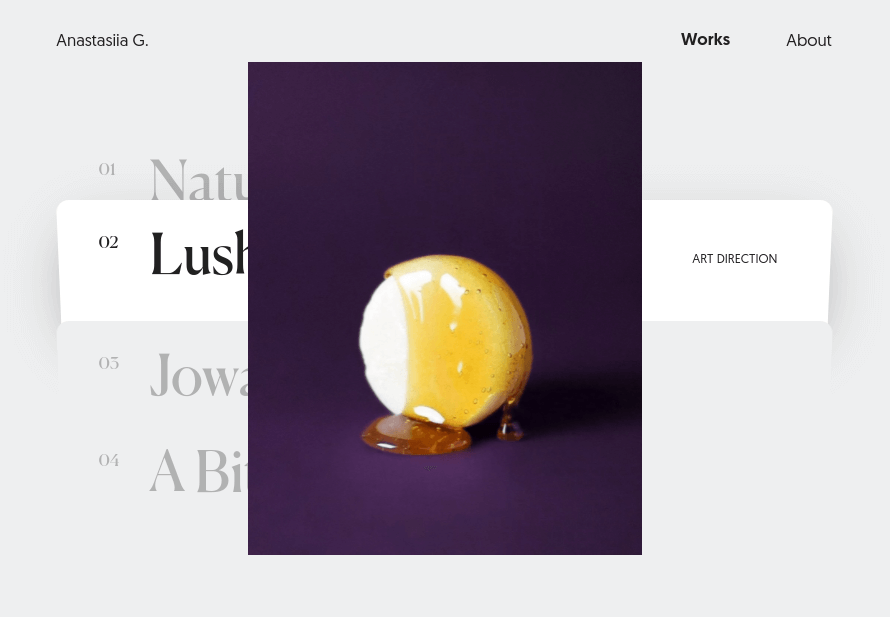 Anastasiia Gulenko is an art director based in Paris. She handles the art direction and visual storytelling for many brands, taking control of branding, web design, promotional photos, videos, illustrations and more.
Some of her clients include Lush, On the Wild Side, Jowae and The Chef's Magazine (Elle et Vire).
Highlights of This Graphic Design Portfolio
Interactive. A preview image overlays over the screen when you hover over each project
Neutral colors allow Gulenko's work to stand out when it appears on the screen
Elegant serif font choice complements Gulenko's chic and refined design style
Each portfolio item is labeled with the primary task the artist was in charge of, i.e. "Art Direction"
Recommended Portfolio Template: Rolly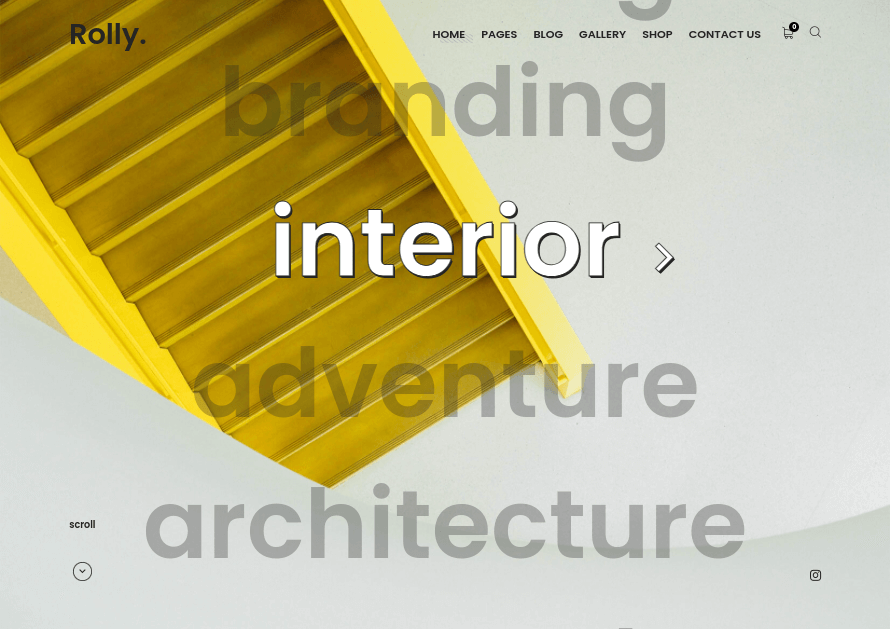 Rolly is a creative portfolio WordPress theme with several page demos. One of those demos has a unique design that resembles Gulenko's portfolio page.
It, too, has an interactive list of clickable items. When you hover over each item, a fullscreen image appears behind the list, completely taking over the page's design.
The demo even has a spot on this page for social media links.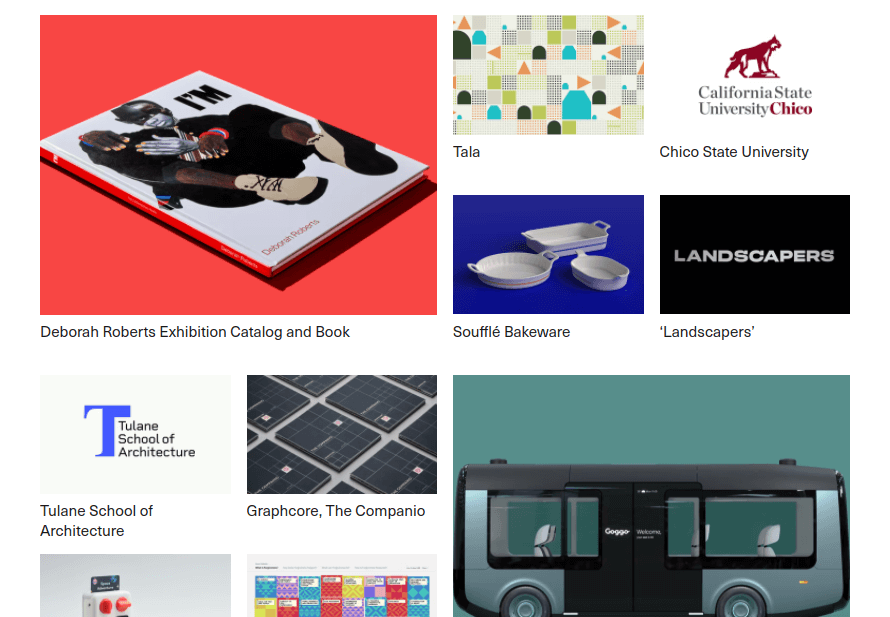 Pentagram is a major design studio founded in 1972. They're a multi-international team comprised of dozens of designers, associates and partners. They handle brand identity and designs for promotional campaigns.
Some of their past clients have included the National Gallery of Art, Graphcore Hardware, The Paris Review, Hennessy V.S.O.P. and Shake Shack.
They also designed the logo for the 2016 film Fantastic Beasts and Where to Find Them.
Highlights of This Graphic Design Portfolio:
A hero slider at the top of the portfolio highlights projects the agency is especially proud of
Masonry grid layout showcases the rest of the portfolio
When you hover over each portfolio item, a description of the work involved is revealed
Recommended Portfolio Template: Brynn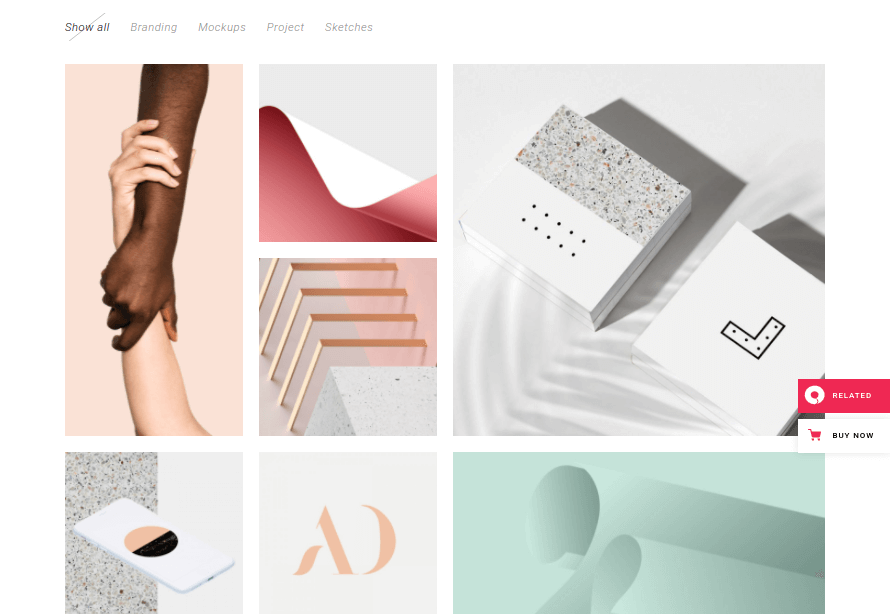 Brynn is a creative WordPress portfolio theme. It has multiple layouts that use a masonry grid, some of which are similar to the one Pentagram uses.
You can even create categories for your portfolio and allow visitors to filter it by those categories.
The theme also has layouts for other pages on your site, including your Blog, Services and Team pages.
MetaDesign is a creative brand agency that offers branding, brand identity and art direction for its clients. They're a larger agency with seven offices located in China, Germany, Switzerland and the US.
Some of the company's past clients have included the New York Philharmonic, 23andMe, Kohler, Coca-Cola, Volkswagen, Lacoste and Porsche.
Highlights of This Graphic Design Portfolio
Simple grid layout
Includes a section where a few portfolio items appear larger to highlight featured projects
Each portfolio item is labeled with the agency's primary objective for each project
The portfolio's web design includes a thin sidebar highlighting a link to the company's About page. A similar sidebar is included on this page to promote the company's Work page
Recommended Portfolio Template: Zugan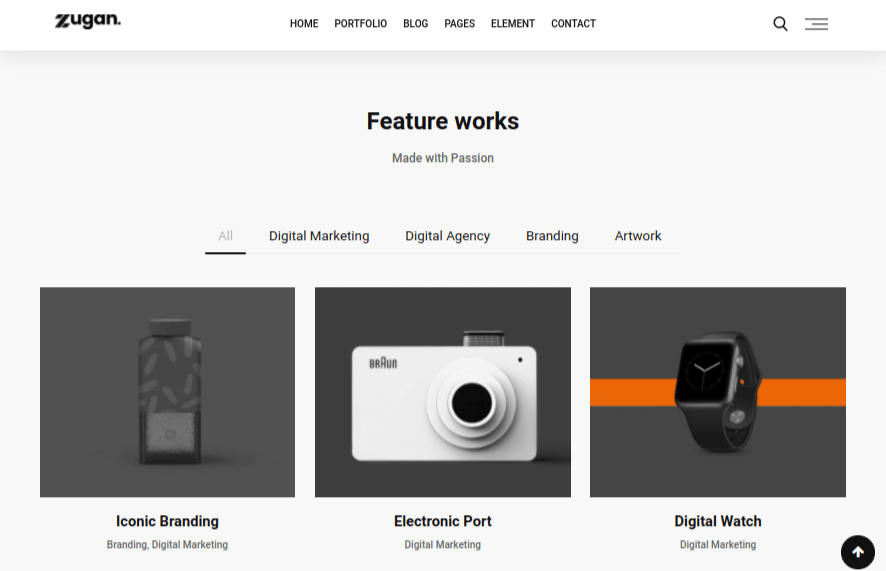 Zugan is a minimal portfolio WordPress theme and Bootstrap 4 template. It has many homepage demos and 36 demos for portfolios in four different styles.
The portfolio demos are quite similar to MetaDesign's portfolio design, and there are a few homepage demos that are similar to the company's overall design.
This design has sections you can use to highlight specific projects and list the rest in a grid layout underneath. It even has sidebars you can use for extra content.
Final Thoughts
Choosing the right design to represent your work or your client's work isn't easy. The images you use to represent your projects are important, but so is the design you use to showcase them.
Build a portfolio that both shows off your best work and represents your unique sense of style as a graphic designer.
Then, decide how you want to build your graphic design portfolio. Some of these templates are specific to WordPress and require a WordPress-optimized hosting setup.
Other templates are based on Bootstrap and will need the work of an experienced web developer.
Above all, choose a portfolio template that best communicates who you are as a graphic designer and the results you can provide to your clients.