31 Mouth-Watering Food Fonts (For Restaurants, Menus, and More)
Looking for the best fonts for restaurants, menus, cookbooks, and other gastronomical designs? Then feast your eyes on these delectable food fonts!
We've searched the market to pick out the most delicious typefaces by professional designers. And trust me, they're sure to whet your appetite.
Below, you'll find a mix of different types of fonts for foodies, from gorgeous serif, sans serif, and script fonts that'd look great on your restaurant signage, to more experimental fonts that look like they're actually made out of real food!
Ready? Let's jump into the list!
The 36 Best Food Fonts (Free & Premium)
Fatheya Food is a modern monoline typeface and our overall favorite food font. It's a versatile and stylish font that would work equally well in all types of food-related designs: from fine-dining restaurant logos to fast food menus.
Why it's our top pick
The reason Fatheya Food is our top pick is because of how versatile it is. It's classy, understated, and highly readable—and there's something about it that tickles your appetite. To me, it's a font that tastes like gourmet soup: rich and full of flavor.
It's also a script font, which makes it perfect for classier restaurants, as cursive-style text is associated with elegance and wealth. 
Fat Day is a playful, chunky display font that doesn't take itself too seriously. It's heavy, flavorful, and perfect for more casual restaurant branding and food packaging. The thick, chunky, rounded letterforms encourage you to let loose and fill your stomach.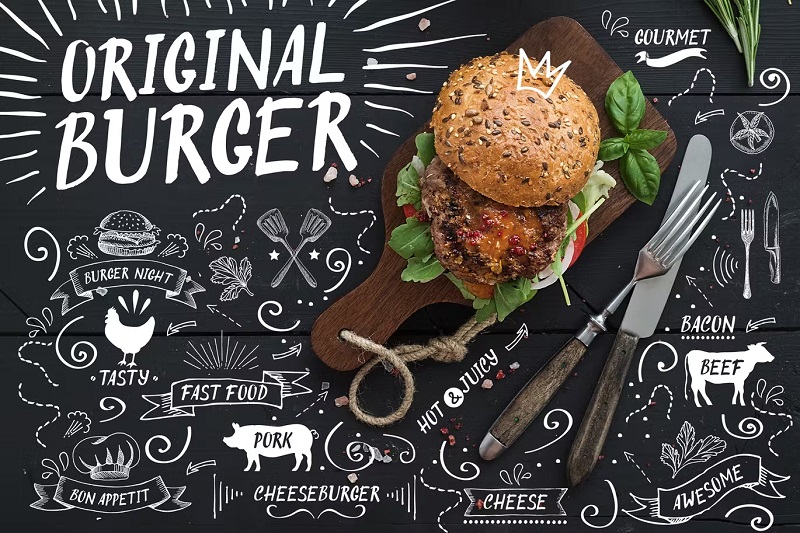 Working on a design for a gourmet burger restaurant? If so, check out Original Burger—a rugged, meaty, all-caps font by Barcelona Design Shop. It comes with uppercase letters and numbers, plus a collection of bonus graphic doodle elements.
The graphic doodle elements are great and can take your designs to the next level. Amongst the collection, you'll find burger graphics, cows, chef's hats, banners, cutlery, and much more. 
King Food is a very heavy bold font that's cute and quirky. It's characterized by straight lines, thick strokes, and playful letterforms. It's guaranteed to make an impact and a good choice for food trucks and burger joints. 
Spice up your designs with this fiery hot font by Konstantine Studio. It's cleverly crafted to look like the letters have been drawn out in chili sauce, so it's great for hot sauce packaging and other spicy food-themed designs.
BiteChalk is a sans-serif, chalk-style font that was designed for cafes and restaurants. The unique texture makes it look like it's been drawn with chalk, which gives it an authentic menu board look.
It comes in 4 styles: BiteChalk, BiteChalk Bold, BiteChalk Normal, and BiteChalk Slim. You also get a bonus vector pack that includes tons of chalk-style graphic illustrations themed around food. You can mix and match font styles and vectors to create stunning menu boards and food-themed artwork.
Working on a design for a Japanese restaurant or sushi bar? Here's the font you're looking for. Boyaka is a Japanese-themed brush font with a quirky, playful look.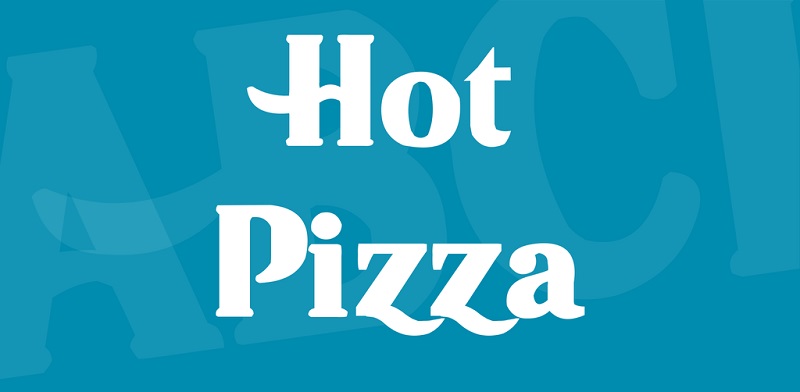 Here's another font that's fresh out of the oven. Hot Pizza, by designer Dennis Ludlow, is perfect for pizza takeout packaging and fast food restaurant signage. It's simple but effective. And the best part? It's free for non-commercial use!
This color font looks good enough to eat—literally. It's a hyper-realistic 3D font that looks as if the glyphs have been cut out of real-life pizzas.
The reason it's so incredibly detailed is that it's an SVG OpenType font; a format that allows designers to incorporate color, gradients, and textures into the file. The catch is that these types of food fonts only work in compatible programs, such as modern versions of Photoshop and Illustrator.
Cafe Matcha is cute sans serif font that makes me think of cupcakes, coffee, and sweet treats. It would be great for pretty little themed cafes, dessert restaurants, cupcake stalls, and other cutesy designs.
Nibbles isn't a traditional font. It's actually a food-themed linear dingbat typeface. If you didn't already know, dingbats are typographical ornaments that take the place of letters, numbers, and punctuation. They're meant to be used as decorative elements in typography designs.
In this case, the dingbat collection includes over 78 food- and restaurant-related symbols ranging from burgers and tacos to toilet signs and cutlery sets. Each pictograph is listed alongside its glyph placement, so you know exactly what button you need to press on your keyboard.
Alternatively, you can just type out the name of the food item and Nibbles will automatically replace the word with a symbol. I'd recommend using Nibbles alongside your usual font to put together eye-catching menus.
Blackboard is another neat restaurant font that's designed to look like the text you might find on a menu board. It's elegant and charming and would be perfect for quaint cafes. It's also free to use in your personal projects, but you'll need to check the license if you want to use it for commercial projects.
Montclar is a handwritten food font characterized by tall letterforms and thin strokes. It's very stylish and modern and would be a good choice for menus in high-class restaurants.
Here's another super-realistic SVG OpenType color font themed around food. This one looks like it's made out of ice cream that's covered in chocolate. The texture and colors are so realistic that you'll want to take a bite right out of it!
Burisc is a very casual handcrafted font with a retro feel. It's versatile enough to work well in a wide variety of design projects, but would look especially great on restaurant signage and menus.
Opening a Korean restaurant or food stall? Here's the font you're looking for. Itaewon is a display typeface that gets its name from a district in Seoul, South Korea that's known for its vibrant nightlife scene. The designer used the Hanguk (the Korean alphabet) as inspiration and incorporated many of the same shapes in the glyphs, which gives it an authentic look.
Nomads is a hip and trendy vintage typeface that comes in three styles: regular, rounded, and vintage. It's classed as an ultra-condensed type family, which means it's narrower than most other food fonts.
It includes uppercase letters plus alternates, which you can use to create diverse designs. Nomad's rugged aesthetic makes it perfect for logos, signage, and menus in trendy coffee shops, hipster cafes, and organic restaurants.
Cheese sauce is a fun display font that doesn't take itself too seriously. It's great for playful designs and would work well on food product packaging, youtube banners, posters, logos, and many more types of designs. It comes in TTF, OTF, and WOFF formats.
LP Food is another collection of food-themed dingbats. It doesn't include any regular glyphs (like letters, numbers, and punctuation marks), but you can use it alongside your regular font when you want to add food graphics to your typography designs.
Frunch is a delicious bold script font by designer Nasir Udin that was created specifically for food and beverage branding and food product packaging typography. It has subtle vintage touches and comes with a set of stylistic alternates and swashes that can help to make your designs stand out.
This 3D color font is designed to look as if the letters are completely covered in and dripping melted chocolate. It's incredibly detailed with a super-realistic texture and a convincing 3D effect. 
I'm sweating just looking at this flaming hot typeface. It's a blazing typeface designed to look like the glyphs are literally on fire. Therefore, it'd be perfect for flame-grilled burger joints, spicy food packaging, or any other typography designs where you're trying to convey a sense of heat.
Sushi Cat is another great font choice for sushi restaurant branding and sushi product packaging. It's cute, fun, and playful. In addition to the usual glyphs, the font pack also includes a bunch of adorable sushi-cat doodles that you can add to your creative projects.
Gunji is a Chinese-inspired brush font. The glyphs are designed to look like Chinese Han characters. It's the perfect font choice for authentic Chinese restaurant branding and takeout menus, but it'd also work well in other Asian culinary designs. 
Fancy some cheese? Well, grab a knife and cut yourself a slice of this tasty cheese color font! The glyphs have been designed to look like they've been cut out of a big block of swiss cheese. Because it's a color font, the designer has been able to include an enormous amount of detail, which makes it very realistic.
Choco Chici is a luxurious handwritten font by Basni Studio. It's a creamy, elegant font that reminds me of the Cadbury logo, which makes it great for chocolate product wrappers and chocolatier store branding.
Gorilla beer is the perfect font for bars and pubs that have both food and booze on the menu. It's a vintage blackletter typeface so it has that gothic style you often find on pub signage and logos.
Quizine is a delicious culinary brush font. The designer took inspiration from Japanese restaurant menus and used a brushed texture to give it a more traditional feel. It's designed specifically for Asian cuisine designs but could work well on any food-related designs including packaging, restaurant logos, menus, and more.
Lolipop is a candy font that's guaranteed to appeal to your sweet tooth. It'd work well on confectionary product packaging, candy shop branding, and similar designs. It comes with the usual glyphs plus stylistic sets, alternates, swashes, and ligatures.
If you're working on a design for an Indian restaurant or Indian food product packaging, Krishna is the font you're looking for. It's an authentic typeface inspired by the Devanagari script, which is used across the Indian subcontinent.
Here's another cool color SVG font worth checking out. This one is designed to look like the glyphs are individual chocolate cakes. It looks great but it isn't very readable so I wouldn't recommend using it in headlines or in small sizes.
Tips For Choosing the Best Food Fonts
Before we wrap up, here are a few bonus tips to help you choose the perfect food font for your next project!
Consider Food Psychology
Interestingly, studies show that people associate different types of fonts with different types of food. For example, slab serifs are associated with meaty foods (steaks, burgers, etc.) while round fonts are associated with sweet foods (candy, cakes, etc.).
Bear these associations in mind while you're choosing a font to make sure you get the right fit for your needs.
For example, if you're working on a logo for a steakhouse, a bold slab serif might be a great choice. On the other hand, if you're working on the product packaging for a cake company, a nice rounded sans serif or delicate script font might be a good choice.
Match the Food Font to the Brand
If you're working on a branding design, think carefully about brand positioning and choose a font that fits.
For example, if you're working on a logo for a fine-dining restaurant that's positioned itself to target the high-end of the market and wants to be seen as a 'luxury' venue, a delicate script font might be a good choice.
However, if you're working on the logo for a fun, novelty-themed restaurant, you might want to choose a more playful font, like a rounded sans serif or an experimental typeface.
Check the Font License
If you plan on using your food font for a commercial project or in a commercial setting (such as on your restaurant signage or menu), you'll need to make sure that's included in the font license. However, some food fonts are only free for personal use. Therefore, you may need to purchase a commercial license depending on your usage. If in doubt, always check the fine print.
Use Complementary Food Fonts
If you're using more than one font in the same design, it's important to choose a pairing that complements each other. A good rule of thumb is to aim for contrast: pair a serif with a sans serif, or a heavy font with a lightweight font. However, try not to mix different 'moods'.