7 Best CRM Plugins for WordPress (2023) – Expert Pick
Are you on the lookout for a CRM plugin you can use on your WordPress site?
A customer relationship management (CRM) system is the best way to capture leads and manage customer communication.
Many CRM systems also include support for task and project management as well as accounting needs like invoicing.
Not all systems are made specifically for WordPress. We cover this in the first section of this post.
We also cover the best CRM plugins to use for WordPress before wrapping up with our top pick.
Let's get into it.
What to Look for in CRM Plugins
CRM plugins for WordPress come in all shapes and sizes.
Some are dedicated CRM applications that have their own WordPress plugins. Others are CRM systems made specifically for WordPress.
Some applications don't have plugins at all and integrate with WordPress instead.
So, which sort of CRM solution should you use for your WordPress site? That depends on your needs, available free time and budget.
CRM plugins made for WordPress are affordable, but they're not as efficient as they could be.
This is because many require you to create contacts and perform many other actions manually rather than automating them.
Plugins and integrations made by dedicated CRM applications are much more efficient, but they can also be quite expensive.
Decide what's more important to you: efficiency or budget. Think about this as you go through our list below.
The Best CRM Plugins for WordPress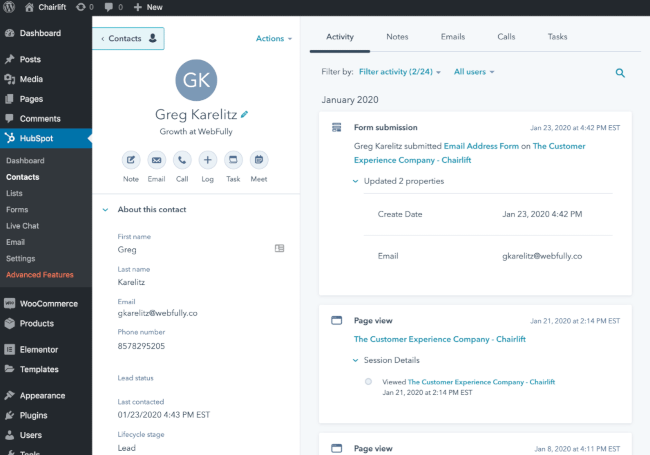 HubSpot is one of the most popular CRM solutions on the market. It's used by over 143,000 businesses, including Trello, World Wildlife Fund (WWF), Casio, Zapier, Wistia, Suzuki, SoundCloud, and more.
HubSpot is a multi-software CRM platform that offers applications for marketing, sales, customer service, content management and operations.
You can pay for each application separately, but an affordable bundle is also available.
The HubSpot CRM WordPress plugin itself is free. You just need an active HubSpot subscription to use it.
The integration brings the following CRM features to your website:
Drag-and-drop contact form. HubSpot also integrates with most contact form plugins if you don't want to switch.
Live chat software and chatbots.
Email builder for email marketing.
Marketing automations for forms and live chat sessions.
Analytics available from your WordPress dashboard.
Activity logs saved in HubSpot's CRM platform. This includes open and click-through rates.
Pricing: HubSpot has limited free tools. Paid plans start at $50/month or $540/year (advertised as $45/month) for 1,000 marketing contacts and two users.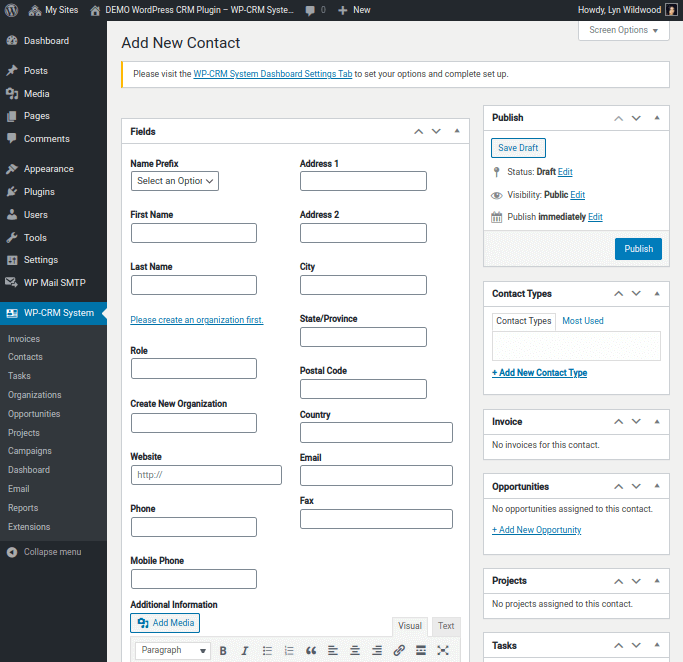 WP-CRM System is a dedicated CRM WordPress plugin that adds CRM features to the WordPress dashboard.
It enables you to manage a decent chunk of the customer journey from WordPress.
You can add individual contacts and organizations, create and manage tasks, and even create profiles for potential clients (called "Opportunities").
The Tasks dashboard is perfect for support tickets or smaller objectives for client projects and marketing campaigns.
Speaking of, there's also a part of the plugin's dashboard called Projects. They're great for larger tasks.
Clients are able to see certain data fields for Tasks and Projects in the Client Area the plugin offers, so both you and your client can keep track of things.
You can also manage invoices, campaigns and reports from the plugin's dashboard.
A native email system is also included.
Pricing: A free version of the plugin is available. Pricing for the premium version starts at $99/year for three extensions.
You can also purchase extensions separately at $29-$89 each.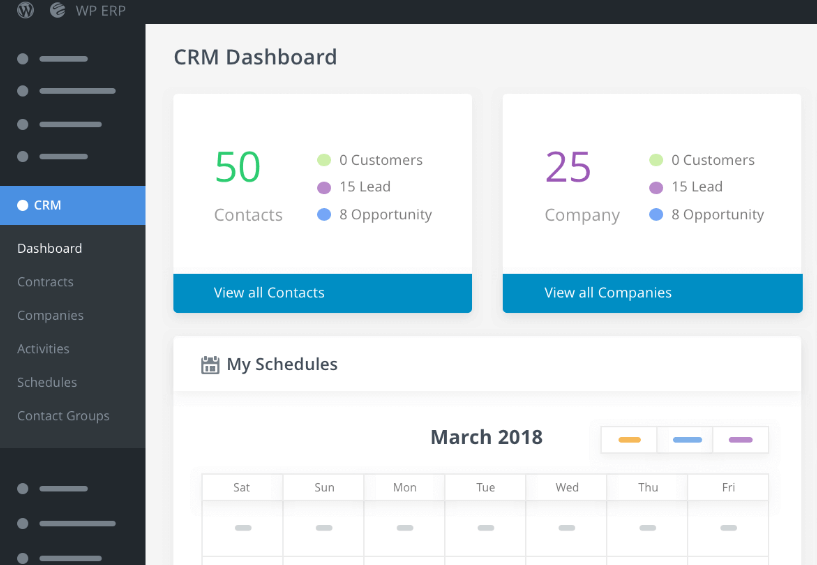 WP ERP CRM is a dedicated CRM plugin for WordPress. It brings a full-fledged CRM system to your WordPress dashboard.
The developer also makes systems for human resources and accounting. You can access features for all three systems with WP ERP Pro.
With WP ERP CRM, you can build a list of contacts in WordPress and assign life stages to each. Examples are "Opportunity," "Lead", and "Customer."
There are a number of different integrations that enable you to automate contact creation.
You can also add a note to individual contacts, view activity logs and schedule meetings.
The plugin also has built-in task management.
Plus, since the HR system allows you to add employees to your WordPress site, you can assign employees to tasks.
Unfortunately, there doesn't seem to be a way to automate task creation and management.
Pricing: A decent free version is available. Pricing for the premium version starts at $12.99/month for one user. This price increases based on the number of additional users and extensions you need.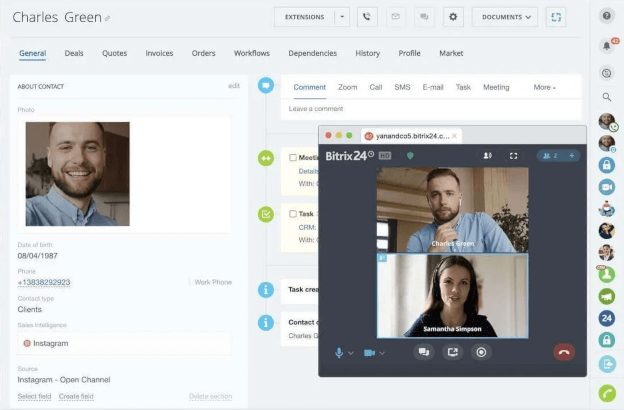 Bitrix24 is an online workspace platform for business. It comes with a number of different collaborative tools that make project management a lot easier for you and your team.
This includes a CRM system.
It has lead management, project management, marketing campaigns, landing pages, multiple ways to communicate with clients and more.
Bitrix24 integrates with WordPress without the need for a plugin, and without needing to pay extra for an extension.
The platform has embed integrations for its web forms, live chat, and callback widget.
There is a free plugin for ecommerce you can use. It imports WooCommerce orders into the platform's CRM system.
Developers can also use a self-hosted version of Bitrix24 to access the platform's API and webhooks for more integrations.
Pricing: A limited free plan is available. Premium plans start at $49/month for five users or $468/year (advertised as $39/month).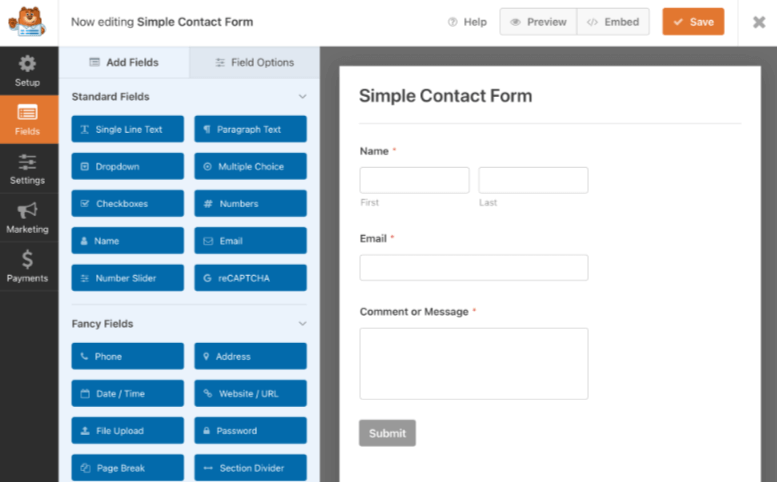 WPForms is a popular WordPress form plugin used by over 5 million websites.
The plugin has addons for HubSpot and Salesforce, two popular CRM solutions.
The primary use case for these addons is connecting the lead generation forms you create with WPForms to your CRM system.
Leads who fill out the forms you integrate will be added to your CRM system as new contacts automatically.
What sets WPForms' integrations apart from other contact form plugins is its use of conditional logic.
Other form plugins offer this feature as well. However, WPForms specifically integrates it with its addons for HubSpot and Salesforce.
With conditional logic, you can control the data that gets sent to your CRM system based on the information leads provide on your forms.
Pricing: WPForms has a free version, but these addons are only available with the Elite plan, which costs $599/year.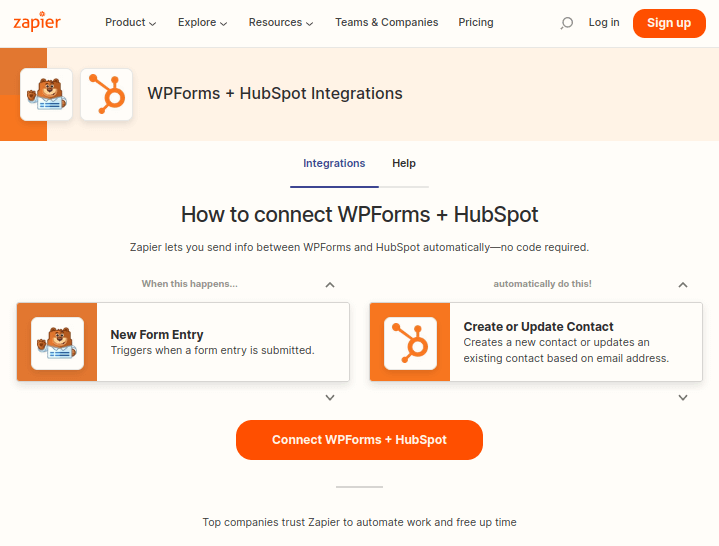 Zapier is a popular automation tool that integrates with over 4,000 applications.
It allows you to connect two different apps and create a number of different triggers and actions between them.
Each connection you create is called a "zap."
You can use Zapier to integrate WordPress with a number of different CRM systems, including HubSpot, Salesforce, Bitrix24 and Zoho CRM.
A popular connection creates a new contact in your CRM whenever a new user is registered on your WordPress site.
You can also create zaps between WordPress form plugins and CRM systems.
Pricing: Zapier is free for up to five zaps and 100 tasks per month. Premium plans start at $29.99/month or $239.88/year (advertised as $19.99).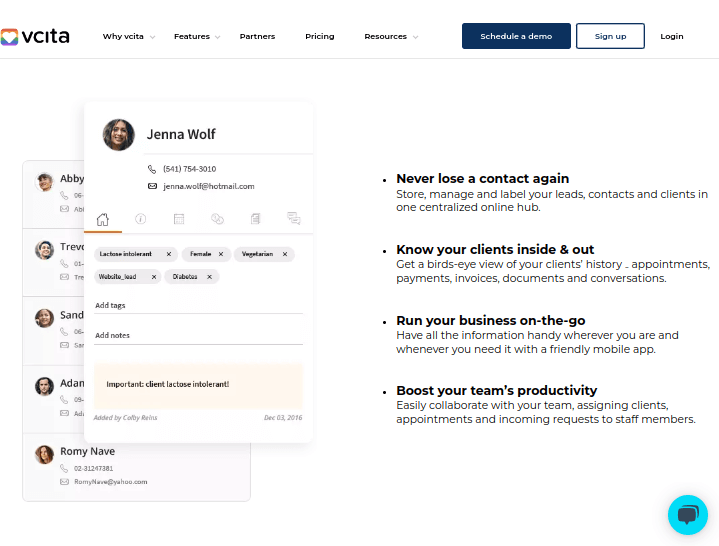 vcita is a business management application for small businesses.
The app has CRM features for client management, lead capturing and lead nurturing.
It allows you and your team to collect payments and communicate with clients.
vcita has multiple CRM plugins that integrate the app with your WordPress site.
One allows you to use a form builder that creates new contacts from form submissions.
Another adds calls to action to your website. They encourage customers to book appointments, make payments and share documents.
Speaking of appointment scheduling, vcita has a plugin for that as well.
Pricing: Plans start at $29/month or $228/year (advertised as $19/month).
Final Thoughts + Our Top Pick of CRM Plugins
It can be difficult to find CRM plugins for WordPress. This is because there aren't many made specifically for the content management system.
Many CRM apps also don't offer their own solutions.
This can make deciding on a CRM solution for WordPress quite difficult, especially if you don't already use one.
Our top pick is HubSpot.
This is because they offer their own WordPress plugin that brings many of the platform's best features to your website.
You can use it to create forms that capture leads and add them to the platform's CRM system.
It also integrates with a number of different contact form plugins for WordPress.
Live chat and chatbot functionalities are included as well.
HubSpot even has an automation workflow builder, which you can use with WordPress to create powerful marketing and lead nurturing campaigns.
Lastly, HubSpot is quite affordable as far as CRM applications go.
Otherwise, Zapier is a great workaround solution.
It may not be a CRM system, but it allows you to create automations between WordPress or WordPress plugins and numerous CRM applications at a great price.