Best WordPress Hosting: Beginner's Guide to Finding the Right One
Finding decent WordPress hosting can be a painful process. You need a solution that will do justice to your content, offer rock-solid reliability and hopefully not break the bank.
The good news is that the hosting market has never been more competitive. A new generation of WordPress-focused companies have emerged who've raised the bar considerably in terms of price and performance.
The bad news is that it's still tricky wading through the forest of features and packages in order to work out what's right for your site.
In this article we've set out to simplify matters for you by running the rule over five of the best hosting companies out there: WP Engine, SiteGround, Bluehost, Page.ly, and Flywheel.
Update: Here is the short version of our WordPress Hosting case study, if you're in a hurry. Feel free to scroll down to read the complete post (including methodology / data).
| | | | |
| --- | --- | --- | --- |
| | WPEngine | SiteGround | PageLy |
| | | | |
| Avg. load time (LoadImpact, approx.) /ms | 260 (.26s) | 400 (.4s — After caching) | 90 (.09s) |
| Load time (Pingdom) /ms | 350 | 942 | 731 |
| Score (Pingdom) /100 | 75 | 75 | 75 |
| Load time (Developer Tools) /ms | 269 | 638 | 459 |
| Avg. DNS response (UltraTools, approx.) /ms | 4 | 17 | 20 |
| Cost per month | $29 | $3.95 | $99 |
| Visit: | WPEngine | SiteGround | Pagely |
We'll cover speed, performance and price to help you narrow things down. Before we get into the nitty-gritty though, let's discuss what you should be looking for in a hosting partner generally.
What to Look for in Your Hosting Company
Hosting is not everybody's area of expertise or favorite subject in the world so it's important to have a clear picture of what you should expect as standard from the outset.
We'll kick things off here with a look at features that should simply be non-negotiable in any solid WordPress hosting setup.
(If you'd rather cut straight to the chase and dive into our WordPress hosting comparison, go for it!)
Speed: Web users are notoriously impatient so speed is vital. Google are also cracking down on slow sites so you really can't afford to be slack in this area. This is especially the case when it comes to WordPress hosting. Left unoptimized, WordPress can be a resource-heavy application so you need top-notch hardware in place to get the most bang for your buck.
Full feature set: This isn't specific to WordPress hosting of course but it should go without saying that your hosting provider offers email accounts and forwarding, appropriate server access and excellent tooling on the admin side.
Security: Nothing ruins a day quicker than discovering your site has been pawned by script kiddies. Your host should have verifiably secure systems in place to deter common attacks.
Support: Excellent support is essential in a hosting provider. You should be able to reach friendly and knowledgeable support people at any hour of the day or night. Waiting around on email tickets isn't good enough if there's a real problem.
WordPress-friendly hosting: WordPress has its own specific requirements and peculiarities and not every host is set up to handle it optimally. Right now, WordPress ideally needs to be running on PHP 5.6 (or greater) and MySQL 5.5 (or greater) to avoid security vulnerabilities and potentially broken features. Look for a host with a strong track record in dealing with WordPress sites.
Pricing and value for money: It's all very well having a super-fast, super-secure server, and an awesome site, but if you're spending ten times as much on it as you can ever hope to get back, all that effort is in vain.
What We'll Cover
We'll be going over a lot of ground in the remainder of this piece so feel free to hit us up in the comments if anything is unclear along the way.
Unlike many other hosting guides which are biased in favor of one particular provider from the get go, we've reviewed each of the hosts totally independently and are happy to answer any questions you might have.
Let's start drilling into detail and look at the different types of WordPress hosting that are actually available for your site.

WordPress Hosting and Server Types
Hosting options run the gamut from very basic shared hosting all the way up to having your website's very own dedicated server. The hosts we'll be looking at later each offer pretty much the full range via their various packages.
In this section, we're going to take a whirlwind tour through some key differences between basic types of hosting to make sure you have some background context for later on. If you're relatively experienced in this area already, feel free to skip ahead.

Managed versus Unmanaged WordPress Hosting
Managed WordPress hosting is where everything regarding your site is taken care of for you by the hosting company. You don't need to worry about server configuration or security settings and uptime should be pretty much bulletproof.
With unmanaged hosting, you are given space on a server and what happens next is essentially up to you.
Although it's more than possible to set up, run and maintain an installation with an unmanaged host, there are a number of obvious reasons why a managed option makes an awful lot of sense:
If anything goes wrong, you have people on hand to help and it's their problem as well as yours.
You're not forced to carry the burden of system administration for your site. Running a successful WordPress site is hard enough without constantly fretting over ports, proxies and potential server meltdowns.
Managed hosting options will almost certainly have better security systems in place than anything you can hack together and your WordPress installs will be automatically upgraded with each new release.
The plans we'll be testing in our roundup are all managed, but it's still useful to have an idea of the different options available to you. We'll quickly run over the main pros and cons of each alternative before getting down to business.
WordPress Hosting: Traditional Shared Hosting
Shared hosting is the common entry-level point for those new to WordPress. It's where a single host parcels up sections of its servers to multiple websites. Everything runs side-by-side and each site can only access its own segment of the server.
There are of course pros and cons to this arrangement. Let's start with the plus points:
Cost: Shared hosting is typically the cheapest way of hosting a site. Deals as low as $4.99 a month are available.
Low server maintenance burden: You're limited in how much access you have to the actual server you're on, but the host will take care of installing and updating services such as PHP and MySQL.
Easy upgrades: If your site starts to pick up steam, most shared hosting providers will provide easy migration tools to one of their more advanced hosting packages.
It isn't all peaches and cream with shared hosting, however. There are also a number of disadvantages to consider:
Lack of control: If you want to configure advanced server options, you probably won't be able to on a shared hosting package. This isn't always a deal-breaker but it can throw a serious spanner in the works if you're not aware of it in advance.
Performance: Shared hosting packages have come on in leaps and bounds over the years but most will still struggle if you start to experience high traffic. You're also vulnerable to sluggishness caused by issues with other sites on the machine you happen to be hosted on.
Security: Many sites on one machine means many more ways for bad guys to potentially get at your site. Though most shared hosting providers are pretty rigorous with server-wide security, there is still a risk there so make sure you're backing up sensibly.
WordPress Hosting: Virtual Private Server (VPS)
A Virtual Private Server (VPS) is a great in-between solution for sites that are too big or resource-heavy to really work well on a shared hosting account but that maybe don't justify having their own server.
Through the miracle of virtualization, Virtual Private Servers parcel up server space in such a way that you are effectively running your own machine in isolation. Again, there are pros and cons to this. Here are the main advantages:
You're in control: Outside of the basic hardware at your disposal, you're in total command of your own resources with a VPS and free to configure it however you want, within reason.
Cost-effective: VPS is more expensive than shared hosting, but you typically have access to considerably more power and flexibility. A well-tuned, low-cost VPS can potentially deliver some quite astonishing WordPress performance.
Security: Your site lives in its own little world on a standard VPS setup so you're not at risk from noisy neighbors or vulnerabilities nearby.
As with anything, there are cons to consider when looking at running a VPS:
Your control is not total: You're free to tinker with configuration and settings, but the hardware itself is still outside your area of control. For most people, this won't be an issue but the fact remains that you are renting a room rather than buying the deeds to the property.
You need a system administrator: Maintaining a server on a business-critical, public-facing site is not for the faint-hearted. With a VPS, every aspect of your site's technical setup is your problem so you either need the technical chops to handle that with confidence or someone on your team who can take care of things.
WordPress Hosting: Dedicated
Dedicated WordPress hosting is pretty much the top of the hosting tree. It's the next logical step up from running a VPS when you want full control over your own physical machine.
If you're at or near this stage it's likely that you already know more than you ever wanted to about server setups in general so we won't be spending any time on it in this article.
To put things in a nutshell with this option, the plus points are total control and the downside is often prohibitive pricing and a heavy system administration burden.
For a pithy summary of the three main options we summarized above, look no further than the illustrated video below.
With all that introductory information behind us, let's move on to the hosting companies we'll actually be reviewing.
Best WordPress Hosting Providers
We're going to be running the rule over five hosting providers in particular, each offering packages specifically tailored for WordPress users. Let's meet the candidates!
01.

WP Engine

Our first candidate is not shy about coming forward. WP Engine describes its product as simply "the best WordPress hosting" – a bold claim to kick off with.
The company sells itself on robust infrastructure, site speed and security along with exceptional support. With over 220,000 currently active WordPress installations and serious funding behind it, WP Engine is very much one of the big beasts in the WordPress hosting space.
WP Engine offer a number of standard packages split out by traffic, storage and number of sites that can be hosted. These range in price from $29 to $249 per month. For our tests, we ran on the entry-level Personal package.
Get 33% discount for first 3 months (use wpengine coupon code db33)
02.

SiteGround

SiteGround's shared hosting packages are suitable for sites of all manner of sites but they also provide WordPress-specific options which include one-click installs and auto-updates.
SiteGround offer daily backups, server isolation and 24/7 support on all three WordPress packages with pricing ranging from $9.95 per month to $29.95 per month. Specialist features such as one-click WordPress Staging and GIT support are available on the higher-tiered packages.
Get a 60% discount on SiteGround (no coupon needed)
03.

Bluehost

Update (Nov 2015): According to many of the comments below, it seems BlueHost isn't the best in terms of custom service and uptime. People are having really bad overall experience — see the comments section below for more information. 
Bluehost has been on the official WordPress hosting page for many years and offer some pretty specialized options for the platform these days and include support for the handy site management tool ManageWP. Their managed WordPress hosting packages range from $24.99 to $169.99 per month depending on traffic and number of sites hosted.
Bluehost offer server setups specifically optimized for WordPress with NGINX and custom PHP-FPM configurations under the hood.
Security is also stressed with Sitelock Security and advanced CDN options in place.
Get 20% off your Hosting at BlueHost
04.

Page.ly

Page.ly doesn't beat around the bush with its marketing claims, billing itself as "the most scalable WordPress platform in the world". They boast an enviable roster of clients including giants such as Disney, Twitter and Facebook.
We used their entry-level Business hosting package for the purposes of this article but a suite of other options are on offer ranging from $99 per month all the way up to a whopping $1799 per month.
Page.ly make use of Amazon Web Servers (AWS) to power their hosting with advanced security and performance systems in place in the form of PressARMOR, PressCDN, and PressCACHE.
WordPress-related tasks can be carried out from Page.ly's Atomic Core control panel.
Signup for the most scalable Hosting
05.

Flywheel

Flywheel have pitched their services firmly at designers and creative agencies and offer advanced site collaboration tools and reseller options.
Flywheel offer a range of pricing options to cater for various scenarios along with WordPress-tuned servers, staging site options and easy transfer billing to clients. On a pay-per-site basis, pricing ranges from $15 per month to $75 per month. Bulk plans covering 10 and 30 sites are available at $100 and $250 per month respectively.
Get 2 months off of the purchase of annual plan (use coupon code: flykube)
---
So, we've met our competitors and covered some of their standout features. Let's briefly review how we went about the actual tests before getting on to how the hosts performed.
The Verdict: Five of the Best WordPress Hosting Providers
Our Final Rankings
1. WP Engine
2. Pagely
3. BlueHost
4. Flywheel
5. SiteGround
At this point, we have the tricky job of choosing a favorite from the excellent list of hosts we've reviewed and tested here. It's a tough choice.
If you're looking at hosting a site for a client, the tools Flywheel provide are massively useful. It didn't perform that well against the other candidates in our tests, however.
SiteGround is generally the cheapest provider on the list which will be a big factor for many and may suit smaller sites just starting out.
If you're planning on scaling a site the whole way up from small beginnings to a truly massive affair, Page.ly has a lot to recommend it. Their prices aren't cheap, but you're getting value for money great service and support and plenty of room to scale. Their Atomic Core admin is particularly impressive.

Bluehost's suite of options represent an excellent compromise between quality and price and should be able to handle successive waves of traffic increases elegantly. They also have over a decade of WordPress hosting experience behind them and continue to be recommended on WordPress.org. The inclusion of ManageWP is a nice additional bonus.
On balance though, for their combination of cost, ease of use, performance, security and feature set, we've plumped for WP Engine as the overall winner. They have options right down to $29 per month for smaller sites and a 60-day money back guarantee so you can kick the tires with confidence. WPEngine's backend was a breeze to use and the range of developer features on offer are impressive.
WordPress Hosting Performance Comparison Methodology
We ran all tests with a basic WordPress site installed from the hosting provider's control and performed the following steps:
Each site's performance was tested using LoadImpact. In our graphs, green represents the response time while blue is the number of requests.
We used Chrome developer tools and Pingdom's website speed test to find out how long our page takes to load.
We checked the average DNS response time for each host through UltraTools.
Bear in mind that we're working with averages here and performance is bound to vary across time and due to circumstances on any given day. Nevertheless, our results should give you a ballpark set of figures for each host.
WP Engine WordPress Hosting Results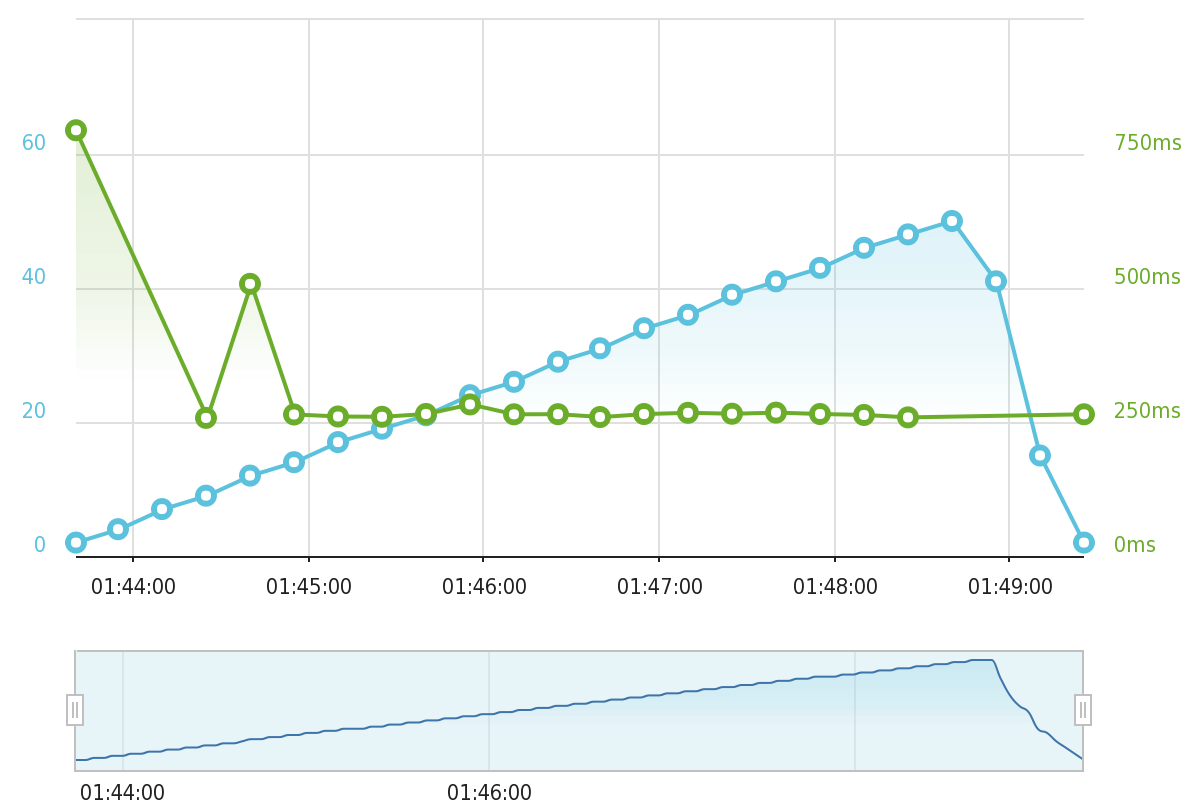 With only a couple of blips, our WP Engine WordPress hosting loaded at around 260ms with LoadImpact.
The 290kB page loaded in just 350ms on Pingdom, earning a performance grade of 75%.
It's marked as faster than 99% of other sites tested with the same tool. With developer tools, a full page load took just 269ms.
The DNS response time averaged out at 4ms.
SiteGround WordPress Hosting Results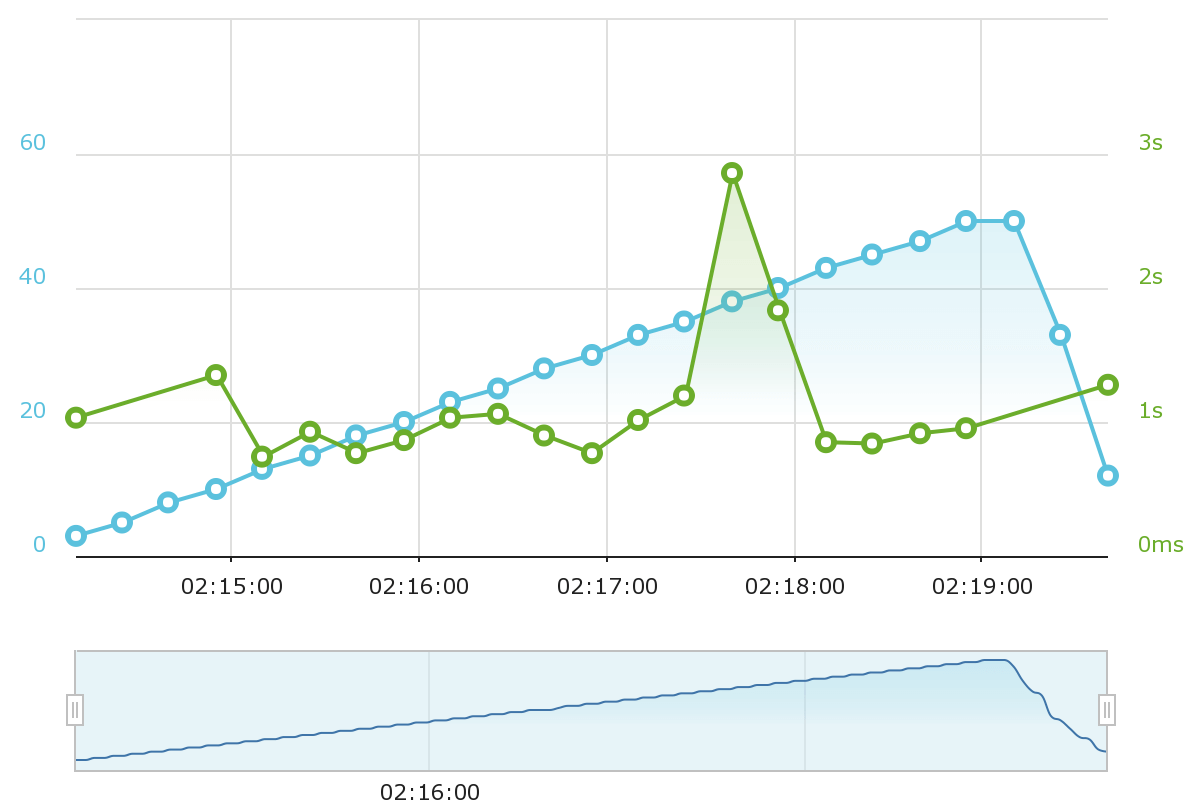 "Variable" is probably the word to describe this somewhat disappointing graph from the LoadImpact tests.
Peaking at nearly three seconds, results tended to stay in or around the one-second mark.
Our 189kB page came in with a load speed of 942ms, and scored 75% on Pingdom's performance grade. It took 638ms to load with Developer Tools.
The average DNS response time meanwhile came in at 17ms.
Bluehost WordPress Hosting Results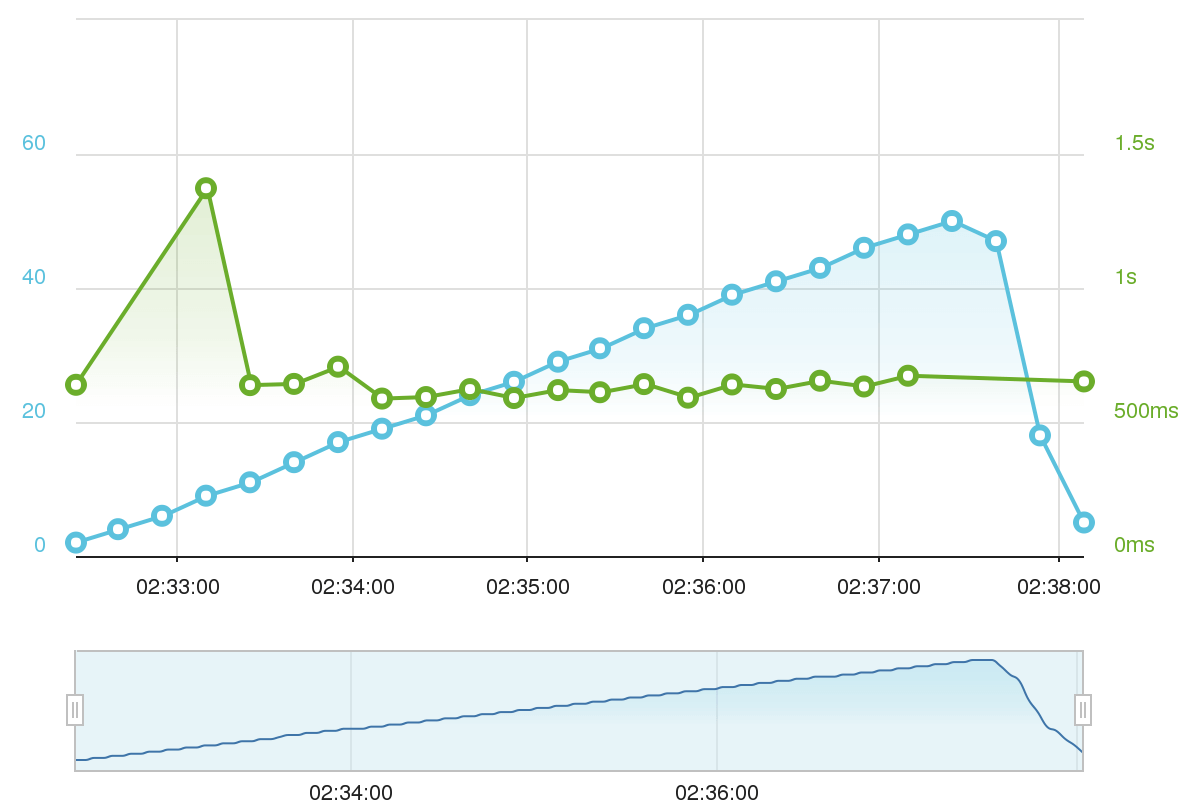 Bluehost's results with LoadImpact stuck at around 640ms even as requests increased. Alas, the good performance did not last.
Bluehost delivered a not-so-wonderful set of results on Pingdom, taking 2794ms to serve the content – although still managing 75% on the performance grade.
With Developer Tools, results were somewhat better (if still not stunning), taking 1150ms to serve the page. DNS average response time was 78ms, way out compared to all the other hosts.
Page.ly WordPress Hosting Results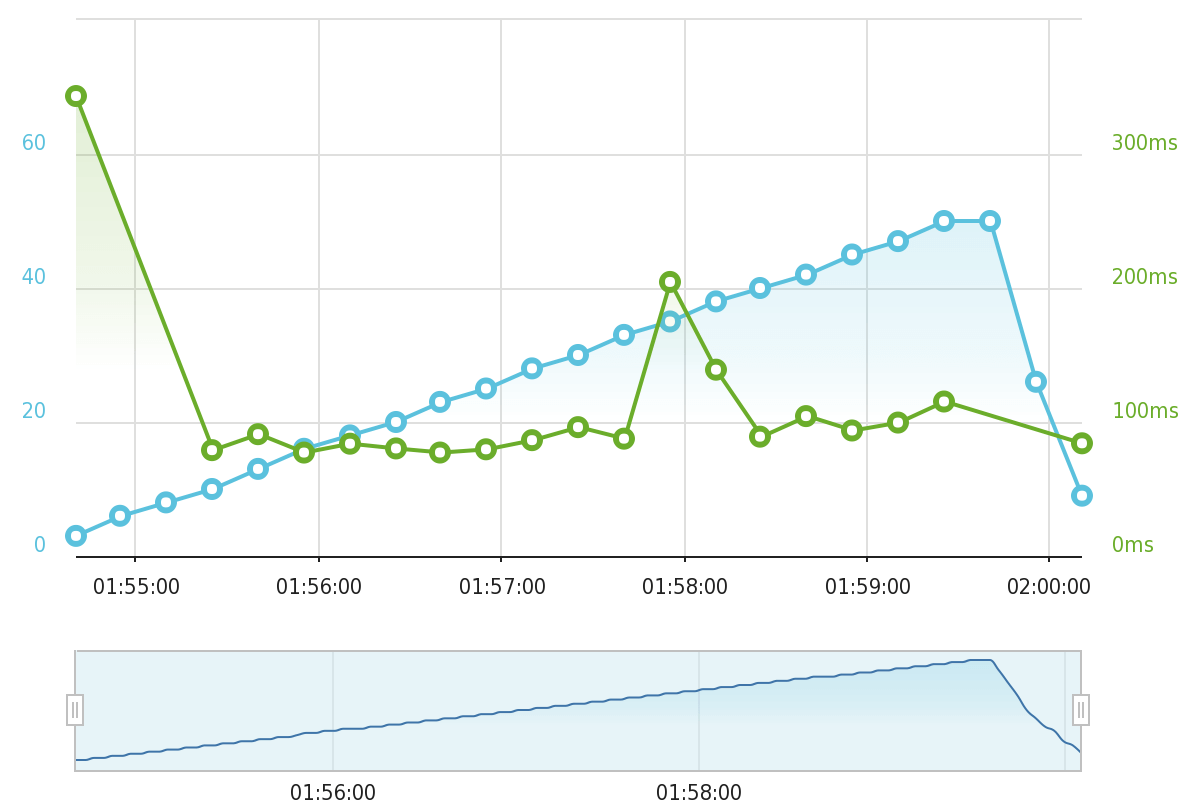 There was a slight trend upwards for Page.ly on LoadImpact in response time as more requests were sent and a couple of big jumps along the way.
Response times tended to stick in a range between 80ms and 115ms overall.
Our 291kB page loaded in 731ms. This earned it a performance grade of 75%, better than 94% sites tested with Pingdom. 459ms was the result with Developer Tools.
The average DNS response time meanwhile, was 20ms.
Flywheel WordPress Hosting Results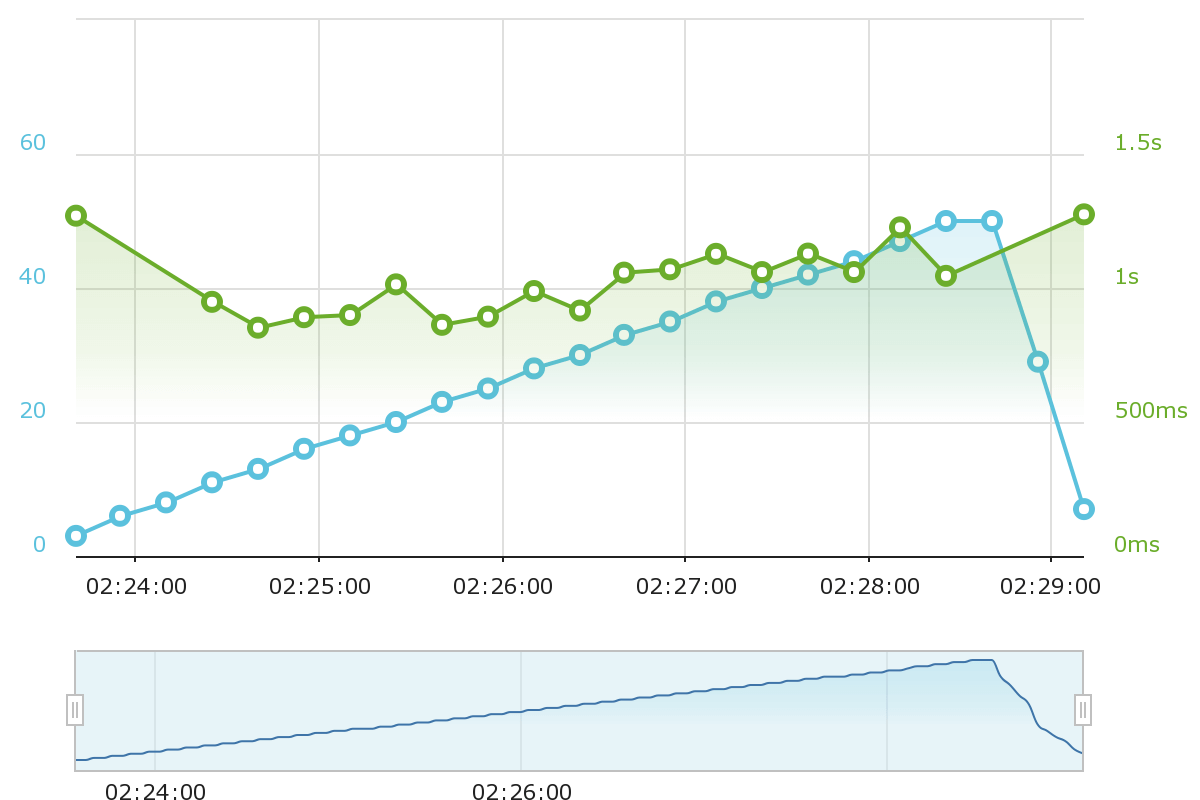 The response speed on LoadImpact was a little unstable for Flywheel and tended to increase with more requests.
Overall, it stayed around the 1000ms mark.
The 290kB page took 1580ms to load up, scoring 86% in Pingdom's performance ratings. It was faster than 66% of websites testing on the site.
It took 2776ms with Developer Tools, however. Flywheel's average DNS response time came in at a speedy 4ms.
Summary
We've summarized the results of our tests in the following table with leading results highlighted in green and lower-ranking results in red.
WPEngine
SiteGround
Bluehost
Pagely
Flywheel
Speed Tests
Avg. load time (LoadImpact, approx.) /ms
260

1000

640

90

1000

Load time (Pingdom) /ms

350

942

2794

731
1580
Score (Pingdom) /100
75
75
75
75
75
Load time (Developer Tools) /ms

269

638
1150
459

2776

Avg. DNS response (UltraTools, approx.) /ms

4

17

78

20

4

Features Comparison
Email Service
X
✓
✓
X
X
SSL Support
HTTP/2
HTTP/2
HTTP
HTTP/2
HTTP
Staging area
✓
✓
X
✓
✓
Free Migration
✓
✓
$149
✓
✓
Billing Transfer & Free demo sites
X
X
X
X
✓
Developer Tools
✓
✓
X
✓
X
See our Detailed Review:
WPEngine Review
SiteGround Review
BluHost Review
Pagely Review
FlyWheel Review
WPEngine
SiteGround
Bluehost
Pagely
FlyWheel
Some of the results here are obviously better than others, but we should point out that we're looking at a very strong set of hosting options in general.
So, if one host looks to have done badly here, that doesn't mean you should necessarily ignore it completely.
WordPress Hosting Features and Value
Though it's a key factor, speed isn't everything when it comes to hosting. Factors such as price, support and feature set all come into play as well.
Differences are on display in terms of traffic allowances as well. As an example, on their cheapest packages, Bluehost includes 100,000,000 visits per month, SiteGround "around 10,000," WPEngine about 25,000, FlyWheel 5,000, while Pagely is unlimited.
Pricing will also obviously be a consideration. Each provider breaks their services out differently, but SiteGround and Flywheel offer the cheapest packages overall with Page.ly topping the charts as the most expensive.
The managed packages we tested break out their entry-level plans by traffic, storage space and number of sites supported rather than our test criteria of performance. You'll need to consider your own anticipated traffic requirements when weighing up the exact package to suit your business.
Factors such as built-in support for ManageWP with Bluehost or Pagely's Atomic Core admin could also swing certain users. Flywheel's strong set of tools specifically aimed at creative agencies might sway others.
The point we're making is that it's important to scope out the requirements that your business truly needs before you begin your search.
Conclusion: Which is the Best WordPress Hosting?
WP Engine came out on top in the end for us but, having kicked the tires of all five providers, we were pleasantly surprised at the overall quality of offerings on display.
Compared to the dark days of even five or six years ago, it really is remarkable how much better options for simply and affordably hosting a WordPress site have gotten.
As we mentioned at the top of the article, managed WordPress hosting really is the way to go unless you're bringing considerable server-level expertise to the table. All five hosting providers surveyed performed admirably in their respective ways.
We're curious to hear your thoughts on the matter. Have you tried one of our providers and got useful information to share? Or is there another contender out there we should have included? Get in touch via the comments and let us know.