What if I told you that you could make more money from your website without spending any money on ads or doing anything to get more traffic? Our Unbounce coupon will discount your membership to one of the web's best landing page builders, which is almost guaranteed to increase your conversions.
This is the power of conversion rate optimization. Rather than trying to get more traffic to your site, Unbounce will help you to optimize the conversions from the traffic you already have.
With Unbounce you can create custom landing pages and increase your conversions. And with our Unbounce Coupon, you can get 20% off any plan for a year if you pay annually or 20% off the first 3 months if you're paying monthly.
Ready to get the discount? Click here to use our special link and the 20% discount should be automatically applied.
Want to learn more about Unbounce? Keep reading for the full details.
What is Unbounce?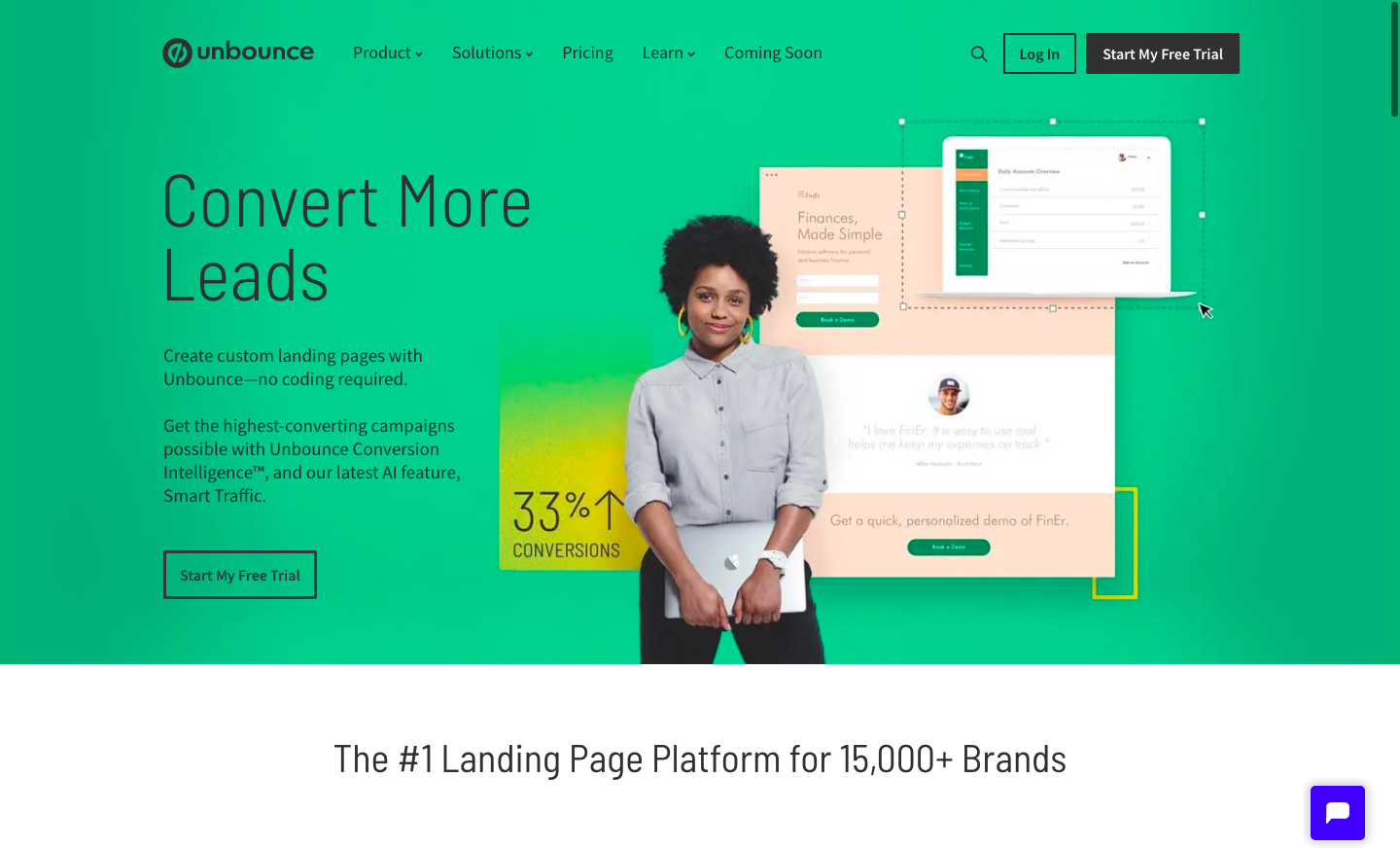 Unbounce is a drag-and-drop landing page, pop-up, and sticky bar builder, and a suite of tools to help you to increase conversions.
You can use Unbounce to create landing pages without code or a developer. There are hundreds of high converting landing page templates included, so you don't need a web designer or conversion rate expert either.
You can also trigger customized offers for certain target groups, carry out A/B testing to optimize your landing pages, and use smart AI algorithms to automatically improve and optimize pages and show individuals a version of the landing page that's most likely to get them to convert.
Some of the world's leading brands use Unbounce to create their landing pages including New Balance, Campaign Monitor, Later, Hotjar, and Helix.
Unbounce Features
There are several landing page builder platforms to choose from these days, so why should you consider using our Unbounce coupon and signing up for an account?
Over 100 Customizable Landing Page Templates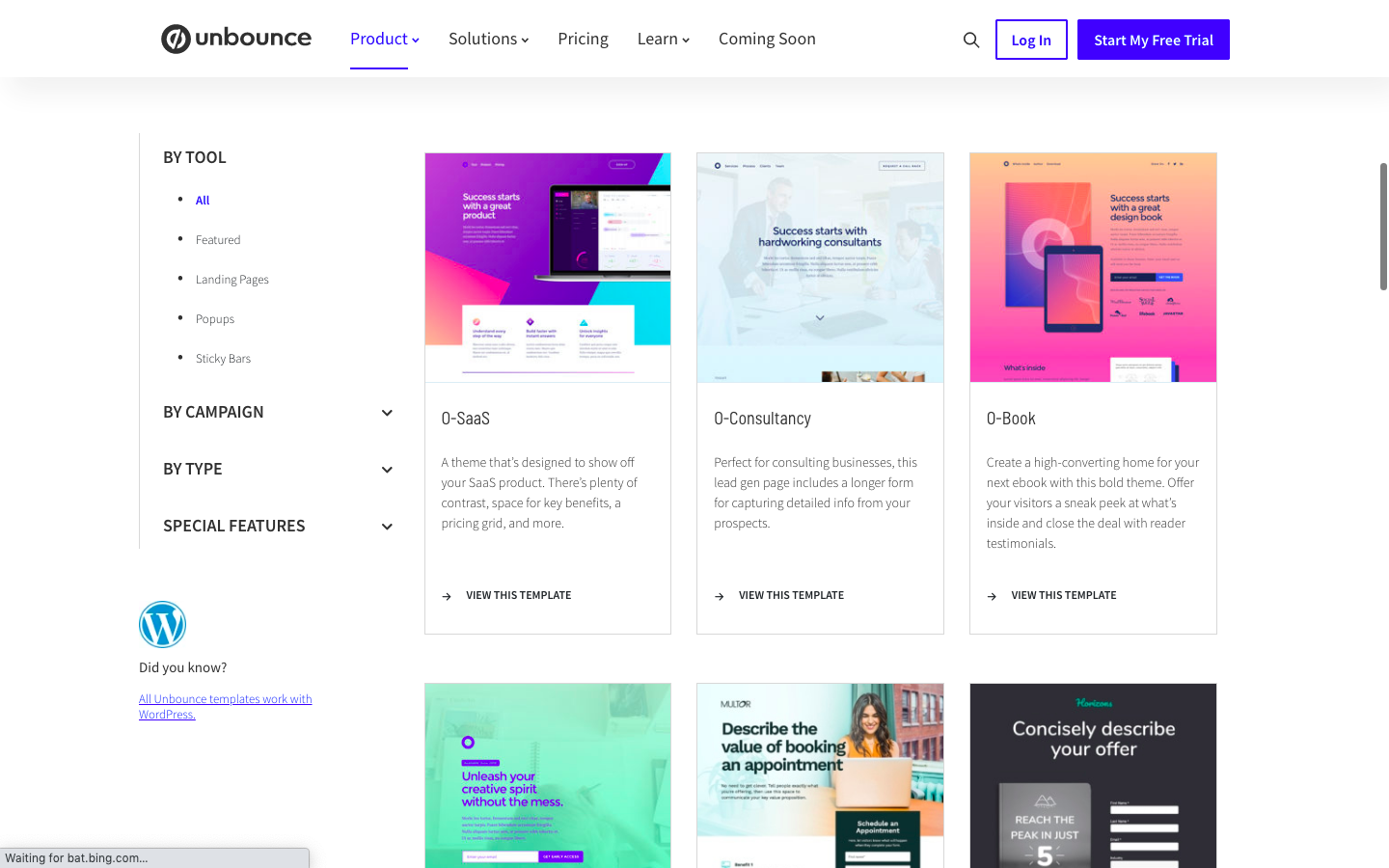 As well as being able to create your own landing pages from scratch, Unbounce comes with hundreds of professionally designed templates that are optimized to be high converting.
The templates are suitable for all types of landing pages and niches including SaaS products, consulting businesses, online classes, product launches, webinars, and more.
There are also templates included for pop-ups and sticky bars.
Visual Drag-and-Drop Builder
There's no need to have any coding skills to be able to use Unbounce. The intuitive drag-and-drop builder is easy to use and enables you to build landing pages and launch campaigns fast.
You can customize your landing pages and pop-ups to get them looking exactly as you want and add custom functionality such as tracking pixels or custom scripts.
The builder has a free Unsplash photo gallery built-in so you don't need to spend hours browsing stock image sites either.
Pop-ups and Sticky Bars
Unbounce is not only for building landing pages. You can also use it to create pop-ups on your site, trigger them by various actions, and display them only to the target audience you set.
You can also create mobile-friendly sticky bars that don't obscure your content and stay stuck to the top or bottom of the screen as the user scrolls.
Dynamic Text Replacement
Dynamic text replacement (DTR) automatically swaps out certain pieces of text to match a search term a visitor used to find your landing page. This improves the relevance of your paid marketing campaigns, increasing conversions and improving your Google AdWords quality score.
A/B Testing
The best way to optimize your landing pages for high conversions is to test different versions of things like heading text, images, and colors to see which version converts better.
With Unbounce you can easily run split A/B tests to see which versions of your landing pages perform better.
AI-Powered Smart Traffic
Ai-powered smart optimization works like an automatic version of A/B testing. Instead of manually setting up different versions of your landing page and waiting to see which one has the higher conversion rate, AI optimization creates many different variations of the same page and automatically sends each visitor to the version that's most relevant to them.
Integrations
Unbounce integrates seamlessly with other marketing and productivity apps so you can streamline your workflow and save time.
Most of the major apps and services are included such as CRM, social, email marketing, customer support, and analytics.
You can connect to any app that doesn't have a direct integration via Zapier.
Unbounce Coupon Pricing & Plans
Unbounce offers 4 levels of pricing plans so you can choose the one that best suits your needs and where you currently are in your business. Remember, all these plans have a 20% discount if you use our Unbounce coupon by clicking our link.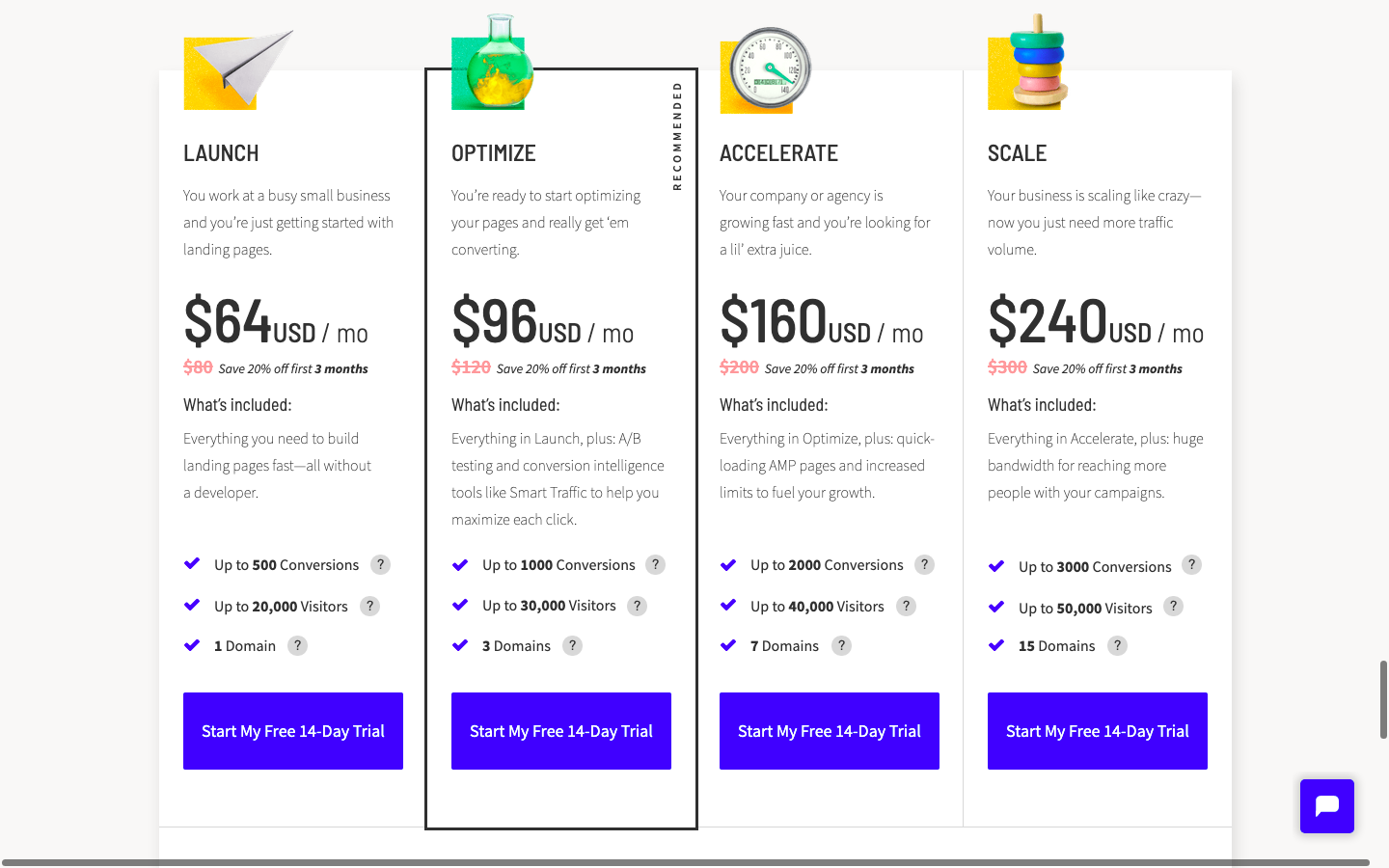 When you use our Unbounce coupon, plans range from $64 to $240 a month.
All plans include unlimited landing pages, unlimited pop-ups, and unlimited sticky bars. The cheapest plan allows you to use Unbounce on one domain for up to 20,000 visitors and up to 500 conversions. The more expensive plans have more features and more generous limits on domains, visitors, and conversions.
You can see the main differences between the plans in the table below.
| | | | | |
| --- | --- | --- | --- | --- |
| | Launch | Optimize | Accelerate | Scale |
| Monthly price with our coupon | $64 | $96 | $160 | $240 |
| Domains | 1 | 3 | 7 | 15 |
| Conversions | 500 | 1,000 | 2,000 | 3,000 |
| Visitors | 20,000 | 30,000 | 40,000 | 50,000 |
| Extra features | | Smart traffic, A/B testing, dynamic text replacement | Everything in Optimize + AMP, launch scheduling, advanced pop-up and sticky bar targeting | Everything in Accelerate |
How to Use the Unbounce Coupon to get a 20% Discount
There's no need to enter a coupon code to get this 20% discount. Just make sure you use this link and the discount will be automatically applied.
After clicking the link, you should see a page that looks like this.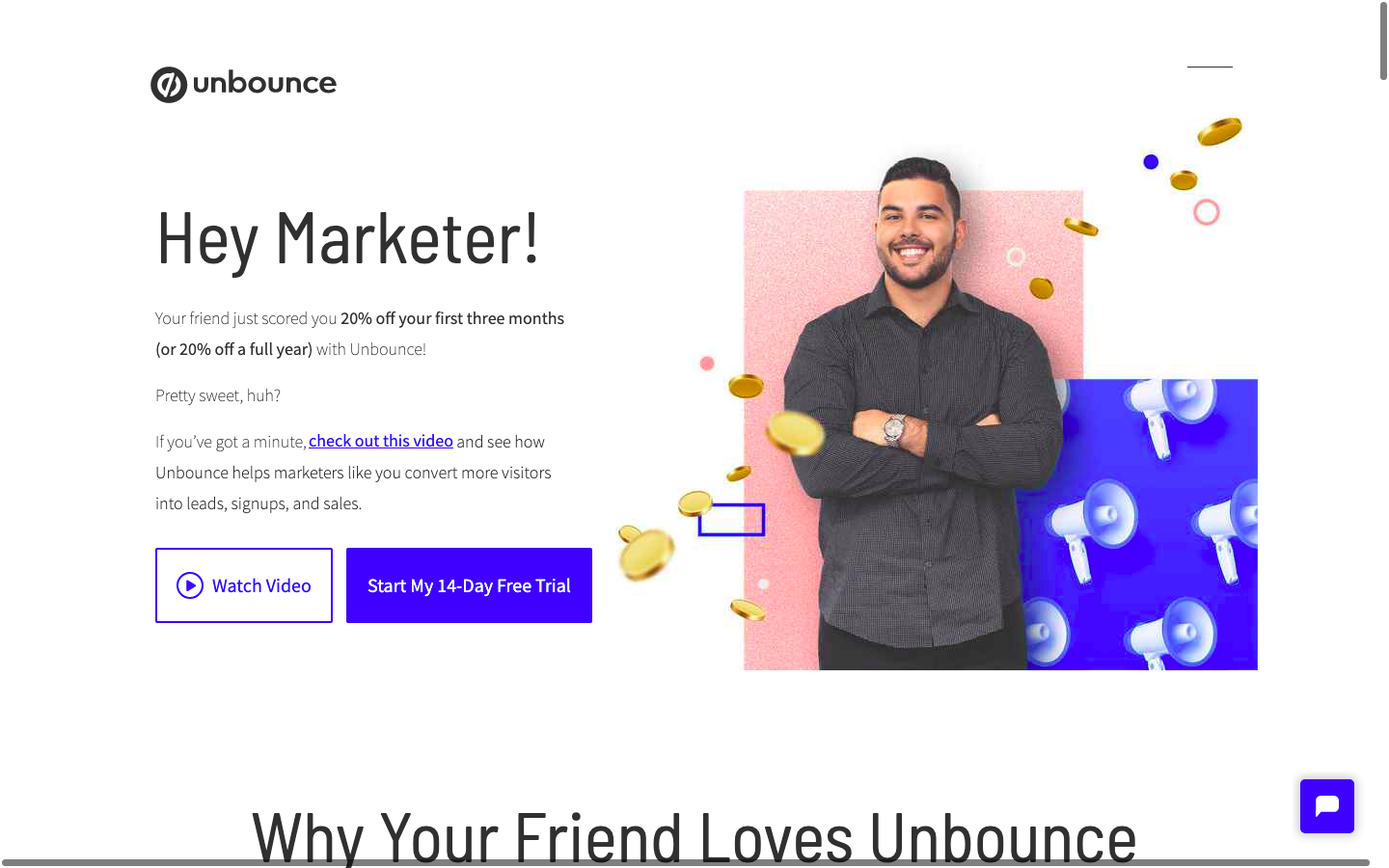 Click the blue button that says "Start My 14-Day Free Trial" and you'll be taken directly to a pricing table that compares the different plans.
You should see the 20% discount applied to the price of these plans.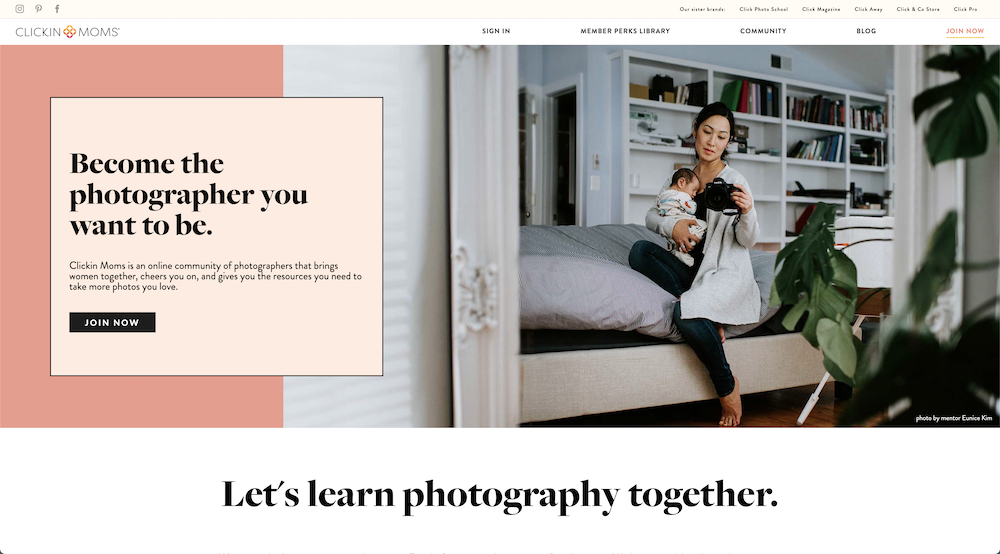 Choose the plan you want to sign up for and click the "Start My Free 14-Day Trial" button.
This will take you to checkout. Again you should see the price here reflects the 20% discount. The first 14 days of your account are free and you won't be charged anything until your 14-day trial is finished.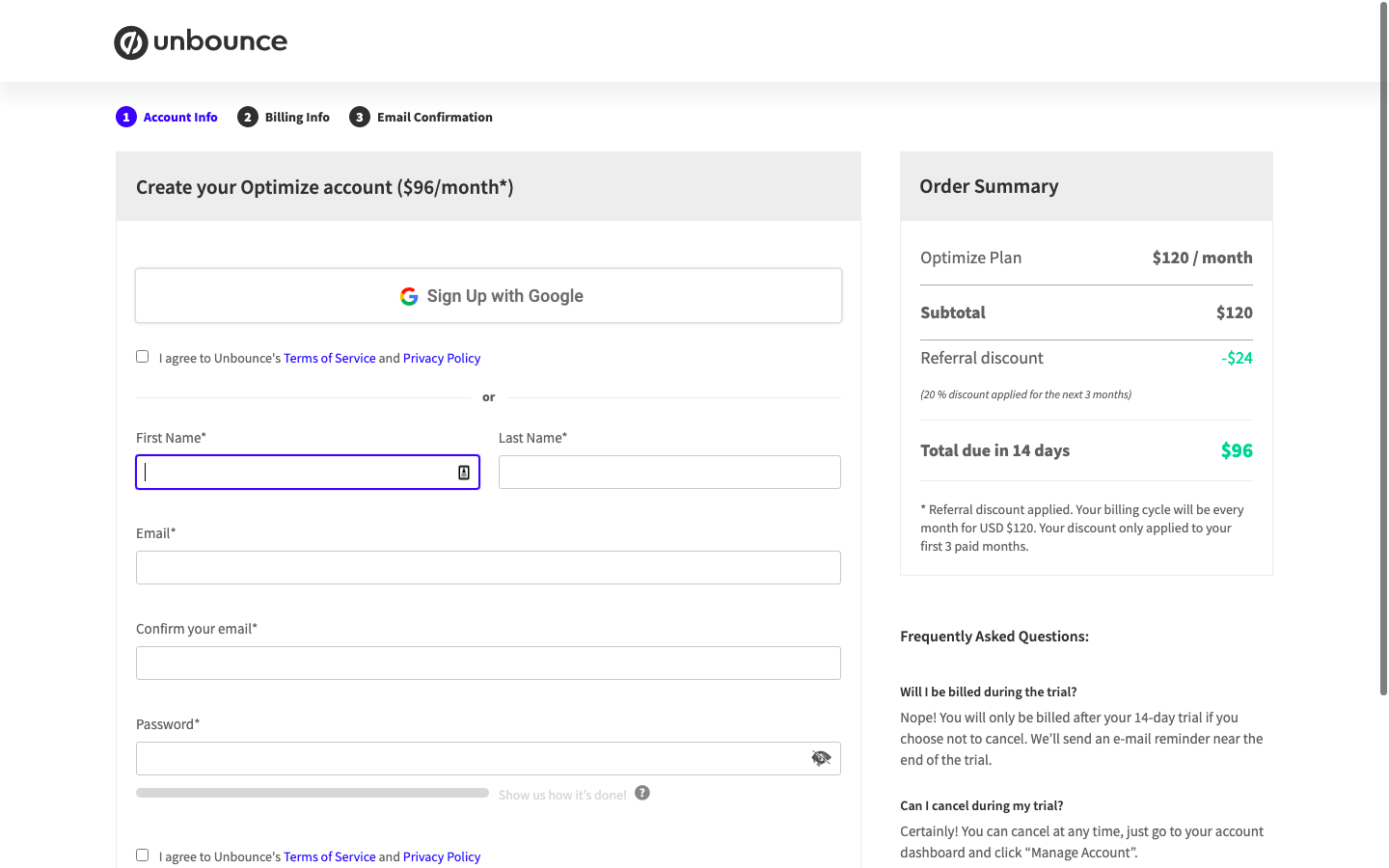 Complete your signup information and billing details and complete checkout to open your new account with Unbounce.