Rocket.net is a WordPress host that offers sophisticated web servers built for speed, performance, and reliability. Their hosting infrastructure is designed to support millions of visitors.
Rocket.net has numerous plans available for three different hosting services, all of which cater to WordPress and WooCommerce.
We've partnered with Rocket.net to offer our readers 1 month of hosting for only $1. Sign up for a new hosting plan today to take advantage of the offer.
What is Rocket.net?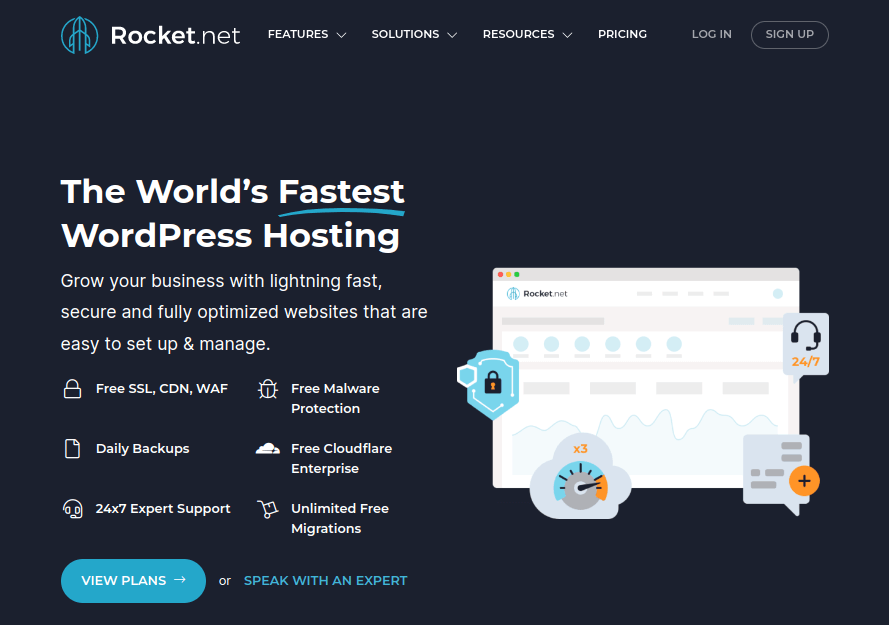 Rocket.net is a managed WordPress hosting solution founded in 2020. Though young, they're comprised of a team whose experience dates back to 2003 when WordPress itself was founded.
Co-founder Ben Gabler has worked as COO of HostGator, Senior Product Manager at GoDaddy and Chief Product Officer at Stackpath.
He also has extensive experience in the CDN industry, which has included testing, launching, experimenting, and developing products for the industry.
Co-founder Josip Radan, who works as Director of User Experience at Rocket.net, has worked as a UX consultant at cPanel, HostGator, Bluehost, Stackpath, and WHMCS.
This experience, along with an experienced team of WordPress engineers, has enabled Rocket.net to become the fast and reliable managed WordPress hosting solution it is today.
Servers come with WordPress preinstalled and Cloudflare Enterprise preconfigured. The host even has a proprietary setup it configures for maximum speed and security.
Along with WordPress and WooCommerce hosting, Rocket.net offers agency and reseller hosting for WordPress professionals and enterprise hosting for larger businesses.
Rocket.net Features
Easy Setup
Setting up a new website is quick and simple with Rocket.net. All you need to do is enter basic information, such as your desired username and password for WordPress, and choose a server location.
Rocket.net installs WordPress and sets the server up for you. All you need to do is enable SSL and point your domain's nameservers to Rocket.net's.
The entire process takes less than 5 minutes.
User-Friendly Control Panel
Rocket.net uses a clean UI for its control panel and only features settings for things you can configure yourself, such as SSL, multisite, server location, backups, and more.
There are also separate sections that list the plugins and themes you have installed on your server. You can enable, disable, delete, and update them from Rocket.net's control panel.
The host handles the technical aspects of hosting a WordPress site for you. This allows for a simpler UI that cuts out much of the bloat you're used to seeing from hosts that use control panels like cPanel.
And yes, database management through phpMyAdmin is still available as well as a file manager.
Cloudflare Enterprise Integration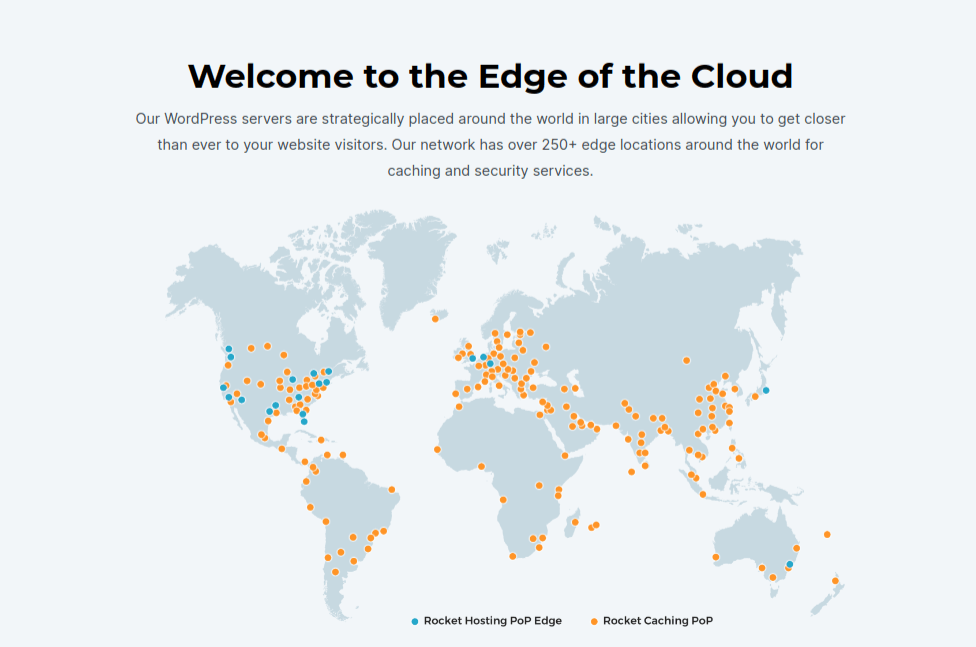 Rocket.net is one of the first WordPress hosting companies to partner with Cloudflare's enterprise CDN solution. As a result, every Rocket.net server has this CDN integration by default.
Rocket.net has over 20 server locations to choose from. This network adds over 250 edge locations for your website to connect to, which increases performance for visitors everywhere. Even Africa and the Oceanic region, which are often ignored.
Cloudflare Enterprise CDN also improves performance by offering:
Full page caching
Argo smart routing
JavaScript optimization
Image and Webp optimization
Google Font optimization
Cloudflare Enterprise CDN also provides key website security functionalities, including a web application firewall (WAF) and DDoS protection. The WAF is enabled automatically and doesn't require a plugin.
Real-Time Malware Protection
Rocket.net partners with Imunify360, an integration that enables the host to offer real-time malware protection that also includes regular scanning and automatic patching if malware is found.
The defense system analyzes the behavior of PHP scripts, which helps it detect malicious code and stop it before it ever touches your server. Rocket.net even collects and analyzes attack data from around the web to ensure that defense system is ready to protect your site against new attacks.
Automatic Backups
Rocket.net backs up your site on a daily basis and stores them for up to 14 days. This means you'll always have 14 days worth of backups to revert to when disaster strikes.
You can even download backups on demand anytime.
Free Migrations
Rocket.net will move your site over to their servers free of charge, even if you need to move 10!
Site Staging
All Rocket.net plans come with site staging. You can clone a non-production version of your website in just one click. This enables you to test new themes and plugins, updates, and designs safely.
When you're done, just click the Publish button to push the changes to the live production version of your site.
24/7 WordPress Support
Rocket.net employs a team of support representatives that have an extensive background in WordPress and WordPress hosting. This means they're able to help with the more technical aspects of running a WordPress site, though they do "draw the line at code changes, but we will even help communicate with the necessary parties to solve issues."
All users have access to 24/7 live chat and email support. However, only the top two tiers have access to 24/7 phone support.
Analytics & Reports
Rocket.net's control panel features analytics and reports on traffic as well as its WAF and CDN. You can monitor events by type, cache status, status codes and more.
Developer Tools
Rocket.net offers the following tools for developers and advanced users:
Site staging
Multiple PHP versions to switch between, including legacy PHP versions
SSH access
Git integration
SFTP
File manager
Rocket.net Pricing
Rocket.net's plans start at $30/month or $300/year (two months free). Custom plans are also available. Remember, you can get your first month for just $1.
Our Rocket.net coupon is only available for Rocket.net's Managed Hosting service, so we're only going to list plans eligible for this offer.
Managed Hosting – Starter
$30/month or $300/year
1 WordPress install
250,000 visits/month
10GB of storage
50GB of bandwidth
24/7 live chat and email support
Managed Hosting – Pro
$60/month or $600/year
3 WordPress installs
1 million visits/month
20GB of storage
100GB of bandwidth
24/7 live chat and email support
Managed Hosting – Business
$100/month or $996/year
10 WordPress installs
2.5 million visits/month
40GB of storage
300GB of bandwidth
24/7 live chat, email & phone support
Managed Hosting – Enterprise
$200/month or $1,992/year
25 WordPress installs
5 million visits/month
50GB of storage
500GB of bandwidth
24/7 live chat, email & phone support
How to Use the Rocket.net Coupon
Follow the steps below to claim your first month of Rocket.net hosting for $1.
1. Visit Rocket.net with our link.
Our Rocket.net coupon applies a coupon code automatically. All you need to do is visit this link to redeem it.
2. Click View Plans.
Clicking the link above brings you to our Rocket.net coupon page on Rocket.net's website.
Click the View Plans button to lock in your special pricing.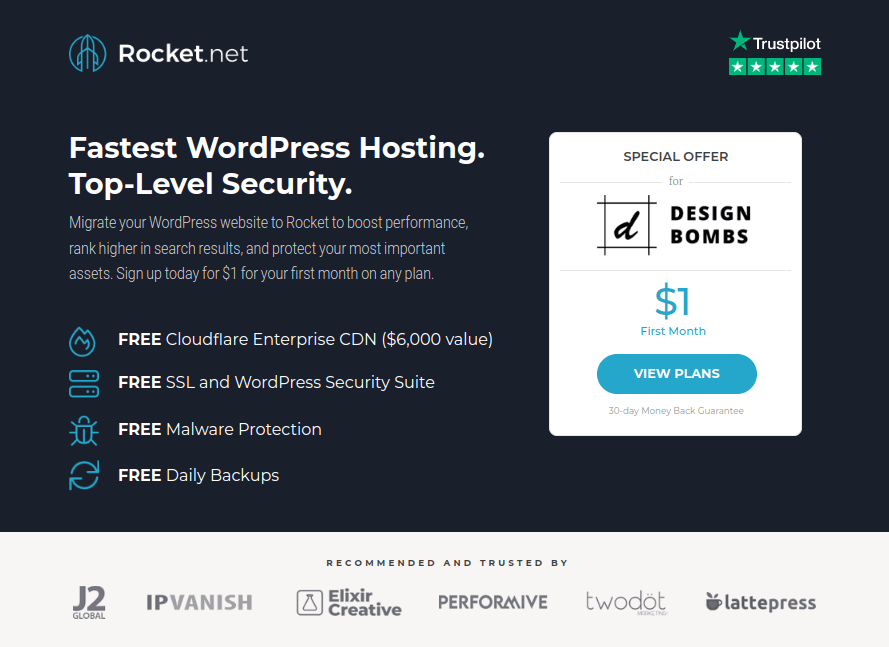 3. Choose a plan.
Our Rocket.net coupon works on all 4 of Rocket.net's managed WordPress hosting plans. All you need to do is choose a plan, then click the Get Started button associated with it.
The Starter plan is perfect for bloggers and small businesses. Choose the Pro plan if you expect to grow quickly by pumping out a lot of content and paying for ads.
4. Create an account.
Enter your email address and desired password to create a Rocket.net account. You can also sign up with Google.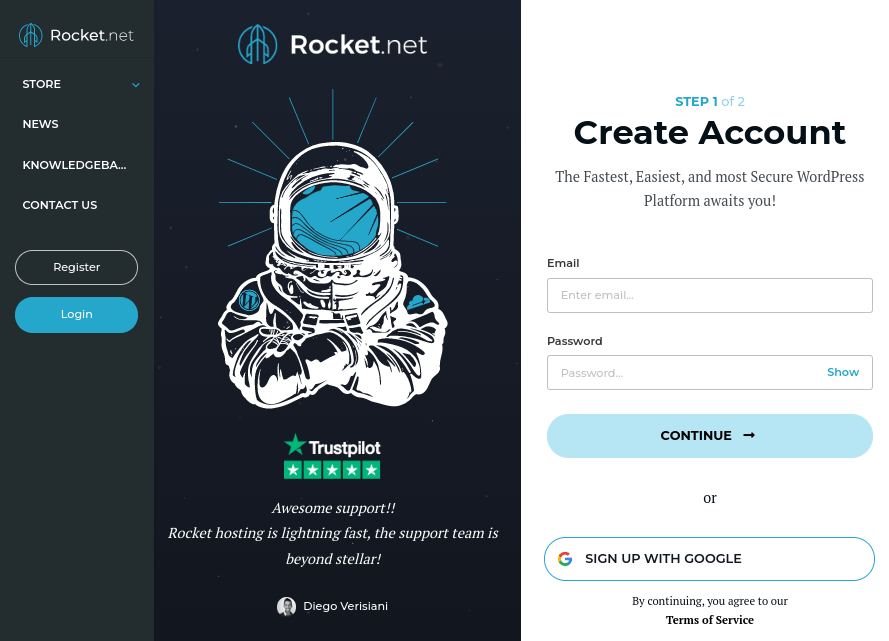 5. Complete signup by entering your payment information.
Enter your payment information. Rocket.net accepts cards and PayPal.
Click Sign Up to complete your order.
Rocket.net FAQs
What are Rocket.net's server locations?
North America (Atlanta, Ashburn, Chicago, Dallas, Los Angeles, New York City, Phoenix, San Jose, Seattle, & Toronto)
Europe (Amsterdam, Frankfurt, & London)
Australia (Sydney)
Asia ( Tokyo & Singapore)
How do automatic updates work on Rocket.net?
WordPress applies minor updates automatically, and it also offers automatic theme and plugin updates automatically. So, although Rocket.net states they offer this service themselves, you don't need your web host or a maintenance service to handle this task for you anymore.
However, you can manage automatic updates from the Rocket.net control panel. Plus, Rocket.net states that if an update breaks your site, you can easily use one of the 14 days worth of backups it stores for you to revert your site to a point before the update was applied.
Does Rocket.net charge overages?
Yes. If you go over your plan's limits and do not upgrade to the next tier, Rocket.net will charge you overages of $2/GB of storage and $0.08/GB of bandwidth.
Alternatively, you can receive discounts on overages if you purchase them as fixed monthly addons.
Does Rocket.net offer domain registration and email hosting?
No, Rocket.net is not a domain registrar nor do they offer email hosting services. They recommend using Google Workspace instead. You'll also have to register your domain elsewhere and point the nameservers to Rocket.net's.