Need a logo, website design, UX design, or social media graphics? Hiring a graphic designer can be expensive. But Penji gives you unlimited design projects, unlimited revisions, and access to a thoroughly vetted team of skilled designers for a flat monthly fee. With our Penji coupon, you can save even more money!
I've heard enough! Give me the coupon!
Our exclusive Penji coupon will give you 15% off any monthly Penji plan – a discount worth up to $134.84 a month. Just go to Penji and enter the code designbombs15 at checkout.
Want to find out more about how Penji works? Keep reading to get the full details on how you can benefit from access to unlimited graphic design each month.
What is Penji? How Does it Work?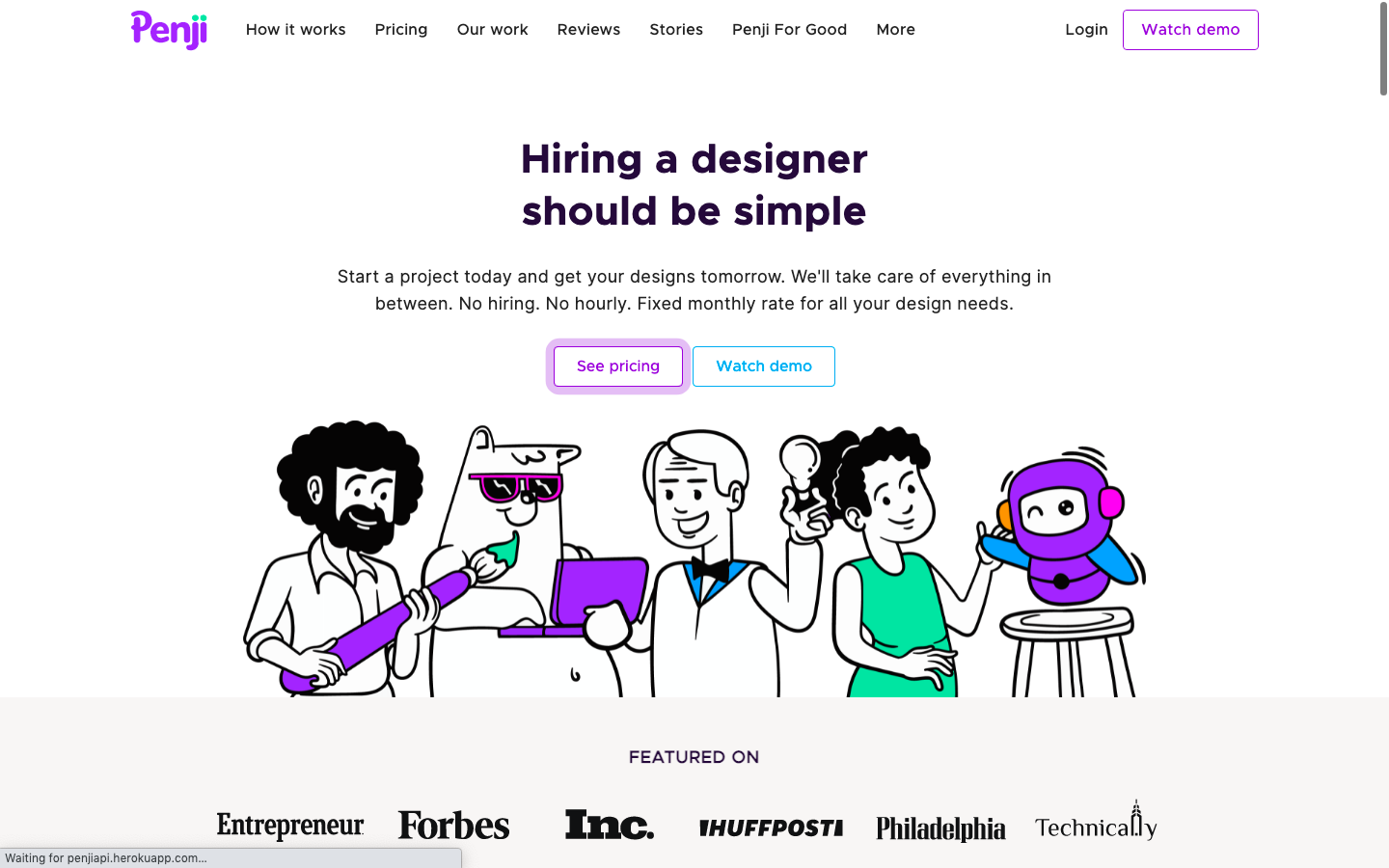 Once you've signed up to Penji, the design process follows a few simple steps:
1. Create a new project
You can create a design project by filling out a form describing what exactly you need and what file format you need it as. You can request pretty much any type of graphic design including logos, website or app designs, ads, illustrations, social media graphics, print design, and more.
2. Penji will assign your project to a designer
Penji will automatically select a designer based on their skill set and availability. All designers on Penji are skilled, experienced, and must take a design test before Penji will hire them. Only the top 2% of designers can join the Penji platform.
3. Review drafts
After submitting your design project you should receive the first draft for review within 24-48 hours. You can submit unlimited revision requests until you're happy with the result. Revisions are completed within 24 hours. If you feel that the designer you've been assigned is not getting you the results you want, you can request a different designer.
4. Download your files
Once you're happy with the final design, you can download your files in the format you've requested instantly. There's no need to wait for someone to email you the files. You have complete ownership of all designs and source files that you commission.
How Much is Penji? Plans & Pricing
Penji has three plans to choose from depending on the type of design projects and turnaround time you require.
Monthly pricing starts at $399/month for the Pro plan. This gives you unlimited basic design projects for unlimited brands with a single designer assigned to you.
Upgrading to the Team plan costs $499/month. On this plan, you can order web and app designs, custom illustrations, and infographics as well as basic graphic design.
If you need a high volume of graphic design, you might want to consider the Agency plan at $899 a month. With this plan, you get access to two designers so you can double your output and get a faster turnaround. This plan also includes priority support.
You can save 15% on all plans by choosing Quarterly billing. Alternatively, if you want to pay monthly but still get the 15% discount, you can use our Penji coupon code, designbombs15 at checkout.
Yearly payment plans are discounted by 25%.
Is Penji Worth It? Who is Penji For?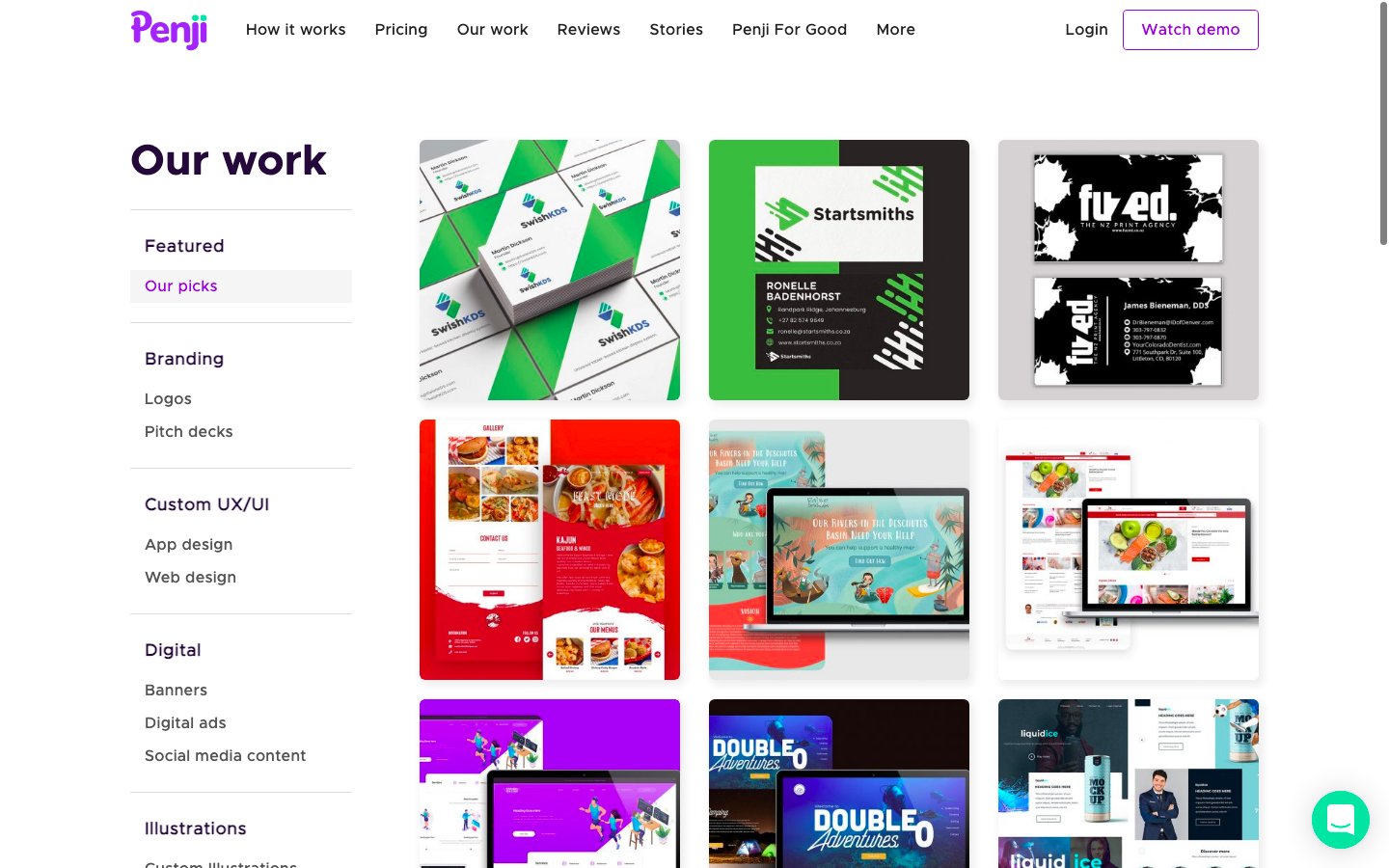 With Penji plans starting from $399 a month, this isn't the service for those on a super tight budget.
However, if you regularly spend this much on freelance graphic design services or need to commission at least 8-10 hours a month of design work, Penji definitely offers great value for money.
When you place graphic design projects through Penji, you also don't have to deal with the headaches of finding freelancers, chasing up projects, and missing deadlines.
As you can sign up to Penji for just one month if you wish, it can also be a great option if you know in advance what graphics you will need over the next few months. You can then order all the graphics you will need over the coming months, as long as the designer can complete it within 30 days.
Penji provides an efficient and good value graphic design service for:
Agencies that need to increase their graphic design output.
Freelancers in any industry working with multiple clients.
Bloggers who need high-quality, unique graphics and infographics for their posts.
Social media managers who need a constant stream of fresh graphics for social media posts and banners.
Businesses that need graphics for ads, printed marketing materials, and any other purpose.
Penji Coupon FAQ
What plans is the coupon valid for?
Our Penji coupon, designbombs15, will give you 15% off the Pro, Team, or Agency plans when choosing the monthly payment option.
Do I really get unlimited designs?
Yes! There's no limit on the design projects you can create each month. Your assigned designers will work through your queue of projects, working on the next one as soon as one design is complete.
How quick is the turnaround time?
The designers will complete most small graphic design projects within 24-48 hours. Website designs, app designs, multi-page brochure layouts, and other larger projects will take longer.
What do I do if I don't like the design?
Penji's built-in communication on the platform means that you can make direct revision requests with the designers. If you've tried several revision requests and find that you're just not aligned with your assigned designer, Penji will assign your project to a different designer.
Are there any hidden costs?
No, the monthly fee you agree to is what you'll pay for unlimited graphic design with no extra fees or taxes.
How to Use the Penji Coupon
To get started with Penji and get 15% off your unlimited graphic design plan, click here to go to Penji.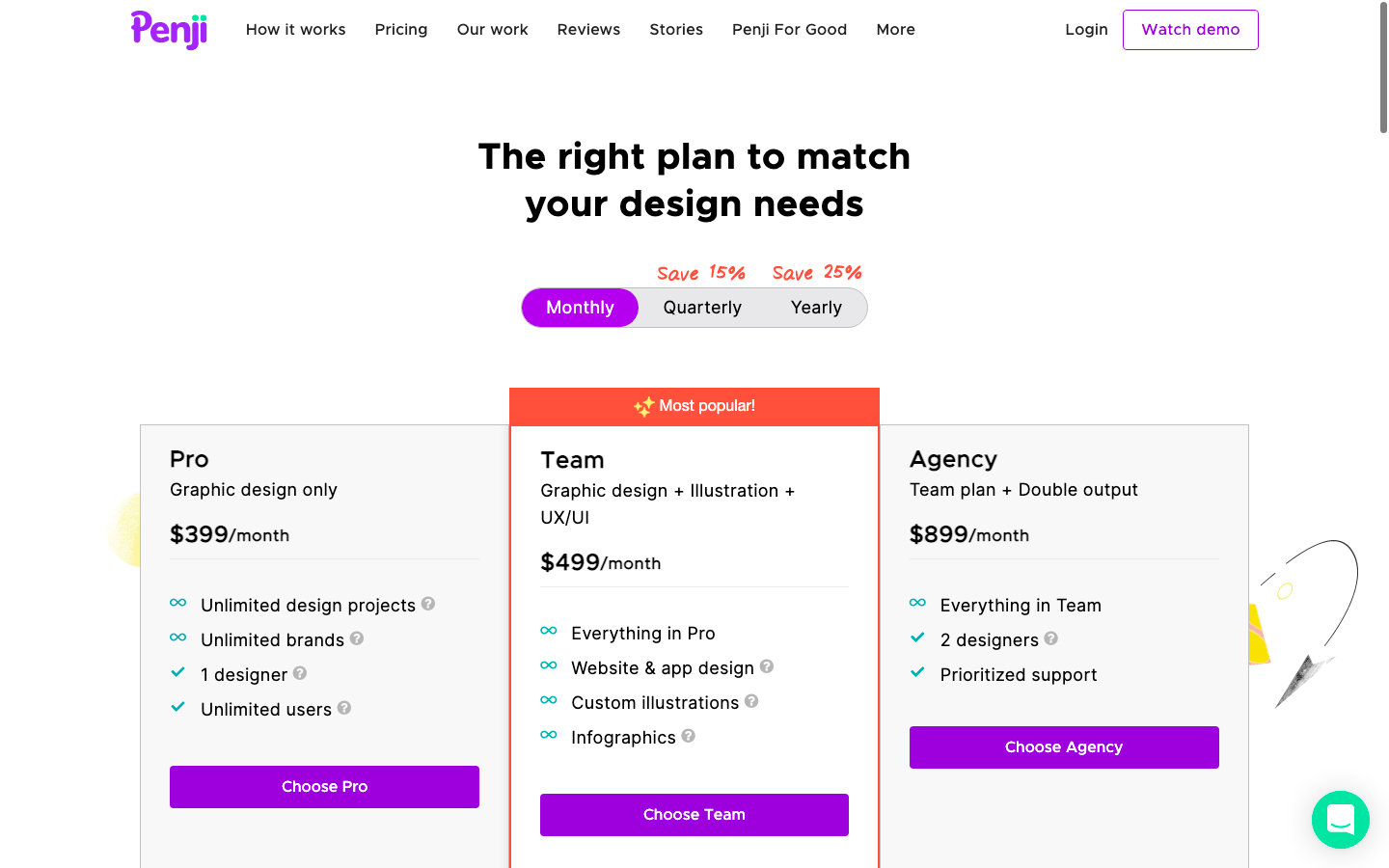 Choose your plan and click the purple "Choose…" button. (Our coupon is valid for pay-monthly plans only).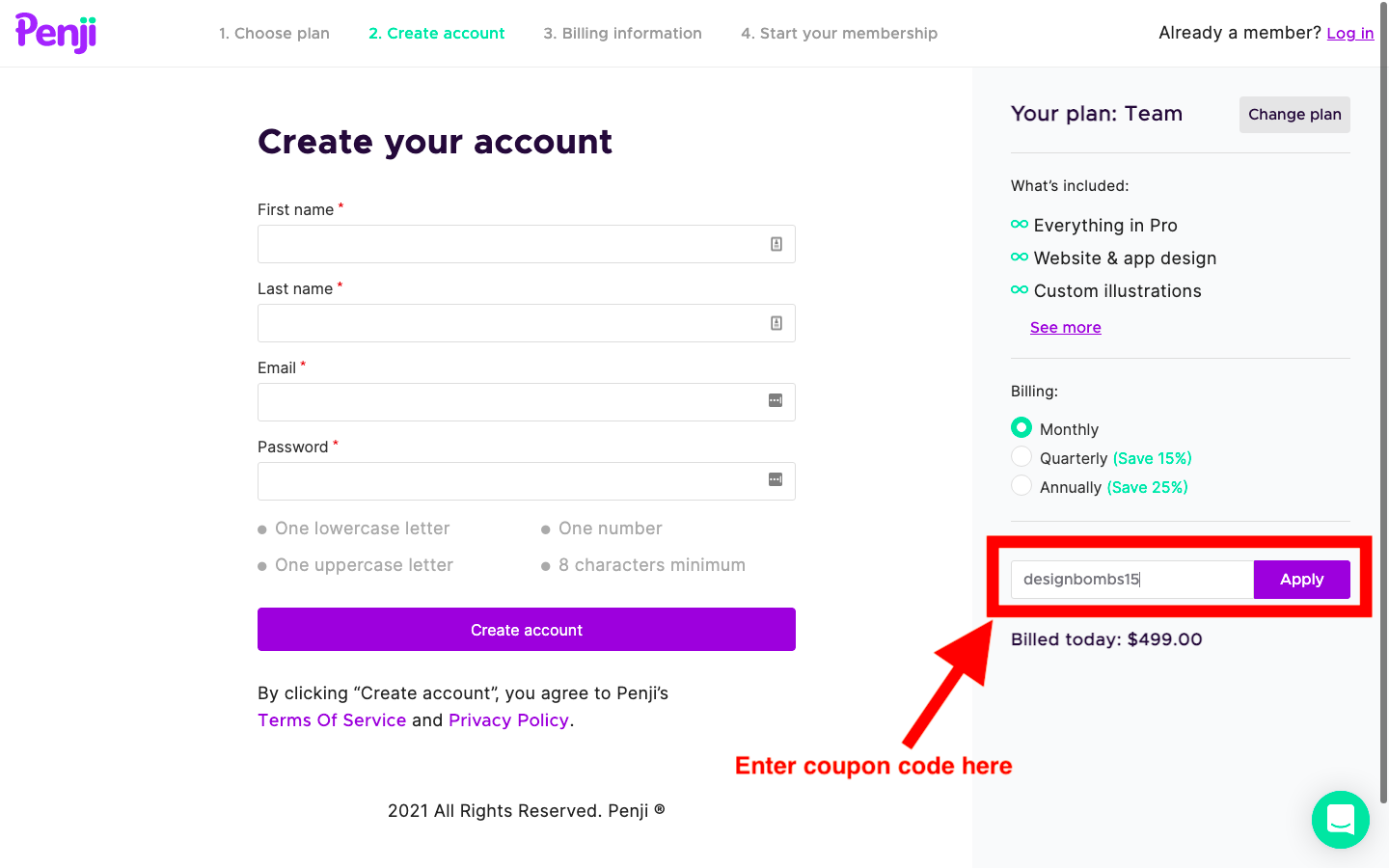 You should get a notification that the coupon has been applied and see your total discount. You can then continue filling out your details and create your account.