Yellow Images is a repository of over 48,000 exclusive mockups and graphic assets. If you work in advertising, branding, or graphic design, you'll definitely want to make sure you check out this amazing resource and take advantage of our Yellow Images coupon.
We've negotiated an amazing 20% off any Yellow Images mockup, asset, or membership available exclusively for Design Bombs readers.
Just use the coupon code DESIGNBOMBS20 to claim your discount.
Keen to get creating? Go ahead and visit Yellow Images to sign up. Don't forget to use our coupon code to get the 20% discount!
Or if you want to know more about Yellow Images, keep reading for the full details.
What is Yellow Images?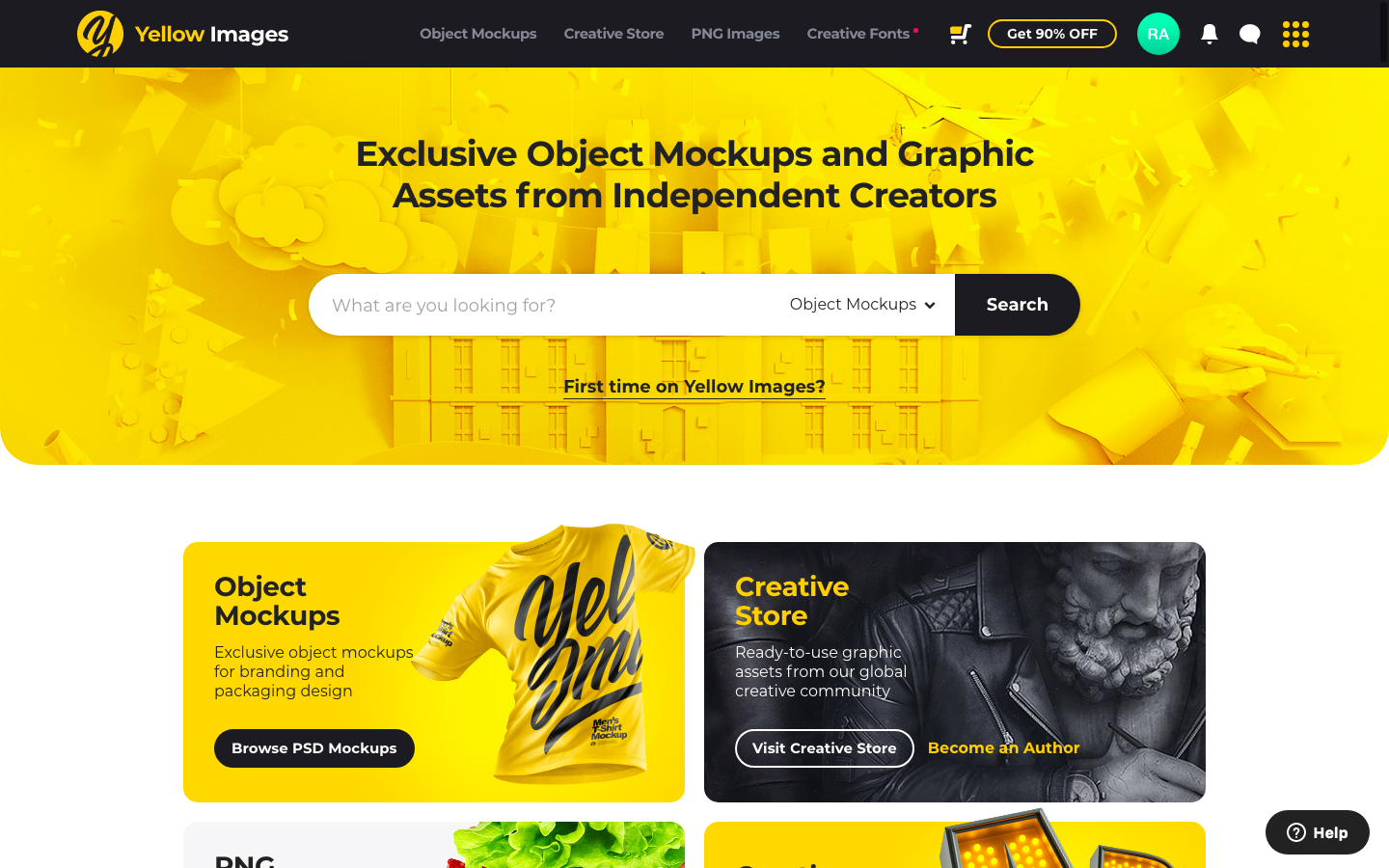 Yellow Images is a collection of tens of thousands of crafted mockups and design assets created by a community of over 1,000 authors.
With the assets from Yellow Images, you can quickly and easily create graphic designs and mockups to show off your branding ideas and impress your clients.
This resource is essential for freelancers, creative agencies, design studios, and brands.
The Yellow Images library boasts:
5,000+ photorealistic apparel mockups
42,000+ product mockups including vehicles and other objects
13,000+ PNG images to create 3D illustrations without needing any 3D design software
1,000+ creative fonts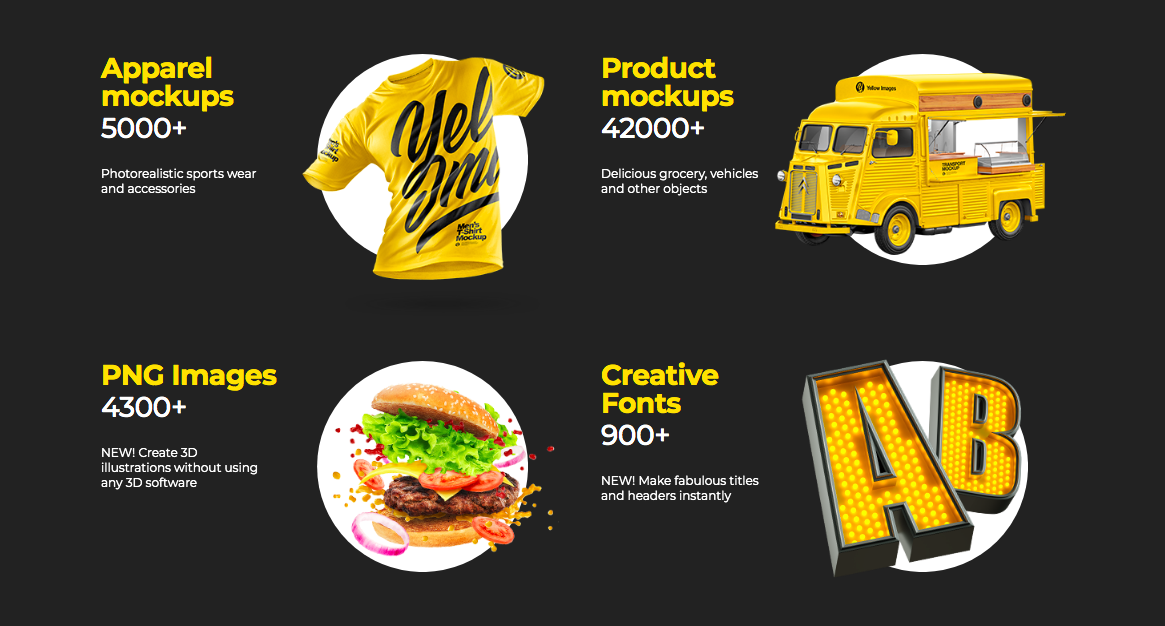 Over 100,000 customers all over the world use Yellow Images, including big brands like Disney, Unilever, Nike, L'Oreal, and Nestle.
Every mockup includes highlights, shadows, masks, and layers, so you can create the most realistic presentation of your branding that looks as close as possible to the real thing.
3D models are also available that you can rotate 360° to see your branding and designs from every angle.
Also included in your membership is a unique collection of creative fonts. These 3D fonts are unlike anything you'll have seen elsewhere and you can download individual characters to create your own titles and headers.
If you don't find what you need on Yellow Images, you can custom-order items from a creator of your choice.
All assets on Yellow Images are priced individually
Yellow Images Membership
Yellow Images is free to join and you can download any mockup or digital asset and just pay for what you need. Just choose the mockup you want, add it to your shopping basket, and pay at checkout (remember to enter DESIGNBOMBS20 to get 20% discount off any items you buy)
You can also sign up for "Yellow Ticket" premium membership, which offers several benefits. It's definitely worth signing up if you plan to download assets from Yellow Images regularly.

Depending on your membership level, you'll get:
90% off all object mockups, 3D models, creative fonts, and PNG images
50% off creative store
No daily or monthly purchase limits
3 free items every month
Free quota rollover
Dropbox synchronization
Wishlist for custom mockups
30% off custom mockup services
Membership starts from just $33.25 a month, but you can get 20% off with our coupon, giving you $79.80 off the price of annual membership. 
How to Use the Yellow Images Coupon Code for One-Off Downloads
If you want to use Yellow Images only occasionally to download one or two mockups or assets at a time:
1. Go to yellowimages.com and search for what you need in the search box on the homepage.
2. If you hover over the images for your returned results, you'll see an example of how the mockup will look once you've applied your branding to it.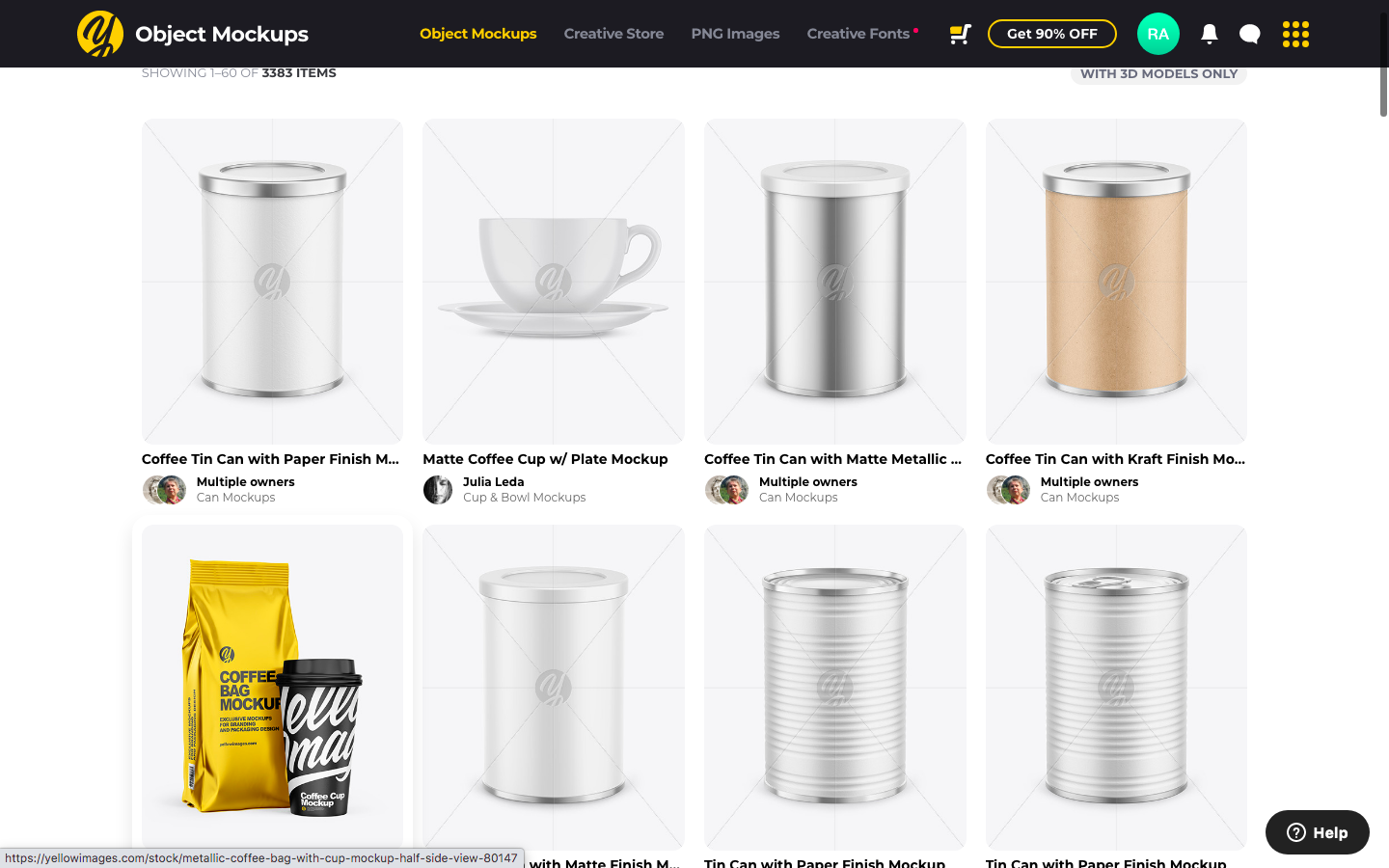 3. Choose the asset you want and click the "Add to Cart" button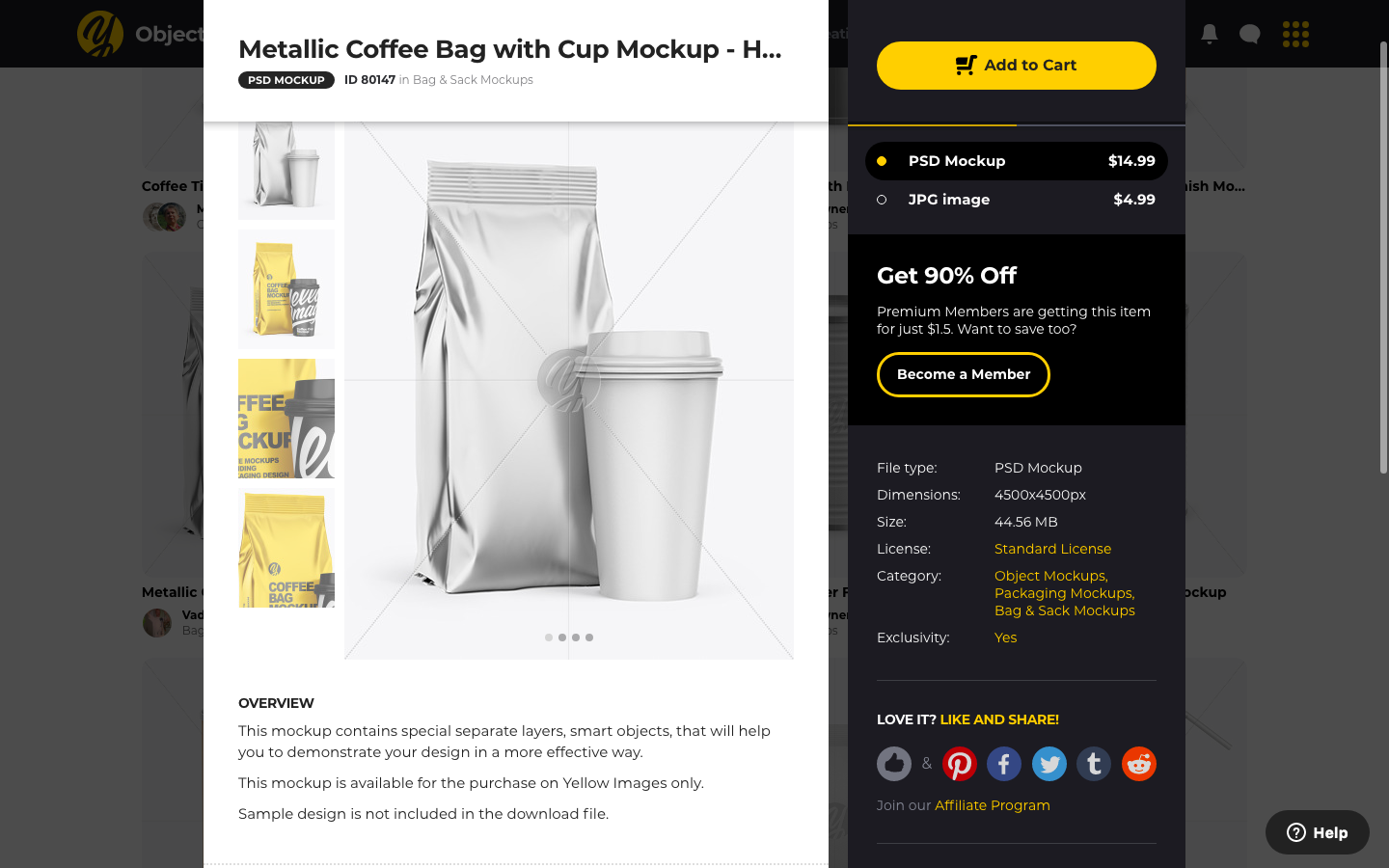 4. Continue shopping until you've found all the graphic assets and mockups you need.
5. Click on the shopping cart icon to see your total.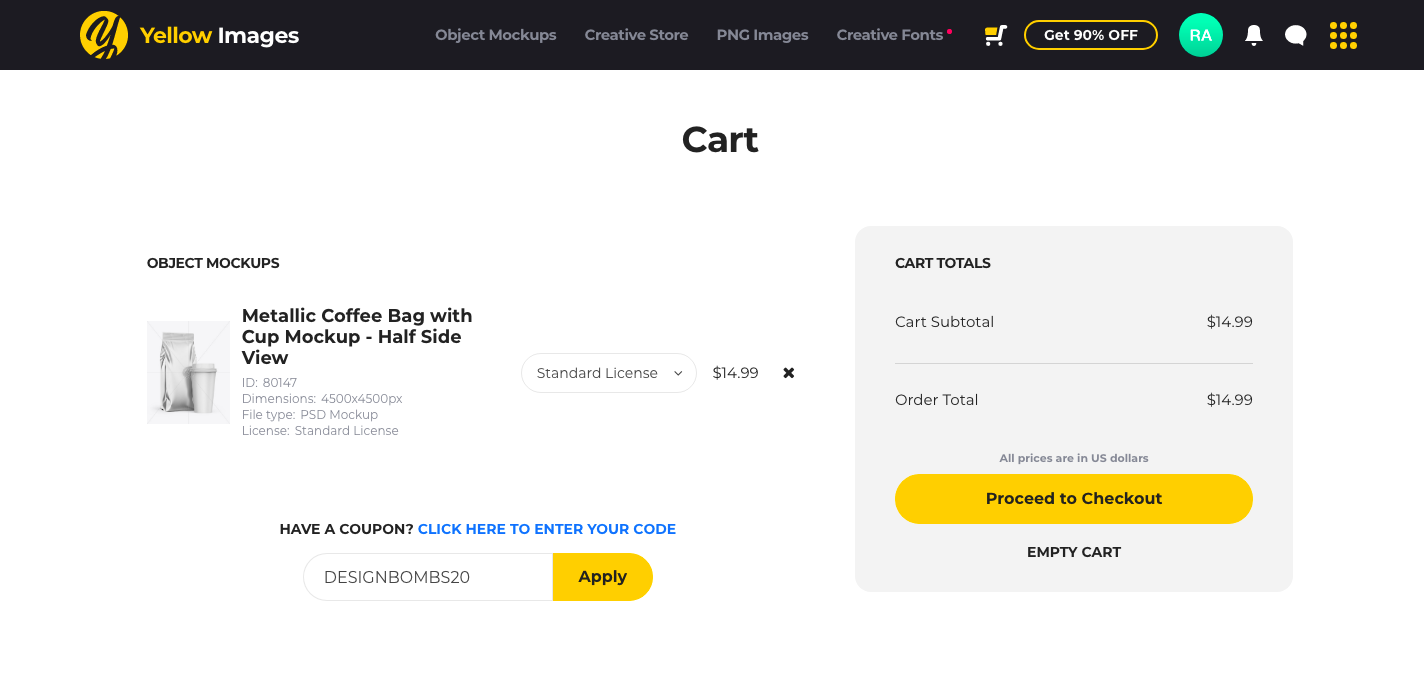 6. Click on the link that says "Click here to enter your code", and enter the code DESIGNBOMBS20
7. Click the "Apply" button to apply the discount code. You should see the 20% discount reflected in your total.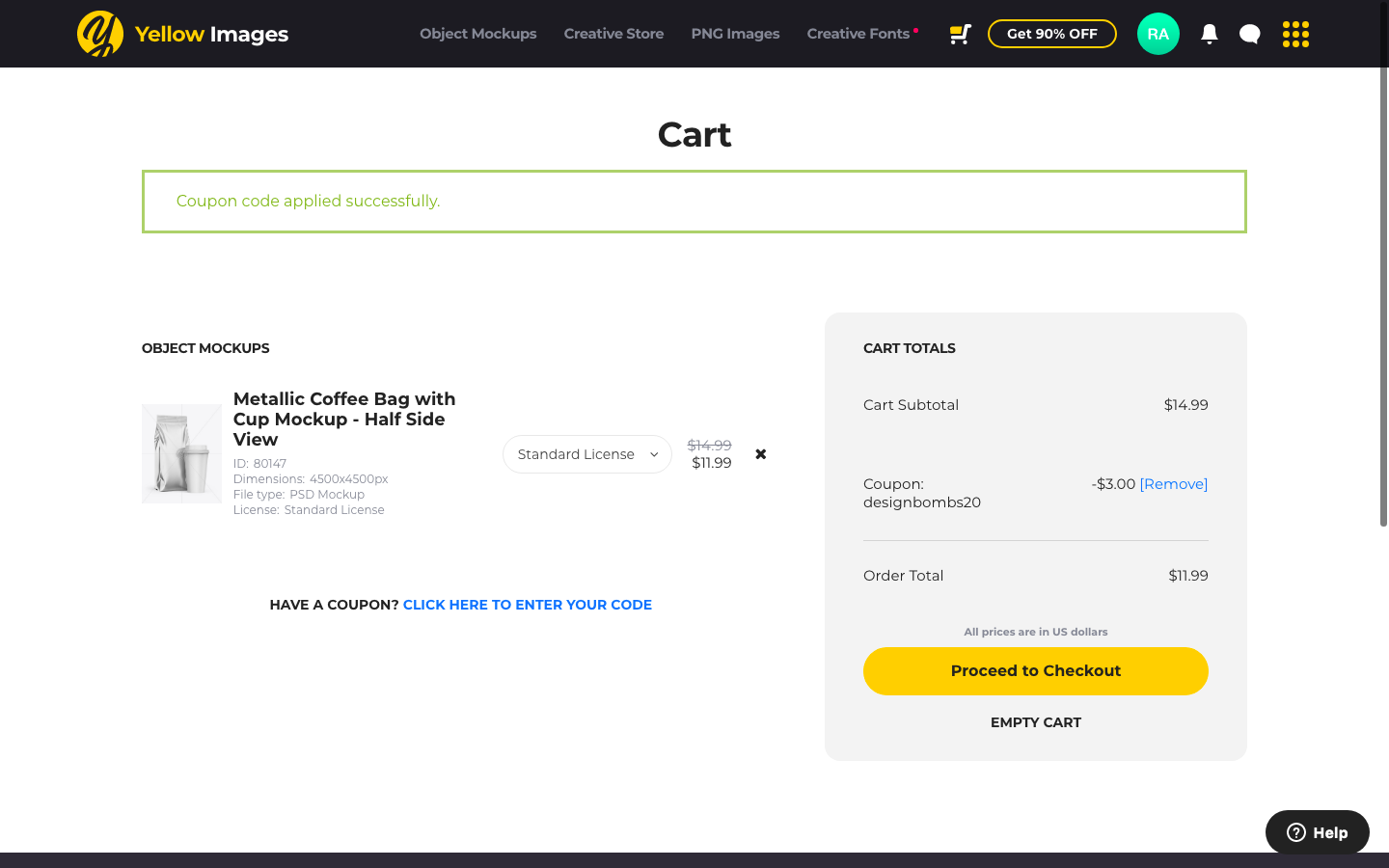 How to Use the Yellow Images Coupon Code for Discounted Premium Membership
If you'll be downloading assets from Yellow Images regularly or you're part of a team, it's better value to sign up for Yellow Ticket membership.
1. Go to https://yellowimages.com/yellow-ticket
2. Choose your membership level and select a billing cycle and the size of your team.
3. Click the "Join now" button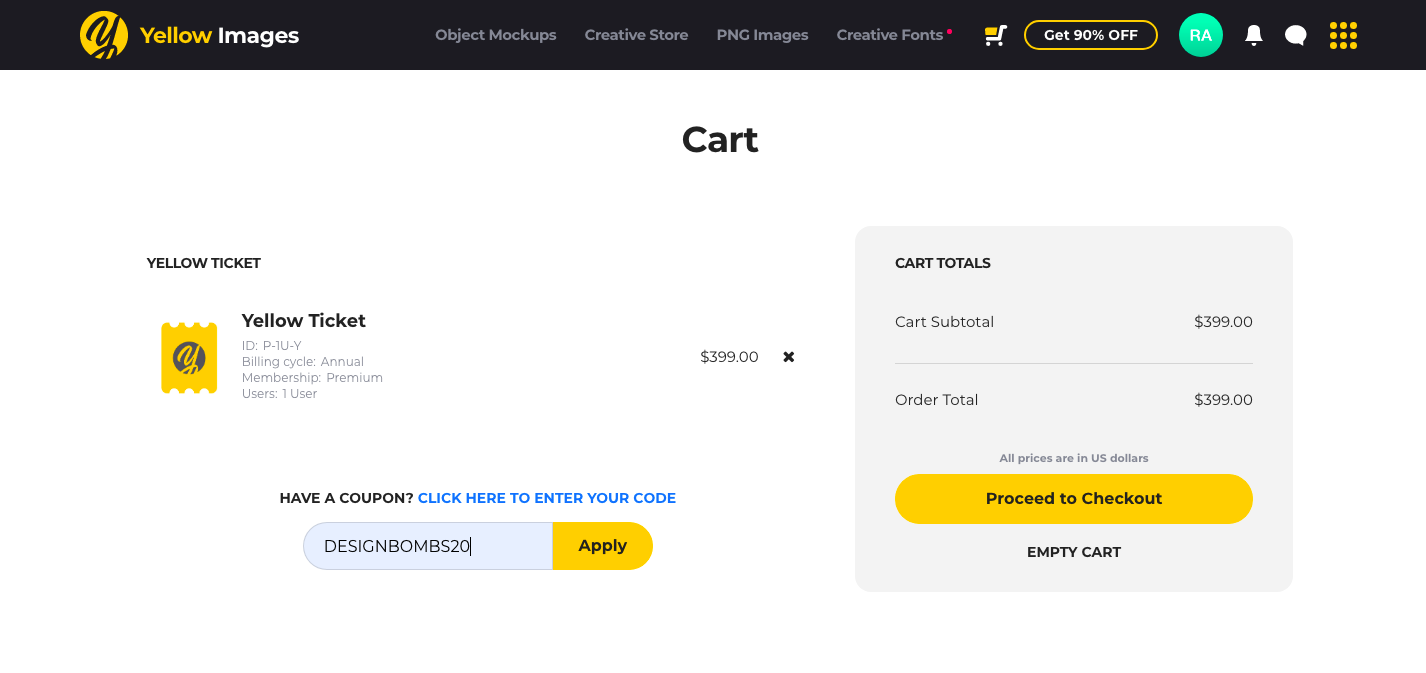 4. You'll be taken straight to checkout. Click the link that says "Click here to enter" your code and enter the code DESIGNBOMBS20
5. Click the "Apply" button and the 20% discount should be reflected in your total.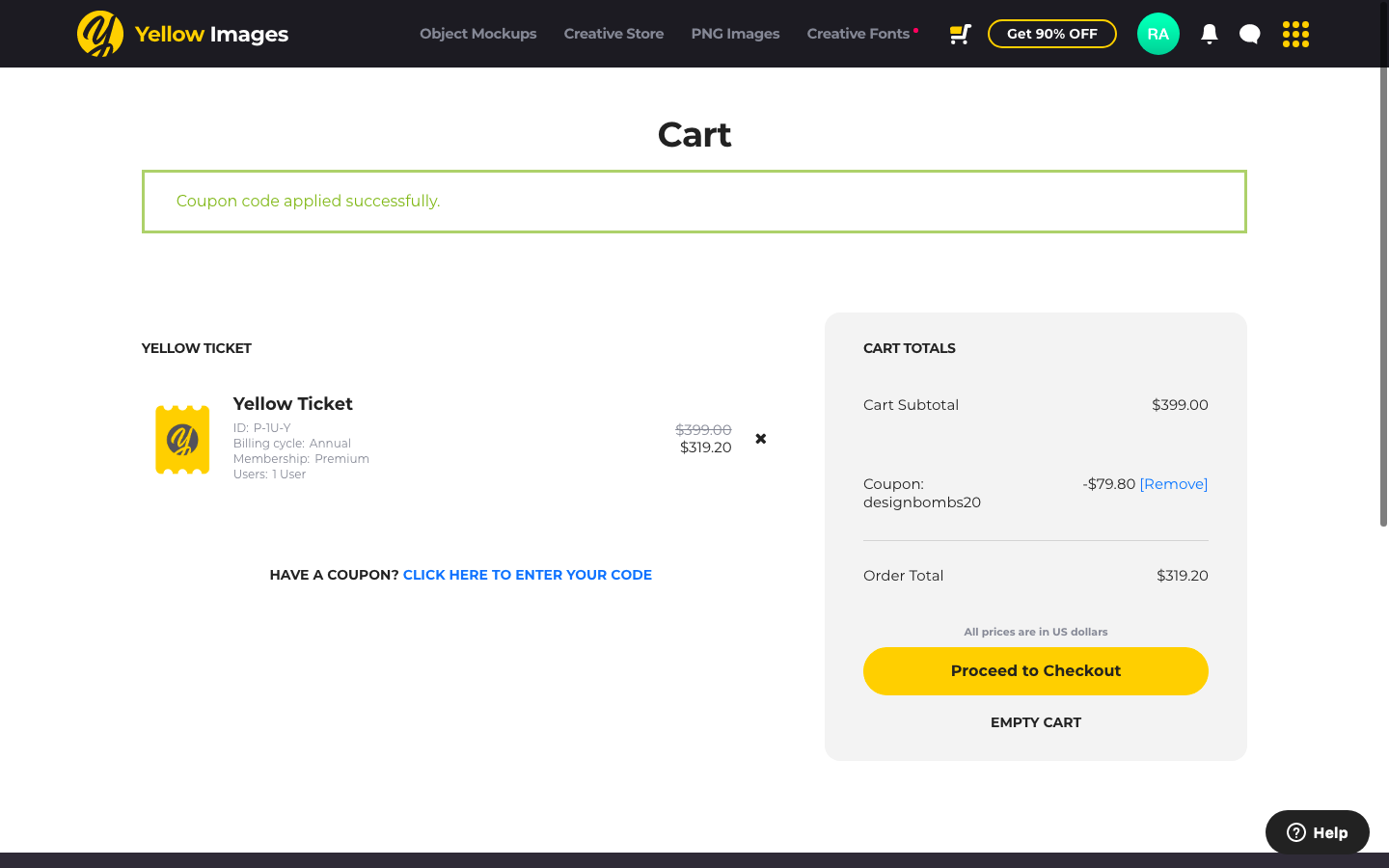 Not sure if Yellow Images is right for you? Check out our list of the best places to find graphic elements.