If you want to protect your users onsite, Two-Factor Authentication (2FA) is one way to do it.
This asks for a confirmation through a trusted device whenever a user looks to log in. As such, it's a vital cog in the wheel of site security. To implement it in WordPress though, you'll need a plugin. With our exclusive WP 2FA coupon code, you'll have a superstar plugin available at a discount price!
Here, we'll look at what WP 2FA is and how it can help you. From there, we'll look at the cost, then show you how to reduce it.
What WP 2FA Can Do For Your Site
WP White Security is a company that provides lots of different tools to help you protect your site. For instance, WP Activity Log is the best way to record all of the activity on your site to troubleshoot errors and mitigate hacking attempts. WP 2FA lets you implement crucial user login protection on your site.

We include WP 2FA in a dedicated roundup post. In it, we only touch on the features and functionality that makes it valuable. Let's give you more to chew on:
You can choose from multiple 2FA methods, including integration with apps such as Authy.
You're able to help user set trusted devices. This means they won't need to log in using 2FA every time they access your site.
The plugin lets you set up alternative login methods, in case a user can't access their trusted device.
You can configure 2FA policies for specific user roles, which means you can personalize the experience to a large degree.
What's more, 2FA works alongside plugins such as WooCommerce, MemberPress, and others to help protect your users no matter what the purpose of your site is.
Even better is the cost of WP 2FA. Let's look at this next.
How Much WP 2FA Costs
The good news is that WP 2FA offers a free version for download. However, this won't give you all of the features and functionality you'll want. Instead, you'll want to opt for a premium version.There are four different tiers that scale based on which one you choose:
Starter ($29 per year.) The cheapest plan lets you set up 2FA user policies per role, use both email or a mobile app to log in, and provides backup codes in case a user needs them.
Professional ($59 per year.) Here, you'll get everything in the Starter plan, along with the ability to set trusted devices, add a secondary backup method, and give users a one-click login method.
Business ($69 per year.) You'll get the full feature set of WP 2FA here. This provides analytics, reporting, white labelling, lots more 2FA methods, the ability to configure the 2FA code time, and more.
Enterprise ($99 per year.) This tier also gives you everything in the Business plan, but adds in priority support.
We love how cheap each tier is compared to what you get in the box. The Business plan makes the most sense, as it costs little yet gives you the full experience of WP 2FA. All you'll need from here is to grab your discount.
How to Use Your WP 2FA Coupon Code
It's straightforward to use your WP 2FA coupon code. The first step is to head to the WP 2FA website using our dedicated link. This will bring you to the main home page: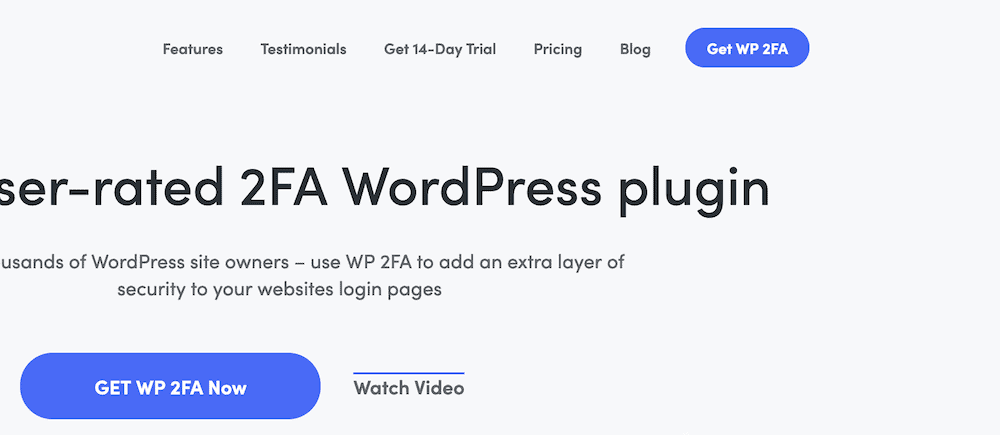 Here, click one of the Get WP 2FA buttons, which will bring you to the pricing page: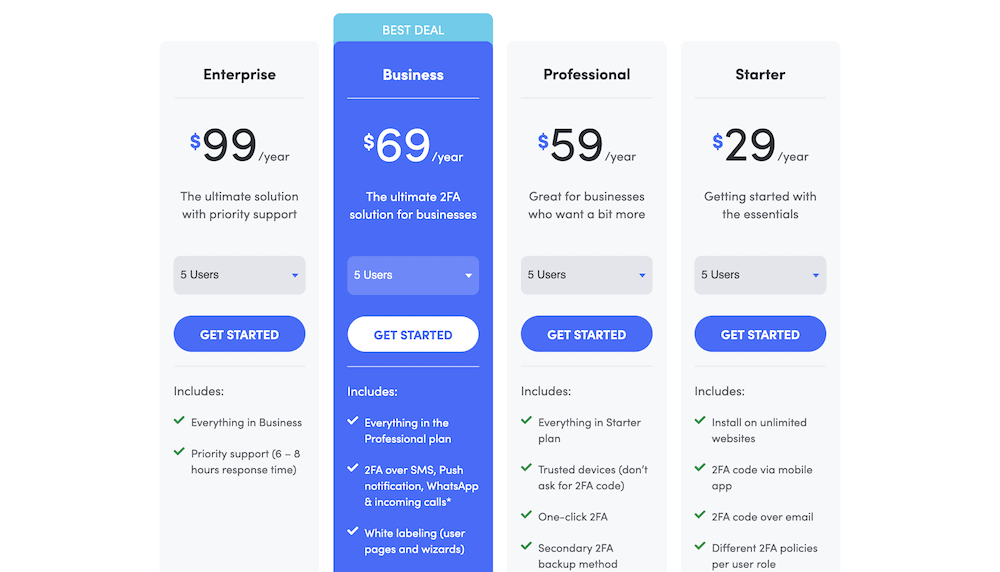 Next, click on the Get Started button for your chosen tier. This will pop up a payment dialog box: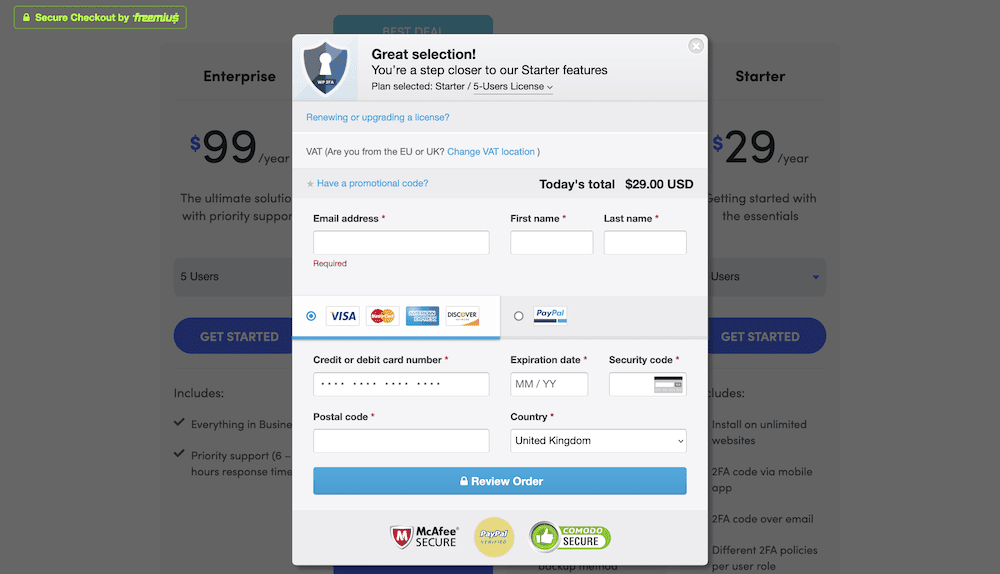 Before you move on, look to the Have a promotional code? link. If you open this, you'll spot a text field. Here, enter in our exclusive WP 2FA coupon code – DESIGNBOMBS20: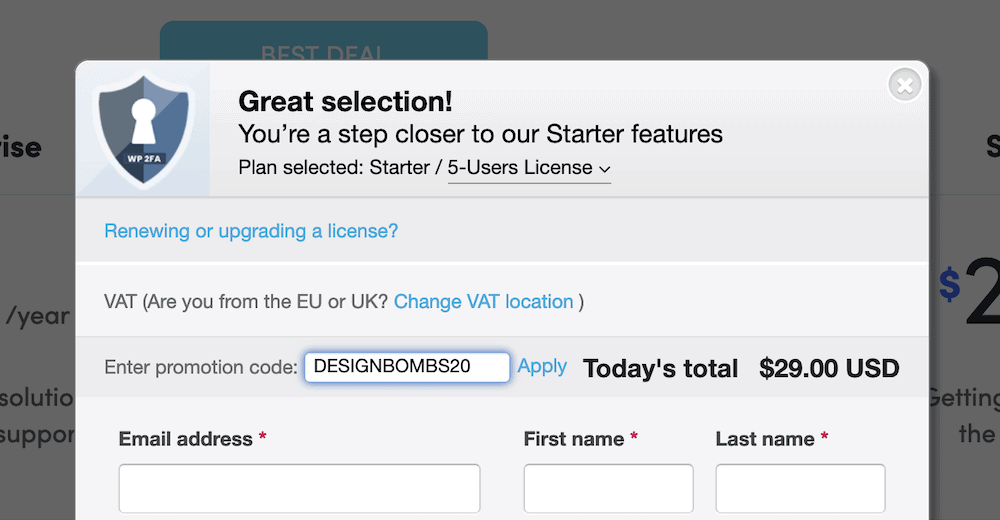 Once you click Apply, this will give you 20 percent off of the typical price. From here, you can complete the payment process and use your plugin!
Frequently Asked Questions (FAQ)
While many of you will already have a premium version of the plugin thanks to our WP 2FA coupon code, some might have some further questions. Fear not, as we're going to round up some of the most common questions next, complete with our answers.
1. Does WP 2FA Offer a Free Trial?
You can access a free 14-day trial of WP 2FA, without the obligation to purchase the plugin after. The free version of the plugin also includes core functionality that can help you test it out.
2. Is There a Money-Back Guarantee In Case WP 2FA Isn't For Me?
If you buy WP 2FA and want a refund, you have 30 days to contact the developer. This is a no-quibble money-back guarantee.
3. How Many Active Users Can I Have With WP 2FA, and How Does the Plugin Calculate This?
Each tier includes licenses for five active users. This means someone who registers to use 2FA on your site. Once you reach this limit, you'll need to buy more licenses to enable 2FA for additional users. Each tier has its own upgrade path for ten, 25, 50, and 100 users.
4. How Many Sites Can I Use WP 2FA On?
The license policy of WP 2FA is different than other plugins, in that it works with active users. As such, as long as you keep within the user license limits, you can use the plugin on as many sites as you need.
5. Will This WP 2FA Coupon Code Ever Expire?
While we can't guarantee that any deal on Design Bombs will end, our plan is to keep this one going to for the foreseeable future!
Save 20 Percent Off Of All Purchases Using Our WP 2FA Coupon Code!
2FA is one of the cornerstones of modern site security. As such, you'll want to make sure you implement this for your users on your site. To do this, you'll need a good plugin. The WP 2FA plugin is one of the best on the market, and includes not only 2FA functionality, but the management tools you'll need to protect your entire user base.
You can use our exclusive WP 2FA coupon code at checkout – DESIGNBOMBS20 – and grab this leading plugin from one of the best developers for WordPress security!