Ever wanted to sell your own products? Sellfy makes it easy to build a store and sell merchandise or digital products. And with our Sellfy coupon, you can get 10% off all plans.
Ready to get your 10% discount and open your online store? Click here to visit Sellfy with our special link to use the coupon.
Want to know more about Sellfy? Keep reading for an overview of the platform and how you can easily create an online store and start selling within minutes.
What is Sellfy?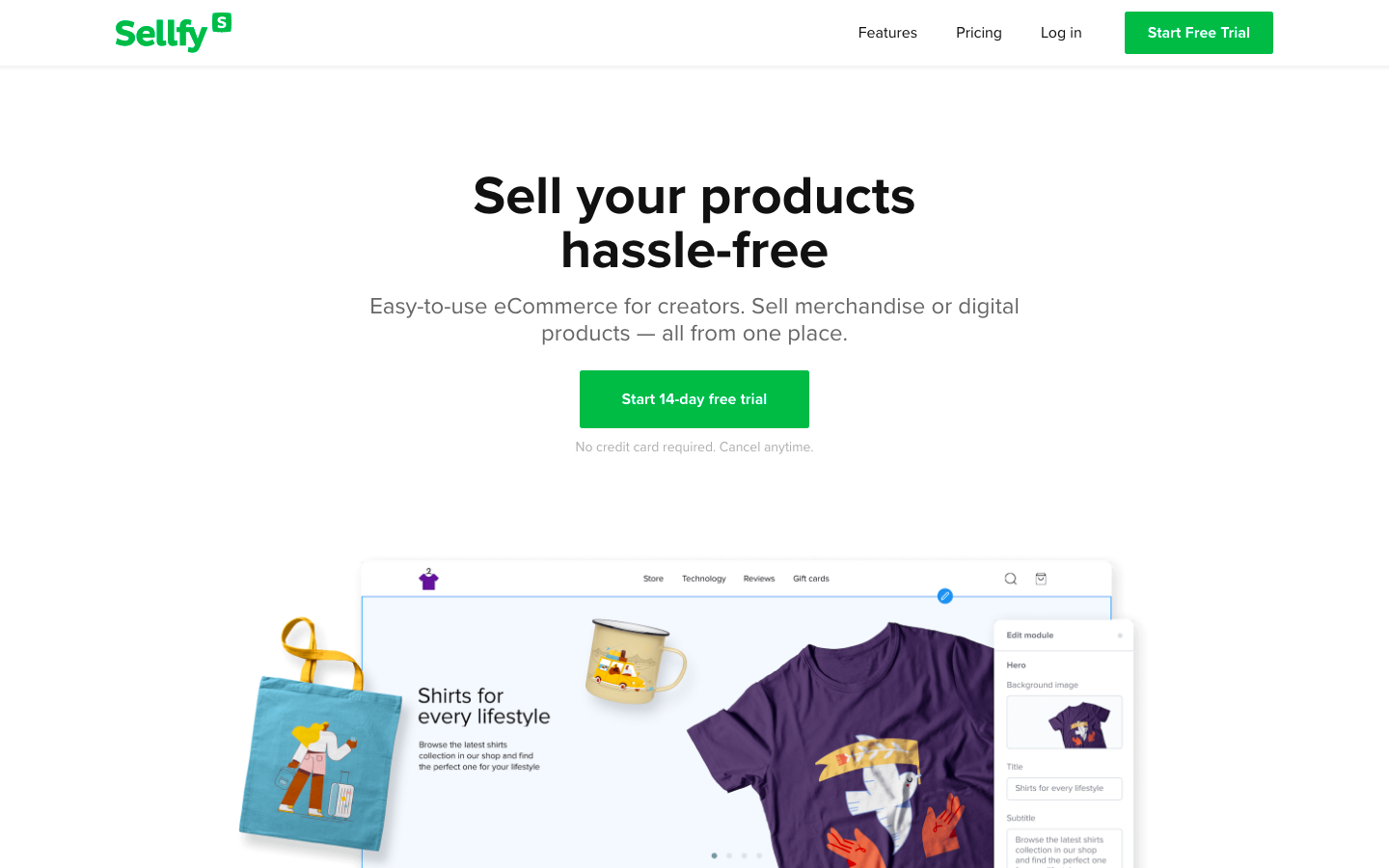 Sellfy is an easy-to-use eCommerce platform designed for creators to start selling merchandise and digital products within 5 minutes.
In a few minutes, you can set up your store, add your products, customize the design, and go live.
Sellfy also includes built-in marketing features to boost sales and grow your business. You can also set up a custom storefront on social media platforms like YouTube, Instagram, Facebook, or your own website.
Some successful creators already using Sellfy include YouTube influencer Sorelle Amore, who made $25k using the platform to sell presets; and musician Dan Mumm, who has established a profitable online business selling his albums, guitar tabs, and instructional videos.
The platform has everything you need to run a successful online store including a print-on-demand service, video streaming on demand, support for digital products, subscriptions, and a storefront that's simple to set up and easy to customize.
Sellfy Features
There are many eCommerce platforms to choose from. But Sellfy's simplicity is its strong point. If you don't want to spend hours choosing from thousands of templates or learning how to install and use complicated plugins and extensions, Sellfy is a great option. Some of its basic features include:
Sell Multiple Product Types
Sellfy supports several types of products including:
Physical products
Print on demand for t-shirts, hoodies, mugs, and hats
Digital products including ebooks, music, audio, video, and any other type of digital file
Digital subscriptions on a weekly, monthly, or yearly basis
On-demand video streaming
Mobile-Optimized Storefront
Sellfy's store creator will create a simple, beautiful store that represents your brand within minutes. No need to spend time on choosing templates or fiddling with the design – just pick a layout, choose your colors, add your logo, and launch.
You can connect your own domain to your Sellfy store, and the storefront comes with its own shopping cart so your customers can buy multiple products from you in one transaction.
Sellfy stores are also suitable for global selling, as you can automatically translate your site based on the location of the person viewing it.
Built-in Marketing Features
Sellfy comes with several features designed to help you make more sales. These include:
Discount codes
Upsells at checkout
Email marketing
Tracking pixels for Facebook and Twitter ads
Embed Your Sellfy Store and Sell Products on Other Platforms
You can easily embed elements from your Sellfy store and sell directly from your social media networks or your own website. You can embed:
"Buy now" buttons to add to any webpage
Product cards
YouTube end screens and cards
Product links
Your whole Sellfy store
Secure Payment Options & Digital Product Protection.
Sellfy supports multiple secure payment types to make it easy for people to buy from your store. Shoppers can choose to checkout with PayPal or Stripe and all payments are secure.
You can protect your digital products by stamping your buyer's email address on every page of your PDF product file and issuing unique download links with limited download attempts.
Analytics
Your Sellfy dashboard shows you at a glance which products are selling the most and where your buyers are coming from so you can optimize your marketing campaigns.
Sellfy Plans & Pricing
Sellfy plans start from $29 a month with an additional 34% discount if you choose to pay annually. Remember, you get 10% off all Sellfy plans when you use our Sellfy coupon and sign up via our link.
All Sellfy plans feature 0% transaction fees, unlimited products, print on demand, subscription products, store customization, and digital downloads.
| | | | |
| --- | --- | --- | --- |
| | Starter | Business | Premium |
| Monthly price | $29 | $59 | $129 |
| Max sales volume per year | $10k | $50k | $200k |
| Extra features | N/A | Product upsells, cart abandonment, free migration | Everything in the Business plan + priority support |
| Sellfy branding | Yes | No | No |
| Email credits | 0 | 10,000 | 50,000 |
All plans include a 14-day free trial so you can try out the platform first and you won't pay anything if it's not suitable for you.
Sellfy Coupon FAQ
How to get the biggest discount when signing up to Sellfy?
Use our link to visit the Sellfy website to get a Sellfy coupon for a 10% discount and sign up for the free trial. If you upgrade your account within 24 hours of signing up for the free trial and choose the annual payment option, you'll be offered a 50% discount.
How do I receive payments from customers?
Sellfy doesn't process payments directly. All payments are processed through PayPal and Stripe. You'll need to connect your PayPal and/or Stripe account to get payments directly into your account.
Do you need a business PayPal account for Sellfy?
No, you don't need a PayPal business account to sell products on Sellfy. A personal PayPal account is sufficient.
What can you sell on Sellfy?
You can sell most types of digital and physical products including print-on-demand products such as t-shirts, mugs, hoodies, and hats.
However, certain products are not allowed such as adult content, violent content, "get rich quick" products, and other content of questionable nature.
How to Use the Sellfy Coupon
You don't need a coupon code to get our exclusive 10% discount. Just go to the Sellfy website with our special link and click the "Start Free Trial" button.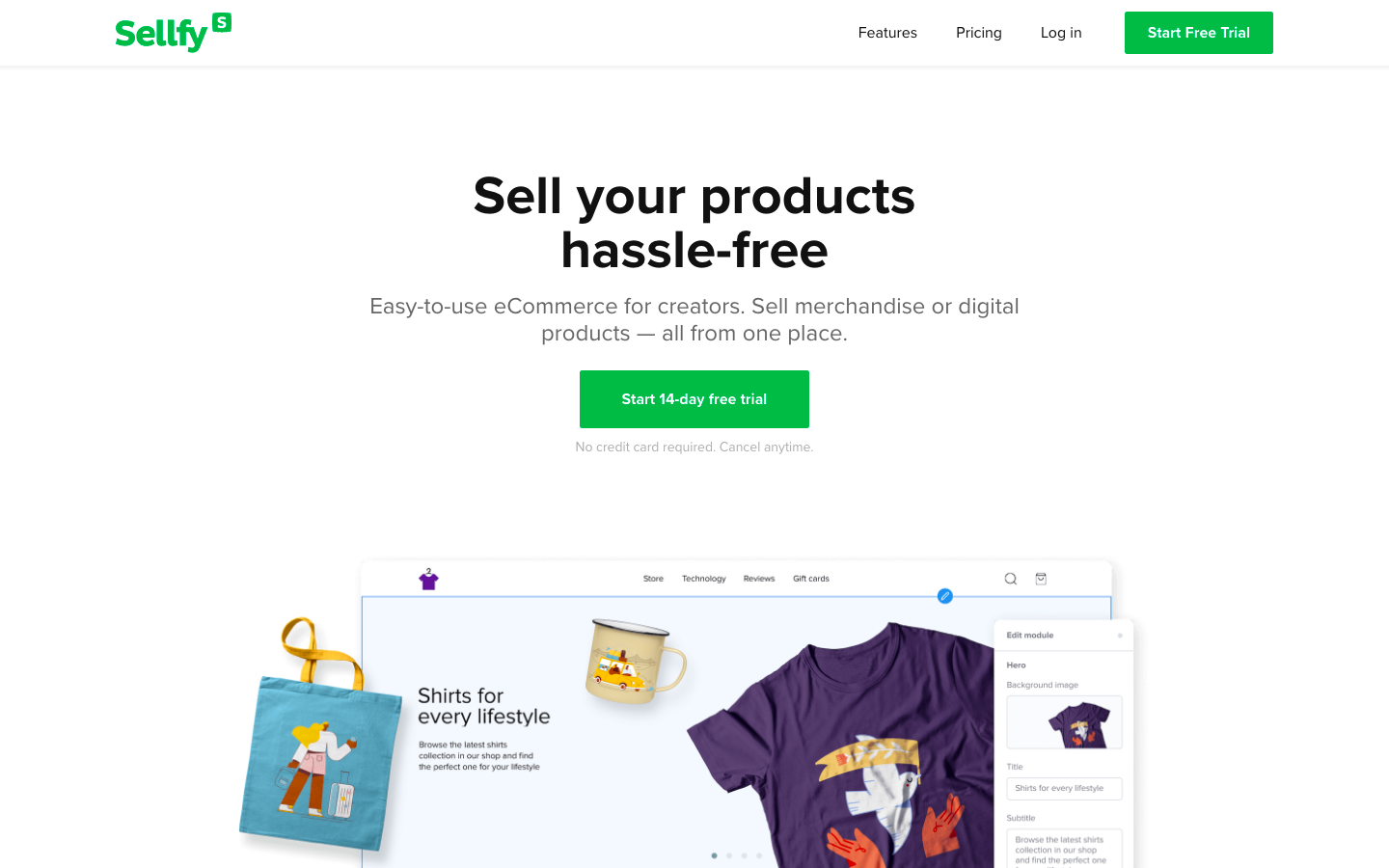 Fill out your details to create a free account and click the "Create my store" button.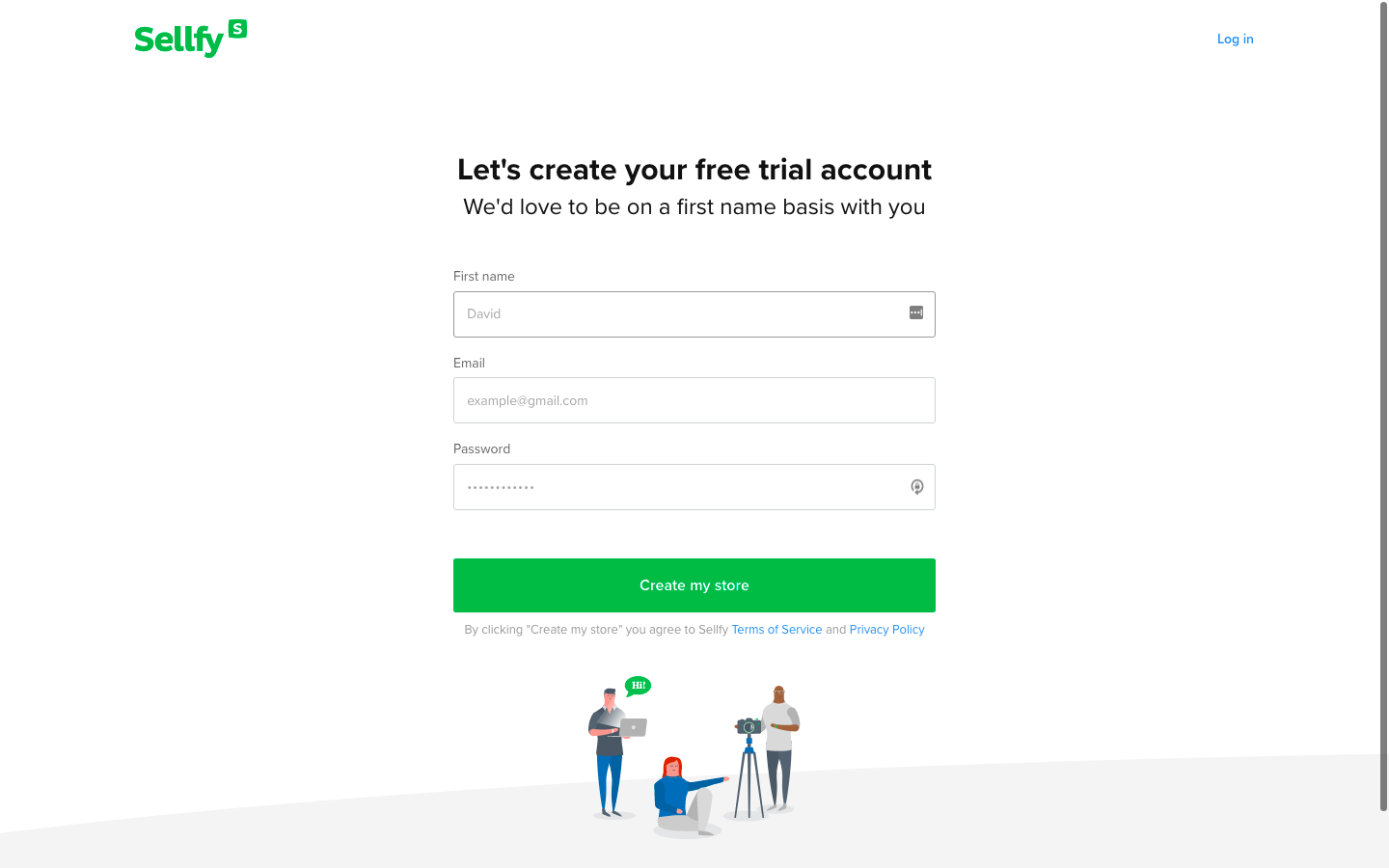 Answer a few questions on the next screen so Sellfy can automatically customize your store and click the "Next" button.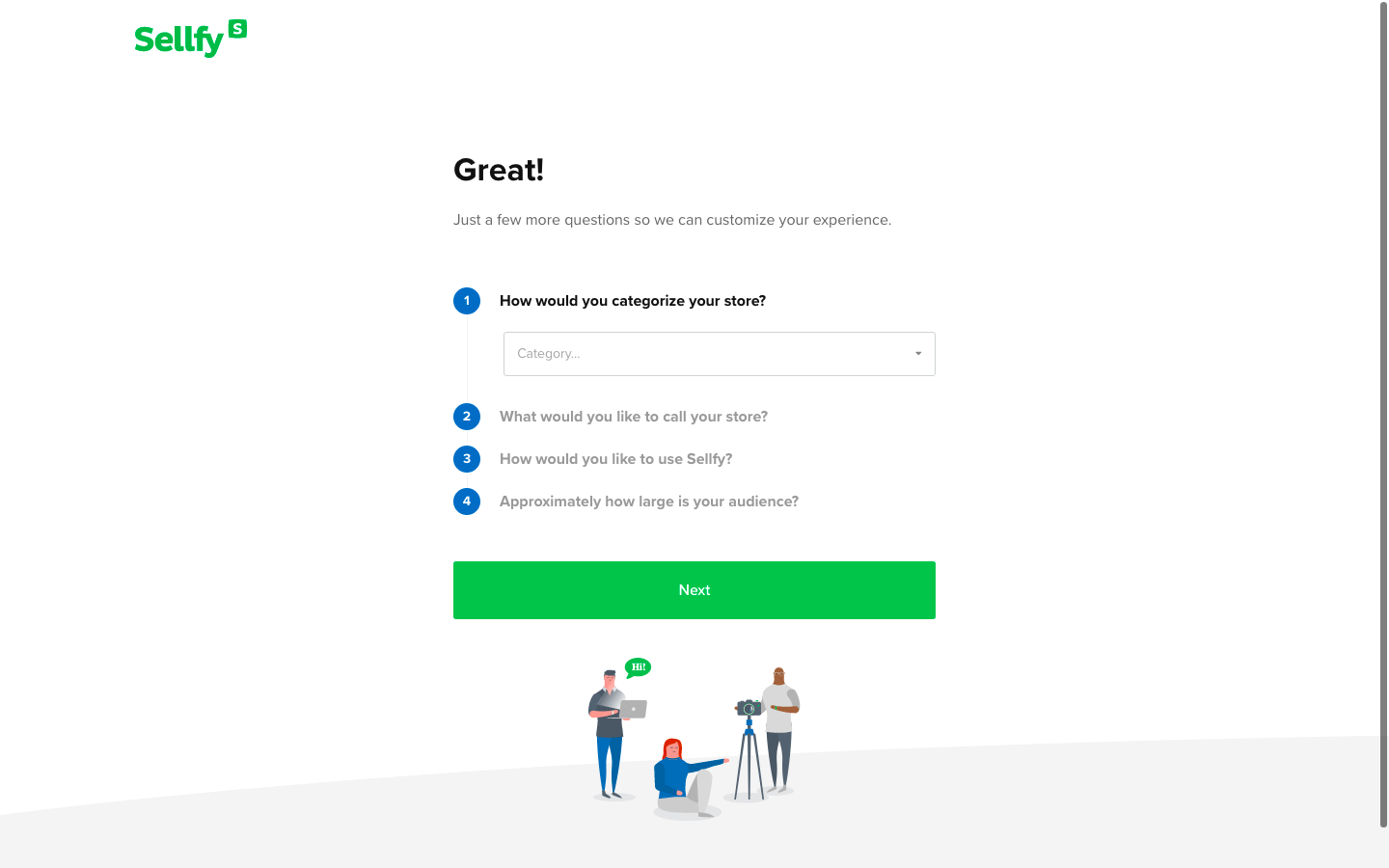 You'll then see your Sellfy dashboard where you can continue to set up your store or upgrade your account immediately to get a discount if you choose the yearly payment option.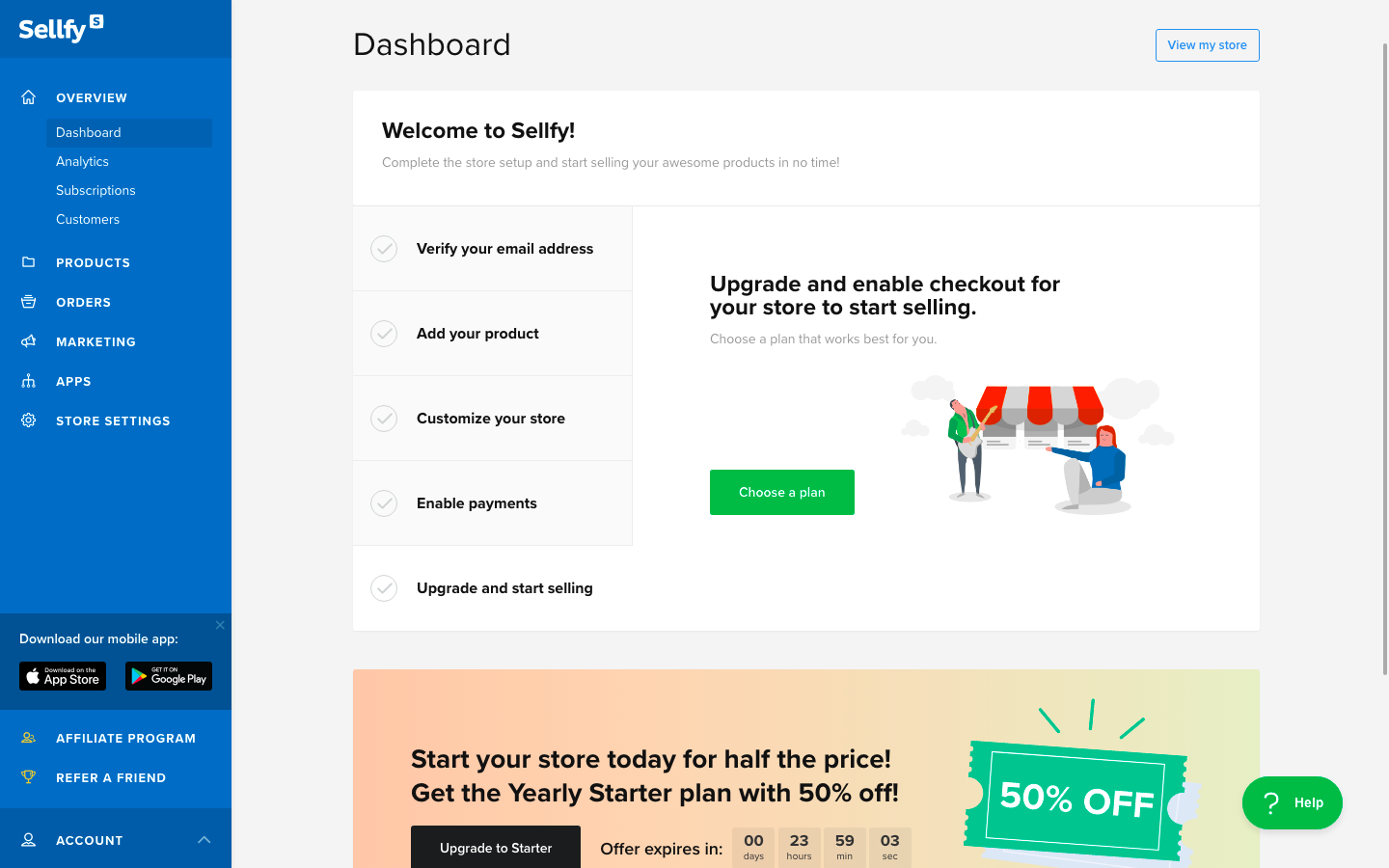 To upgrade your account, click on the "Upgrade and start selling" tab and then the "Choose a plan" button.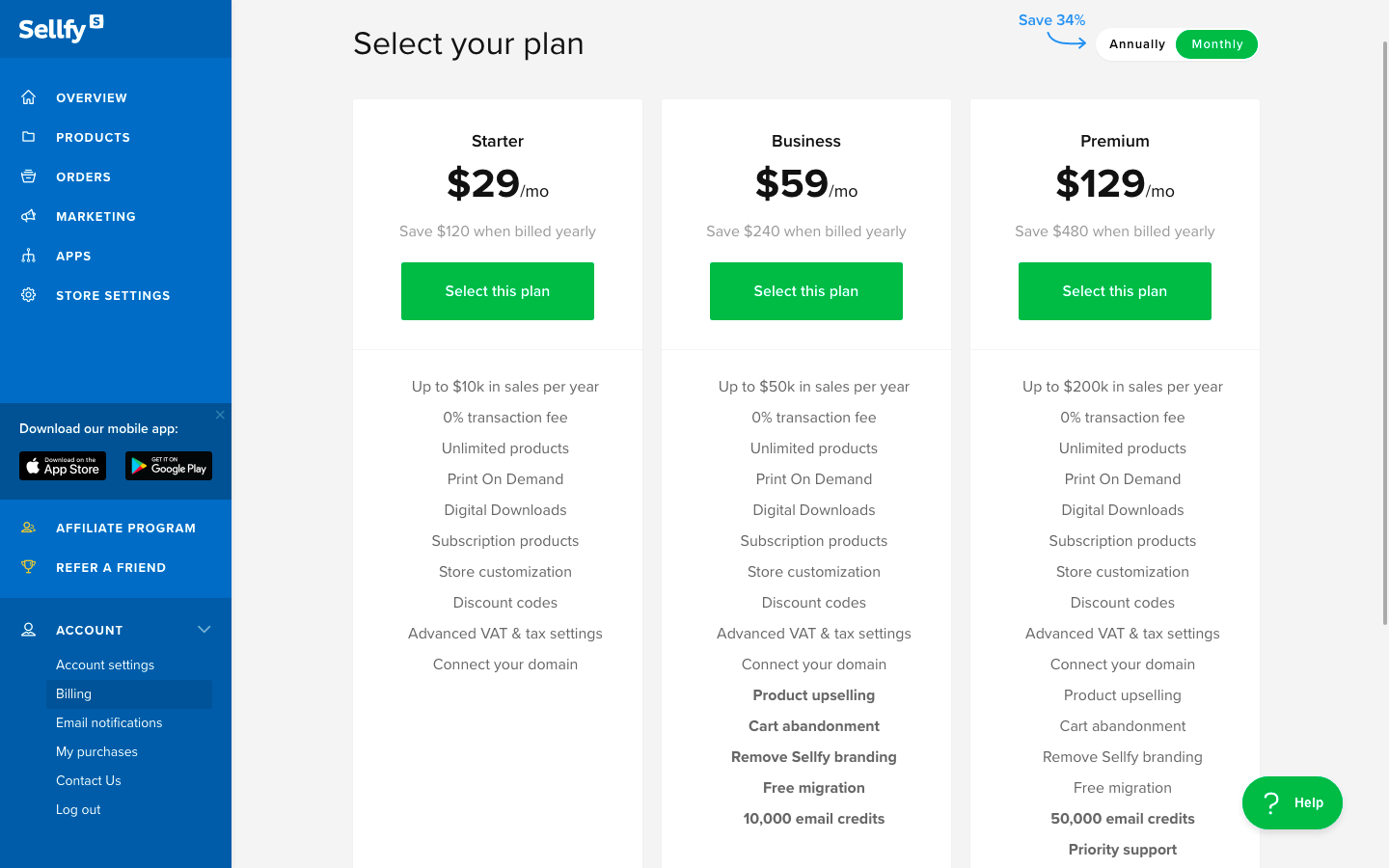 You can then choose whether you want to pay monthly or yearly, and choose a plan to go to checkout.