Bluehost is one of the biggest names in web hosting and offers some of the most affordable hosting deals. Use our Bluehost coupon to get even cheaper hosting with an X% discount on all plans.
Ready to get the discount? Click here to visit Bluehost and the coupon code will be applied automatically.
Want to know more about why you should choose Bluehost as your web host? Keep reading to get an overview of their services.
What is Bluehost?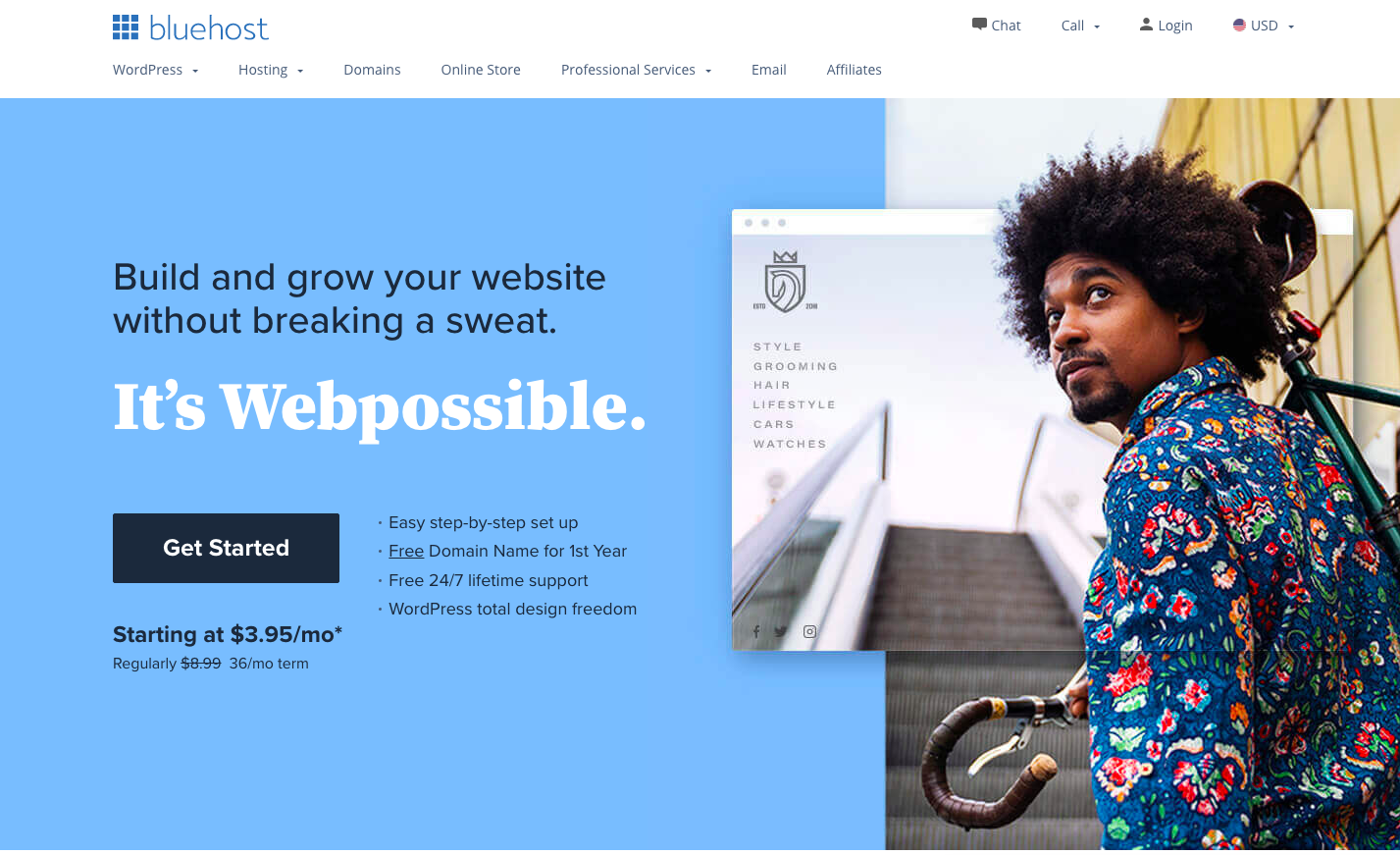 Bluehost was founded in 2003 and has grown to become one of the leading web hosting providers.
Bluehost currently powers over 2 million websites and has a team of over 270 people providing help and support to customers all over the world.
WordPress officially recommends Bluehost as one of the best hosts for running WordPress sites. There are currently only 3 hosts on this list and inclusion means that the hosts offer an easy WordPress install and maintenance, great support, strong security, and up-to-date software.
Whether you want affordable shared hosting, managed WordPress hosting, VPS hosting, a dedicated server, a domain, email service, or more, Bluehost has a plan to suit your needs.
Read our detailed Bluehost review for an honest account of its pros and cons, or see below for an overview of its main features.
Bluehost Features
So why should you choose Bluehost over another budget host? Bluehost offers a number of features that make them an attractive option for affordable hosting.
Specialist WordPress Hosting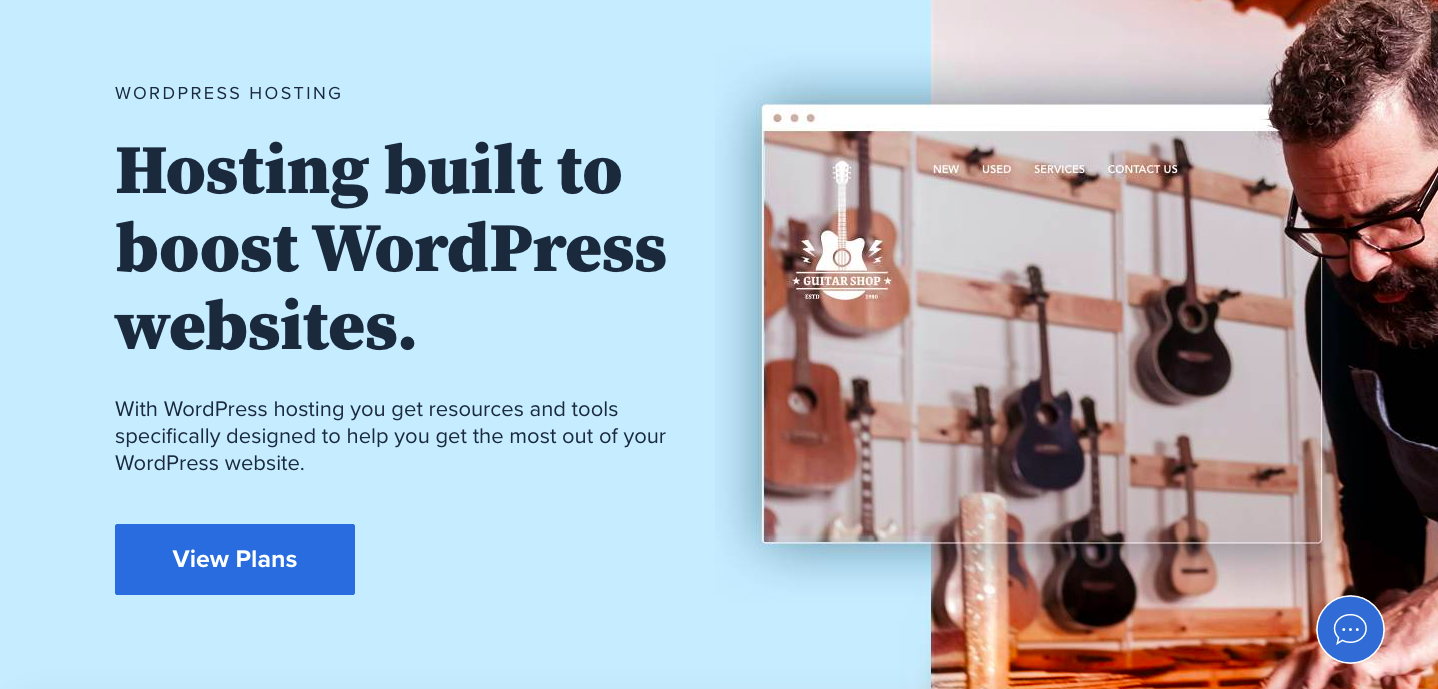 Bluehost shared WordPress hosting plans are designed to make it easy to run a WordPress site. The hosting environment and servers are configured to be optimized for running a fast and secure WordPress site.
WordPress is installed automatically for new users, and you can easily set up new instances of WordPress using the 1-click installer.
You can also browse the Bluehost marketplace for a curated selection of WordPress themes
Bluehost will also automatically upgrade your site to the latest version of WordPress.
The Bluehost support team is fully trained and experienced in WordPress, so there's always an expert available when you need help.
Managed WordPress Hosting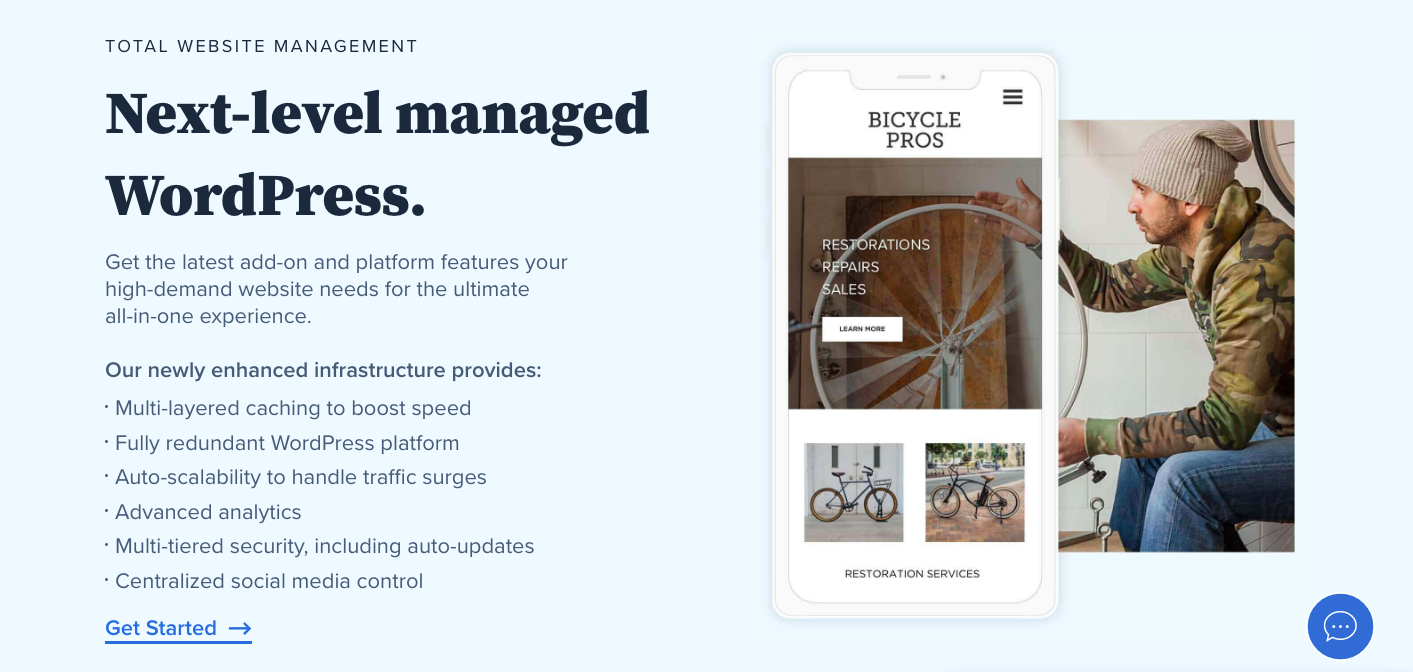 If you want a more hands-off hosting experience, you can opt for managed WordPress hosting, which offers additional features and full scalability.
This hosting is optimized for speed and security and you won't need to worry about a spike in website traffic or malware, as this is all taken care of for you along with daily backups.
On some plans, you'll also get access to a suite of marketing tools. You can enable your site visitors to leave reviews on sites like Google and Yelp and use the built-in SEO tools to make your site more visible and boost traffic.
Free Domain
All new Bluehost shared hosting and VPS hosting accounts include a free domain that includes control panel management, auto-renewal, domain lock to prevent unauthorized transfers, domain forwarding, and optional domain privacy.
Microsoft 365 Email
Bluehost offers integration with Microsoft 365 professional email so you can set up an email address for your domain and use the Microsoft 365 suite of tools to work in the cloud.
You can opt for Microsoft 365 email as an add-on to any hosting plan and some plans come with a 30-day trial so you can try it out before you buy.
Free CDN
All Bluehost shared hosting plans include a free CDN to make sure your site loads at the fastest possible speed, wherever in the world your visitors are.
Free SSL Certificates
All hosting plans include free SSL certificates so you can easily secure your data and use https on your site.
Resource Protection
Sites hosted on shared hosting plans are safe from performance issues and spikes in traffic to other sites on the same server.
Bluehost Hosting Plans
Bluehost offers several types of hosting plan to suit different needs including:
Shared hosting
Shared WordPress hosting
Managed WordPress hosting
VPS hosting
Dedicated hosting
Hosting plans start from $2.95 a month for a basic package for one website.
You can compare the different shared hosting plans in the table below:
| | | | |
| --- | --- | --- | --- |
| Basic | Plus | Choice Plus | Pro |
| From $2.95/month | From $5.45/month | From $5.45/month | From $13.95/month |
| 1 website | Unlimited websites | Unlimited websites | Unlimited websites |
| 10GB storage | Unlimited storage | Unlimited storage | Unlimited storage |
| Free domain, CDN & SSL certificate | Everything in the Basic plan + Free Office 365 for 30 days | Everything in the Plus plan + free domain privacy + free automated backup | Everything in the Choice Plus plan + optimized CPU resources and free dedicated IP |
Managed WordPress hosting plans start from $4.95 a month, with all plans supporting one site and including a staging environment, daily backups, malware detection and removal, and domain privacy and protection.
VPS hosting plans start from $18.99 a month, depending on the bandwidth and resources you need to run your site. You can instantly add storage as your site grows.
Dedicated hosting plans start from $79.99 a month for 500GB storage.
Documentation and Support
Bluehost offers round-the-clock 24/7 support via phone or live chat.
There's also an extensive library of support documents online including the exclusive Blueprint beginners guides, which cover blogging, getting started with WordPress.
Most questions you have will have already been answered in the knowledge base, which is a huge database of guides, tutorials, and how-tos covering topics including installing WordPress, migrating a WordPress site, setting up email, transferring your domain, managing your account, troubleshooting, and more.
Blue Sky WordPress Support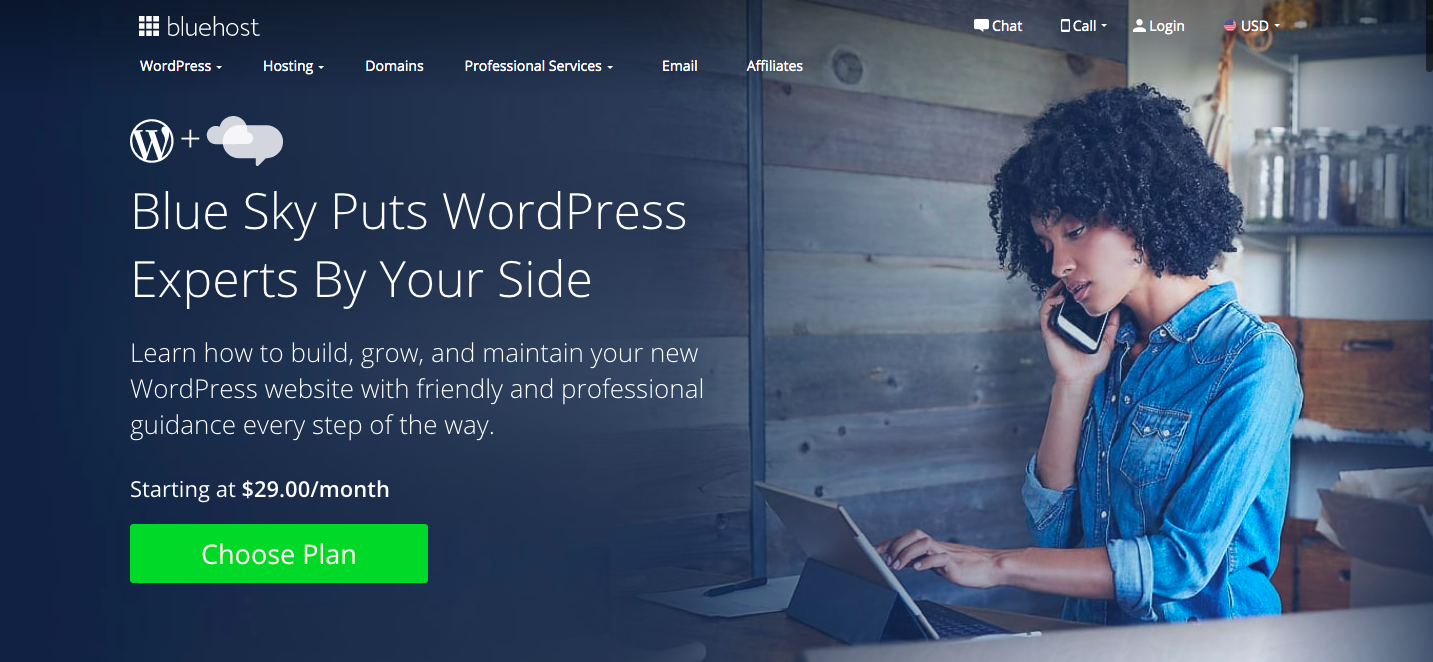 Blue Sky is an additional chat and ticket support service for WordPress sites offering expert advice and support from $29 a month.
This support includes help choosing the right tools and plugins, picking a theme, customizing your site design, optimizing your SEO, and growing your site.
The service is provided by an in-house team of WordPress experts and developers who can help you to build, optimize, and maintain your WordPress site.
Customers on the Grow and Scale managed WordPress hosting plans get access to Blue Sky support at no additional cost.
How to Use the Bluehost Coupon
Using our exclusive Bluehost coupon is easy. Just click here to use our special link and the discount will be automatically applied.
Bluehost Coupon FAQs
When does the Bluehost coupon expire?
There's currently no expiry date on the coupon but we can't guarantee it will be available forever! If you want to make sure you get the X% discount, click here to apply the coupon and get your hosting today.
Which Bluehost coupon code offers the maximum discount?
You can use our Bluehost coupon to make sure you get the cheapest price for your hosting plan and a free domain name. This coupon is available exclusively for DesignBombs readers. Just click here to automatically apply the coupon.
How can I get a discount on Bluehost?
Use our link to go to the Bluehost site and take advantage of our coupon code to get X% discount. The code will be automatically applied when you use our link.
Is Bluehost free?
Bluehost hosting is not free, however, the hosting plans are some of the cheapest around. You also get a free domain when you sign up for a hosting account.
Why is Bluehost so cheap? 
Bluehost offers shared hosting plans that mean that many user websites are stored on each server. This means they can keep running costs very low for their users. New Bluehost users can also take advantage of their introductory prices for new customers. 
Is Bluehost better than GoDaddy?
Bluehost and GoDaddy are both popular web hosts that offer very affordable shared hosting packages. Both hosts have positive reviews from their users. You can read our Bluehost review to compare the services and decide which is the best choice for you. 
How much is Bluehost renewal?
The price you'll pay on renewing your hosting package depends on which plan you're on and your hosting term. You can see all the renewal prices here.
How do I get a free domain from Bluehost?
All new Bluehost hosting plans come with a free domain. If you already have a domain, you can transfer it from another registrar free of charge.
Is Bluehost good for beginners?
Yes, Bluehost is a great choice of hosting for beginners. Not only are the plans very affordable, but it's also very easy to use. Bluehost comes with 1-click installers for WordPress and other software and help and support are available 24/7.