One of the best ways to increase conversions and improve customer satisfaction for your eCommerce or service business is to implement a live chat widget on your site.
With live chat, customers can get their questions answered quickly, reduce frustration or friction that may prevent them from making a purchase, and feel like they're getting a VIP customer service experience.
However, the problem with live chat is that it can be expensive and resource-heavy to run. Not every business has the budget to hire customer service staff to be online 24/7. This is where Tidio comes in.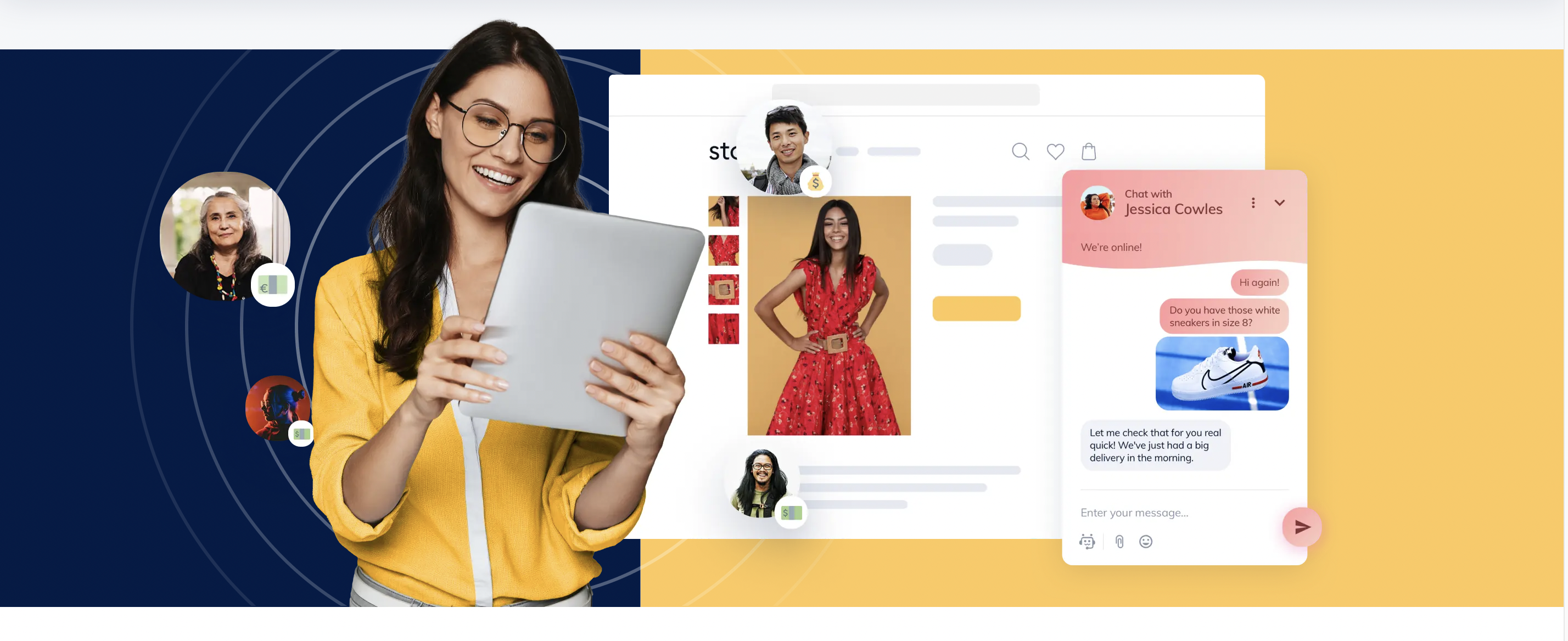 Tidio is a combination of live chat and chatbot tools that will help you to engage with your customers, build trust, and boost sales.
Design Bombs readers can get 20% off Tidio. Just click this link to visit Tidio and claim your 20% discount. There's also a free trial available so you can test out the features before committing to a paid plan.
Tidio Features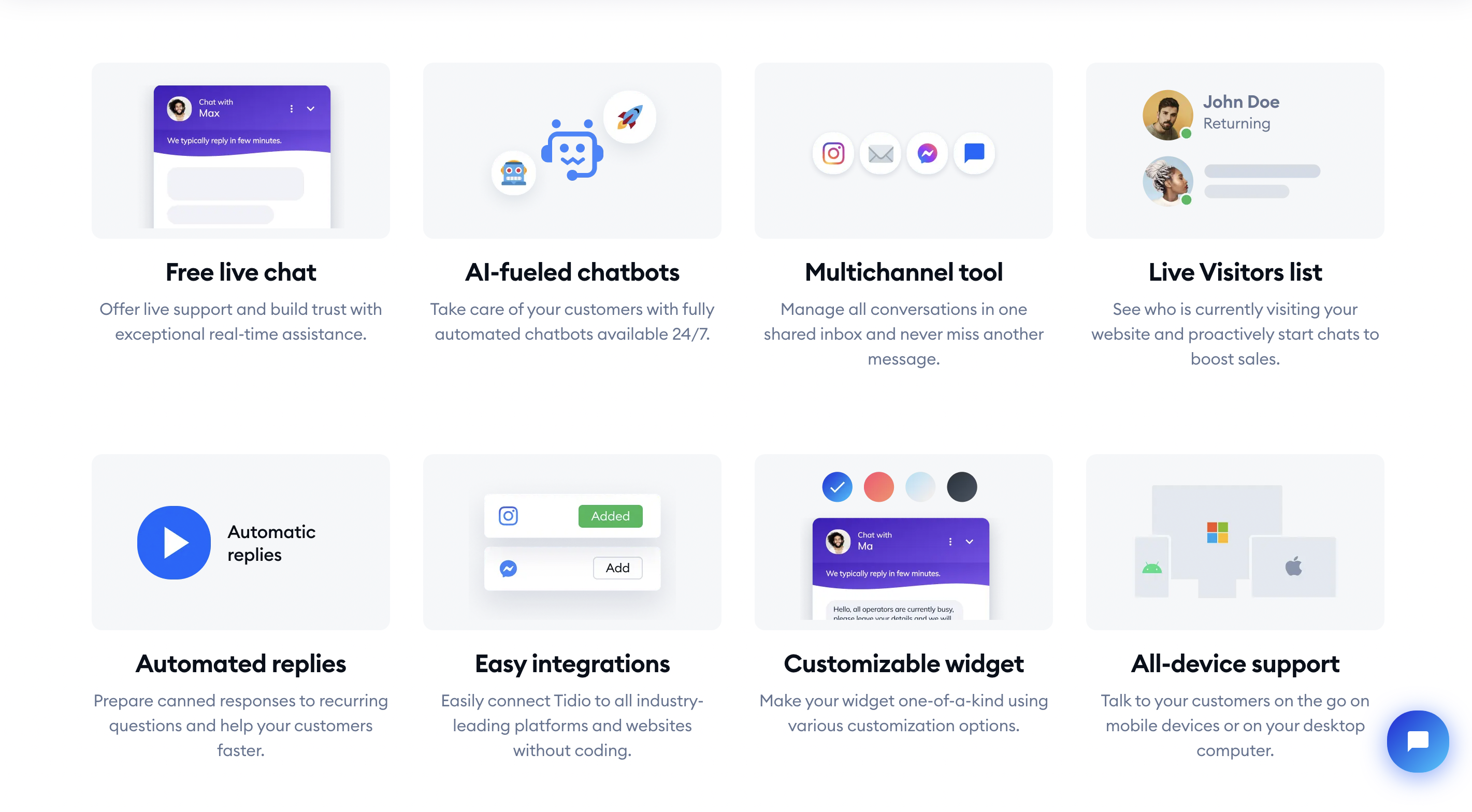 The Tidio platform includes multiple tools and features you can use depending on the needs of your business. These include:
Free live chat widget.

AI-powered fully automated chatbots.

A multichannel inbox tool to manage all your messages from your website live chat, email, and social media in one place.

A live visitors tool to see who is currently browsing your site and start a conversation with them if you wish.

Automated responses

Integrations with all major platforms for marketing, social media, eCommerce, and more
Tidio Pricing
Tidio offers a free account for those who just need basic live chat and three levels of paid accounts with more features.
Free account
The free account allows you to use the live chat widget with up to 3 operators. You can have unlimited chats with up to 100 visitors per month and you'll also get information about your visitors' location, contact details, and other data.
Remove Tidio branding
The free Tidio account is branded with a "Powered by Tidio" logo. If you want to remove this, you can upgrade to a paid account for $20 a month or $200 a year ($16 a month or $160 a year with our 20% coupon code).
Communicator
The Tidio Communicator account has different pricing levels depending on how many operators you want to be able to use it.
For one user seat, it starts from $19 a month or $190 a year ($15.20 a month or $152 a year with our 20% coupon code).
This account package also includes extra features such as live typing so you can see what your visitors are typing before they send their messages and a live visitors list.
You can also track your visitors and see which pages they viewed, save notes about customers, and set individual permissions for each agent.
Chatbots
The Chatbots package is the top-level option that includes all the premium features of Tidio as well as the AI-powered chatbot.
With the Tidio chatbots, you can generate more leads by automatically sending targeted messages, recover abandoned carts by encouraging shoppers to complete their purchases before they leave your site, answer common questions, and engage specific visitors such as those who view a pricing page. The chatbot can also send you a notification so that you can start live chat with these visitors.
This account level includes unlimited reachable visitors, unlimited chatbots, chatbot templates, a visual chatbot editor, and Zapier integration.
The Chatbots package is priced at $49 a month or $680 a year ($39.20 a month or $544 a year with our 20% off coupon)
How to Use the Tidio Coupon Code
Claiming your 20% discount is easy. You don't have to input a code, just follow the instructions below.
1. Click this link to visit Tidio. It's important to click this link to make sure your 20% discount is applied. You'll see the Tidio homepage.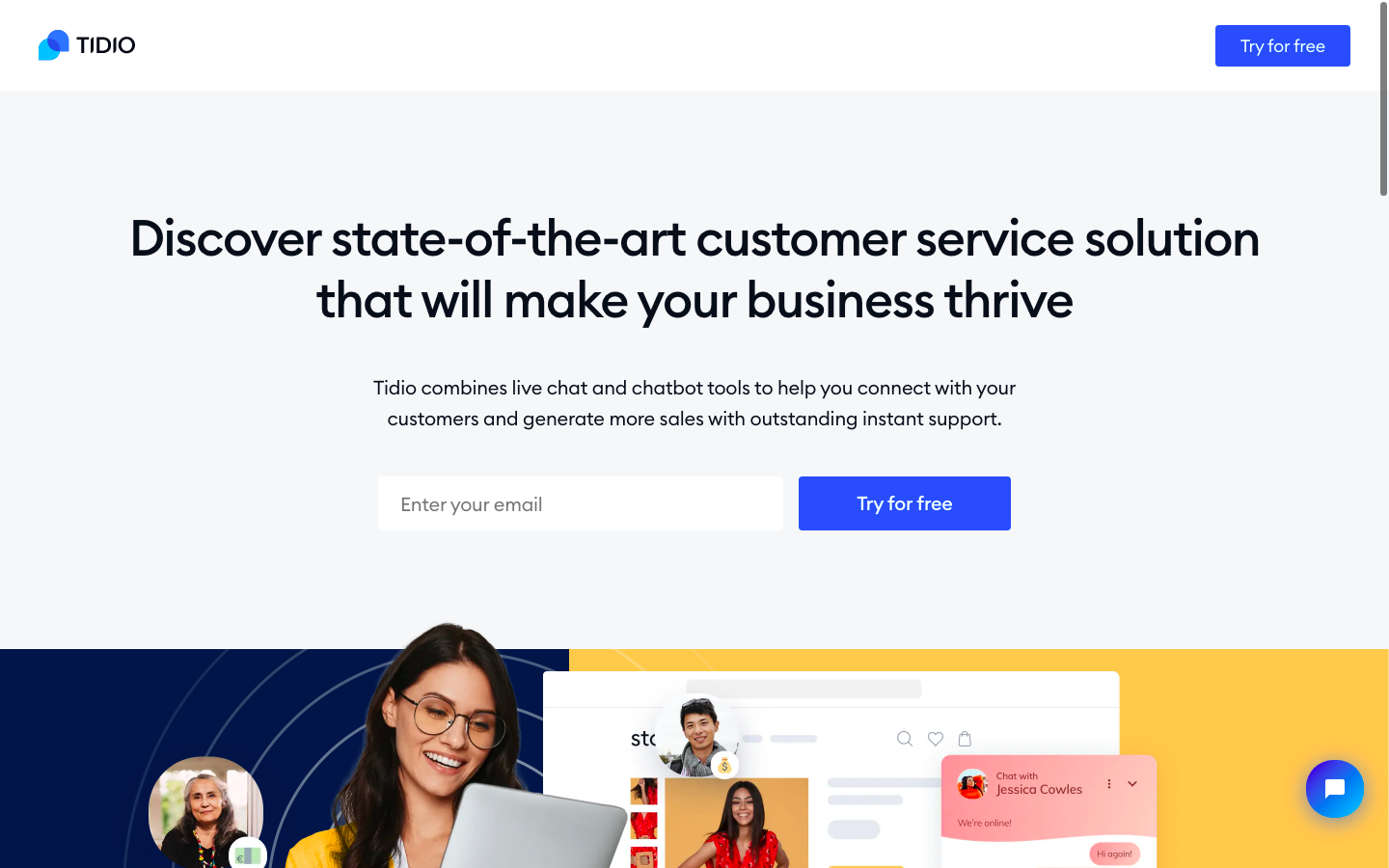 2. Enter your email in the box and click the "Try for free" button.
You'll be taken to a sign-up page for a free Tidio account. Just enter your name, your chosen password, and your website.
You can also sign up in one click with your Facebook, Shopify, or Wix account if you prefer.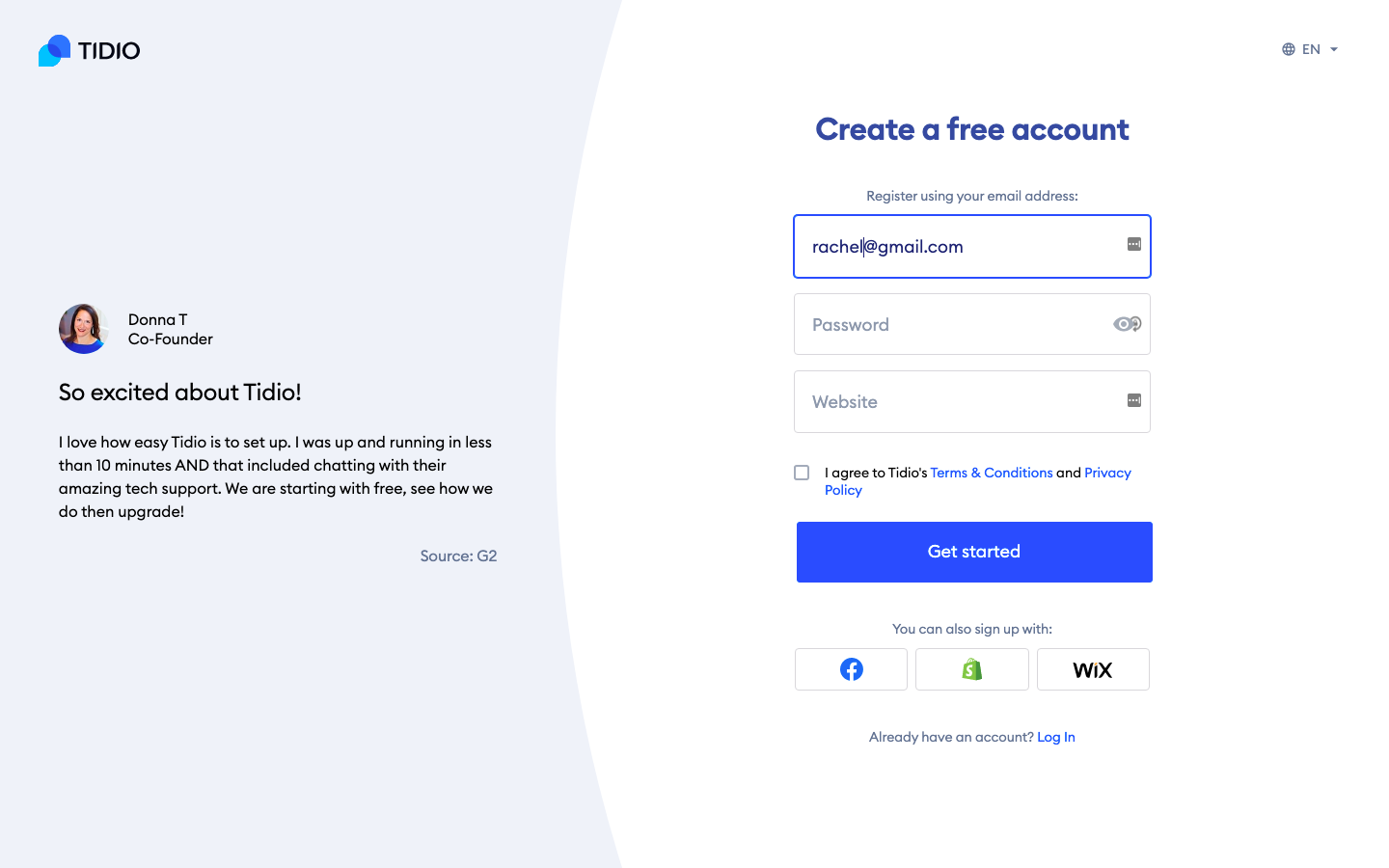 3. You'll then be prompted to enter your website URL if you haven't already and go straight to the step-by-step guide to setting up Tidio on your site.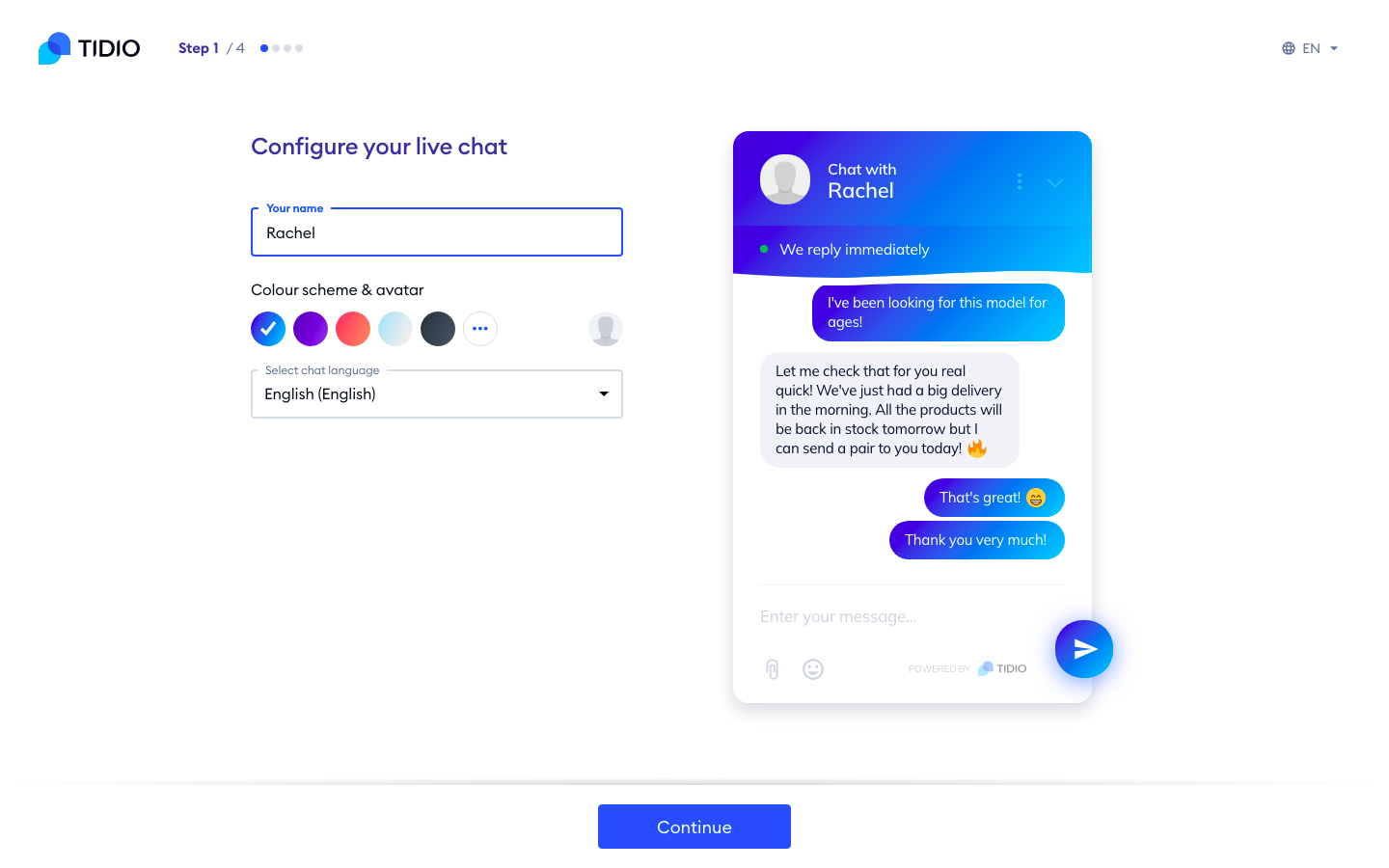 3. After completing some more questions about your business and how you want to use Tidio, the platform will create your first chatbot for you and give you a snippet of code so you can install it on your site and start trying it out right away.
4. Your free trial account is active for 7 days, so you can continue experimenting with it to see if it's right for you for up to a week.
6 When you're ready to upgrade to a paid account and claim your 20% discount, click the "Upgrade" button on the top right-hand corner of your dashboard.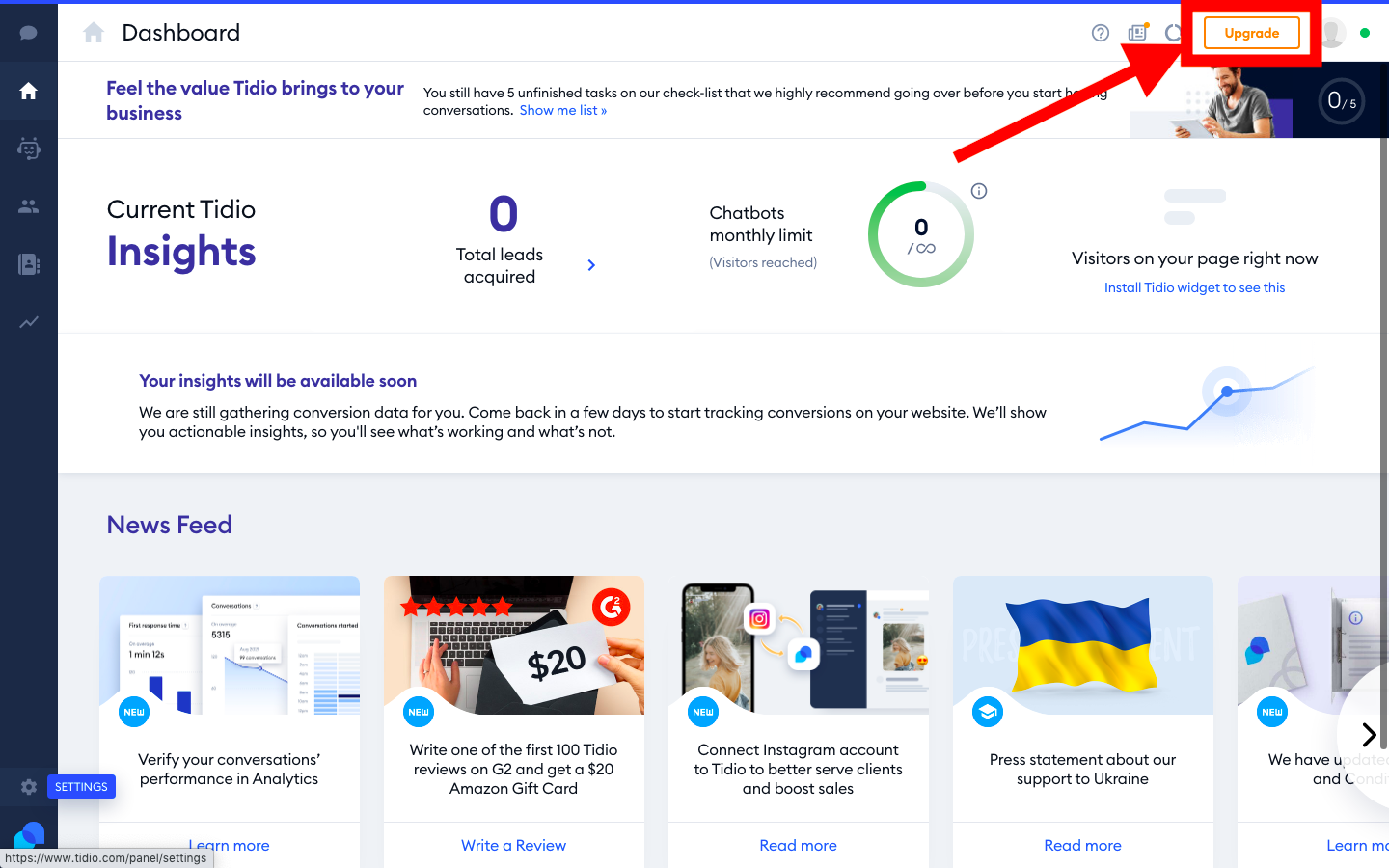 7. You should see a message that your 20% discount has been applied.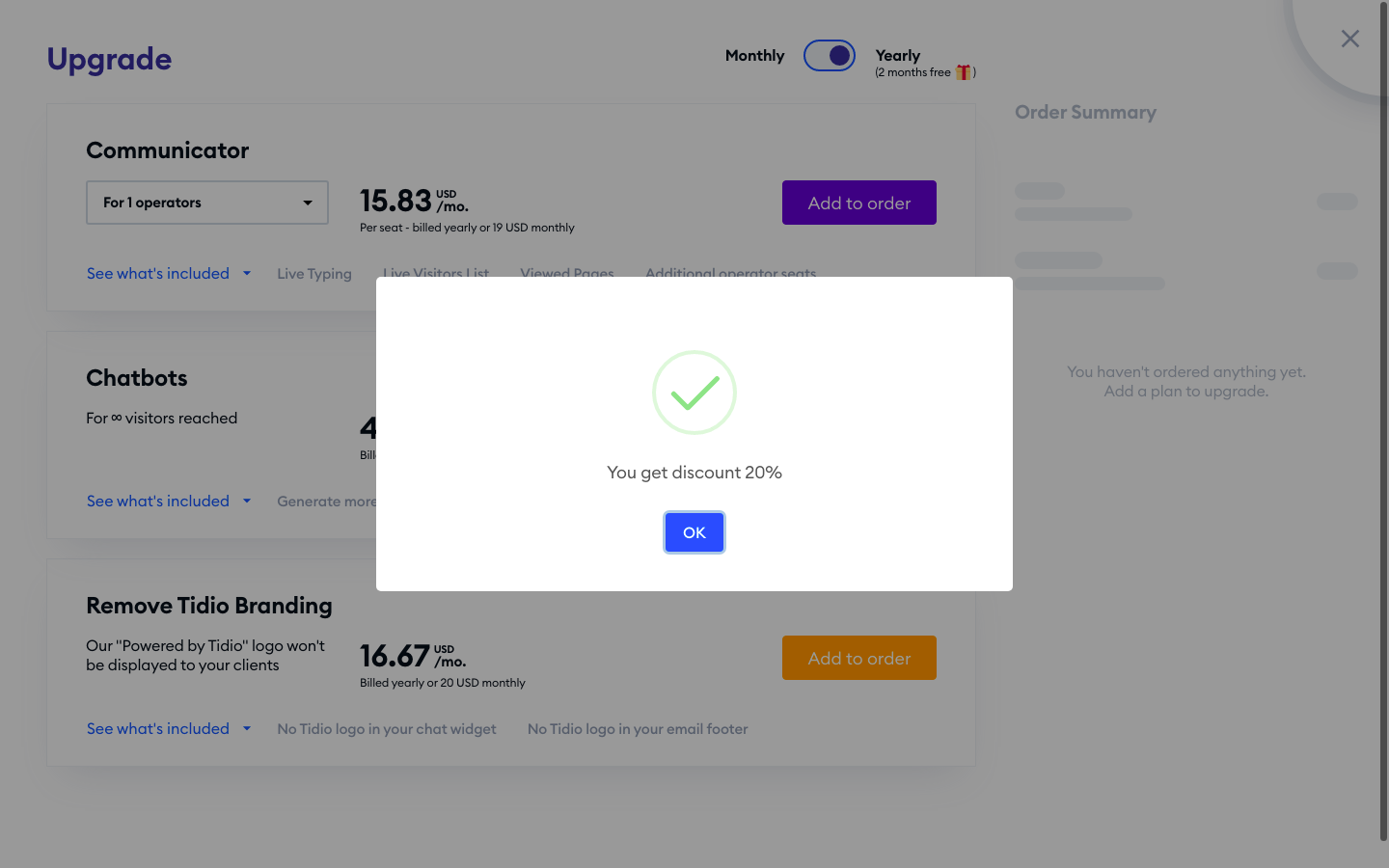 8. Click the "OK" button. You can then choose your package and select whether you want to pay monthly or yearly. You'll see the 20% discount reflected in the total.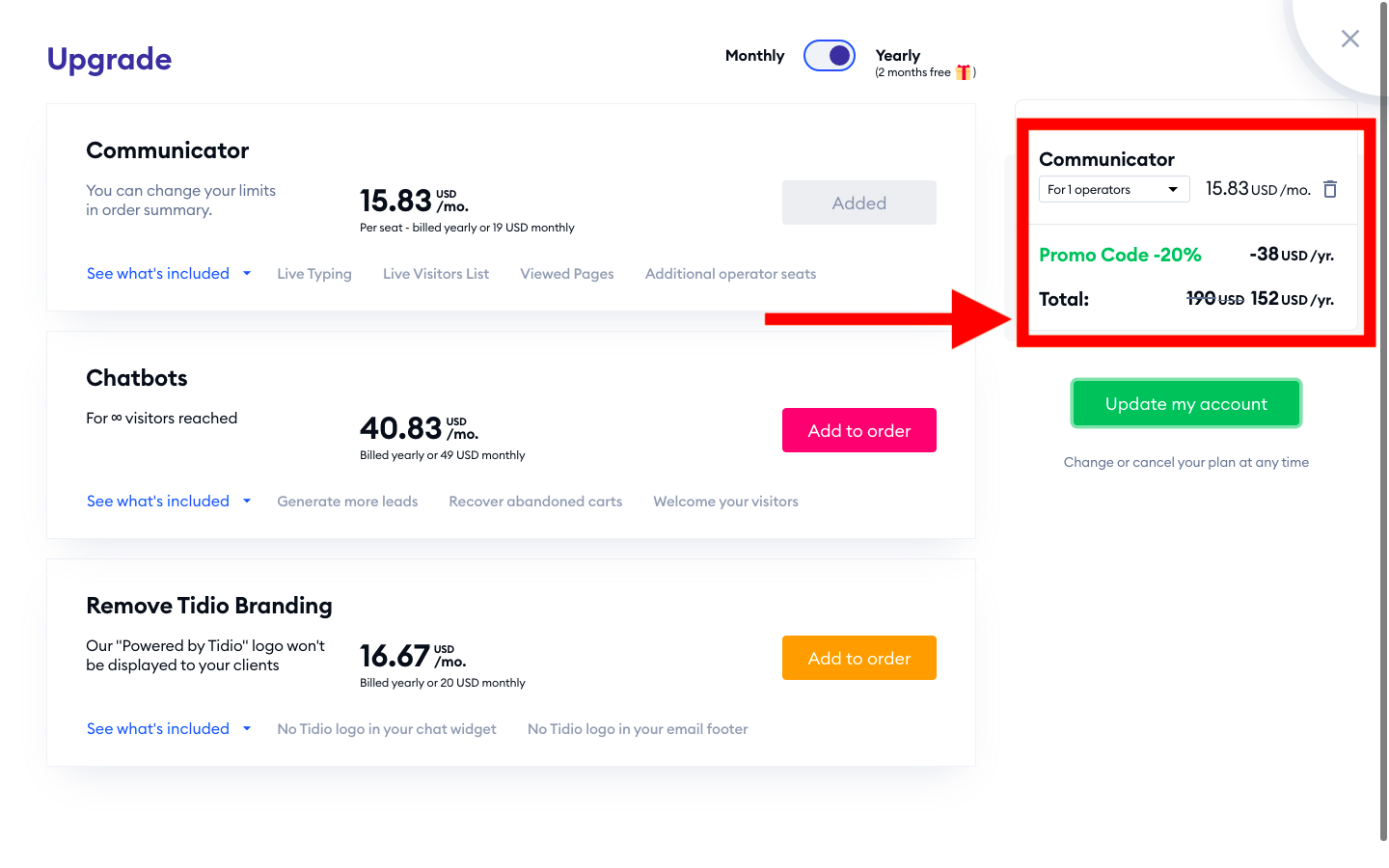 9. You can then click the "Update my account" button to go to checkout and complete your payment details.
FAQs
Is Tidio really free?
The Tidio free account includes free live chat for up to 100 visitors a month for up to 3 operators with Tidio branding. You can use this account for free for as long as you like, or you can upgrade to one of the paid accounts to get access to the Tidio chatbots and other features. You'll also get a 7-day free trial of all premium features when you sign up for an account.
What is Tidio chat used for?
You can use Tidio live chat and chatbots for customer support, sales, and marketing. You can use it to answer customer questions in real-time, recover abandoned carts, increase conversion rates, and generate leads.
How much does Tidio cost?
Basic branded Tidio live chat is free. The Tidio Comminciator package starts at $15.20 a month if you use our link to get your 20% discount coupon code. The Chatbots package, which includes all the premium features of Tidio, is priced at $49 a month, and you can get 20% off with our coupon. You can also buy additional user seats and combine Tidio plans to get the features you need.
How many messages can I send each month with Tidio?
There is no limit on the number of messages you can send with Tidio. However, the free account limits you to chats with up to 100 visitors each month.
Can I add Tidio to more than one website?
Yes. You can use the same Tidio account on multiple websites. Just install the Tidio code snippet on each site that you want to use it on. However, the widget will share the same appearance and behavior settings across all sites you use it on.