Do you need a logo for your website or business? Want to create a more cohesive look and feel for your brand across your social media channels and website? We're currently offering Design Bombs readers 25% off all premium memberships to Tailor Brands, which includes a suite of branding tools, social media tools, a website builder, and a logo maker.
If you're ready to sign up to Tailor Brands, go to https://studio.tailorbrands.com/login and click the "new user" link to create a free account. Once you've signed up for a free account, you can upgrade to a premium plan. Make sure to enter "designbombs" as your coupon code when you checkout to get the best price. There are detailed full instructions with screenshots for how to use the coupon code at the end of this post.
Not sure what Tailor Brands is or if it's worth signing up? Keep reading for our full introduction to this fantastic suite of tools!
What is Tailor Brands?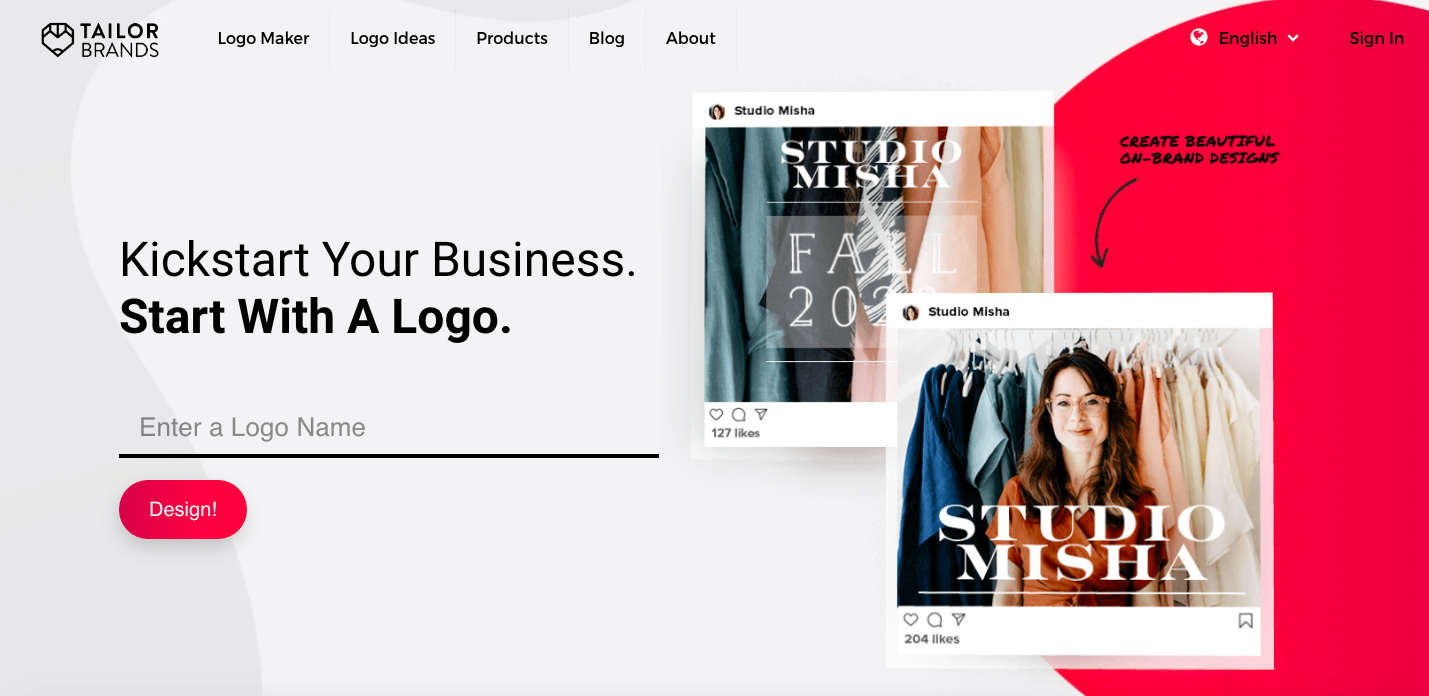 Tailor Brands is an AI-powered platform for logo creation and branding. By using their suite of easy-to-use branding and tools, you can easily create your own logo, business deck, business cards, presentations, social media posts, and other designs without any design skills or experience.
Tailor Brands also includes social media tools for you to create and schedule your posts on Facebook, Twitter, Instagram, and more, with advanced analytics to optimize your social media campaigns and build engagement with your audience.
You can even build your own website from scratch with Tailor Brands. When you upgrade to a premium account you'll get access to the website builder tool, which can help you create a professional website with no coding skills required.
If you want to have a look around Tailor Brands before committing to a premium membership, you can sign up for a free account.
With the free account, you can create and edit logos, create social themes from templates, create a website from a template, or using AI (you'll need to upgrade to publish it). You can also easily order products such as t-shirts, mugs, and stickers with your new logo via Zazzle.
It's well worth signing up and having a play around with the free tools to get an idea of how easy they are to use and how professional the results are.
Tailor Brands Features
Tailor Brands is a lot more powerful than it seems at first glance. It's more than just a logo maker! The features you have access to depends on which plan you subscribe to (see below for more details on plans)
Here are just some of the things you can do when you sign up for Tailor Brands membership:
Use the AI-powered logo tool to create your own logo with no design skills needed
Customize all generated logos as much or as little as you like
Download logos automatically sized for various social media platforms
Browse logo ideas and inspiration, organized by industry
Create branded merch products via Zazzle
Create a professional branded business deck
Design business cards with professional templates
Create seasonal logos for holidays like Halloween and Christmas
Design a branded presentation
Create social posts, ads, and assets from pre-designed templates
Design flyers, posters, and other printed marketing materials
Auto-schedule your social media posts
Analyze the performance of your social posts
Build a website, blog, or online store
Tailor Brands Plans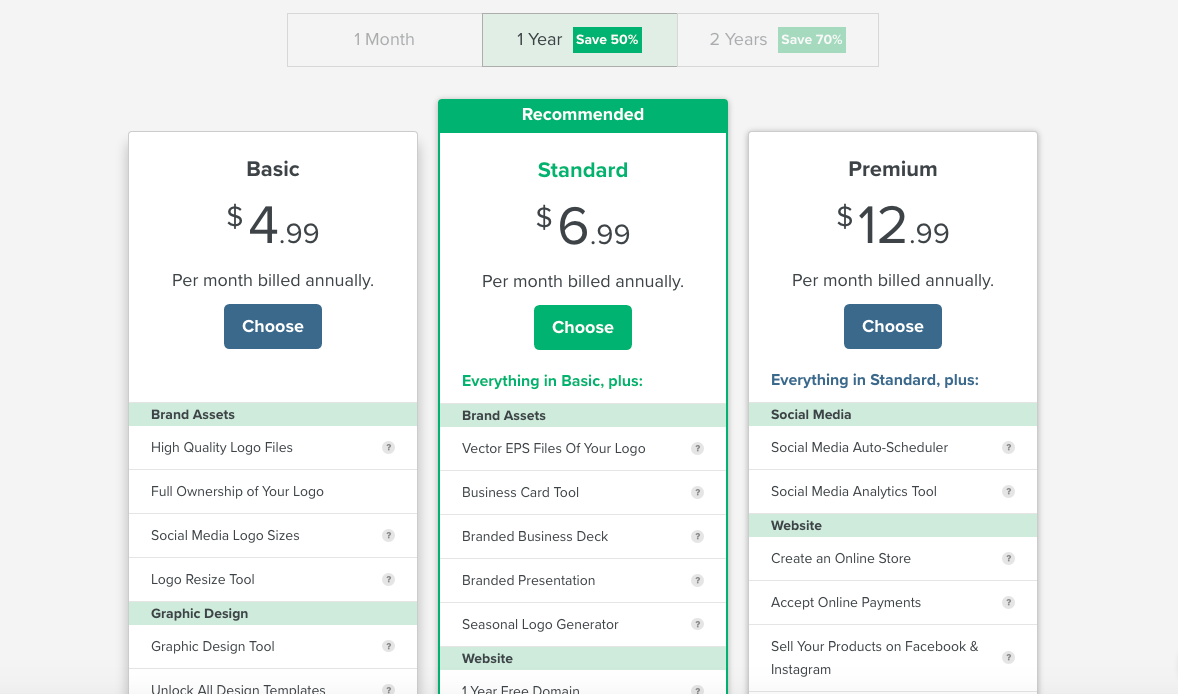 There are three levels of premium membership available at Tailor Brands. All plans are available on a monthly, annual, or bi-annual basis. You'll save 50% if you choose to pay annually or 70% if you sign up for two years in advance.
You can compare the features across each of the three plans in the table below
| | | | |
| --- | --- | --- | --- |
| Plan | Basic | Standard | Premium |
| Monthly Price | From $2.50 (+ extra 25% off with our discount code) | From $4.99 (+ extra 25% off with our discount code) | From $9.99 (+ extra 25% off with our discount code) |
| Logo file downloads | High quality JPG & PNG | Vector EPS | Vector EPS |
| Business card tool | ✗ | ✓ | ✓ |
| Branded business deck | ✗ | ✓ | ✓ |
| Branded presentations | ✗ | ✓ | ✓ |
| Seasonal logo tool | ✗ | ✓ | ✓ |
| Professional graphic design tool with templates | ✓ | ✓ | ✓ |
| Website | Mini 3-page website builder with option to connect your own domain | Full website builder with 1 year free domain, blog tool, Multilanguage support, and visitor personalization | Create an online store, take payments, connect your store to Facebook and Instagram, and add online chat to your site. |
| Social media tools | ✗ | ✗ | Auto-scheduler and analytics |
Tailor Brands Coupon FAQs
Do I need to sign up for a premium account to use Tailor Brands?
No, you get access to the logo maker, design tool, and templates with a free account. However, if you want additional branding tools, social media tools, or to build a website, you'll need to sign up for a paid plan.
I just want a logo. Do I still need to sign up? 
With the free Tailor Brands plan, you can create a logo. However, to download it in high-quality JPG and PNG formats you'll need to upgrade to the basic plan. If you want to download your logo as an editable vector EPS, you'll need to sign up for a standard plan.
You retain all rights for the usage of your logo even after your subscription has ended so if you really just want to make a logo and don't want to take advantage of any of the other branding and design tools, you can just sign up for one month.
Do I get unlimited logo designs? 
The Tailor Brands plans are designed to help you to plan all your online marketing and branding around your logo, so each different logo will need its own subscription.
However, you can make as many edits to your original logo as you wish.
Can I upgrade my subscription after purchasing?
Yes. If you decide you need some of the features in a different plan after signing up, you can upgrade your account instantly via your dashboard at any time.
How to Use the Tailor Brands 25% Off Coupon
You need to sign up for a free account with Tailor Brands before you can upgrade to a paid plan. You can start designing right away to get an idea of the logos that the tool will come up with for you, or you can create an account first.
Go to tailorbrands.com and enter a name for your logo (this should be the name of your business).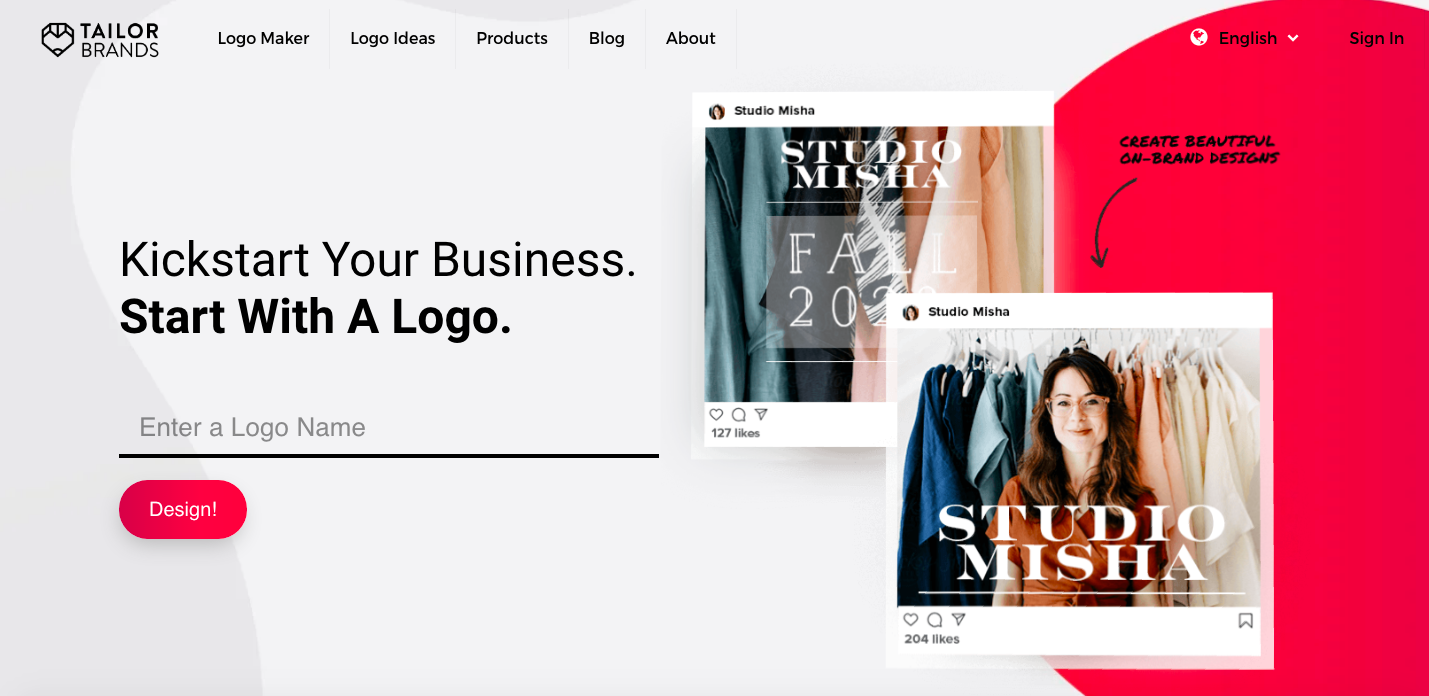 If you want to skip the logo creation process and go straight to your account, click the "Sign In" link on the top right, click the "New User?" link and either sign up with your Facebook or Google account or with a username and password. You'll be taken straight to your studio dashboard where you can see logos you've already created and create new ones.
If you choose to create a logo before creating your account, continue clicking through the design wizard. You'll be asked for an optional tagline, the type of business the logo is for, the type of logo you want, and your favorite font styles.
The tool will then ask you to sign up or sign in before showing you the designs it's come up with.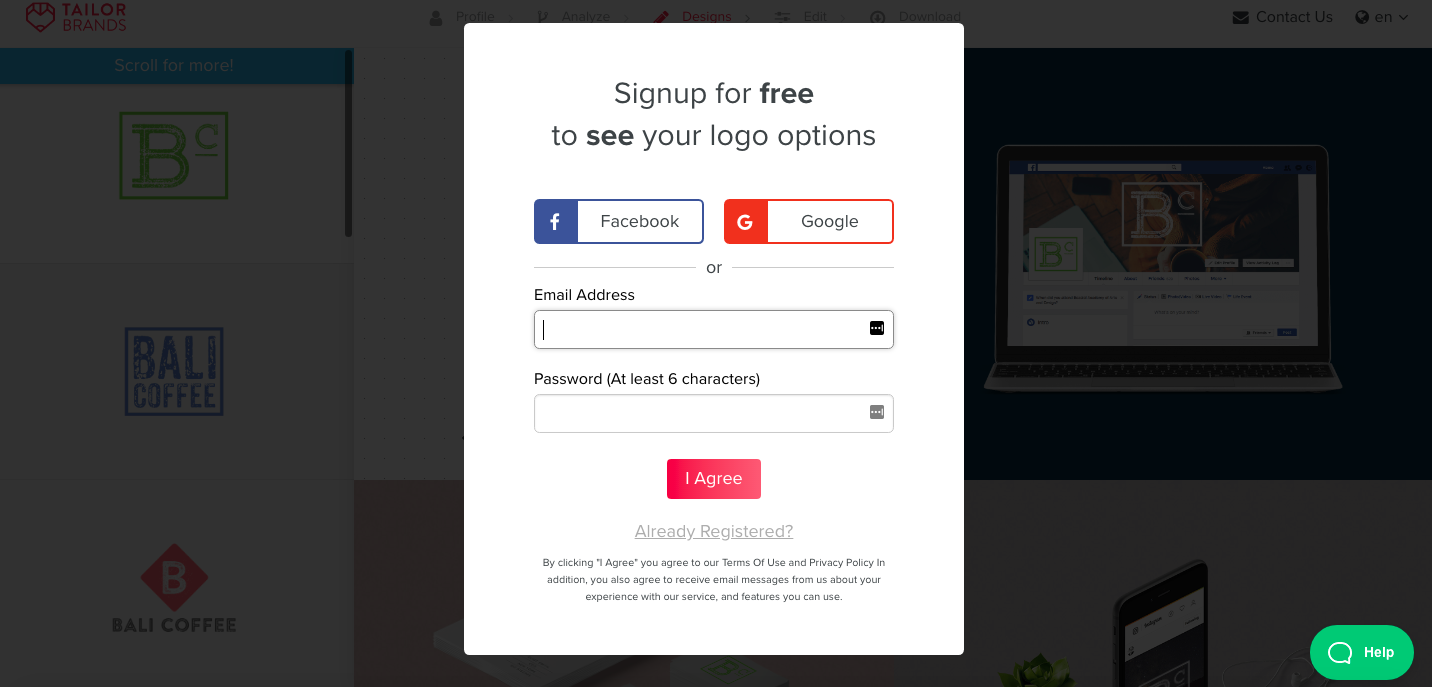 After entering your email and desired password or signing up with one of your social media accounts, you can choose a logo and edit it if you wish. When you're happy, click the "love it" button to be taken to your personal "branding studio".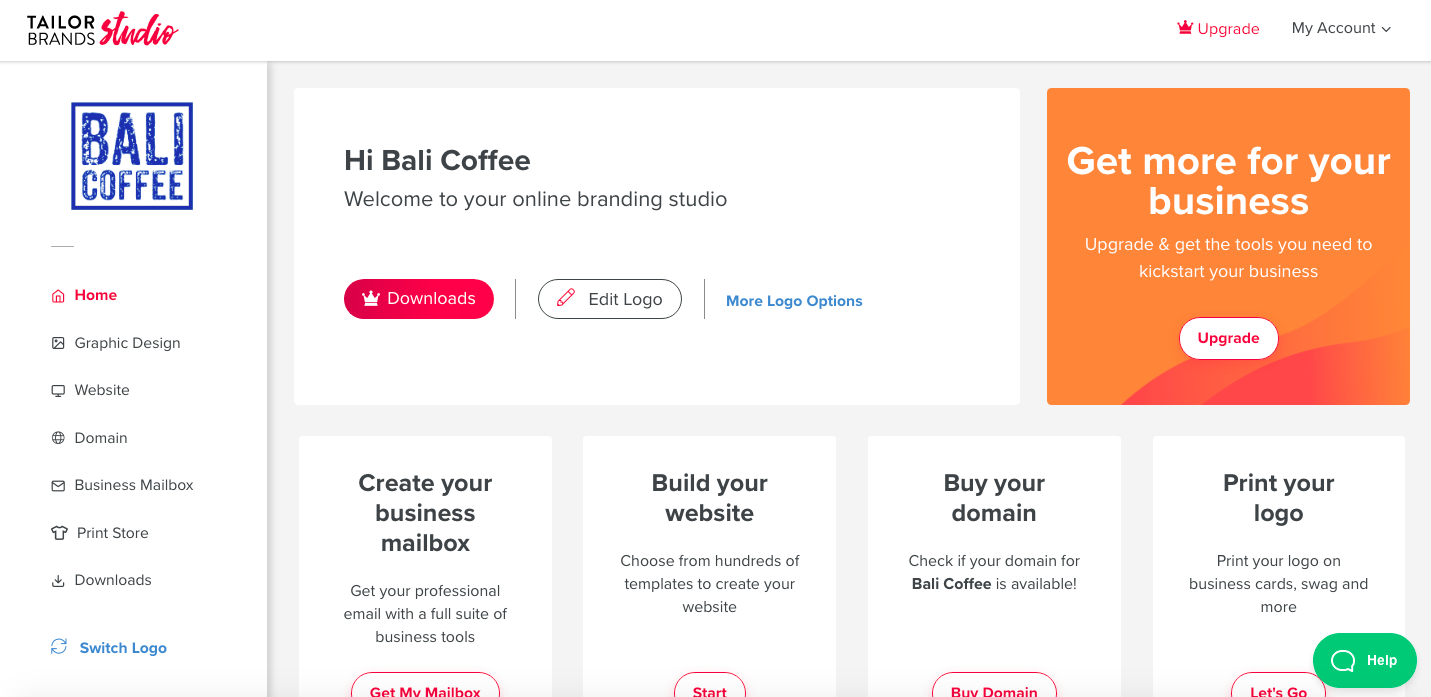 From here you can have a look around at the available tools. While some tools, such as the graphic design tool, are available to free accounts, others will prompt you to upgrade your account.
You can also sign up for a paid plan at any time by clicking the "Upgrade" link on the top menu.
On clicking Upgrade, you'll be taken to a page where you can choose your plan and payment schedule.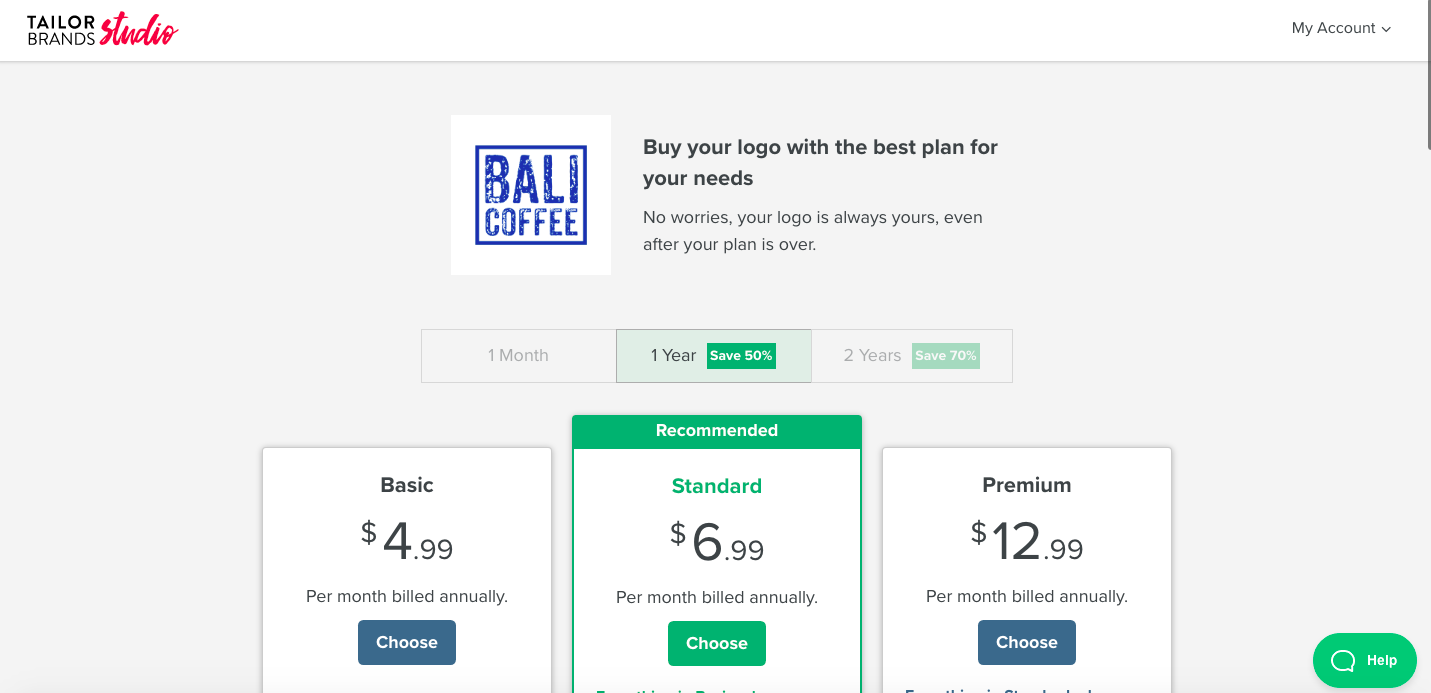 When you click the "Choose" button on your chosen plan, you'll be taken to checkout. Make sure to enter "designbombs" as the coupon code and click the "apply code" button to get your 25% discount.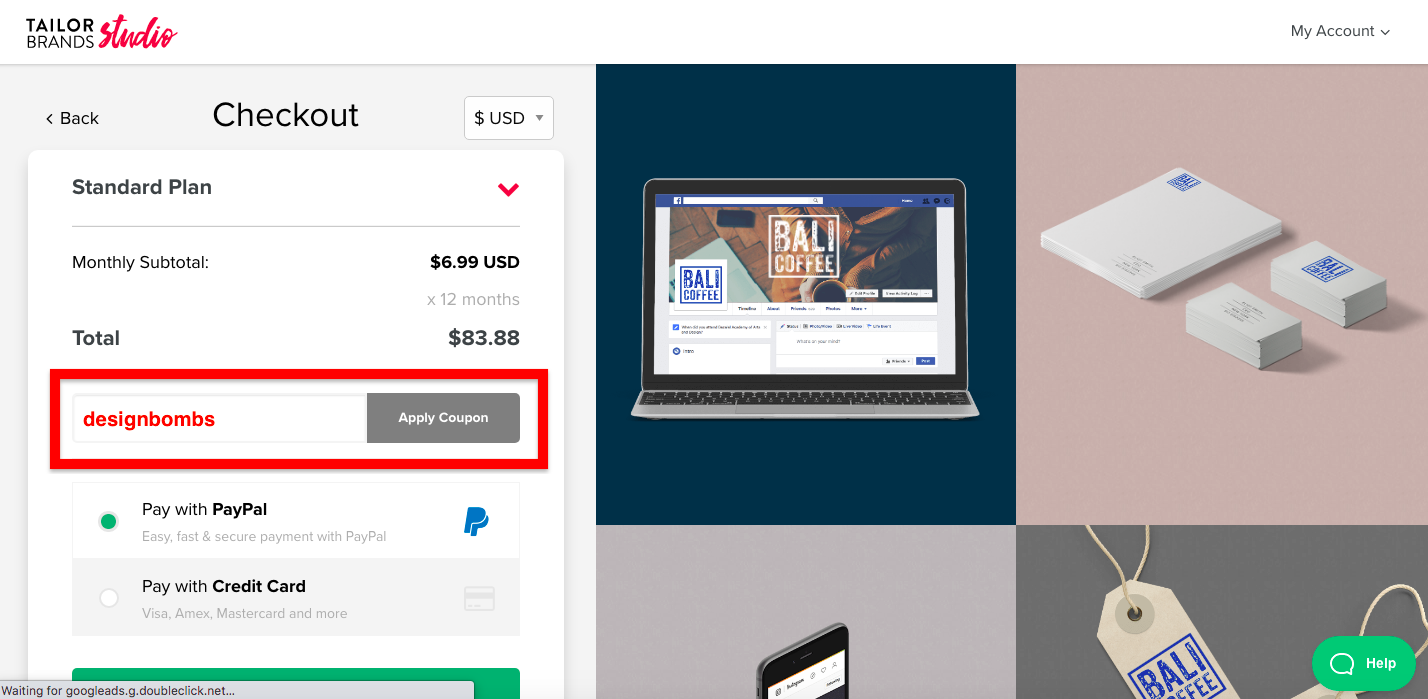 You can then choose to pay with either PayPal or credit card and complete the checkout process.