Running your own affiliate program is a fantastic way to generate additional revenue for your eCommerce business and build buzz around your brand.
Solid Affiliate is one of the best affiliate plugins for WooCommerce, making it easy to manage your affiliate program within WordPress.
We've scored Design Bombs readers 20% off any of the Solid Affiliate pricing plans, so whether you're just getting started or you're running a successful business with multiple stores; you can launch your affiliate program with ease.
To get your 20% discount, just click this link to go to Solid Affiliate and use the coupon code "designbombs" when you purchase any of the subscription plans.
If you want to learn more about the Solid Affiliate plugin and its features, keep reading for a brief overview.
What is Solid Affiliate?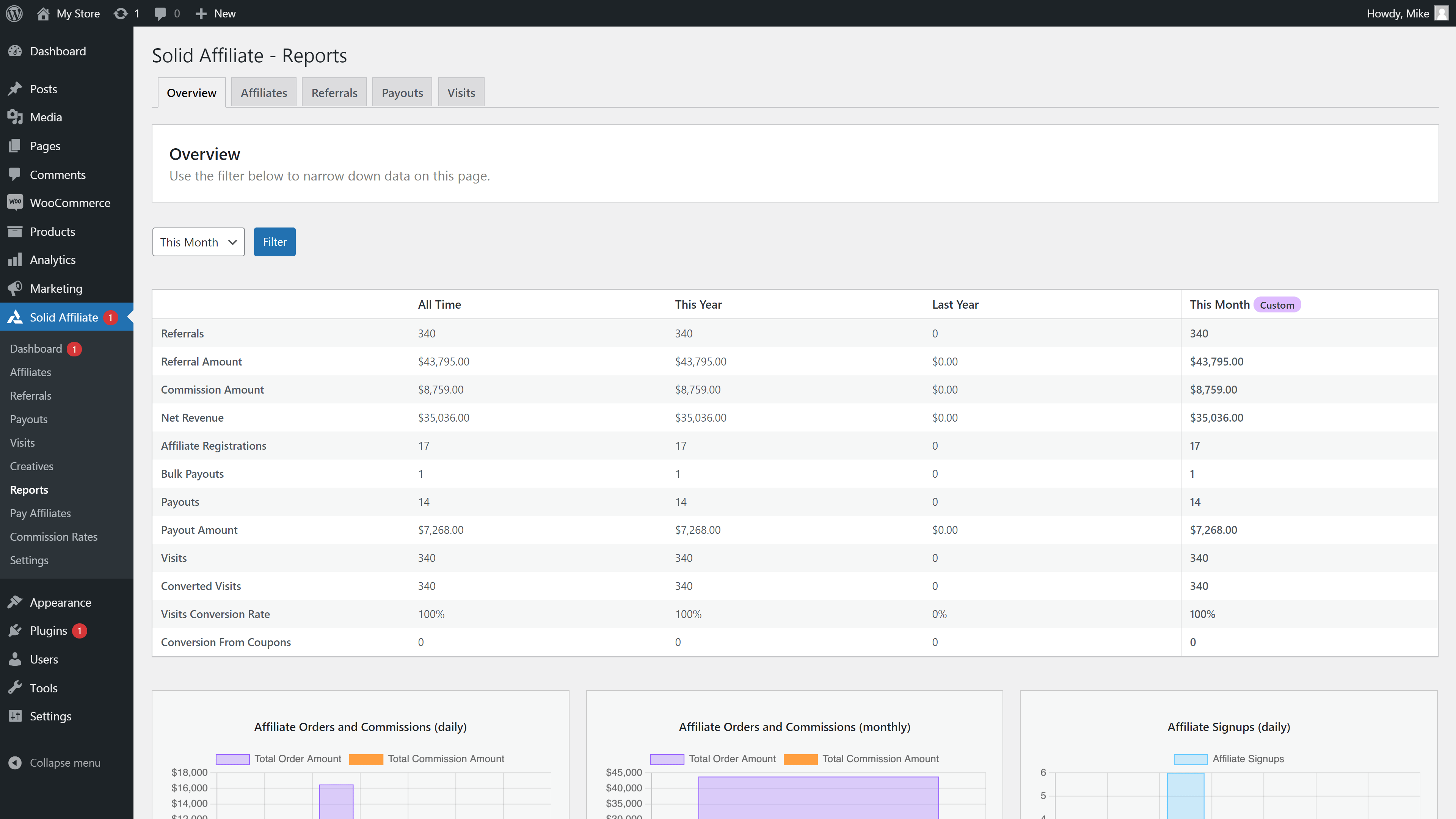 An affiliate program is a way to generate more sales for your digital and physical products and services by offering a commission to people who refer customers to you from their own websites or social media platforms.
Running an affiliate program can be a very effective marketing strategy, but it can also be a lot of work to manage manually. That's where the Solid Affiliate plugin comes in.
Solid Affiliate is a WordPress plugin that makes it easy to set up and manage an affiliate program for your WooCommerce store. With Solid Affiliate, you can automate many of the tasks associated with running an affiliate program, such as:
Registering affiliates

Tracking referrals

Calculating commissions

Generating affiliate links

Managing coupon codes

Paying affiliates
The Solid Affiliate plugin works by tracking referrals from your affiliates and calculating commissions based on the sales that they generate. When a customer clicks on an affiliate's link, a cookie is placed on their computer that tracks the referral. If the customer makes a purchase within a specified time period, the affiliate will receive a commission on the sale.
Solid Affiliate also offers an affiliate management system that allows you to register affiliates and manage their accounts from within WordPress. You can view statistics about your affiliates' referrals and commissions and send payments to affiliates via PayPal.
Solid Affiliate Plugin Features
Solid Affiliate includes all the tools you need to get your affiliate program up and running within just a few hours.
The plugin includes a smart step-by-step setup wizard that walks you through the entire process of setting up your affiliate program, and as everything is natively integrated with WordPress and WooCommerce, there's no need to worry about compatibility issues.
Once you've got the plugin up and running, you can explore all the features from the easy-to-use management dashboard.
One-click affiliate portal creation

Product-specific commission rates

Configure affiliate settings directly from WooCommerce

Affiliate coupon tracking

Commissions for subscription signups and recurring renewals

Detailed breakdown of how the commission was calculated from orders containing multiple products with different commission rates

One-click affiliate payments with Paypal Payouts

Payout reminders and notifications

Automatic or manual payments

Affiliates can self-register and manage their accounts

Affiliate statistics

Percentage-based or flat rate commissions

Exclude products from commission

Affiliate groups
Essentially, there's everything you need to get your affiliate program up and running smoothly, and with our 20% discount, there's never been a better time to try Solid Affiliate.
Solid Affiliate Pricing
Solid Affiliate offers three levels of membership plans, each with different features and price points. The main difference between the plans is the number of sites they support. If you want to use Solid Affiliate on just a single site, the Personal plan will probably suit your needs. For multiple sites, you'll want to choose either the Expert or Professional plan.
All the plans offer:
Unlimited affiliates

Unlimited conversions

Unlimited creatives

All add-ons

One year of support and updates
Personal
The Personal plan is currentl priced at $149 per year ($109.20 with our 20% discount coupon code.)
License: single site
Expert
The Expert plan is currently $199 a year ($145.20 with our 20% discount coupon code.)
License: 3 sites
Professional
The Professional plan is currently priced at $299 a year ($219.20 with our 20% discount coupon code.)
License: 10 sites
How to Use the Solid Affiliate Coupon Code
There's no code needed to get your 20% off any subscription to the Solid Affiliate Plugin. Just follow the steps below to make sure your discount is applied:
1. Click this link to visit the Solid Affiliate website.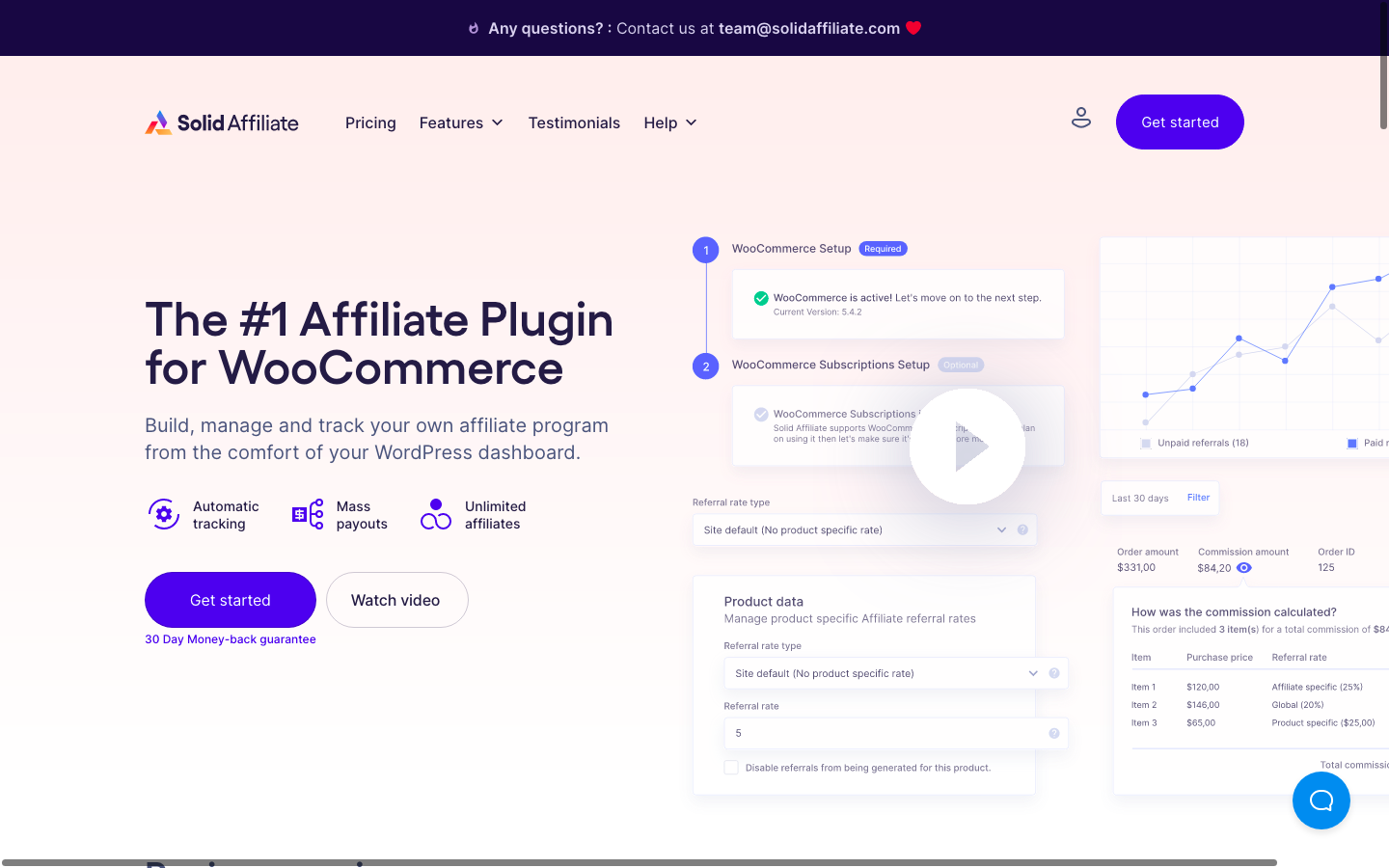 2. Click the blue "Get started" button to go to the pricing page.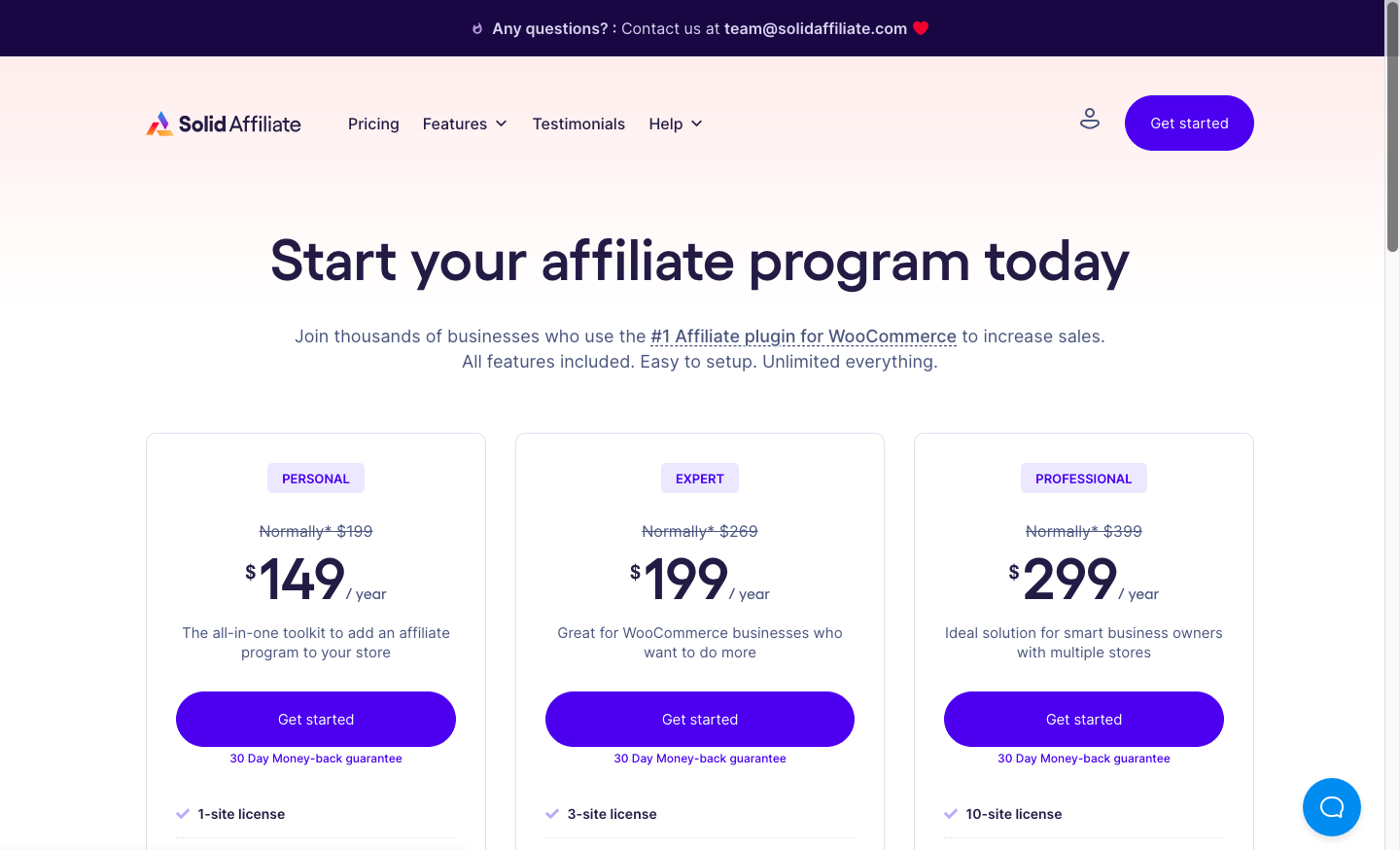 3. Choose your pricing plan and click "Get started" (check out our description above of what's included in each plan if you're not sure which one to choose.)
4. On the checkout page, click the link that says "click here to enter your code" and enter the code designbombs. Click the "Apply" button. You should see a message that the coupon code has been applied.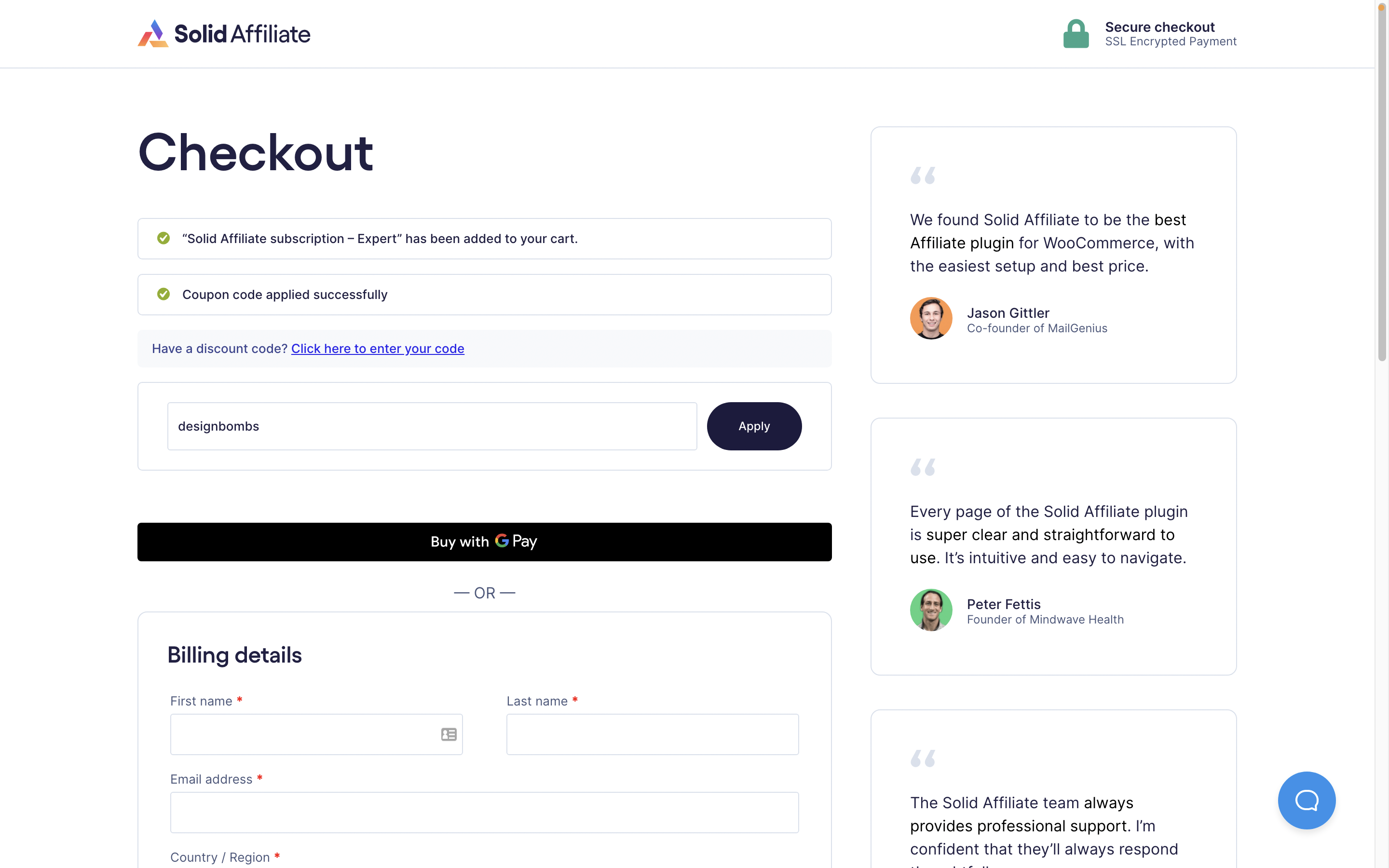 5. Scroll down to the bottom of the page to check that your 20% discount has been applied. You should see the "designbombs" coupon listed and the price of the plan you chose is reduced by 20%.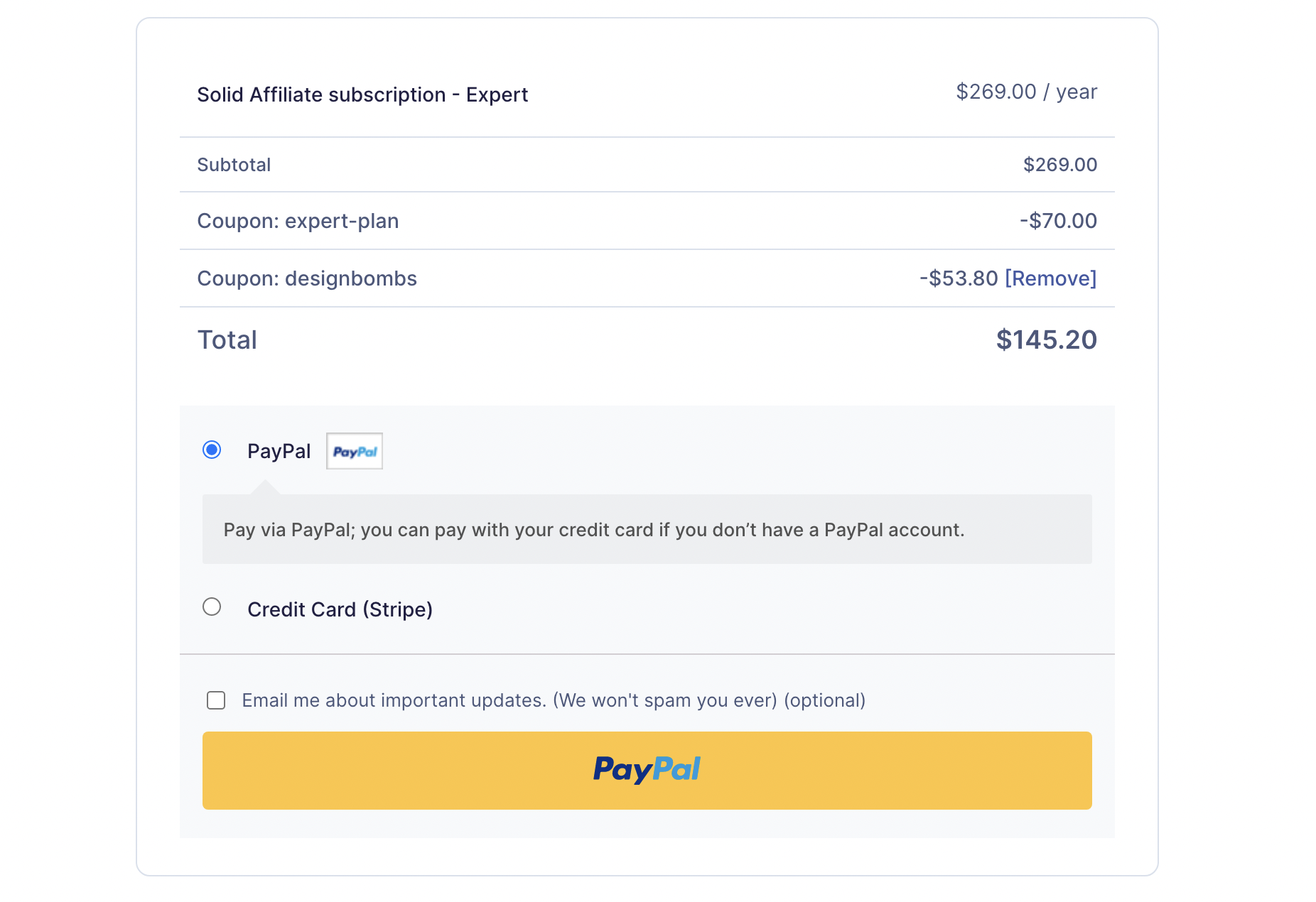 6. Fill out your personal details and payment information. Complete checkout to make your purchase.
FAQs
What is the best affiliate plugin for WordPress?
While there are many great affiliate plugins available for WordPress, we believe that the Solid Affiliate Plugin is one of the best. It's easy to use and includes everything you need to get started with an affiliate program for your business.
Can I use Solid Affiliate on multiple websites and stores?
If you have purchased a multi-site license for Solid Affiliate (Expert or Professional subscription plans), you can use it on multiple sites, including client sites. You can manage the websites you want to use the plugin on in the "Manage Licenses" section of your account dashboard.
Do I need the WooCommerce plugin to use Solid Affiliate?
Yes, Solid Affiliate is built to work natively with WooCommerce, and at this time, the plugin doesn't work with other eCommerce platforms. However, the developers are planning to add support for other platforms in future versions of the plugin.
Does Solid Affiliate work with WordPress Multisite?
Yes, Solid Affiliate will work on any WordPress Multisite installation.
What plugins does Solid Affiliate integrate with?
Solid Affiliate integrates out of the box with WooCommerce, WooCommerce Subscriptions, and WooCommerce Coupons. The development team is also working on adding integrations with popular SaaS platforms and other WordPress plugins.