Recipe Card Blocks Pro is a recipe card plugin for WordPress perfect for food and lifestyle bloggers.
It adds structured data, or Schema.org markup, to your recipe posts, making it one of the simplest ways to boost your blog's SEO competitiveness while also improving user experience for your readers. It comes with multiple recipe card styles. However, each card includes a photo of the recipe, a description, recipe categories, details on servings and prep/cook times, social share buttons, an ingredient list, and instructions.
How to Use the Recipe Card Blocks Pro Coupon Code
Getting your hands on this 15% discount for Recipe Card Blocks Pro is simple. Check it out:
Click the button above to copy the coupon code. You'll be redirected to the plugin's website.

On the Pricing page, click Buy Now on the plan you want to purchase.

Click on the arrow to the right of where it says

"Have a discount code?"

to reveal the

coupon code box

.

Paste your code in the box, and click Apply.

Enter your payment and personal information to complete your order.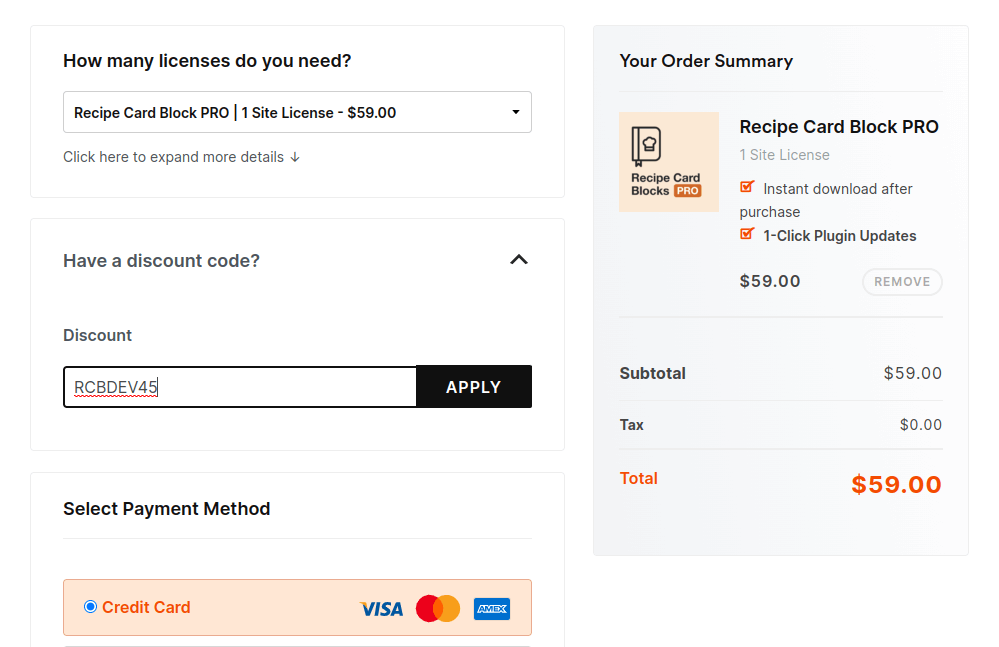 Recipe Card Blocks Pro Pricing
Here are Recipe Card Blocks Pro's prices without coupon codes:
Personal

– €59/year for 1 site

Extended

– €99/year for 3 sites and priority support

Professional

– €179/year for 10 sites and priority support
If you purchase the Personal or Extended license and want to upgrade to a higher tier, you will only need to pay the difference between the original license you purchased and the one you want to upgrade to. This rule only applies within the first 30 days of purchase.
All plans are also backed by a 14-day, money-back guarantee if you're not satisfied with the plugin.
Does this plugin include schema markup?
Yes, Recipe Card Blocks Pro includes structured data in its code.
This means if your recipes appear in search results, the following data will also appear in the snippet for your result:
Average user rating

Cook time

Preview of ingredients
Google includes these details in results to provide better search results for recipe-based queries.
Including these details in your own recipe posts will help them rank better.
Will Recipe Card Blocks Pro work with my theme?
Yes, this plugin works with all WordPress themes.
However, it's owned by theme developer WPZOOM, who designed the plugin with their own food blog themes in mind. The most popular theme from this collection is Foodica.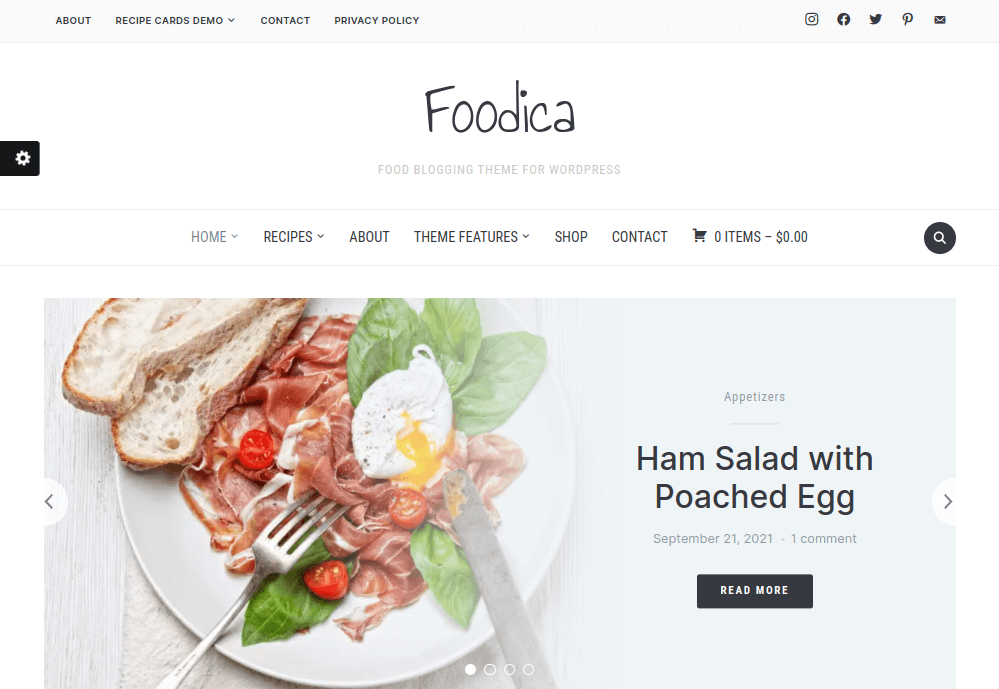 This food blog theme features an elegant style, social media icons, multiple color schemes, an Instagram widget, fullwidth pages and plenty of customizer options. Any recipe you view in the theme's demo was built with Recipe Card Blocks Pro, so the recipe card design pairs well with the theme's overall style.
Is Recipe Card Blocks Pro compatible with page builder plugins?
Recipe Card Blocks Pro was designed for the Gutenberg/block editor in WordPress, and it's also compatible with Elementor.
For the block editor, it comes with several blocks you can add to any post or page:
Recipe Card:

Add a complete recipe card to your post.

Ingredients:

Add only a list of ingredients to your post.

Directions:

Insert only instructions for your recipe.

Details:

Include only a row of information on serving size, prep time, cook time and calories for your recipe.

Jump to Recipe:

Add a button to your post that allows the reader to skip right on over to the recipe card on your page.

Print Recipe:

Give readers a quick way to print your recipe.

Nutrition:

Add a nutrition facts table to recipe posts.

Recipe Summary:

A small box that includes quick details about your recipe.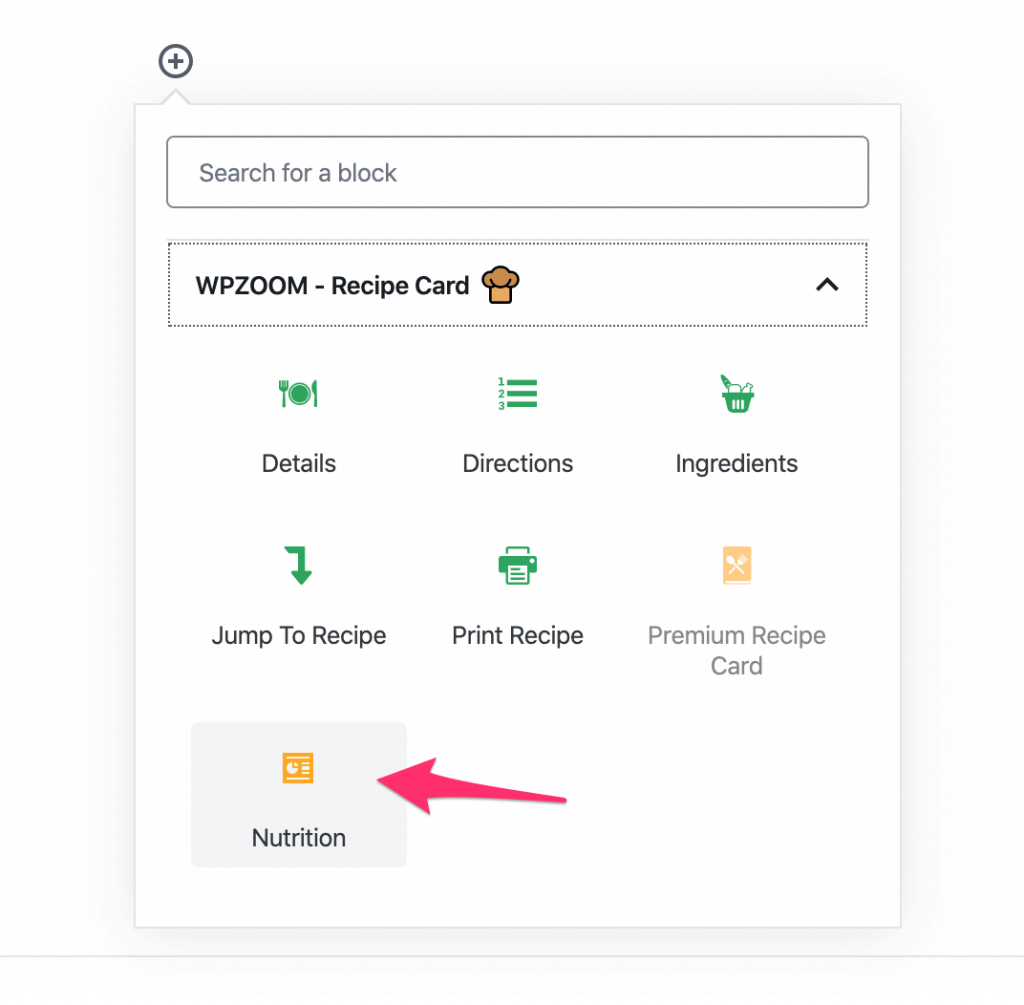 In Elementor, this plugin adds a widget called "Recipe Card Block." It's located under its own category labeled "WPZOOM – Recipe Card."
Both versions of the recipe card block have customizable settings. Choose whether or not to display Print and Pinterest buttons, add an image or leave this setting blank, define alignment rules, and more.
Does the developer provide support?
Yes, the developer provides active support via a ticket system. Customers who purchase the Extended and Professional plans will have their tickets prioritized in this system.
Recipe Card Blocks Pro's website also contains a thorough documentation and many tutorials that teach you how to use the plugin.
What happens when my license expires after 12 months?
The plugin will still operate as normal, and nothing will happen to the recipe cards you've added to your website.
However, without an active license, you do not have access to plugin updates or support nor can you download the plugin to reinstall it or add it to a new website. This means you will not have access to future security patches, bug fixes and feature additions.
You'll receive an email close to your license's expiration date reminding you to renew it. This email contains a link that makes it easy to renew. If you log into the plugin's website, you'll also find this link on the Licenses page in the members area.
How many recipe card styles are there?
Recipe Card Blocks Pro comes with four recipe card styles and three color presets, plus the ability to choose your own color scheme with a color picker tool.
The Default style features a large header image and a colored background behind the ingredients list.
The New Design style features a similar design, except there's no background color behind the ingredients list. Plus, the Print and Pinterest buttons feature a soft glow around their borders.
With the Accent Header style, the header section features a colored background rather than an image. The recipe's image appears as a smaller image overlay over the top of the header section instead. The header section also includes the recipe's title, description, Print and Pinterest buttons, rating, and labels.
The Classic style is similar to the Accent Header style, except the image and Print/Pinterest buttons appear on the left-hand side of the header section while everything else appears on the right.

Each recipe card is interactive as well. Your readers will be able to adjust serving sizes and have the amount of ingredients increase or decrease accordingly, check off ingredients as they source them, rate your recipes, and leave comments.
You can also add image galleries to the directions section of your recipe.
Does the plugin add new taxonomies to WordPress?
Yes, Recipe Card Blocks Pro adds three new recipe-related taxonomies to WordPress:
Course

– Specify the time of the day this recipe is usually eaten.

Cuisine

– Define what part of the world this recipe originates from.

Difficulty

– Specify how hard or easy this recipe is to make.
Just like categories and tags in WordPress, you can create your own labels for these. So, if you don't like "Easy, "Medium" and "Hard" for Difficulty, use "Beginner," "Intermediate" and "Expert" instead.
You can also add food label "stickers" to recipe cards. The following food labels are available in Recipe Card Blocks Pro:
Vegan

Gluten Free

Dairy Free

Palm Oil Free

Sugar Free

Phosphate Free
What's a recipe index?
A recipe index is a page your readers can use to browse the recipes published on your site by category. It's similar to the Blog page on your WordPress site.
Recipe archives organized by ingredient/cuisine/difficulty will be coming to Recipe Card Blocks Pro in the future, but WPZOOM have created a workaround in the meantime.
By combining Elementor with the free WPZOOM Addons for Elementor plugin, you can create a recipe index page in a few short minutes with the plugin's Recipe Index template for Elementor.
It has a fullwidth option, but it includes a sidebar your readers can use to filter recipes.
What social media features does this plugin have?
All recipe card styles have the ability to insert Print and Pinterest buttons on them. Naturally, these buttons enable readers to print your recipes in full and share them on Pinterest.
Recipe Card Blocks Pro also includes calls to action optimized for social media. They work for Instagram, Facebook and Pinterest and encourage readers to share your recipes on social media in various ways.
An example from WPZOOM for Instagram reads, "Did you make this recipe? Tag @wpzoom on Instagram, and hashtag it #wpzoom."
WPZOOM have even optimized the plugin for Pinterest's rich pins feature. Rich pins are organic pins that sync with data on your website and update automatically as you apply changes to synced data. For recipes, rich pins display titles, serving sizes, cook times, ratings, diet preferences and ingredient lists.
What other plugins does Recipe Card Blocks Pro support?
Recipe Card Blocks Pro is compatible with the following third-party plugins:
Elementor

– Adds a Recipe Card widget to this page builder plugin's library.

WPML

– Translate your recipes into multiple languages.

AMP and AMP for WP

– This plugin supports the official AMP plugin developed by WordPress as well as the ever popular AMP for WP. You can even view a preview of an AMP-enabled page in the plugin's demo. If you view the demo on a smartphone-sized window (or your actual smartphone), you'll see how WPZOOM have optimized the plugin's recipe cards for smaller screen resolutions.