Looking for premium mockup templates that you can use for your professional or personal projects? We're currently offering a 30% discount on all Mockup Cloud purchases to all Design Bombs readers.
Want to take advantage of this awesome discount? Simply head over to Mockup Cloud and enter code CLOUDBOMBS30 at checkout.
Want to learn more about Mockup Cloud? Read on to find out all the details.
What is Mockup Cloud?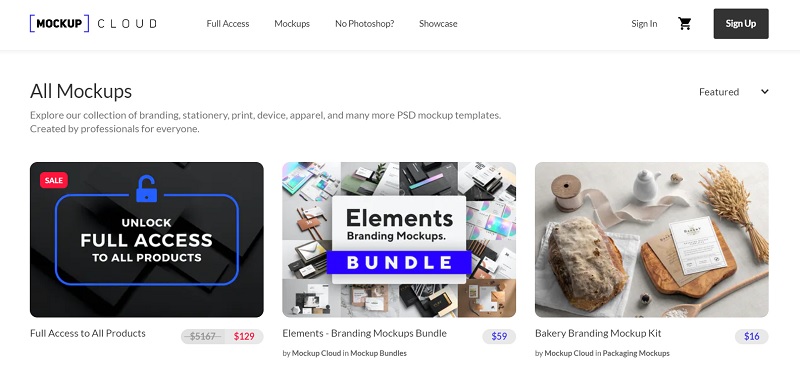 Mockup Cloud is a website dedicated to providing high-quality, professional mockups. The site features a wide selection of free and premium templates that are suitable for any business.
There's a mockup template for just about anything, from apparel, to craft beer packaging and more.
If you're just getting your business off the ground and need to create high-quality branding material before your products are finalized, Mockup Cloud is the site for you.
Mockup Cloud is a favorite amongst new wave coffee brands like Roasi and cosmetics companies like Nova Cosmetics.
After downloading the templates, you can use Adobe CC products such as Photoshop to edit and customize them to include your own business branding elements. Using mockups can really help to save time and reduce the cost of hiring professional photographers and graphic designers.
Mockup Cloud Pricing 
Mockup Cloud has both free and premium templates available. You can purchase your mockup templates individually for one set price, or you can purchase the full access membership.
The full access membership includes lifetime access to over 5000 mockup templates on the site. The template database is ever-expanding, and the full access membership will give you access to new templates too for $129.

Unless you're running a branding business, you may only need access to one or two different mockups. Prices for individual mockups start at around $8. If you choose to purchase a mockup bundle, prices range from around $20 – $60. However, by using code CLOUDBOMBS30 at discount, you can get an extra 30% off making a $59 bundle just $41.30.
Mockup Cloud Coupon FAQs
Q: Who is Mockup Cloud for?
A: Mockup Cloud is perfect for businesses that want to give their branding a professional edge. If you don't have the budget to hire your own graphic designer, you can use Mockup Cloud templates to create ultra-professional visual content without spending too much money.
All of the mockups on Mockup Cloud are created by highly skilled graphic designers and are stylish and in keeping with current branding trends.
Q: Which plan should I choose?
A: Mockup Cloud offers lifetime access for a set fee, which is useful for companies that need access to a lot of different mockup bundles. However, if you just need mockups for one project, we recommended choosing one or two bundles that are suitable and taking advantage of the Design Bombs 30% discount coupon.
Q: Can I get a free trial?
A: There is no free trial of Mockup Cloud available. However, there are some free mockup templates listed on the site. To find them, hover over the Mockups tab on the site navigation bar and select Free Files.
Q: Is Mockup Cloud compatible with Adobe Photoshop?
A: Yes, all of the templates on Mockup Cloud can be edited using Adobe Creative Cloud products like Photoshop. You'll need the 2019 version of Adobe CC (or higher). Alternatively, you can edit your templates in Mockup Clouds online editor, which is similar in functionality to Photoshop.
Q: Which license do I need to use my mockups for professional purposes?
A: For this, you would need a commercial license. Thankfully, all Mockup Cloud templates come with a personal and commercial license. You can use the template to create as many projects as you like – there's no limit whatsoever.
The only thing to note is that you can't resell or redistribute the templates, use them in on-demand services or merchandise them if you haven't edited or added value to them. Other than that, you're free to use them in any way you like.
Q: Can you upgrade from a regular purchase to a full access plan?
A: Yes, and it's quite easy to do. Simply add the full access plan to your cart, and it will automatically deduct the price of purchases you've already made.
Q: Is there a time limit on downloads?
A: No. When you purchase a template, it's yours for life. The download will not expire, and you can go back into your Mockup Cloud account and re-download your purchases at any time.
Q: How do I download my purchases?
A: Simply go to your account and choose the purchases you'd like to download. Your download will then start automatically. If the file is large it may take some time. The file will download as a .zip and you will need to unzip the file in order to use them in Photoshop.
How to Use the Mockup Cloud Coupon
To use the Design Bombs Mockup Cloud Coupon, simply click here and you'll be directed to the Mockup Cloud site.
Browse the archives and choose the mockups that are most suitable for your brand. When you see one you like, simply hit the add to cart icon.
When you're ready to checkout, click the basket icon in the top right of the page. Review your purchases and enter your payment details. Before your hit pay,  be sure to type CLOUDBOMBS30 in the Use coupon code box.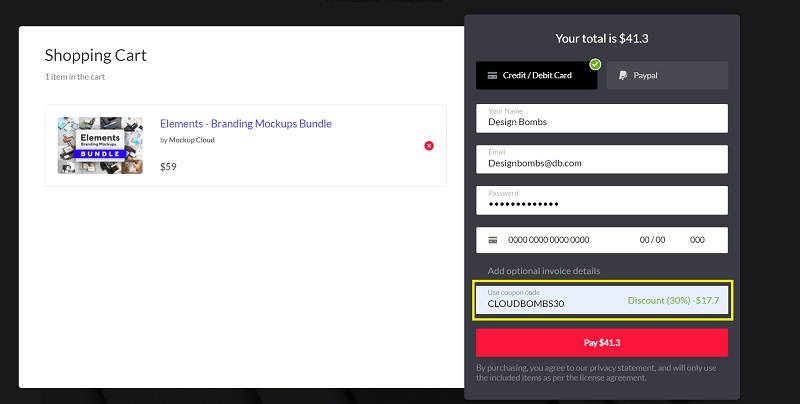 This will automatically apply your 30% discount, and your new, discounted price will be displayed on the red payment button. And that's it!
Don't miss your chance to get 30% off over 5000 professional mockup templates!