If you're a web or app developer, you'll know how important it is to have a well-designed and beautiful user interface for your projects. Flatlogic is a library of professionally designed templates that enables you to build a beautiful web or mobile app in record time.
We're happy to offer Design Bombs readers 20% off all templates and bundles. Just click this link to visit Flatlogic and use the code FLDESIGNBOMBS at checkout to get your discount.
Not sure if Flatlogic can be of use to you? Read on to find out more!
What is Flatlogic?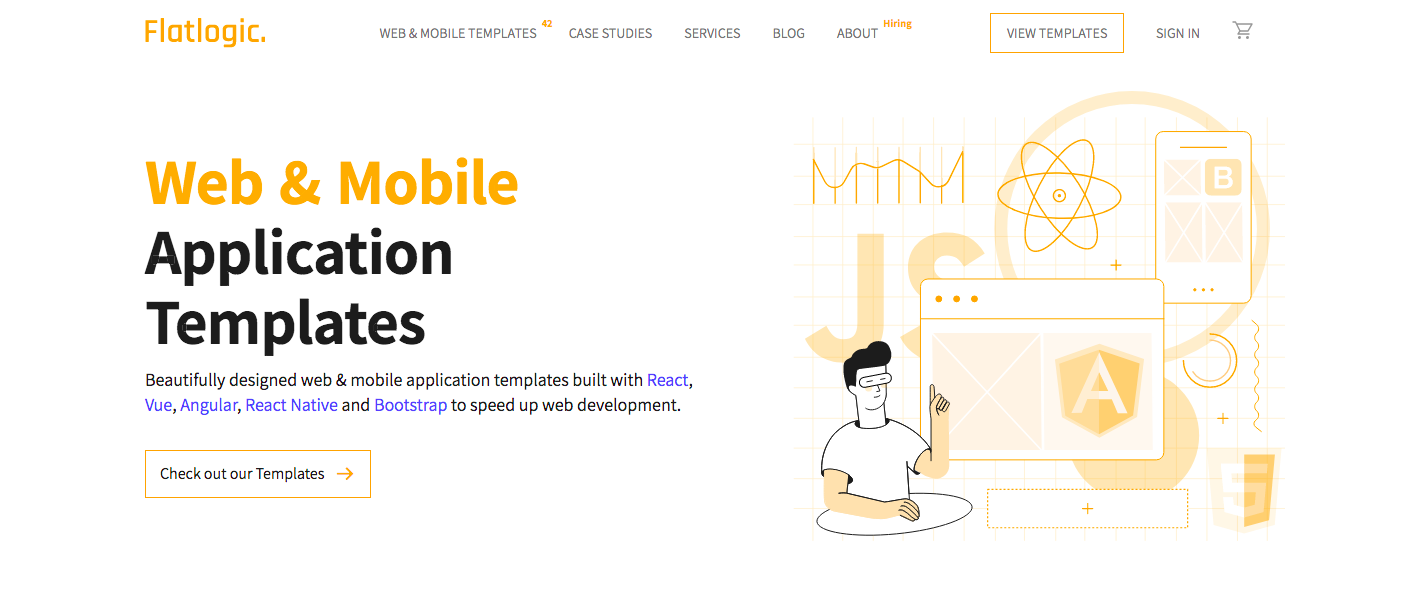 Flatlogic is a library of premium web and mobile templates and admin dashboards built with Vue, Angular, React, and React Native, and Bootstrap.
Using these templates speeds up the process of developing web and mobile applications, SaaS, and e-commerce platforms and means you can have a prototype up and running in one day.
All templates are fully responsive and built by professional developers with the latest front-end technologies.
You have the option to buy a single template or a bundle. Each theme comes with all source and compiled files and is fully customizable. You have full rights to create a project on top of any template you purchase.
All components, build tools, and buttons come with full support documentation, live examples, and demos to get you started.
Flatlogic Templates and Bundles

Individual Flatlogic templates are priced from $99 (there are also some free templates available.)
However, most developers will get more for their money by buying one of the template bundles.
These bundles include:
The All-in-One Bundle – all 11 premium admin and mobile templates including over 1,000 unique components and over 300 pages ($399 for a personal license)
The React Bundle – all 9 premium templates built with React and Node.js
Flatlogic Coupon FAQs
What are the usage licenses?
All Flatlogic templates and bundles come with a choice of two licenses. The personal license is suitable for developing your own personal or free project. The developer license is suitable for building a product for sale. Each license is valid for a single application and you must buy a license for each product you create.
What support is available? 
All Flatlogic templates come with full documentation and demos. If you need additional support from the Flatlogic team this is available via email.
Is there a money-back guarantee?
You can request a refund of your purchase within 24 hours if you find it's not suitable for your needs on inspection.
Will I receive updates?
Updates can be downloaded from Github for 3 months with a personal license and 6 months with a developer license.
How to Use the Flatlogic 20% Off Coupon
To take advantage of our exclusive 20% off Flatlogic discount code, click here to go to the Flatlogic site and create a new account. You can also sign in with a Github account if you have one.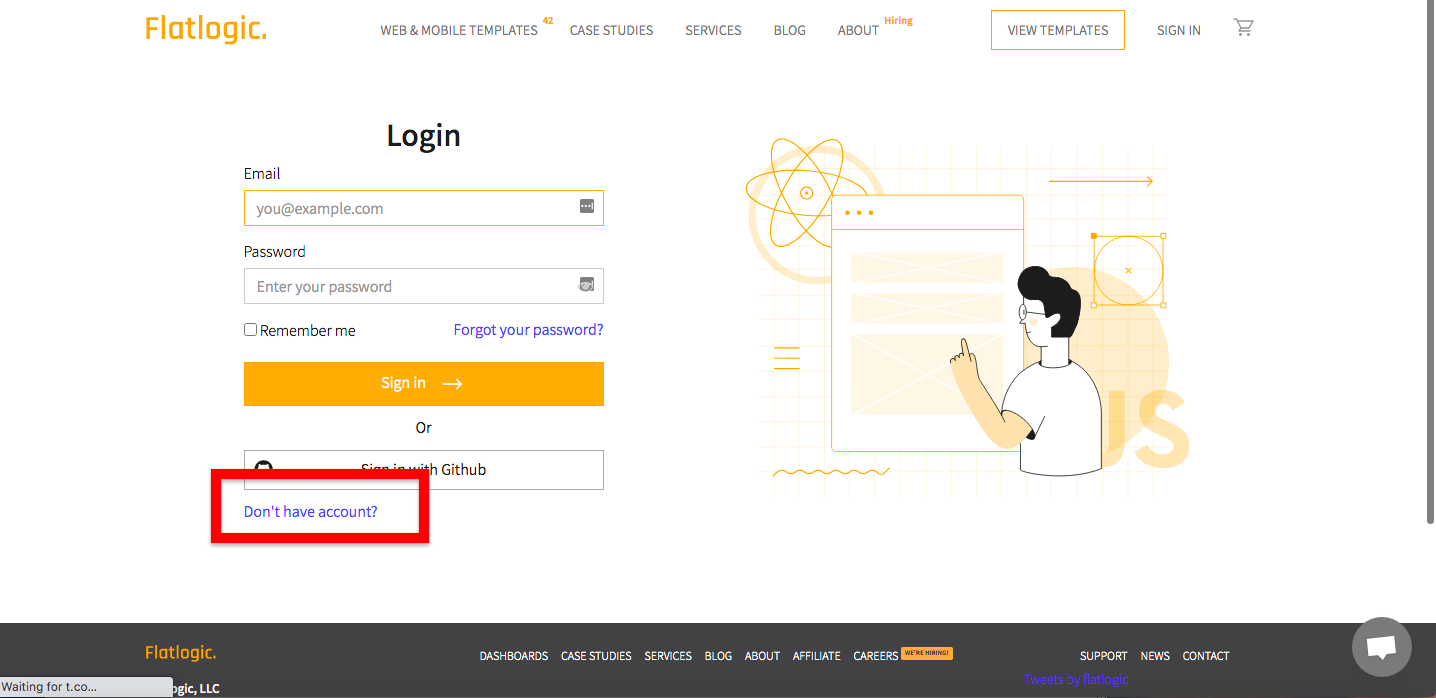 You'll need to confirm your email address before you can log in, so check your inbox for the Flatlogic confirmation email. Make sure to check your spam folder if the email doesn't arrive within a couple of minutes.
Once you've registered an account and confirmed your email, click the "Check out our templates" button to browse the templates and bundles and click the "Details" button of the one you're interested in.
Choose your license and click the red "Buy in 1 click" button. If you want to buy more than one item, click the "Add to cart" button.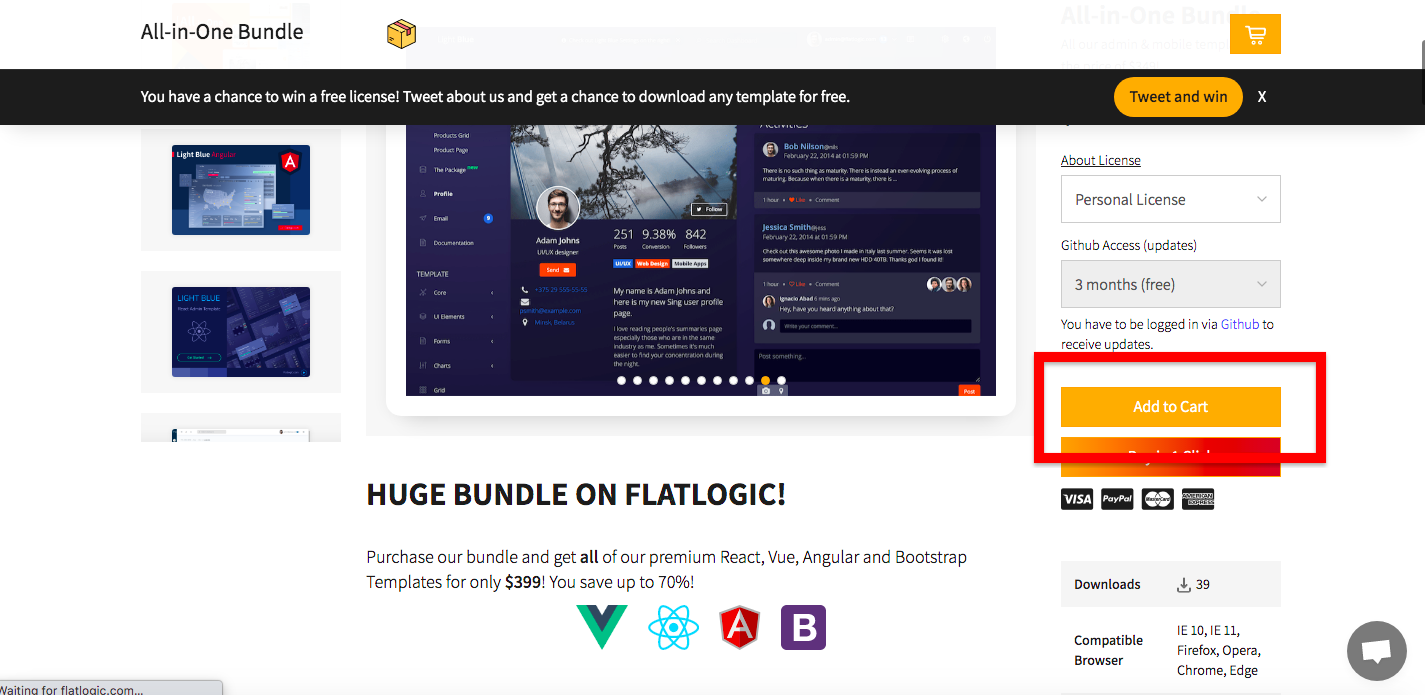 Make sure to enter the promo code "FLDESIGNBOMBS" before clicking the button to proceed to checkout. You should see the discount reflected in your total immediately.