Did you know that speeding up your website is one of the easiest ways to improve your SEO to rank better and boost your conversions? Use our EWWW coupon to get 15% off EWWW Image Optimizer to speed up your site.
EWWW Image Optimizer compresses your images and converts them to WebP so they load faster, optimizes your CSS and JS code, gives you the option to use Lazy Load and a CDN, and other features to make your site load faster.
Ready to get your discount? Click here to go to EWWW and use the coupon code DBOMB15 at checkout to get your 15% discount on all plans.
Want to know more about EWWW image optimizer? Keep reading to get the full details.
What is EWWW Image Optimizer?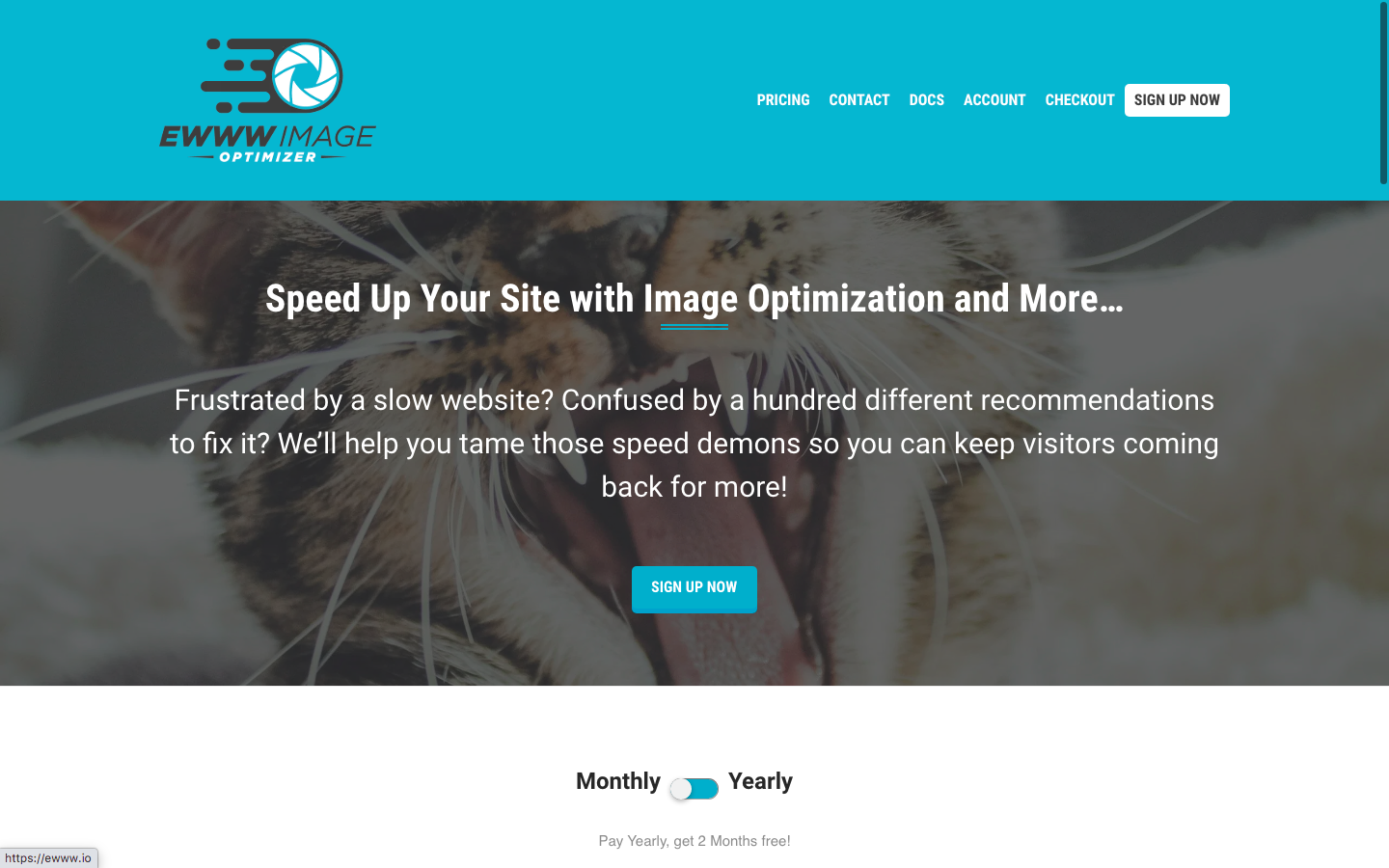 EWWW Image Optimizer is a WordPress plugin that will speed up your site by optimizing its images.
Over 800,000 sites worldwide use EWWW IO to speed up their images without any noticeable loss of quality.
The plugin was created in 2012 by a web developer who saw the need for an image optimization plugin that worked reliably on sites hosted on shared hosting.
An EWW IO API is also available for other plugin developers to offer image compression in their plugins.
EWWW Image Optimizer has an average rating of 4.7 out of 5 stars on the official WordPress plugin repository, with over 1,000 reviews.
Some of the benefits of using this plugin include:
No speed limits and unlimited file size
Industry-standard progressive rendering and pixel-perfect optimization
Best compression to quality ratio
Intelligent conversion to automatically get the best image format for different purposes
Optimize all images on your site, not just those in the WordPress media library
Bulk optimization of all theme images, avatars, slides, attachments, and any folder you choose
Fully secure with SSL encryption
Free image backups to store original images for 30 days
Responsive support and frequent updates
EWWW Image Optimizer Plans
The EWWW plugin is available with a choice of three licenses to suit different needs.
Standard
The standard plan is suitable for use on a single small site. The features of the plan include:
1 site
Unlimited images
Auto-compression (Premium lossy compression)
Auto-WebP conversion
Lazy Load
Auto-scaling
JS/CSS optimization
SWIS performance plugin included
US & EU CDN
200GB bandwidth
Price: $7 monthly or $70 annually ($5.95 monthly or $59.50 annually with our coupon code.)
Growth
If you have more than one site, your main site audience is located outside the US or EU, or you have a bigger site with more traffic, the Growth plan will be more suitable for you.
As well as supporting more sites and bandwidth, it includes additional features to the Standard plan.
On this plan you get everything in the Standard plan, plus:
Use on up to 10 sites
Global CDN delivery
400 GB bandwidth
Custom domain
Option to disable lossy compression and use Pixel Perfect mode
Option to use LQIP (low-quality image placeholders) for lazy load
Additional JS/CSS optimizations
Price: $15 monthly or $150 annually ($12.75 monthly or $127.50 annually with our coupon code.)
Infinite
The infinite plan can be used on unlimited sites, so it's ideal for agencies or freelancers working on sites for multiple clients.
You get everything you get on the Growth plan, plus:
Use on unlimited sites
800GB bandwidth
Site speed audits
Price: $25 monthly or $250 annually ($21.25 monthly or $ 212.50 annually with our coupon code.)
EWWW Coupon FAQs
Which plans is the coupon valid for?
The DBOMB15 code is valid for all EWWW plans. Whether you opt for the Standard, Growth, or Infinite plan, you'll get 15% off the normal monthly or annual rate.
What is SWIS Performance? 
EWWW is primarily an image compression plugin. However, it also comes with the SWIS Performance plugin, which includes a collection of tools to boost site performance.
The features include:
Page caching
Defer JS to prevent scripts that block rendering
Asynchronous loading of CSS to prevent render-blocking CSS
Inline critical CSS to prevent a flash of unstyled content (FOUC)
Minify JS/CSS
Improve browser caching by compressing all assets and setting proper expiration headers
Deliver all resources from a CDN
Disable unused JS/CSS resources
Assist browsers to load third-party assets quicker with DNS pre-fetch
Optimize Google Fonts
The SWIS Performance plugin is available for purchase separately but is included for free with all EWWW licenses.
What happens if I go over my bandwidth allowance?
If you're using more bandwidth than your plan allows, you'll be asked to upgrade to a higher pricing tier.
What's the difference between the free EWWW plugin and the paid plans? 
The core plugin is free, but it performs optimizations on your web server, which can put a strain on the webserver resources. For this reason, some web hosts do not allow their customers to install the free EWWW plugin.
The paid plugin connects to a cloud optimization service so your server isn't overloaded. You also get higher compression (up to 80%) and the additional features as listed in each plan.
How to Use the EWWW Coupon
1. Click here to go to the EWWW site, and scroll down to the table comparing the different plans.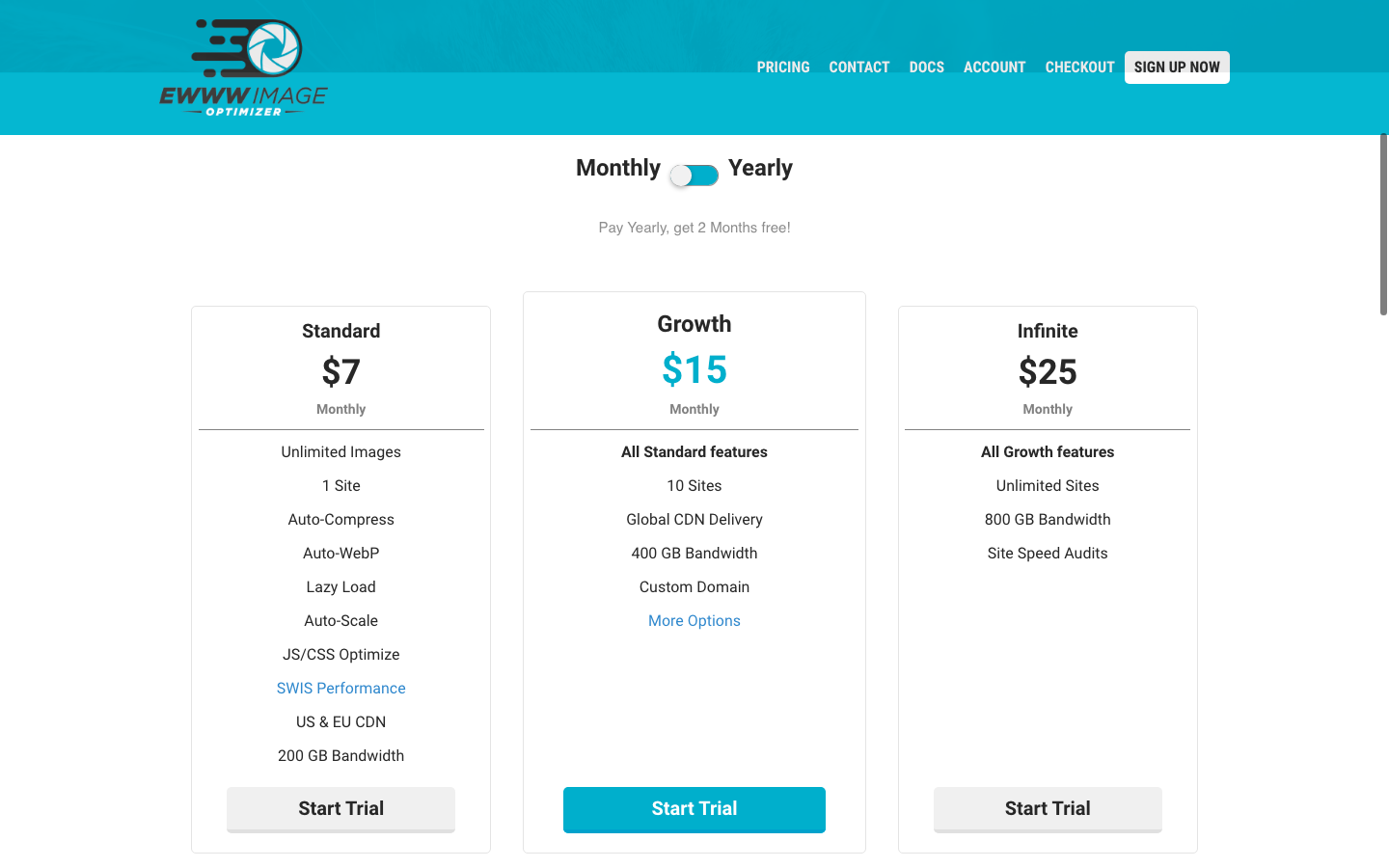 2. Select whether you want to pay monthly or annually from the selection slider above the tables, and then click the "Start Trial" button for the plan that best suits your needs.
3. You'll be taken straight to checkout. Look for the link that says "Have a discount code? Click to enter it" and click the link.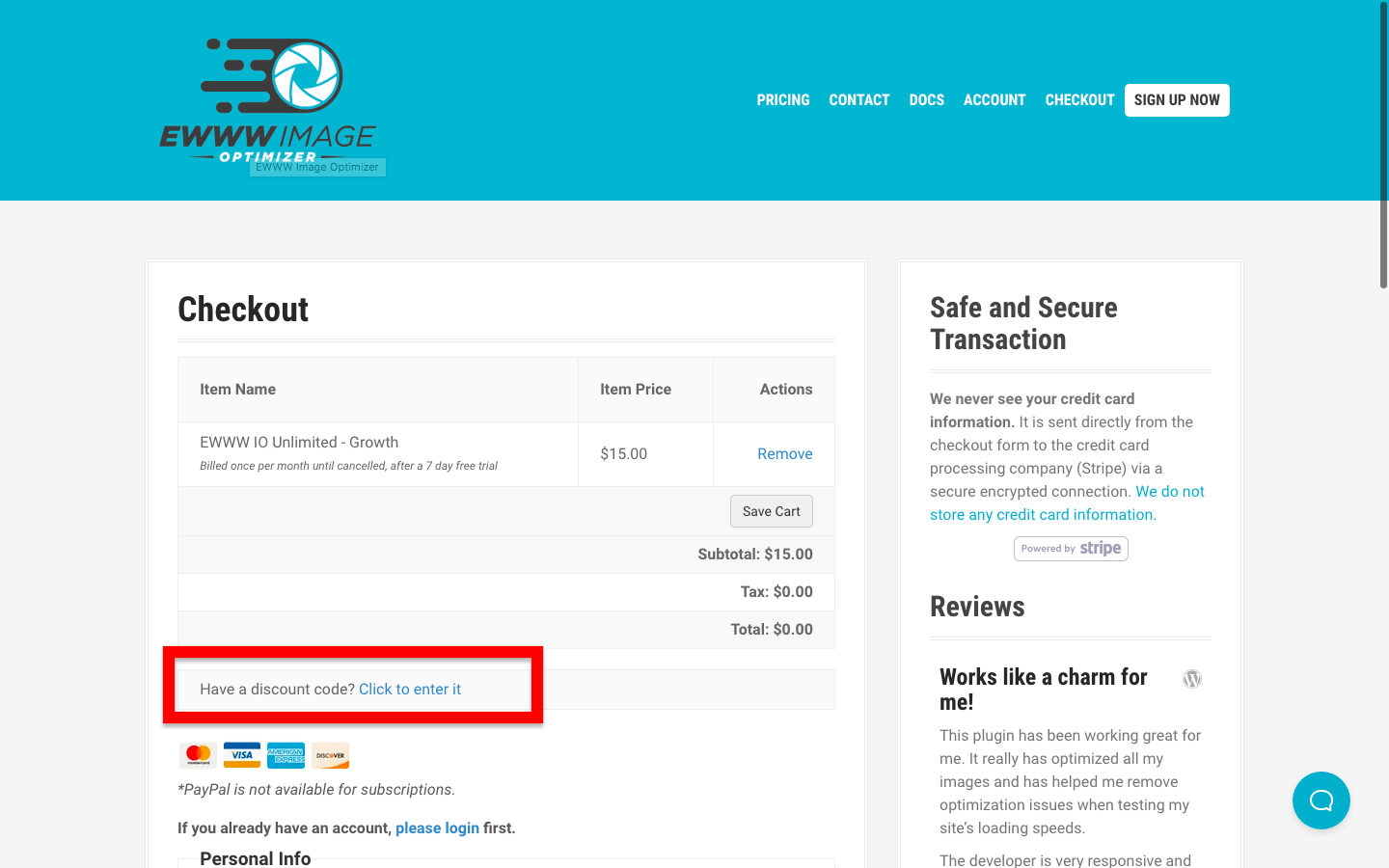 4. Enter the code DBOMB15 and click the "Apply" button.

5. You'll see that the discount has been applied to your cart contents. The total will be listed as $0.00 because all plans start with a 7-day free trial.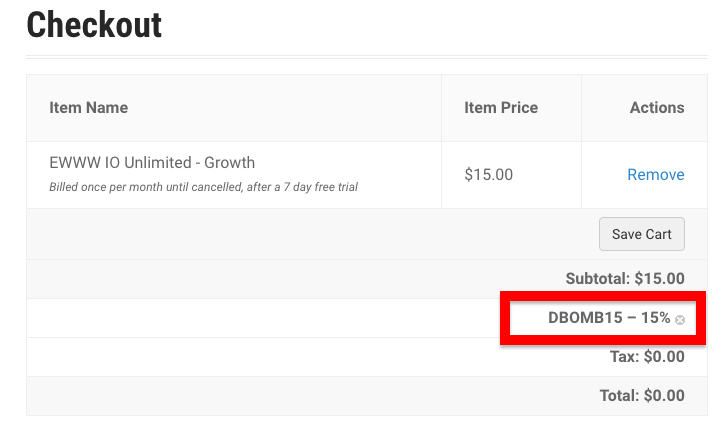 6. Scroll down to fill out your personal and payment information and click the "Purchase" button to complete checkout. Your card will be charged the 15% discounted rate after the 7-day free trial is completed.