Cartoon-style portraits are all the rage on social media these days.
Colorcinch (formally Cartoonize) is the easy way to transform your photos into unique and colorful artwork. With this online tool, you can simply upload a photo and select from a range of different cartoon and art filters. Then, just add your own personal touch with graphic overlays, text, and other effects.
We're delighted to offer Designbombs readers a Colorcinch coupon worth 10% off all monthly and annual Plus plans, so you can create as many works of art for your clients or personal projects as you wish.
Just sign up at Cartoonize.net, enter the coupon code designbombs at checkout, and get ready to get creative.
Want to learn more about everything that's possible with Colorcinch? Keep reading for an overview of the fantastic features of this useful tool.
What is Colorcinch?

Colorcinch is an online platform that lets you quickly and easily transform photos into striking artworks. It's perfect for creating social media posts, marketing materials, or just for fun.
With Colorcinch, you can:
Edit your photos, including removing backgrounds, changing colors, cropping, and more

Add filters to your images to turn them into fun cartoons or artistic graphics

Create NFTs from any photograph with a library of hundreds of AI-powered effects

Easily create profile pictures, avatars, and memes for social media

Compress images and convert quickly between different file formats

Create photo collages or overlay, blend, and draw on images
You can do anything you like with the images you create using Colorcinch, including posting them on social media or in your blog, using them in client projects, creating digital products like themes and graphics for resale, printing them on physical products like t-shirts or mugs, or selling them as NFTs
Colorcinch Features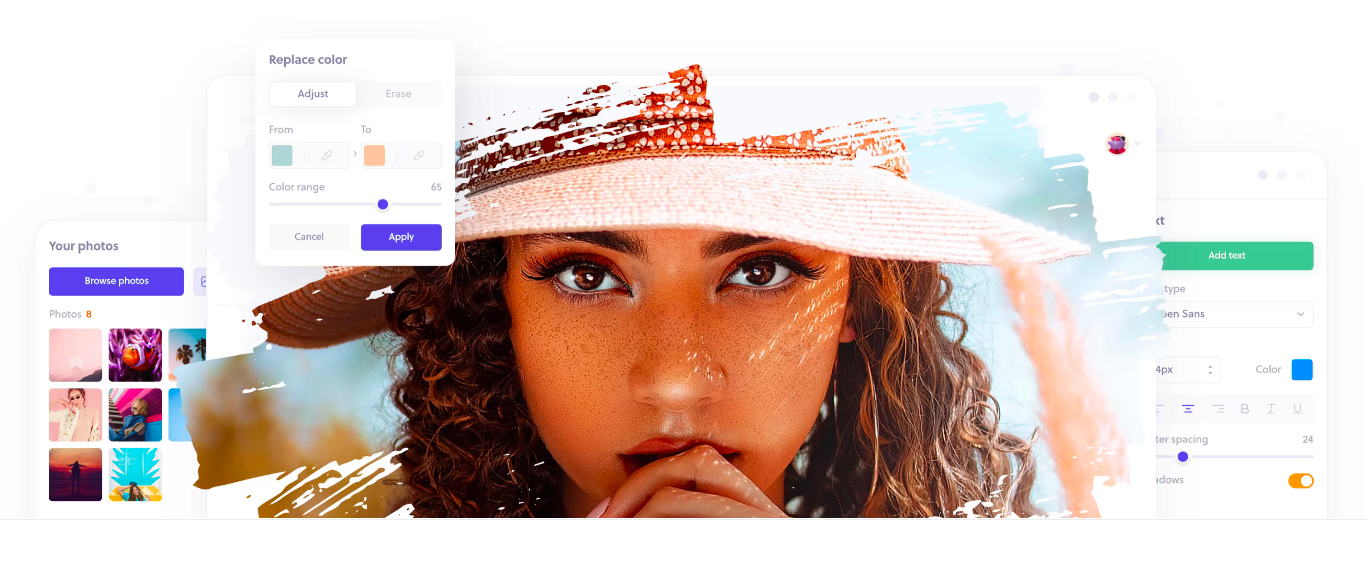 More than just a fun filter, Colorcinch offers a comprehensive range of features for creating beautiful artwork from your photos.
Photo editing tools
AI-powered background removal

Crop and resize

Text editor & masking

Exposure, color & vibrance

Sharpen & blur

Straighten, flip & rotate

Color replacer

Freehand drawing

Multiple layers

Export in multiple formats
Cartoon effects, overlays & filters
Cartoonizer

Sketcher

Painting

NFT creator

Multiple filters and overlays
Other tools & features
Collage maker

Meme generator

Color picker

Image compression & conversion tool

Avatar maker

Profile picture maker

NFT maker

Watermark photos
Colorcinch Plus also comes with a stock library of over 50,000 vector graphics and icons and over 4 million high-resolution stock photos. In addition, there are hundreds of frames, borders, and mask effects to create professional graphics with your images.
Colorcinch Pricing
Colorcinch offers a free basic plan without registration that you can use to try out the basic editing features. This free version is supported by ads. While you can try out the Plus features such as turning your photos into a cartoon, the images will be watermarked, and you won't be able to use them fully until you upgrade.
Colorcinch Plus plans are available as a monthly or annual subscription, and you can cancel at any time.
The annual plan costs $4.99 a month and is billed annually at $59.88. You get an additional 10% off with our Colorcinch coupon code, designbombs, bringing the price to $53.89.
The monthly plan costs $8.99 a month. You get an additional 10% off your first month with our designbombs code, making your first month $8.09.
How to Use the Colorcinch Coupon
Head over to cartoonize.net and click the "Get Started" button to start using Colorcinch. You can start using the tool for free straight away to try out the features.

When you're ready to upgrade, click the "Upgrade" button in the top right corner.
Choose whether you want the monthly or annual subscription and click the small link that says "Have a promo code?" enter the code designbombs in the new form field that appears. Remember to click the arrow to apply the code.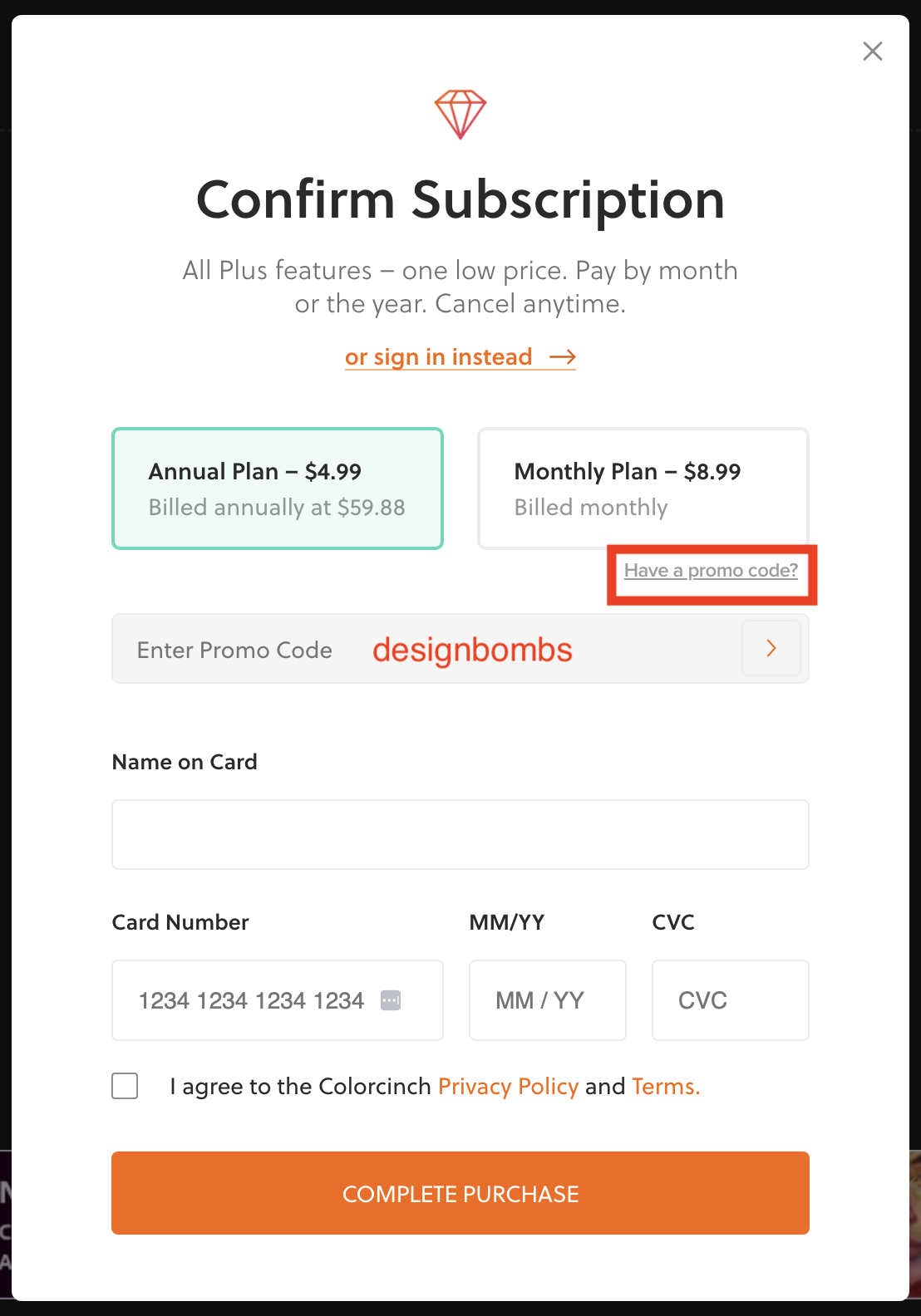 If you've entered the code successfully, you should see your 10% discount reflected in the total. Fill out your payment details and click the "Complete Purchase" button to finish your signup.
Colorcinch Coupon FAQs
How can I create a cartoon of myself?
Colorcinch is the easy way to turn any photo you want into a cartoon. Just upload a photo of yourself, choose the Cartoonizer option in the tool, and let Colorcinch do the rest. You can then download or share your new cartoon avatar on social media.
Can I try Colorcinch for free?
The Basic Colorcinch account is free to use, and you don't even need to register to use it. You'll have access to all the basic editing features, and you can try out the more advanced filters and tools, but you'll need to upgrade to the Plus account to get full access to the premium features.
What social media platforms are supported in the profile picture maker tool?
Colorcinch automatically creates profile pictures that are the right size for Facebook, Twitter, YouTube, Pinterest, and LinkedIn. You can also customize your image manually for any other platform.
How can I create an avatar for gaming or social media?
Colorcinch's avatar tool lets you create a cartoon-style avatar without uploading a photograph. Just choose from a library of face shapes, hairstyles, features, and clothes to create your own custom avatar.
How can I create my own meme?
Memes are highly sharable on social media, and there's no easier way to create your own than with Colorcinch. Just upload a photo and add your own text and frames. You can also use the Colorcinch meme templates with images of your choice.
How can I create and sell an NFT?
Colorcinch comes with a tool for creating NFTs. Just upload your own photograph, customize it with a selection of filters, and sell it on any NFT platform.
Does Colorcinch work on Mac and PC
Colorcinch is a web-based tool, so it will work on any computer as long as you have an internet connection.
How do I cancel my Colorcinch subscription?
You can cancel your Colorcinch subscription at any time from your account settings.