WordPress and JavaScript 1 Year Later
Another year, another State of the Word.
Last year, Matt Mullenweg famously instructed every developer involved with WordPress to; "learn JavaScript deeply". In this post we take a look at some of the developments with JavaScript and WP in the last year, as well as some of the key points from this year's State of the Word address.
JavaScript and WordPress Last Year
Last year saw the introduction of Calypso, a complete rework of the WordPress admin made 100% with JS. Also the idea of a complete WordPress API as part of core WP, as well as the first pieces of it introduced into the core.
Matt introduced some prestigious examples of websites using the Rest API and JS to do interesting things, like power a mobile app, or use WP on the backend of a website while using JS on the front end.
And then he told everyone to not just learn JavaScript, but to learn it, deeply.
JavaScript And WordPress, Now
One full year later, not too much has changed for the casual WordPress user or implementer. What has definitely happened in the year since everyone was told to learn JavaScript, is that a lot of WP developers have focused on doing exactly that, including Matt Mullenweg himself.
For those of you who remember, Matt didn't just assign the homework of learning JavaScript to everyone else. He also dedicated himself to it.  He promised to submit a JavaScript related patch to WordPress before 4.7 released.
And he kept that promise, submitting a pull request to Calypso, but not the WordPress core. (But given how he feels about Calypso and the future of WordPress, this makes sense.)
JavaScript continues to be integral in new updates to the WordPress core, in particular regarding the customizer. The WordPress Customizer is now a one page JavaScript app, that instantaneously shows the changes you make.
Learning materials
The scramble to learn JS among WP Developers, meant a few quick thinkers hoped to capitalize and created courses. The JavaScript for WP course went live, after a fairly long pre-launch. The video course, made by Zac Gordon the previous WP teacher at Treehouse, launched earlier this year. It started out as an idea and a bare-bones website with an email waiting list. Today there's a beautiful website, and about 13 hours of course videos. There's been minor backlash because of the pricetag ($400). But the feedback from actual course students has been good.
Daniel Pataki, also wrote a massive, completely free, 5 part guide for WPMUdev to help WP Developers get into JS.
Rest API, Now

The goal last year seemed to have been to include the Rest API content endpoints in core quite early on in 2016. This didn't become a reality until WordPress 4.7 was released on December 6 this year.
More plugins make use of the Rest API to complete their tasks, and there has even been a theme or two based on it released.
Still one of the most popular use cases is using the API to power a mobile app. The main point of a REST API, is to allow other things use the data in your website. Whether that is other websites, computer programs or mobile apps. This makes it an ideal tool for creating an app for a website.
Examples
While many developers work with the REST API and JavaScript on projects for their clients, or personal ones, there haven't been any more high profile ones than the examples from last year. Matt mentions that in general there were fewer examples to choose from than he'd have liked.
The most notable examples of sites using the REST API is probably, The New York Times using the WP REST API to power their live coverage blogs. And also the website StoryCorps, that used it for their mobile app. But these were both mentioned during last year's address.
In this year's SOTW address, the main examples that were brought up were Vocativ.com and the Guggenheim Museum's new website. These websites use the REST API and the custom endpoints to display content in a JavaScript driven one page layout.
Calypso, Now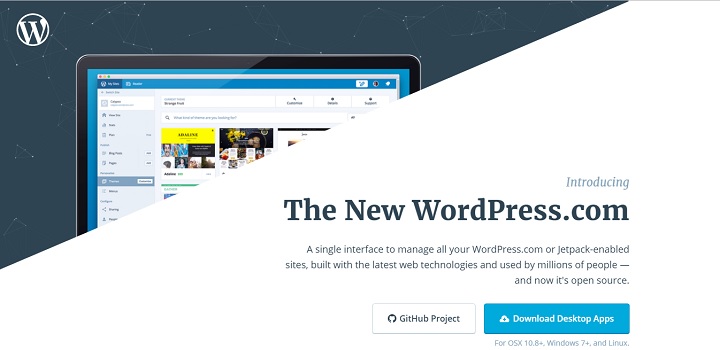 Matt believes that Calypso, or an admin interface like it, is the right step forward for WordPress. No one else is currently working on that for WP.org. Because of that, it seems like there will be a push towards integration with Calypso. (Matt has committed previous Calypso contributing JS developers from Automattic to work on WP core.)
He gives some interesting statistics from WordPress.com, where 68% of posts are written using Calypso, 17% of users use mobile devices and only 15% are using the WP Admin area for that.
One of the problems with Calypso (other than it not being inherently a part of WP.org, but rather produced by Automattic, a separate for-profit entity) is it's incompatibility with current plugins. Matt announced that Automattic has created code that allows plugin authors to make their plugins compatible with Calypso. At first, it will only be released to plugins with 1,000,000 or more active installs.
But as time goes on, the plan is to make this code available to all plugin authors. This will finally make Calypso compatible with plugins. This means that in the near future, you could potentially completely manage all of your websites from the Calypso interface with no hick ups at all.
A problem I had with using Calypso last year, was that it was not interacting properly with my media libraries. For whatever reason, it would only display the 20 most recent media items. This could be a bit of a nuisance when wanting to make use of images you often use in your posts, but the issue was fixed back in November.
Side-Note: International Availability Of WordPress and Plugins/Themes On The Way Up
With the new Translate WordPress program launched last year to allow polyglots to translate WP Core, as well as plugin and themes they have no association with, WordPress has become a lot more international. Completely translated to more than 50 languages. The top 10 plugins have 82% coverage of the top 12 most spoken languages in the world (in which 2/3 of the world are fluent.)
The Way Forward In 2017?
Matt said that while it's 'unprecedented' that WordPress has gone from 13 to 27% market share over the past five years. But he followed that up with, "What got us here, won't get us there."
And this was followed by probably the biggest announcement of all: There are no planned major releases for next year.
Matt wants to be heavily involved as a project lead again, and foresees better results with a different approach; mainly focusing on three major parts of WP first:
The Editor
WP REST API
The Customizer
Matt believes that developers should double down and focus on user experience moving forward. He wants to see "design leading the way".
Perhaps particularly focusing on inclusive design, as his goal still seems to be total web domination, or as close as it's possible to get. This means making WordPress easy enough to use that anyone who currently is or will be a website admin can use it.
The Editor
He thinks the editor's user experience is lagging behind WordPress' functionality. He wants major work on it to be the starting point for WordPress improvements in 2017. And he definitely has a point. If we take into consideration front page editors are now available from third party plugins/themes, and taking a quick look at the user experience of WordPress competitor Medium, WordPress's editor is looking almost archaic.
The Customizer
While there's been huge improvements in the Customizer in the last year, instant editing for example, Matt doesn't feel like it fast or flexible enough just yet.
Obviously there will be bug fixes and small patches along the way, to deal with minor issues. And surely there will be smaller releases for minor functionality as well. For things that deal with other parts of WordPress than the aforementioned 3 priorities.
WP Rest API
Matt admits that as far as the success of the WP REST API goes, there were not as many examples as he would have liked, and that the scope of sites being made using it is probably still in the thousands.
In hopes of making the API more available, they will start doing first party usage, meaning WordPress itself will use the API to do certain tasks. This will likely help with the development of a truly flexible, user friendly API.
Conclusion
WordPress and JavaScript continue to become more entangled.
With the JavaScript driven Customizer and Editor as some of the biggest priorities for WordPress moving forward, I hope most of you followed last year's homework assignment.
The fact that the WP REST API even makes the list of the top 3 priorities for future patches to be made, reinforces the message that as a WP Developer you best prepare to double down on learning JavaScript this year as well.
Even more deeply.
You can watch the full State of the Word address from 2016, as well as the ones from previous years on WordPress's new official Youtube Channel or on WordPress.tv.