Analyzing Web Designer Depot's New Design
One of the most popular web design blogs out there, Web Designer Depot, recently got a huge facelift and underwent a redesign. The new design, however, is not just about aesthetic changes. Instead, it also comes with several new features and additions to the core blog of Web Designer Depot.
How exactly does the new redesign of Web Designer Depot fare? In this article, I will critically examine the redesign of Web Designer Depot.
Analyzing Web Designer Depot's New Design
Overview
If you have been active in the world of web design and development, there are good chances that the new of Web Designer Depot is hardly a strange term for you. It is one of the most popular, and well-established design blogs out there, and is well known for its quality content and cutting-edge stuff. Started way back in 2010, Web Designer Depot has grown over the years, and evolved manifolds, and the latest redesign is just another step in the evolution of this mega design blog.
Before actually going ahead and assessing the redesign, let us see how Web Designer Depot team describes the new look:
When Webdesigner Depot first launched in 2010, the Web was a very different place. Back then, the way we all consumed content online was radically different. The last few years have seen an explosion in mobile use, and a huge diversification of technology. The new Web needs a new Webdesigner Depot.

Long term readers will recognize the same features they've always enjoyed, but we hope that our new additions will prove equally popular. Our redesign should feel "familiar" to our most loyal readers and at the same time faster, fresher and different.

The layout has been simplified, enabling a more consistent experience across a full range of devices and viewports. The site looks great both on desktop and mobile devices, especially on smartphones where the entire design has been reworked for a better mobile experience.
You can read more here.
Now, let us try to break down the redesign in different parts. First up, the homepage.
The New Homepage
Web Designer Depot's new homepage is something that is functional, but not entirely unique. In fact, if you have been following the design trends among magazine WordPress themes, or keeping in sync with the homepage layouts of popular publications (not just the design or tech world), you might have already come across such a layout.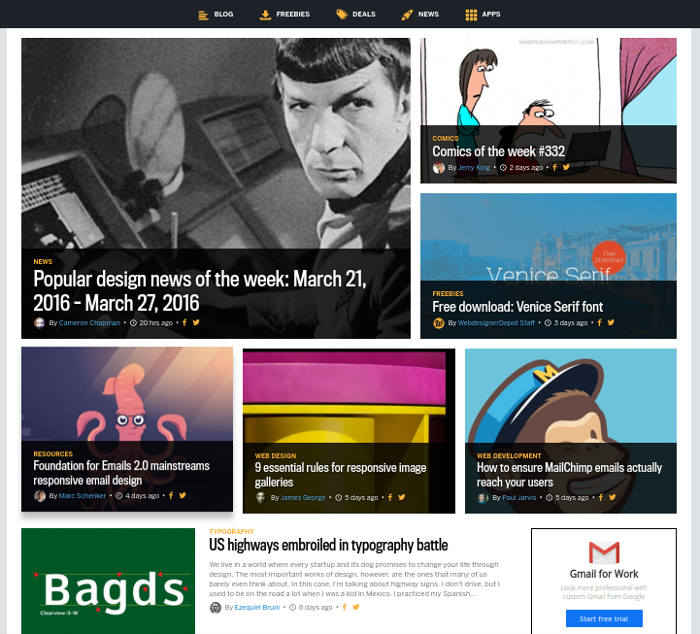 Basically, you are presented with the latest posts in the upper section of the homepage, in the form of a metro UI. As you scroll down, you notice the different blog posts, in a traditional blog-like layout, aided by a right sidebar that highlights popular posts, advertisements, and so on.
As already stated, the homepage is functional enough, and both regular readers of the blog as well as newer visitors will not have a hard time browsing through it. That said, the biggest plus point is that Web Designer Depot have gone ahead with a single column blog posts layout, aided by a sidebar. A two column blog posts layout would have been overkill, and discarded all UX considerations.
Design Considerations
In terms of typography, Web Designer Depot have given up on Proxima Nova, and now, the body text uses Benton Sans. For headings, Titling Gothic is in use, whereas for displaying Quotes, Open Sans has been chosen. There is not much to talk about here — these are safe font choices, that are unique enough to set a statement and easy enough to be read comfortably.

The logo, too, has been redesigned. I am particularly fond of the new logo design — the unnecessary swerve in the previous logo had always looked unimpressive. The newer logo is simpler, cleaner, and outright better.
Apps!
The redesign, in itself, is not that big an attraction, as compared to the inclusion of a new feature on Web Designer Depot: apps! These "apps" are intended to transform Web Designer Depot from a traditional blog to a portal or hub meant for web designers and developers. You now have free to use stock photos in the Photos app, as well as a Vectors app for awesome vector files, as well as apps for Interviews, Podcasts, GitHub, Deals, and so on!
Web Designer Depot, in essence, still remains a design blog that publishes useful content on a regular basis. However, the apps section is meant to enhance the overall user experience, by allowing you to access useful and relevant content with ease.
Personally, I am still in two minds about the usefulness of this feature. If anything, the folks at Web Designer Depot seem to have overdone it — the Comics category on the blog, for example, was doing alright, and I am unsure if an "app" was needed for it.
UI and UX Considerations
On the User Interface front, the new redesign of Web Designer Depot scores full points. It is aesthetically pleasing, absolute eye candy, and looks really well. In fact, Web Designer Depot is probably now one of the best designed design blogs out there (still lagging behind Design Bombs though…).
However, in terms of User Experience, the new redesign of Web Designer Depot falls flat, and manages to really disappoint.
Consider this full desktop screenshot that I captured on my secondary laptop, screen resolution 1366×768.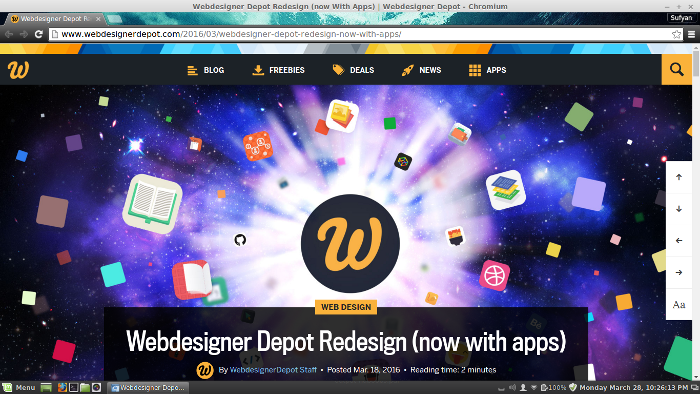 I went with the full desktop mode to actually show how the website looks in my web browser. It surely is good to look at, but all I see is the featured image and the article caption. I fail to read even half a line of the blog post, until and unless I scroll down. Having your users scroll to actually even start reading your content is not a wise UX practice.
This bears resemblance to the present-day practice of using gigantic featured images, especially because larger displays and monitors are becoming common. If I were to browse this same page on my desktop monitor, I probably would not be facing this issue. But if I am traveling and accessing the internet via my netbook, or just using my laptop anyway, the featured image will eat up the full viewport.
Plus, the browsing aids and text button on the right side of the page are pretty useful to have. However, as you scroll down, they do sometimes come in the way, making you wish for a way to hide them or turn them off. This, of course, is a smaller consideration and not everyone will feel this way. To help you understand what I am stating, here is an image of the buttons in action, as you scroll down the page: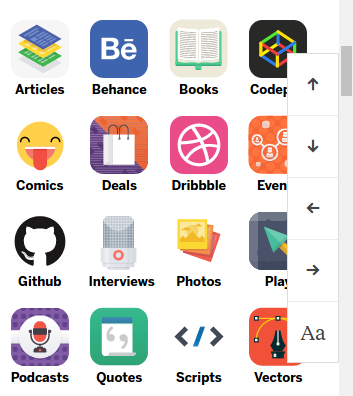 As you can see, they do come somewhere in the midst of the action, but this is a very minor issue.
Even more so, in spite of it all, when you browse the new Web Designer Depot website, you might notice something: there is just too much information on the page. There are just too many things happening out there — too many featured images, too much info and other stuff in the sidebar, and too much of text to glare at. Web Designer Depot's new redesign, in essence, and strictly in my opinion, seems to be too overcrowded and slightly bloated. In fact, if I were to choose one word to describe it, "heavy" might be appropriate.
Look at this screenshot from the middle of the homepage.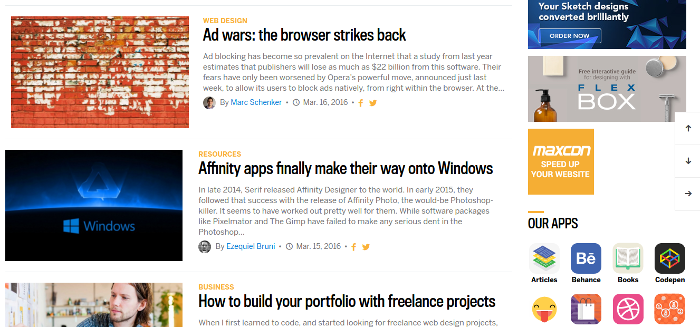 It is proper, and works fine, but just appears to be slightly bloated and really heavy on information. It might just be that I am nitpicking here, or I am too much of a minimal school guy, but the excessive bloatware and content-heavy sidebar and viewport is not something I would give full points to.
Conclusion
In all fairness, Web Designer Depot's new redesign is impressive indeed. I am especially pleased with the manner in which they have paid attention to detail. Even something like "Related Posts" at the end of the articles has been presented in the most good-looking way possible (as compared to the generic display that many other blogs exhibited).

Plus, if you wish to learn how to create a stunning footer for your website or blog, without having to use multiple widgets therein, let Web Designer Depot take you to school! Everything in this new design looks nothing short of beautiful.
That said, the other considerations, such as the UX aspects that I discussed above, continue to persist. I do understand that UX in itself is something that varies from one person to another, and a gigantic featured image that disappoints me might make some other person very happy, and so on. However, for the most part, when aesthetics are preferred over ease of use, the design rarely gets full marks.
All said, the new redesign of Web Designer Depot is surely interesting, and does not seem to cut any corners whatsoever. Web Designer Depot is an authority name in its niche, so it might not be a surprise if some other less popular publications too decide to go this route and adopt a similar design for their websites and blogs.
What do you think of the new look and appearance of Web Designer Depot? Share your views in the comments below!