Thrive Leads Plugin Review: The Best Way to Build an Email List
Understanding the basics of email collection is important when it comes to establishing what you'd like to do with those emails after you have them.
You may be collecting emails to send out promotions, or maybe you're trying to share links to your blog posts.
Regardless of your goals, one thing is certain: You need the tools necessary to consistently accumulate a significant number of email leads throughout the lifespan of your company. In addition, you need to have those goals in place so that your email collection efforts don't go to waste.
After all, there's nothing worse than putting in the work to accumulate thousands of emails, only to wait six months to send out a newsletter. Why? Because no one is going to remember signing up for the newsletter, and some of them will tag it as spam.
If you haven't heard about it yet, Thrive Leads is sold as a tool for collecting email addresses, designing quick and beautiful forms, and even A/B testing your forms.
That's all fine and dandy, but what really makes Thrive Leads standout? Does it at all?
There are so many email subscription plugins out there, so we wanted to dive a little deeper to truly understand what Thrive Leads has to offer, and if it's worth your money in the long run.
The Coolest Thrive Leads Features
01.

Smartlinks (Or An Alternative to Annoying Popups)

The whole idea behind Smartlinks is that there's no reason to consistently bombard your loyal customers with the same email signup offers they've seen in the past. Popups are annoying, and VIPs are the last people you want to turn off.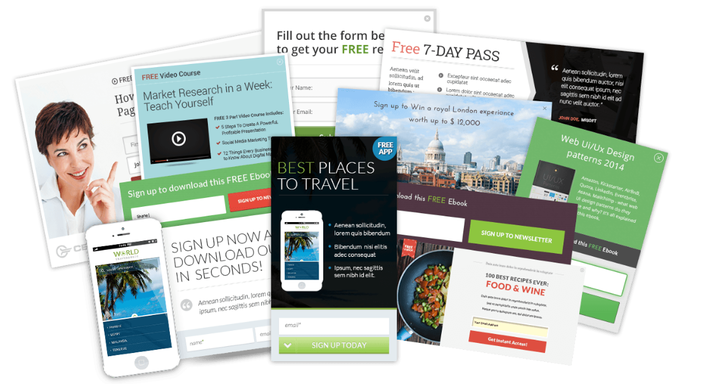 Therefore, Smartlinks takes it a step further by letting you choose which people are seeing certain offers, all based on whether they are a customer, new visitor or email subscriber. Therefore, if an existing subscriber is reading a blog post they don't have to get bothered by an embedded or slide out signup form.
I would say that the coolest part is that you can segment some customers so that they enjoy a completely distraction-free user experience. On the other hand, you can choose to send those loyal customers exclusive popups that are addressed only to them. It's not a bad way to make people feel special.
02.

Pretty Smooth A/B Testing

Simply having A/B testing in the plugin is a huge step up from some of the other options that can be downloaded for free. Testing your forms is essential if you want to find success with an email subscription form, so there's no reason it shouldn't be easy.

The only thing you need to do to start an A/B test in Thrive Leads is to have two forms created. That's it.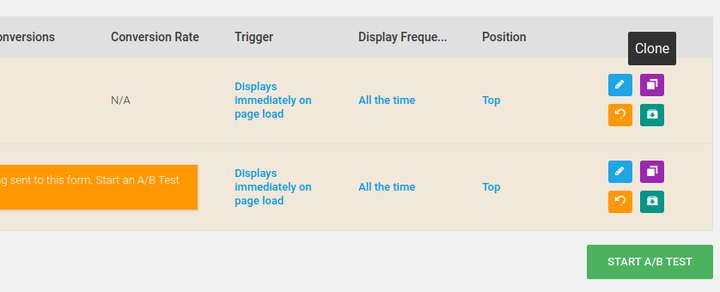 The interface used to be far more complicated in the early days of Thrive Leads, but that has changed quite a bit. Once two forms have been constructed, all you have to do is click on the Start A/B Test button to get the ball rolling.
03

. Grabbing Customers Before They Run Away

Some companies are not interested in filling the main content areas with email subscription forms. Others like the idea of asking for an email address at every turn. Luckily, Thrive Leads provides a solid module called SmartExit, which tries one last attempt at grabbing that valuable email address. It works by going against the traditional thinking of an exit-intent popup form.

These typical forms usually don't yield many results, and they annoy visitors. So, SmartExit delivers a popup only when certain conditions are met. For example, if you have a popup form that's scheduled to come up after 15 seconds on the homepage, some may end up leaving after only 10 seconds. Well, that's when you might set a trigger that still delivers the popup, but before the 15 seconds.

Several conditions are available, and you don't have to think about them after you've set them up.
04.

Basic Animations

Some marketers will scoff at the idea of putting animations on their sites. Sure, it can look a little corny and gimmicky, but sometimes they work.
I'm not all that impressed by the animations, because tons of themes and plugins offer similar products. However, what makes Thrive Leads standout is that fact that you can A/B test the animations. So, if one of your popups forms slides into the page, while another one fades in, you have the opportunity to see which one is most effective.
05.

Incredible Customer Targeting

This is similar to the SmartLinks feature, but it also entails looking at the content your customer is currently reading. For example, if they land on a blog post that's all about the best hosting platforms, you might have a targeted email signup form with a discount coupon for Bluehost.

That's just an example, but targeting based on what people are reading is incredibly effective, especially considering it's all automated for you. You don't even need to have real time user activity reports. It's all done for you on the backend.
06.

Triggers For When and Where Your Email Forms Show Up

Would you like a form to show up only when someone is a new user? How about only on your homepage? Part of the frustration that comes along with email forms is that they aren't that customizable in terms of when and where they show up. With Thrive Leads you have time-based and interaction-based triggers, and all you have to do is go in there and check off which ones you want.

A good example would be whether or not you want the signup forms to show up on archived posts or landing pages. These may not be the best places for them, and they might only clutter up your website on pages that are meant for boosting SEO and selling products.
07. 

A Decent Number of Templates with Modern Layouts

Whether choosing to build a lightbox, slide-in form, sticky ribbon or two step optin box, you get to choose from pre-built templates. They look professional and modern, and dozens of them are available for you. The designer isn't a drag and drop editor, but it's visual in nature. Changing around text, fonts and buttons is pretty easy, but adjusting placements can be a little rigid.

That's not to say I would ever recommend against Thrice Leads because of this, but just know that when you get started with Thrive Leads you're not going to be able to completely customize these templates, unless you have custom CSS and HTML experience. Beginners should realize that the preset templates are going to remain similar to what you see from the start, besides the written content and maybe a background image.
08.

Reports to Die For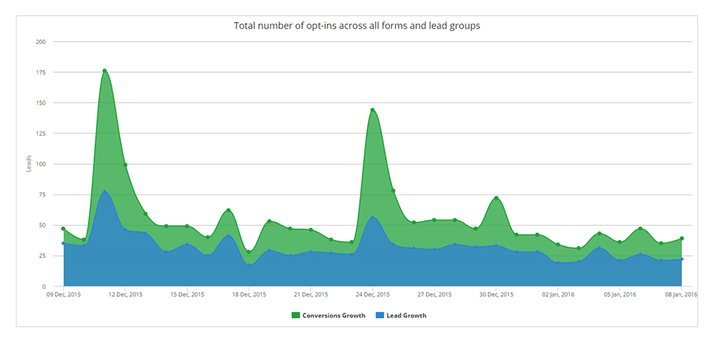 When landing on the Thrive Leads dashboard you'll see some quick numbers for understanding how many conversions you're getting through your forms. It's a nice start for the reports that are more than useful to marketers.
After that, it only gets better. A wide range of reports are given, and each of them are easy to break down and understand. Graphs are some of my favorite things, and the email marketing world can't use to many of them.
What reports to you get?
Conversion Report

Conversion Rate Report

Cumulative Conversions Report

Comparison Report

List Growth

Cumulative List Growth

Lead Referral Report

Lead Tracking Report

Content Marketing Report
What Types of Popup Forms are Available?
The primary email subscription form is the ThriveBox, which is a popup lightbox. It's one of the more common you'll see on big-time blogs, and it doesn't take much to set parameters for when it shows up to certain users.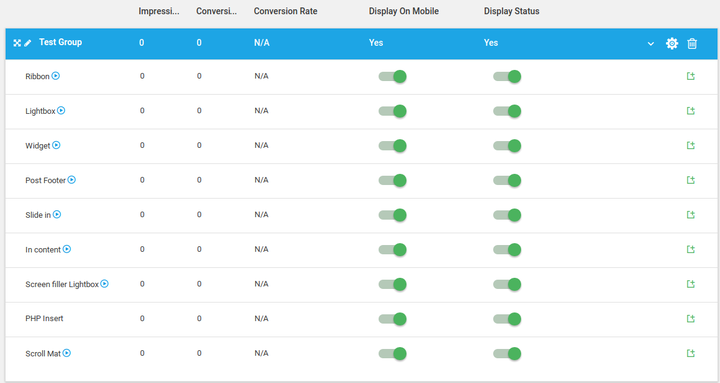 Another one of my favorites is the two-step optin form, which has been shown to improve conversions by letting people optin by only having to click on two items. This is a little less aggressive than a one-step optin, but also more effective in building your list than a three step one.
Some other forms solutions include:
"Sticky" Ribbons
In-Line Forms
Slide-Ins
Opt-In Widgets
Screen Filler Overlays
Content Locks
Multiple Choice Forms
Scroll Mats
Thrive Leads Pricing
One of the biggest questions you probably have is what the pricing for Thrive Leads is. They don't do a good job of advertising the pricing, so it got me thinking that maybe it was higher than the average. While that's obviously the case compared to free plugins, I'd say the regular pricing is on par with comparable solutions.
In addition, you receive a 30-day money back guarantee just in case you don't like Thrive Leads.
Keep in mind that this isn't a trial, just a guarantee. So, the pricing is structured with three plans:
Single Site – For $67 you get every single feature included with Thrive Leads, but you're limited to installing on a single site.
Unlimited Sites – For $97 all features are included, and you can place the plugin on any number of sites. This one is great for people with website networks or multiple blogs.
Agency License – For $588 per year you have the opportunity to install and activate the plugin on an unlimited number of your client sites. We like this for freelance developers and agencies.
Thrive Leads Support
The Thrive Members Dashboard is a thing of beauty. Not only do you feel pretty special with this exclusive support module, but they have a little ticker on the backend to show you when special deals run out. The interface is clean and simple to walk through, and you'll see a blog, forums for talking to other people and a tab that walks you through options for hosting.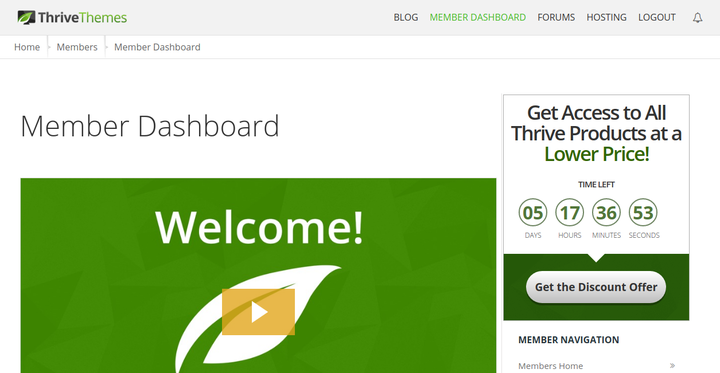 Product tutorials are given in the form of articles and videos, while the knowledge base comes in handy when you'd like to complete some of the research yourself. Theme demos and webinar recordings are just some of the many other support outlets available, and you always have access to the plugin download button if you need it again. Along with social media support, links to documentation and much more, I can't say enough about the support from Thrive.
Who Should Be Using Thrive Leads?
Emails are the game with Thrive Leads, and testing out which of the forms are going to bring in more conversions means that you have a better chance of winning that game. Thrive Leads is for anyone or any company that wants to understand email marketing better. Sure, the MailChimp reports are solid for constructing your content in newsletters, but what about growing that list like a professional?
Bloggers, marketers, small business owners and just about anyone with a website should be considering Thrive Leads. It's not too expensive, and the one-time payment for individual sites is enough for most people to pull the trigger. Not to mention you receive the 30-day money back guarantee, giving you a little safety net.
Thrive Themes is a quality product from a company that prides itself on its customer service. If you're thinking about trying out Thrive Leads, go to their website and look at some of the videos. You'll get even more information than what you read here.
We hope you found our review of Thrive Leads plugin helpful. You may also want to see our roundup of best mailing list plugins for WordPress.
Also, if you have any questions about this Thrive Leads review, feel free to let us know in the comments section below.