CSS Hero Review: Easily Customize WordPress Themes
Finding the perfect theme for your WordPress website can be a daunting task.
After exhausting all of the customization options that ship with the theme, if you are still unable to achieve the end goal that you had in mind then the only other option that remains is customizing the CSS aspects of your theme in order fine tune the layout exactly according to your requirements. This is a task that will usually require coding in one form or the other. And with coding, apart from being time-consuming and difficult to learn, comes all the other things that many dread.
So, what if you could reap the rewards that come with CSS proficiency without having to go through the learning process or paying a web developer?
Seems like not too long ago such things would be mere fantasy but now, with powerful tools such as CSS Hero, all these things are not only possible but extremely easy and convenient for just about anyone as well.
Let's put everything into context before we begin. And don't forget to use our exclusive coupon code "designbombs" to get 40% off.
What is CSS Hero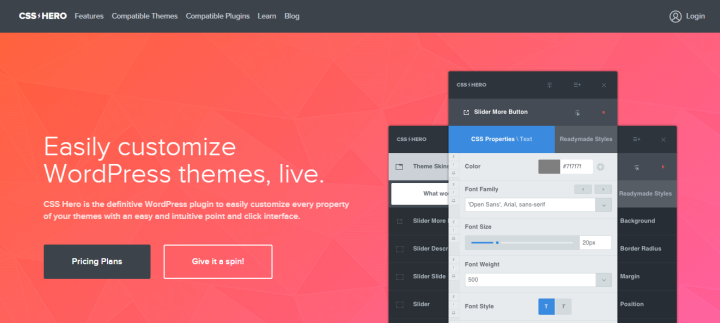 A plugin for WordPress websites that lets the user tweak the visual appearance of their websites to the next level of perfection, CSS Hero lets you change the page elements on your site according to your personal preferences. It offers a huge variety of options that are built into an intuitive interface that makes it easy to get around and get things done.
It is compatible with a lot of great themes in the market including the Divi Theme, Genesis Themes, Solopreneur theme, and for the full list of compatible themes you can visit the CSS Hero site to see if your theme is Hero-ready or not. Be warned, though! The list is enormous and keeps growing due to the popularity of the plugin so, in this regard, CSS Hero has headed the right way!
The best part about this plugin is that these options allow you to perform all these visual tweaks without having to code at all. It is different from other drag and drops page builders because it focuses more on editing the theme your WordPress website currently has.
That provides a major benefit as the webmasters' focus more on modification rather than creating new page elements from scratch. After all, paying for a theme and then building your pages from scratch does not feel like a very efficient method in most cases.
There are no limits to what you can edit with CSS Hero which means that there are no restrictions on any element on your page. What is even better is that no matter how daring you get when editing your WordPress website there is no risk of breaking the site because the plugin does not remove the existing code in your WordPress theme, instead it simply replaces it for applying the changes and you can revert these changes (and thus the code) at any time you wish.
Now let's zoom in a bit on the detailed features of this WordPress plugin
CSSHero's Features

01.

Easy Point and Click Interface
Remember how we said no coding?
Keeping good on our word, allow us to inform you that not only coding is not required but you hardly need to use your keyboard at all!
After obtaining and activating the plugin, the front-end of your website will display a blue icon in the top right corner which is the access button for launching CSS Hero. From there you can click away making visual tweaks to your websites as you please from the vast range of options available in the menu. These options include everything from the wide range of customizations for elements such as background, margins, links, text, size, border, position, and many more along with enabling the user to save and export the styles that they have created and edited.
You can click on the element you wish to edit to start customizing it and these customization options vary according to the specification of the selected element, i.e. selecting different elements on your page will provide you with different customization options.
CSS Hero gives you control over pretty much every aspect such as changing colors, fonts, border styles, and width of your site's page elements allowing you to create a completely unique template for presenting your content and captivating your audiences with the visual brilliance of your WordPress website.
02.

Live Device-Mode Edits
The plugin comes with the ability to view the changes you make to your website in real-time and the real pot of gold here is the ability to see how the website will appear on different screen-sized mobile devices allowing you to test for responsiveness and also decide the best possible layout presentation. This is a fantastic feature that gives you a great overview of the general viewing experience that your website provides to its audience and lets you tidy the ends out in order to enhance this experience to the fullest.
But there are so many different screen sizes. How do I make the content consumption experience site consistent across all of them? CSS Hero gives you the ability to add customizations specific to devices to ensure optimal viewing experience so whether your viewers are accessing your WordPress site on their Apple iPhone 5 or their Samsung Galaxy Note 5, MacBook or PC, you can make sure they get the best experience on all of these devices.
03.

Intelligent Color Picking
Being that there are so many colors at first glance it seems color combinations should be a simple enough task but any of us who have delved into playing with colors in any professional capacity, be it photo or video editors, artists, painters or décor specialists, know how challenging getting just the right color can be. The Intelligent Color Picking feature makes it a breeze by storing the colors that were used and employs a feature called Cassius' Auto-Learning Color Palette that displays those stored colors again at a color selection point.
But it doesn't end here as another awesome feature that allows for cross-app functionality makes CSS Hero shine enabling users to pick a color from some other application such as Fireworks and Photoshop.
04.

Complex CSS Made simple
CSS can be daunting for some new users due to its complexity but the CSS output generated by this plugin is very clean and simple and this makes it easy to implement in real-world usage. Having the ability to perform a variety of CSS tasks by just pointing and clicking and no coding at all is a huge benefit to many people.
It gives way to many options for which otherwise the alternative would either be going through the learning curve of CSS or hiring a professional developer to do that task. Having that ability to make custom modifications without doing either is a powerful feature that makes work all the more convenient.
05.

No-Lock-In
There was a time (and can still happen these days) that moving across platforms for various projects was not always a readily feasible solution. While we have much more cross-platform support these days, we are far from the point where cross-platform functionality is simply a given. Luckily, that is not an issue that you will face with CSS Hero as it allows you export your custom code to any other source or platform – all your CSS in a simple click. No lock in, for CSS Hero, is a win!
06.

Edits History
Another fantastic feature that is part and parcel of this amazing plugin is that it enables users to easily undo any step via the edits history allowing them to scan through a detailed history list of the changes made and empowering them to undo or redo them with the click of a button.
You don't have to worry about anything going wrong or spend hours finding a certain modification. It is all neatly sorted to observe and utilize to meet your end goal. Don't you wish that everything in life was this easy?
07.

CSS Hero Inspector
Some of us coding fanatics like to have finer control over the code that our website is using and if you are one of those, first of all, welcome to the club! Second, allow me the pleasure to inform you that CSS Hero has not forgotten that either. The CSS Hero Inspector lets you edit and refine (and remove, as well, if you so wish) the code generated by the CSS Hero plugin and even lets you place your own code in its stead.
While it has the same functionality as most other such tools such as Chrome's Inspector, having that functionality built–in is definitely welcome.
Support
CSS Hero has supported all over the place. You can email the support team for assistance as well as contact them through social media channels such as Twitter and Facebook. There is also an active support forum for the plugin that already includes threads with helpful pointers.
Documentation
While it is very simple to use, if you face any kinds of problems or just need a quick walk-through to get a feel of the plugin then there is extensive, helpful documentation available for you to utilize. There is a quick walkthrough video and easy to understand guides for the various tools that the plugin employs as well as elaborate text documentation about the features and how to use them on the CSS Hero website.
For even more tips you can head over to YouTube.com and type in CSS Hero for some great guides and tutorials by a number of professionals including a great in-depth review by WPKube's Stacey Corrin.
Plans and Pricing
CSS Hero has three pricing plans on offer and all of them are single year subscriptions:
Starter — $29/year If you only plan on using this for a single website then this is a good pick. You can use it on one website, however, this package does not include the Inspector Pro tool.
Personal — $59/year This plan offers a bit more flexibility, includes the Inspector Pro and can be used on up to 5 different WordPress websites and is ideal for working on multiple projects or if you have a couple different products or services and other things of such nature.
Pro — 199/year The package for the big boys, CSS Hero can be utilized on up to 999 WordPress websites with this package. It is suited towards larger scale web agencies or other organizations or individuals that work with a larger number of websites. This is the highest cost package available for the plugin, and Inspector Pro is included here as well.
Once your membership expires you will no longer receive upgrades and support unless you renew your subscription. There is also a 30-day money back guarantee on any purchase you make. You can also find frequent sales on their website which is something that you'd want to avail if you are interested in the product.
But before you head over to make the purchase let us weigh out all the ups and downs to help you make a more informed decision.
Pros
Simplicity (point and click interface) in use with powerful features without requiring any coding.
Live-Editor Mode for real-time monitoring.
Clean generated code.
History editor to undo/redo changes.
Competitive pricing policy.
Cross-platform support.
Inspector Pro add-on allows the building of web pages from scratch.
Premium customer support.
Cons
The plugin does not work with every WordPress theme.
And that is the only real drawback about CSS Hero and even though the list of themes that offer compatibility is by no means exhaustive, there is a possibility that it might not currently be compatible with a particular theme that you have in use.
Conclusion
Reasonably priced and offering great functionality that can be used by potentially every WordPress user, if your current favorite theme is compatible with the plugin, CSS Hero is a great value proposition. It does everything it advertises and leaves little to be desired.
Don't forget to use our CSSHero Coupon code "DesignBombs" to get 40% off discount.
If you have had any experience using the plugin do share with us. What is your favorite page builder/editor? Let us know in the comments sections below!