10 Top Corporate / Business WordPress Themes + What Makes Them Great
Why a good corporate / business WordPress theme is precisely what you need? Simple, a business has to have its identity.
The web of today is all about branding, making your business memorable, and overall planting a seed in your customer base's head.
And that seed thing is really crucial. For instance, do you know that it takes around 8 exposures to your brand on the average before a customer is ready to buy from you? Basically, the more recognizable a brand is to the customer, the more likely they're to purchase anything.
This is where a great corporate / business WordPress theme comes into the picture.
What makes a quality corporate / business WordPress theme?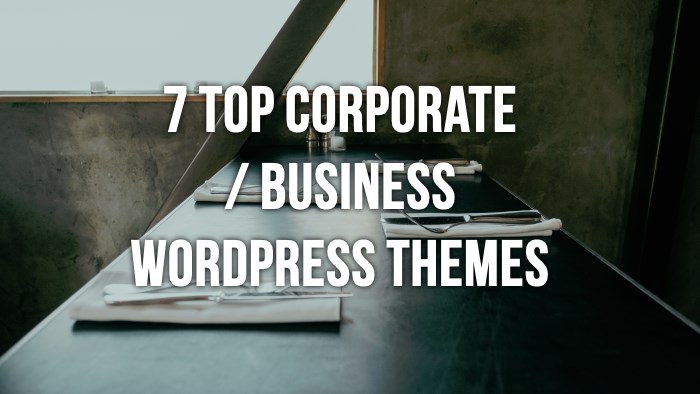 As of Feb 2020, WordPress is used on 33.5 percent of all websites. Many of them, if not the majority, are various kinds of business sites.
Now, "business" is a big umbrella term. I mean, almost anything can be called a business website these days, simply because there's so many different business models around.
That being said, there are some common characteristics that you should look for in a business WordPress theme:
A good business WordPress theme has minimal design. We all like good-looking graphics, so it's kind of tempting to opt for a really elaborate design when picking a WordPress theme. But it's probably not the best approach. Let me just be direct about this: You need a corporate / business WordPress theme that's not that recognizable on its own. Because if it is, your site starts looking like everyone else's – it becomes hard to set it apart. Minimal design is great for this. The more minimal the theme is, the more you can do in terms of branding.
Good customization capabilities. This is somewhat a consequence of the above. A good business theme needs to allow you to fine-tune every detail. This includes things like changing the logo, the colors, the layouts, etc.
Custom homepage. Custom homepages have started sprouting up a couple of years ago, when WordPress users realized that a standard blog listing is perhaps not the most effective way to welcome visitors. This functionality is especially crucial for business websites. With a custom homepage, you can show your customers exactly what you want them to see, including things like any promotions going on, your offer, testimonials, you name it.
Single-page capability. This is optional. For small businesses (that need a simple website), one-page designs are possibly the best solution. A good single-page design offers smooth transitions and good separation between individual blocks of content.
The theme needs to be responsive and mobile-friendly. This is just a must these days. No serious business website should neglect the mobile web. Mobile is how most of your customers come to the site.
Well-organized blog page/module. The blog functionality is pretty built-in when we talk about WordPress, that is right. However, not all blog layouts are optimized for business sites. The blog presentation of your corporate / business WordPress theme needs to be able to showcase short entries (company news, quick announcements, short-form content).
Custom page templates. Particularly for pages like: About page, Contact page, Portfolio, Team, Services, and etc. Having these templates lets you create specialized business pages quickly.
Okay, so now that we know what makes a quality corporate or business WordPress theme, let's see the top 7:
Top corporate & business WordPress themes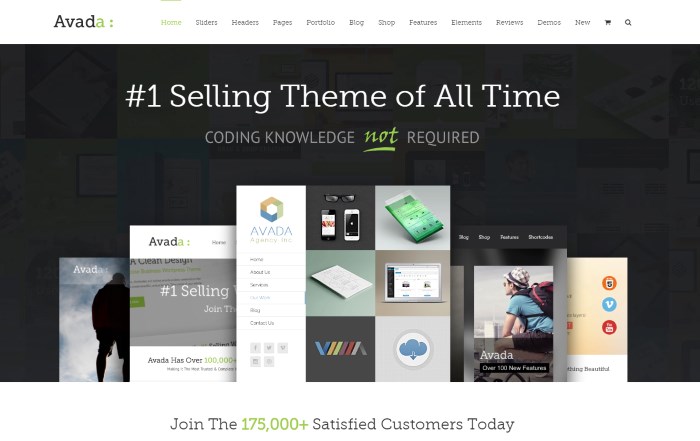 Thanks to more than 500,000 happy customers, Avada is ThemeForest's no.1 bestselling theme of all time. And there's a good reason why that's the case. Avada is one of the most feature-rich themes I've ever seen. It also comes with 12 ready-made demo layouts that you can use on your website.
The main selling point of Avada is that you have total freedom as a user, and you can create any design style you wish on your site. No coding skills required. This makes Avada not intrusive with its own design style, at the same time giving you extra wide customization capabilities.
Avada lets you create a fully custom homepage.
There's also single-page capability. You can align content blocks on the homepage and make sure that everything transitions smoothly.
The output is more than responsive and mobile-friendly. For example, this business WordPress theme even includes breakpoint options, giving you full control over your site's responsiveness.
The blog page gives you multiple layouts: grid, timeline, content/sidebar, fullwidth, plus some variations on image sizes.
You can create custom pages through the Fusion Builder (part of Avada) or take advantage of multiple page templates already built-in.
Get it here. Price: $59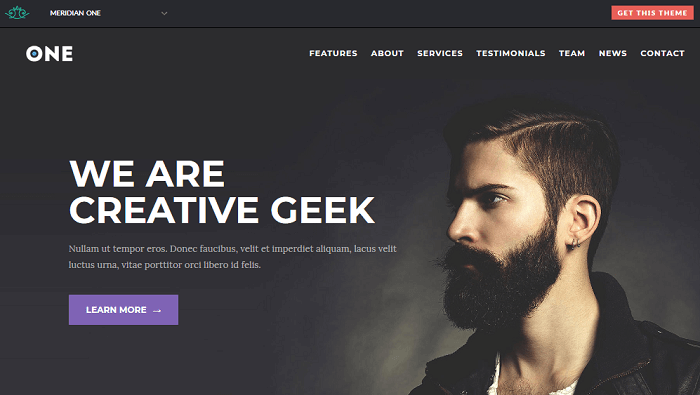 Meridian One is a one-page business WordPress theme that comes with all the features you need to run a successful online business. It's fully responsive, has a simple and minimal design, and gives you full control to customize it to meet your business or corporate needs.
Brand your online business with unlimited colors and beautiful typography to boost sales. No coding skills are required, all you need to do is use the WordPress Live Theme Customizer.
Enable or disable sections, add or edit texts using simple WordPress widgets, and display testimonials, features, services, clients, team members, or contact forms any way you need to.
Add some value to your customers by publishing a regular blog, complete with support for all native WordPress widgets.
Enjoy smooth scrolling one-page design and sticky navigation so site visitors can navigate your site with ease. Adding to that, sell products or services by using the popular and affordable WooCommerce plugin.
Trust that your customers will be able to access your site on all browsers and devices, no matter the size of type.
Get it here. Price: $59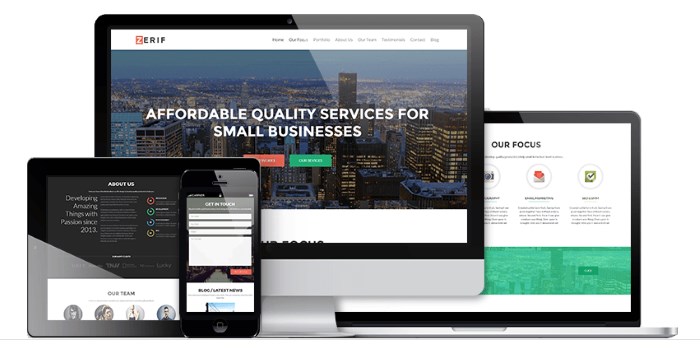 Zerif Pro is the pro version of one of the most popular free themes over at WordPress.org – Zerif Lite. This WordPress theme offers multiple interesting features, and it reaches out to business owners by giving them and easy-to-use interface.
Additionally, Zerif is perhaps your best choice if you don't think you're going to have a lot of content on the site.
The design is minimal when it comes to the mandatory elements that are always on the page. Once you align each of the content blocks individually, pick your colors, backgrounds, and add your copy – the theme becomes very brandable. This also speaks for its customizability.
The custom homepage is the main selling point of Zerif. Everything is fully adjustable. Perfect choice for single-page websites.
Also, you get a nice set of built-in content blocks for the homepage. This includes things like: a contact form, pricing table, features block, portfolio, about, team, testimonials, Google Maps and more.
Fully responsive and mobile-friendly.
The way the menu works is really cool. Once a visitor clicks on anything, the page scrolls automatically and brings them to the exact homepage section they've selected.
Get it here. Price: $99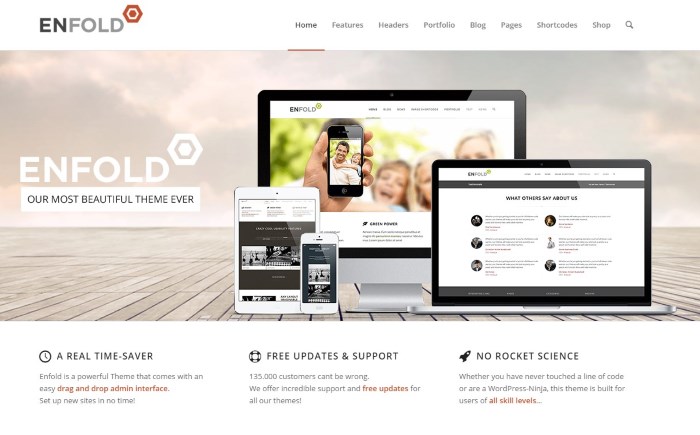 Enfold is one of the bestselling themes at ThemeForest, and also a great choice for various business purposes. The design is clear and well-organized, while still retaining a modern appearance. On top of that, arguably, it's the user-friendliest WordPress theme ever made (at least that's what the developer says, wink!).
Enfold is very customizable, and it comes with a nice set of ready-made design templates. This gives you the best of both worlds: having a minimal, highly brandable design, and also being able to do all the customizations on your own.
You can build any custom homepage structure you wish. To make it easier, there's also a great drag-and-drop editor available.
Can serve as a single-page theme.
All layouts are responsive and mobile-friendly.
A number of custom design templates available out the box.
Get it here. Price: $59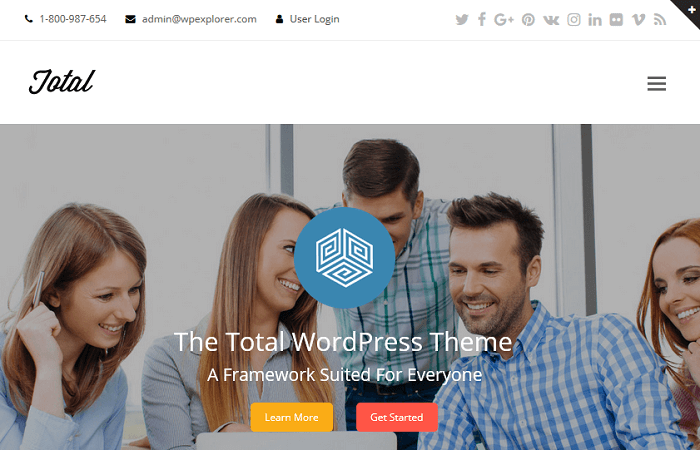 Total is one of the best-selling WordPress business themes that's designed to give you endless opportunities to brand your company, attract clients, and generate revenue. With a built-in drag & drop page builder, unlimited color options, and easy to use demo importer, creating a standout business or corporate website is a cinch.
Customize your site to meet your needs. Utilize over 100 page building elements, watch changes in real-time using the Live Theme Customizer, and create custom header and footers and add whatever elements you need.
Build an online forum to complement your site to boost user engagement, interact with site visitors, and encourage discussion.
If building an international customer base is on your radar, trust that Total is compatible with translation plugins like Polylang, Weglot, WPML, and TranslatePress. It also comes compatible with other popular plugins like W3 Total Cache, Contact Form 7, and The Event Calendar.
Use the custom post types portfolio, staff, and testimonials to display additional information to potential clients and highlight your business' best work.
Never worry about your site not showing up in search engine results since Total comes SEO optimized. And never wonder whether you site displays right on small screen sizes since its fully responsive and mobile friendly.
Get it here. Price: $59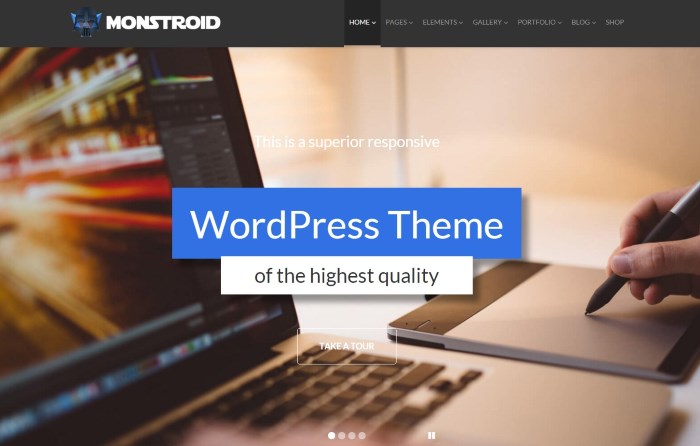 Monstroid is the flagship theme at TemplateMonster, and their ultimate multipurpose solution. It offers a load of features and customization possibilities (it even works with child themes and extensions). At the same time, it's also easy to use and doesn't require any coding skills.
Monstroid's design can be as simple or as elaborate as you want. The theme supports multiple layouts and layout types. All these make it a very customizable and brandable business WordPress theme.
You can build your original custom homepage, or use one of the 7 built-in designs.
Can also serve as a single-page website.
Monstroid makes sure that your website remains responsive and mobile-friendly.
There are custom page templates for your portfolio, gallery, contact page, blog page, services, FAQ, testimonials, team, about page.
Get it here. Price: $79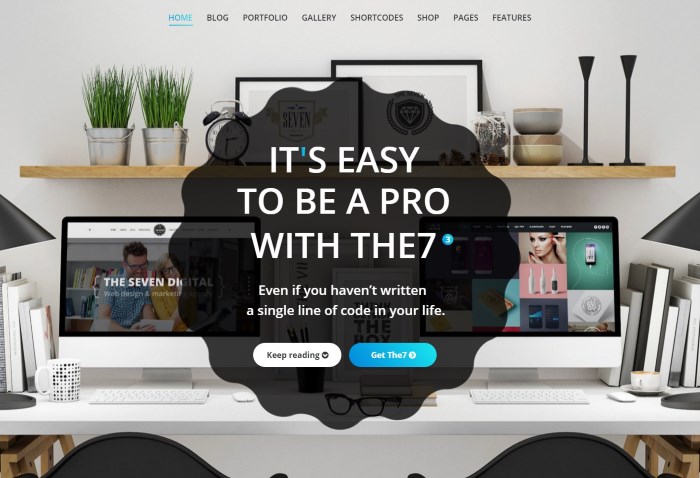 This is a really interesting theme, especially for modern businesses that target younger clientele. It's also going to be a great choice if you want to avoid being labeled "boring." Additionally, The7 integrates with WooCommerce quite well, which is good news for retail.
The default design in The7 is based primarily on images (great for branding), but there are also 25 ready-made designs that you get with the theme. Plus, you can hand-craft your own unique design using the theme's options panel.
Build your custom homepage either on top of one of the 25 designs or through Visual Composer that's included.
Can work as a single-page design.
Responsive, mobile-friendly, and Retina-ready output.
The blog page/module is well-organized and comes with a couple of built-in layouts.
Custom page templates available.
Get it here. Price: $59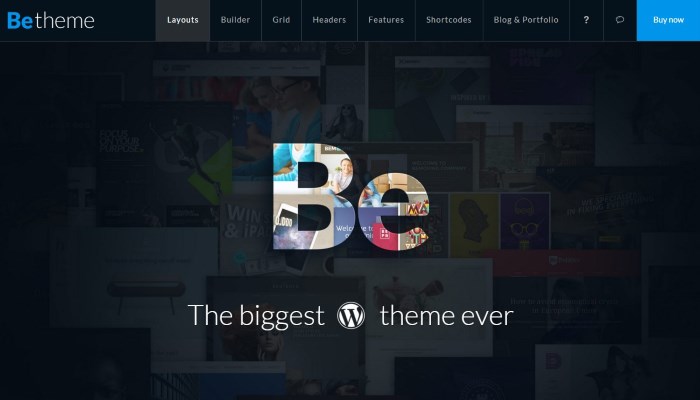 BeTheme is a really nice multipurpose business theme. You can use it for nearly any type of business, business model or niche. No matter if you're selling burgers, online products, or run a service company. There's a load of features, and everything is easy to use.
There are more than 160 pre-made layouts to choose from, and you can install any of them through a simple 1-click installation. What this basically means, is that you can make your design as minimal as you wish and as brandable as you wish. Highly customizable.
For your homepage, either pick one of the available designs or build your own through what's called the Muffin Builder.
This corporate / business WordPress theme has single-page capability.
Everything is fully responsive.
You get custom page templates and more than enough customizable layout and header styles.
Get it here. Price: $59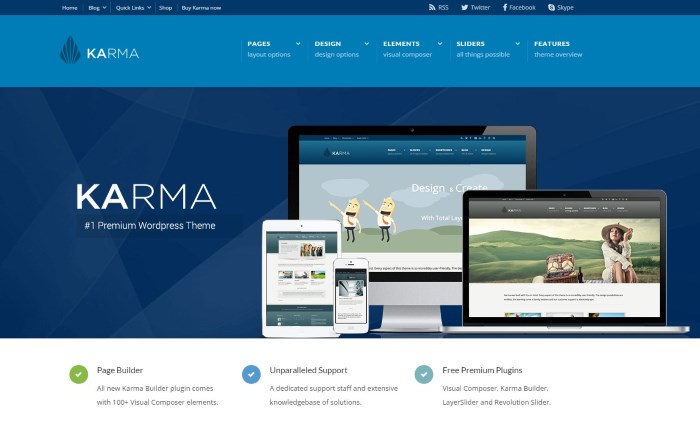 Karma is your classic business WordPress theme, in a good way. It's beginner-friendly, it offers good support, and gives you all the customization possibilities you might need. It's also compatible with ARIA Accessibility Standards, which means that every visitor will be able to interact with your website.
The design is minimal and classic – it's based on good color selection and branding elements.
There are nice customization capabilities. The theme comes with Visual Composer included.
Custom homepage capability.
Fully responsive and mobile-friendly.
Well-organized blog page/module. You can select your layout.
Custom page templates for your portfolio, contact page, FAQ, pricing, events and more.
Get it here. Price: $59
Your favorite business WordPress theme?
What's your favorite business or corporate theme from this list? Please share in the comments.