Top 7 Related Posts Plugins for WordPress
Once you are running a successful WordPress business, it's hard to keep your viewership engaged and interested at all times. Knowing everyone's personal interest and directing them to content they'd enjoy is difficult, to say the least.
Related posts plugins enable webmasters, bloggers, and online entrepreneurs to make loyal readers out of their viewership by presenting them with content that's not on your front page anymore. Adding related posts functionality has proven to be quite effective in making your readers stay on your site a while longer and perhaps navigate to another page while they're at it.
In this article, we'll cover some of the best related post plugins for WordPress that'll help you engage your viewership with other posts that'll pique their interests. We'll discuss the features they offer and highlight the pros and cons of each.
Related Posts Plugins for WordPress
Let's begin.

Despite its name, Yet Another Related Posts Plugin isn't just another ordinary plugin in the WordPress market. It is a powerful plugin that will provide you with every option that you want and even those you never knew you needed. You might find yourself surprised with the functions that Yet Another Related Posts Plugin (YARPP) will provide you with and using them might be a bit complicated for some but it is not something that cannot be learned either by yourself or through the plugin's two-minute video tutorial.
YARPP finds posts from your blog's archives that are related to the post that's currently being read by the visitor and suggests it for further reading. This way, your readers can find related content from easily on your site and won't have to look elsewhere. The free plugin also has a premium version available which comes with advanced functionality and features. YARPP features thumbnail or list view of the related content that you provide, an intuitive templating system, a customizable algorithm, and the ability to display your related posts in feeds.
Pros
As mentioned in the features, YARPP uses a built-in advanced algorithm system that finds related content from across your site that can be quite helpful to your viewership.  Custom display options can help you configure the appearance of the suggested related posts according to your preference. Moreover, the plugin's templating system gives you full and advanced control of how you want your results to be displayed.
Cons
When it comes to compatibility, YARPP isn't as flexible as other plugins. For instance, it is not compatible with the popular WPML plugin. Then, there is YARPP being blocked on some WordPress hosting providers so you might not find YARPP always being your cup of tea.

Jetpack is one of the most feature-rich WordPress plugins so it's no surprise that it contains a full-on related posts module, as well. Not only can you share related posts with your content, but you can do it in style. If you're looking for a plugin with lots of features for you to work with, control your plugins from and provide maximum security from attacks then Jetpack just might be what you have been searching for.
It provides you with share buttons, the option to publicize comments, an excellent subscription system, site stats, and everything else you could possibly hope for to improve your site's performance and appearance.
Pros
The advanced functionality of Jetpack makes it easier for newbie WordPress users to keep their site tuned. Also, there is no concern for privacy or security issues as Jetpack is fully supported by the developers of WordPress.com. It's got a ton of modules that users can activate and deactivate at their convenience.
Cons
One of the major drawbacks of Jetpack includes your site taking ages to load however this is a better alternative to it by turning off modules that you do not require but that does not mean that the slowing down won't get on your nerves!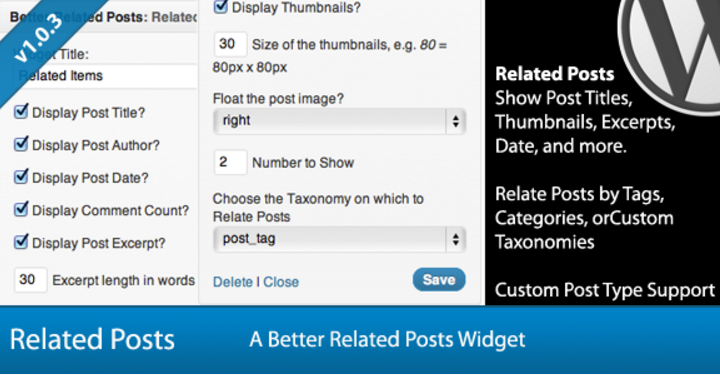 As you might have guessed by the name, this plugin is a better related posts widget than most, filling in all the holes with features you always needed but couldn't find in other plugins. If you are tired of plugins of the sort that are slowing down your site, causing unsolicited problems, or simply because they're not working the way they should what you need is the Better Related Posts widget.
This plugin displays a widgetized sidebar that displays all the posts related (or even similar) to the posts your viewers are reading.  Better Related Posts Widget provides you with 12 options to configure on a single widget, widget title, option to display authors of the posts, publication dates, comment counts, post text excerpts and their length, thumbnails and their size, the number of related items to show. And that's not even all – there is so much more and it might look complicated but a little experimentation with the Better Related Posts Widget will let you know exactly what you're dealing with and it's safe to say you will not be disappointed.
Pros
The functionality of Better Related Posts widget is so vast and flexible that you are in control of almost anything. Also, the plugin has a terrific support system and any problem and you will have your questions answered before you know it.  This plugin works with not only every post type but with pages, as well.
Cons
It might be difficult for WordPress beginners to understand all the advanced functions the Better Related Posts Widget offers and implement them on their site.

If you are in search of a plugin that is incredible and would help your visitors linger on your site a little longer but not slow down other activities during the process, then Yuzo Related Posts Plugin would be the best fit, not only because of its speed but other functions as well.
Even though it has been considered one of the fastest and most popular plugins in this category, its flexibility towards what related posts you want to display to your visitors has also taken a lot of notice. Moreover, customization of the text, minimalist design with interesting effects, visit counts, background color, and many other options make this plugin stand out.
Pros
It is incredibly easy to setup and even easier to use. According to users, they didn't encounter any problems with the plugin once it was up and running.
Cons
It might be incredibly fast but the Yuzo Related Posts plugin isn't as light-weight as others in this category.

Sometimes people look for plugins that are easy to use so that they would not have to work through hundreds and hundreds of complicated settings and complex codes just to get what they want. And most of the time, people look for plugins in which they would not have to put in any work at all. Even though that might not apply literally to Inline Related Posts but it's close!
Inline Related Posts is a plugin that automatically inserts related posts inside a widget box where your content is. In a way, it catches the reader's eye in an instant and 70% of the time the reader is most likely to open the related content increasing the page's views just like that. You have control over combinations of more than 20 styles including the theme and color schemes and the rest is up to the plugin.
Pros
Shows related posts inside the content which most likely results in the reader opening it.
Cons
You do not have the option to display the related posts at the end of your content because even though having it inside the content is valuable, some types of related posts seem more appropriate at the end.

Although the WordPress market is loaded with all kinds of related posts plugins, it's still quite difficult to find one that has all the features your site requires. Webmasters often find themselves needing to fit into a category that provides exactly what they are looking for.
Contextual Related Posts does what every other related post plugin does and much more; it is a very powerful plugin. It feeds related posts automatically after the content, comes with several different themes, provides usage of shortcodes to display the posts and offers thumbnail support for improved visual appeal.
Pros
It has a very simple setup page that makes it easy for you to use and customize your text and thumbnails.
Cons
Since the related posts are automatically fed to the content, you are unable to post related posts of your own choice. The alternative to it is to manually install just to gain control over the placements but the functions could prove to be difficult for a beginner. Another drawback is that even though this might be a powerful plugin, it is not for larger sites as it will slow them down and nobody is patient enough for their hard work being displayed after long periods of time.

As opposed to other plugins used to insert related posts after your content, WordPress Related posts is a bit lightweight. It has all the basic functions once could need in a plugin like this, for instance, support for different styles, thumbnails, caching, and a wide range of customization options.
So, if you are in search of a simple yet fast plugin that does no damage to your site and adds related posts at the foot of your content then this plug is a perfect fit for you. But if you are looking for advanced features then you might want to look somewhere else.
Pros
WordPress Related Posts plugin is guaranteed to not slow down your site after activation and has excellent performance.
Cons
If you have used other advanced functioned plugins before then you might not find all the functions that you want. Even though not having to face too many functions might be good for some, when it comes to advanced working, you will not find what you need in this one.
How to Pick the Right Related Posts Plugin
If you're tired of experimenting with all sorts of related posts plugins only to be let down each time, our list of selected plugins is bound to have the perfect alternative for you.
Yet Another Related Posts Plugin (YARPP) is the best option for those of you who are looking for a feature-rich related posts plugin to help you get started. And when you're ready to take things to the next level, you can try out its premium version.
Better Related Posts Widget is an ideal choice for webmasters who would like full control over the nitty gritty details of their related posts widget. The plugin features a customization panel that's full of configuration options. Webmasters who are programming literate will definitely find this plugin to be the best.
Inline Related Posts is perfect for those of you who think it's better to display related posts within your content. The plugin automatically inserts the related posts inside your content to capture your readers' attention immediately.
Wrapping It Up
Many of the plugins that help you display related posts, either on your content or after it, have a wide variety of features and functions. For example, many of them automatically insert related posts after your content whereas others insert related data of their own choice.
We simplified how you can select which plugin would fit your needs best to help you increase your page views and reduce bounce rate. By deciding which category you belong to and then choosing the appropriate plugin, you'll be able to do just that.
Have you tried any of the related posts plugins on our list? If so, which ones would you recommend to our viewership? Let us know in the comments section below!