Adobe Likes to Retain Customers: By Hook or Crook
Adobe is a well-known and respected brand in the world of design and tech, with its flagship products such as Photoshop and Illustrator being used as the de facto tools all around the world.
Furthermore, Adobe's Creative Cloud offerings too have enjoyed immense popularity, and even though nowadays certain alternatives are coming up, the apex position that Adobe and its product enjoy seems to be unaffected.
That said, how does a company react to such popularity? Also, if you are already the number one brand in your field, you probably must be aware of all that it has taken for you to get there. In such cases, to what extent will you go to retain your customers, and even more importantly, will you try to retain customers at the cost of your own reputation as a service provider?
Certain incidents happened with Adobe, recently, that have led to the above questions being afloat in the design community.
The Incidents
It so happened that Devon Campbell, of RadWorks, decided that his Creative Cloud subscription was not worth the money, because he wasn't using it to the fullest and could not justify the price per month. As such, a cancellation was requested.
What transpired, however, could at best be summed up as hilarious, and at worst as Adobe's customer representative trying to strong-arm Campbell into retaining his subscription. Here is how it went down:
First up, Campbell requested a cancellation, citing that he did "not use the software enough to justify the cost".
Adobe's representative responded by offering Campbell a varied list of offers: one free month, two free months, a new price that was lowered to $29.99 per month, followed by change of plan to the Photography plan, and so on.
Thereafter, Campbell was told that he will be charged 50% of the remaining months' fee anyway, as a termination fee. This is where it got interesting. Campbell insisted that he had been a customer for many years and therefore, an early termination fee should not apply to his case.
After going back and forth, the representative ultimately agreed to cancel Campbell's subscription, but only after Campbell asked that the chat be escalated to a senior representative.
An isolated case? Probably not. Another user too experienced something similar with Adobe: after requesting a cancellation for his subscription, Adobe offered him free months, and thereafter, lowered the price to 29.99 Euros per month, as opposed to the initial price of 49.99 Euros per month. This particular user, though, decided to accept the new price, and changed his mind about cancellation. Chat log can be found here.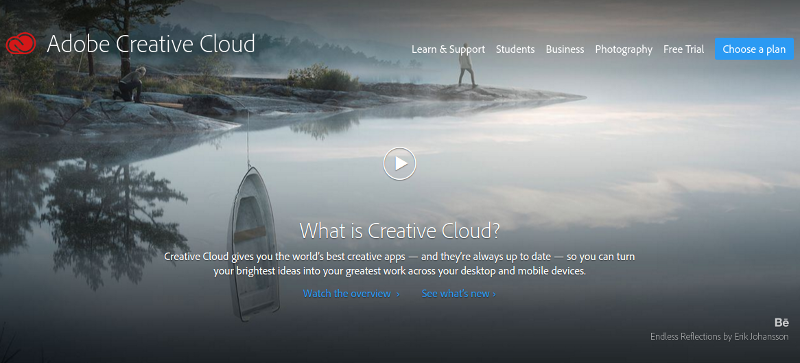 Get Adobe Creative Cloud Monthly Subscription for $30/Month!
The design community is talking about such tactics by Adobe — some are of the opinion that this is nothing more than cheap measures to retain customers by compelling them to stay, whereas still others are considering that "My credit card has been stolen so please stop charging me!" is an easier way out than asking Adobe to cancel anything. Others are more forgiving, and believe this to be a by-product of outsourced support, wherein support representatives are paid for good performance, and not appreciated for losing a customer.
Some, of course, have managed to find practical humor in this: Alfonse Surigao came up with the title "How to Get Adobe Monthly Subscription for $30/Month", for example.
Question is, can you actually use this as a measure to lower the price of Creative Cloud?
Here is how it has been shown to work:
Contact Adobe, ask them to cancel your Creative Cloud Subscription
You are offered a few free months, and then, a revised and lowered pricing.
Accept the lowered pricing, and save money.
If you are an existing Creative Cloud subscriber, it might well be worth the effort to try this method — if you did and have had any level of success with it, be sure to tell us in the comments below!
Appraisal
Many big enterprises and corporations try to retain customers by offering discounts and deals when they talk about cancellation. So Adobe's methodology is nothing new. In fact, many web hosts too employ this method, and you can get a discount on your package if you decide to cancel it, and then change your mind.
Of course, this is just a practical aspect of selling a product as a subscriber-based service. Losing subscribers means losing business, and to save business, offering lucrative deals is an old trick. You cannot blame Adobe for this.
However, as shown by Devon Campbell's experience, offering discounts is not the only trick that Adobe is using. Apparently, if you refuse the discounted price and still wish to go ahead with the cancellation, you might be asked to pay a termination fee, even if you have been a loyal customer for many years. Furthermore, paying 50% for every month until the end of the current billing cycle — such high pricing is ridiculous to be termed as "termination fee".
This is a rather shady practice, and something that is definitely not praiseworthy. The fact that Campbell got his cancellation request fulfilled the minute he sought to speak to a senior supervisor further shows the shady nature of things here — the Tier 1 customer sales representatives are not applauded for losing a customer, so they are also allowed to resort to ridiculous billing measures in order to compel a customer to stay.
Of course, you cannot blame the customer support representatives for doing what they are told to do; the real culprit here is Adobe's billing policy and strategy. I, personally, would not even touch such a company with a 10-feet pole that refuses to honor a cancellation request easily.
Lastly, this further shows just how safe one can be if he or she chooses to pay via PayPal, as even if the cancellation request is not honored, you can keep yourself safe from shady billing tactics.
Adobe's products are a class apart. That said, its billing and cancellation policy for Creative Cloud leaves a lot to be desired, and is highly unprofessional and unethical.
In any case, for any existing Creative Cloud subscriber who does not wish to cancel anytime soon, the discount might not be a bad bargain anyway, so opening a live chat about cancellation might be something that many designers shall consider trying in the near future.
What do you think of this issue related to cancellation of one's subscriptions with Adobe? Share your views in the comments below!